! MP3 00/00/00 > <! update 00/00/00 > <! outside 00/00/00 > <! pix 00/00/00 >
---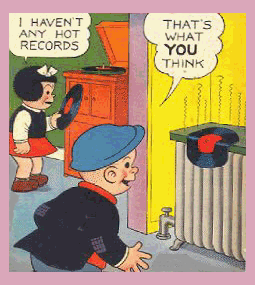 THE MISTAKES OF THE PAST
Joe Sixpack Reveals
A Few Cherished Albums
---
Welcome to Squaresville! This is a quick overview of some of my favorite rock, pop and punk records from years gone by. Right now this isn't a particularly impressive section of the Slipcue website, since writing about rock is not one of my strong suits, and because it really comes as an afterthought to the world music and country sections that were the original focus of my e-zine. Regardless, I am forging ahead and offering a few of my favorite pop albums for your consideration... I'm sure the snobbily-inclined among you will find yourselves vastly amused at my parochial tastes and by the many omissions that will mark me as a hopeless loser... but I was never that keen about running on the hampster wheel of hipness, so I think I can learn to live with it. This isn't meant to be a definitive list, just a sampling of stuff I like, and hopefully some of these records will be new to you and an exciting addition to your listening habits. So, out of the vast pop past, here are a few humble recommendations.
This page covers the letter "A."
---
A | B | C | D | E | F | G | H | I | J | K | L | M | N | O | P | Q | R | S | T | U | V | W | X | Y | Z | Comps | Other Pop Styles | Pop Music Index
---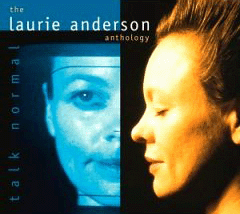 Laurie Anderson "Talk Normal - The Laurie Anderson Anthology" (Rhino, 2000)


At the dawn of the Reagan era, the elfin, frazzle-haired Laurie Anderson was the national poster child for the New York art scene -- a friendly, cartoonish character who played snippets of dialogue forwards and backwards on violin bows, wired her torso with contact mics, and recited long, goofy stories with pun-laden punch lines. A loft scene hipster who broke into the pop culture mainstream, Anderson was the performance art equivalent of painter Joan Miro, whose deceptively simple approach made folks naively think, "geez, even I could do that!" Her first single, "O Superman," embodied the antinuclear anxieties of the time, with a muted, electronically sampled laugh playfully wrapped around a sinister (yet droll) technophobic narrative. Other songs skillfully embraced the seductive repetitiousness of old-school minimalism and early electronic music, and pointed synthesizer fans in a different direction than the teenybopper New Wave pop of the time. What's surprising about this 2-CD retrospective is how well Anderson's music holds up, especially the early studio albums. In an era when techno dance music bounces around in shopping malls and TV ads worldwide, it seems like it would be easy to dismiss her work as passe, yet it is still quite engaging. It's mildly disappointing that this collection doesn't include any rarities, such as her early tracks on the 1977 New Music compilation, or her contributions to various poetry albums, and that her duets with William S. Burroughs are also mysteriously omitted. Also, both discs lean heavily on Anderson's concert albums, none of which fully capture the charm of her live multimedia productions. Still, until they start marketing decent home holographic projection systems, this will make a fine technological stopgap.

Joan Armatrading "Love And Affection -- Joan Armatrading Classics: 1975-1983" (A&M Chronicles, 2003)


At last! The all-encompassing Joan Armatrading retrospective I've been hoping for ever since I made my first Armatrading best-of tape, back in the early '80s. One of the exemplary voices of the genre-bending eclecticism of the 1970s, Great Britain's Armatrading fused rock, funk, pop, folk, reggae and blues, all bound together by her inviting, expressive vocals, and emotional/confessional songwriting style. This 2-CD set spans the breadth of her stint with A&M Records, from her awkward, jazz-inflected second album, through her late-'70s glory years, and into her faltering stabs at mainstream hitmaking, as the New Wave era pushed the '70s sounds aside. This collection does a first-rate job capturing Armatrading at her best, particularly the first disc, which picks all the right tunes from all her best albums. The second CD is devoted to her '80s work, and lingers, perhaps, a bit too long on 1980's Me Myself And I (I prefer the frothier delights of the subsequent album from 1981, Walk Under Ladders, a synth-heavy guilty pleasure, featuring keyboards by Thomas Dolby, and slick, poppy production by Steve Lillywhite, which only rates about half as many songs on this collection...) But, oh! those early years! Her self-titled 1976 album is a masterpiece, as was the follow-up in '77, Show Some Emotion, each a mix of tender acoustic balladry and tough, vigorous rock riffs. These albums brought Armatrading into the pantheon of '70s singer-songwriter greats, alongside Cat Stevens, Elton John, Bill Withers and Joni Mitchell, artists whose strength as composers, emotional range and stylistic diversity keep their work as fresh today as when the songs were first recorded, all those years ago. This is definitely the best collection around for anyone who wants to check this groundbreaking gal out... HIGHLY recommended.
---
More Pop Faves
---



---