! MP3 00/00/00 > <! update 00/00/00 > <! outside 00/00/00 > <! pix 00/00/00 >
---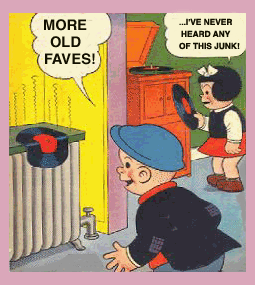 THE MISTAKES OF THE PAST
Joe Sixpack Reveals
A Few Cherished Albums
---
Hey, welcome to my "guide" to a few of my favorite rock and pop records. This isn't a definitive list, by any means, just some random comments about a few records that have stood out over the years, or that I've found the time to review.
This page covers the letter "R"
---
A | B | C | D | E | F | G | H | I | J | K | L | M | N | O | P | Q | R | S | T | U | V | W | X | Y | Z | Comps | Other Pop Styles | Pop Music Index
---

The Raindrops "The Complete Raindrops" (Sequel, 1994)


A cool collection of singles and unreleased stuff by a "band" that Brill Building songwriters Jeffy Barry and Ellie Greenwich concocted just so they could demo some of their songwriting ideas. There's some overlap with the Ellie Greenwich album listed above, although this has a more concentrated dose of their girl-group-y, doo-wop leanings. Also includes the thunderously irresistable "Kind Of Boy You Can't Forget", along with their versions of "Doo Doo Ron Ron" and "Hanky Panky", and the goofy reciprocal-sex tune "When The Boy's Happy (The Girl's Happy Too)". Fun stuff!
The Remains "Barry And The Remains" (Epic Legacy, 1991)


Witness, if you will, Barry Tashian's glory years as a teenage rocker... The Remains were one of the most accomplished American rock bands to spring up in the wake of the British Invasion, though sadly the band fell apart just as their star started to rise. Hometown heroes in the city of Boston, in 1966 the Remains landed the opening slot of the Beatles' fabled last tour and released several singles and only one album, all of which was unusually intelligent, high calibre rock. The lead single, "Why Do I Cry," has a Latin lilt and seductive feel -- the rest of the album draws you in as well. A few songs are garage rock standards, such as "My Babe" and "Diddy Wah Diddy," but most are Tashian originals that reveal sophisticated compositional sense, not stuff and preening like the Left Banke, but still operating on a slightly different plane than many of his fuzzed-out, cranked-up contemporaries. This is a fine, fine album, some of the best '60s garage pop you'll ever hear. (By the way, the sound quality on this official release is far better than any of the numerous Nuggets-y compilations that the Remains previously appeared on...) Highly recommended!
The Remains "A Session With The Remains" (Sundazed, 1996)


Barry & The Remains sounded pretty smooth on their studio recordings; their wild side emerges on this electrifying set, performed in 1966 as a live, in-studio demo for the Capitol label. The band was hoping to get out of their contract with Epic and move over to the West Coast-based major, and while that move didn't succeed, at least this sizzling session was preserved for fans in the future. Apparently they'd been up all night, playing at a gig the night before, but were bright eyed and bushy tailed for their 10am appointment in the recording booth. Pretty impressive! (After the Remains disbanded, Tashian moved to California and started hanging out with country-rock pioneer Gram Parsons, later spending ten years as a member of Emmylou Harris band. For more of Tashian's country career, check out his discography page in my Country section...)

Emitt Rhodes "Listen, Listen -- The Best Of Emitt Rhodes" (Varese Sarabande, 1995)


Way cool. I can totally see the same folks who revere Alex Chilton latching onto this disc as a new pop motherlode... and why not? Rhodes was a suburban California kid who got signed onto A&M in 1967, just as that label was starting to bust out of its easy listening niche, and the LA Pop sound was in full flower... His band, the Merry-Go-Round, had moderate chart success, but a label switch and attendant weird marketing decisions sort of sank the ship, and Emitt retreated into the studio... all by his little lonesome. This CD collects the best of his band's singles along with choice material from several of his self-produced, self-performed solo albums, released from 1970-'73. It's eccentric, sometimes strained, oddly compelling psychedelic pop/roots music which oft-times sounds like a copy of the Beatles "Maxwell's Silver Hammer", and at other times follows its own, very distinctive muse. If Belle & Sebastian or some other Scottish band don't cover something off this within the next five years, I'll buy myself a hat and eat it.
---
More Pop Faves
---



---