! MP3 00/00/00 > <! update 00/00/00 > <! outside 00/00/00 > <! pix 00/00/00 >
---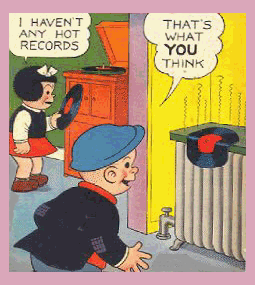 THE MISTAKES OF THE PAST
Joe Sixpack Reveals
A Few Cherished Albums
---
Hey, welcome to my "guide" to a few of my favorite rock and pop records. This isn't a definitive list, by any means, just some random comments about a few records that have stood out over the years, or that I've found the time to review.
This page covers the letter "Y"
---
A | B | C | D | E | F | G | H | I | J | K | L | M | N | O | P | Q | R | S | T | U | V | W | X | Y | Z | Comps | Other Pop Styles | Pop Music Index
---
The Yardbirds "Ultimate Yardbirds" (Rhino, 2001)


A killer collection of stuff by what was arguably the best British blues band of the '60s... Two CDs worth of hits, hits, and more hits... and some rare stuff as well. While the Rolling Stones, Animals and other bands sounded stiff and self-conscious while playing the blues, the Yardbirds were able to wail away and infuse their albums with a Mod-era cool that really upped the ante . They were also one of the first "monster" rock bands, with guitar idols Jeff Beck, Eric Clapton and Jimmy Page alternately vying for the spotlight and for the chance to blow their adoring audiences away. In their later solo orbits, Clapton and Page went on to found Cream and Led Zeppelin and, by extension, created the heavy metal genre. It's hard to imagine a band more influential on the history of the rock guitar solo; yet the Yardbirds also had a sensuous edge, a sexiness and lusty enthusiasm that seemed less contrived than many of their contemporaries. That energy may account for their continued appeal over the decades, and is perfectly captured in this fab new retrospective. The collection is well-paced, tracking the band through its various incarnations, from the dynamic early singles through its psychedelic dissolution in 1968. Included are live performances, rare solo recordings, and classic studio tracks such as "A Certain Girl," "For Your Love," and "Over Under Sideways Down." Rarely do legendary dino-rock bands live up to the hype and so richly deserve our continued awe and veneration.
Young Fresh Fellows "Sounds Of The Pacific Northwest" (Popllama, 1984)


Seattle's Young Fresh Fellows came together back in the dark times between the garage-rock glory days of the Sonics and the grunge years of Nirvana, when not a lot was going on up North. Along with the Fastbacks, YFF was one of the first bands in Seattle's indie scene - back before we all graduated and it was still known as "college rock". This, their first album, was a pretty swell little disc. Full of witty, perky novelty toss-offs that showed the band's easygoing sense of humor, this album is charmingly uneven and evokes the same kind of devoted amusement as They Might Be Giants... You can easily imagine the group's collective unconscious living in a big house filled with every '60s garage-pop record ever made, a TV set that's always tuned to Saturday morning cartoons and "creature feature" monster movies, and an ever-present pitcher of Mom's lemonade. The boys pile into the rumpus room just long enough to allow lead genius, Scott McCaughey to pen a few more songs and then they're back in the basement, wailing away with the amps up to 11. This is the start of a near-legend, and it still holds up pretty well. Personal faves include "Big House," "That Letter" and the YFF theme...
Young Fresh Fellows "Topsy-Turvy" (Popllama, 1986)


On their second album, the Fellows turned up the heat and established their cred as a "real" rock band, capable of playing power chords with the best of them. (They still kick ass in concert.) Topsy-Turvy also has some of their best, catchiest material, including the arch anti-cool anthem, "Hang Out Right", the ever-speedy hangover classic, "How Much About Last Night Do You Remember?" and my big fave, "Groovy Town," which was worth every potential FCC fine for McCaughey's snarly and completely appropriate cuss words. From here the band got more and more hard-rockin'... Not that that's bad, per se, but for me this will remain their high-water mark. Highly recommended!
---
More Pop Faves
---



---