! MP3 00/00/00 > <! update 00/00/00 > <! outside 00/00/00 > <! pix 00/00/00 >
---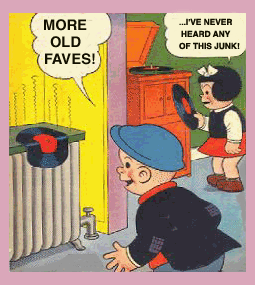 THE MISTAKES OF THE PAST
Joe Sixpack Reveals
A Few Cherished Albums
---
Hey, welcome to my "guide" to a few of my favorite rock and pop records. This isn't a definitive list, by any means, just some random comments about a few records that have stood out over the years, or that I've found the time to review.
This page covers the letter "B."
---
A | B | C | D | E | F | G | H | I | J | K | L | M | N | O | P | Q | R | S | T | U | V | W | X | Y | Z | Comps | Other Pop Styles | Pop Music Index
---

Frank Bango "Fugitive Girls" (Not Lame, 1999)


This new album by this New York oddball builds on the Graham Parker/Elvis Costello-isms of his first album, but with a much lusher, more supple sound. Songs such as "Ape" and "Sweater" offer near-irresistible riffs, somewhat hypnotically layered waves of melody and clever, catchy lyrics. The most striking track on here is "All My Little Ships," a tongue-in-cheek exploration of zygotic sexuality with a florid, bombastic, thoroughly satisfying cascade of an finale. Bango ought to be in the upper eschelon of contemporary power poppers, and I hope this album will go a long way towards that goal... Recommended!
Frank Bango "The Unstudied Sea" (Sincere Recording, 2003)


I've been a fan of Brooklyn-based power-popper Frank Bango for many years now, and was mystified by my own muted reaction to this fine album (his third, I believe...) I think it just took a long time to settle into my subconscious; I listened to it several times when it first came out, but couldn't quite formulate an articulate response to the songs. Now, revisiting it a few months later, I find myself as delighted with it as I was with his earlier albums. Bango has a playful sense of wordplay and strong ear for simple melodic hooks, which invite favorable comparisons to Dave Edmunds, Elvis Costello and Graham Parker... He's still "got it," and is crafting some of the nicest, most mature independent pop music out there today. Worth checking out!
The Bats - see my New Zealand "kiwipop" guide
Beachwood Sparks "Beachwood Sparks" (SubPop, 2000)


Great record! Predictably, comparisons ran rife between these guys and legendary hippie-billy country-rock pioneer, Gram Parsons... A more apt parallel might be to the non-Parsons Byrds, say, around the time of the Notorious Byrd Brothers album. They've got a lot of the same elements: their thin, tortured vocal harmonies strike the right balance between folksy and flawed, and then there's the same herky-jerky rhythmic approach to the pedal steel (not unlike hippie-billy icon, Sneaky Pete Kleinow)... Of course the Beachwoods do this all with a nod and a wink -- earlier countrybilly pioneers like Greezy Wheels and the New Riders already made the real mistakes, oh, those many years ago -- these guys are merely looking back with affection. The occasional Stereolabby bleep-bloop or Pink Floyd-y shooting-star keyboard riff remind us that a lot of water has gone under the rocknroll bridge since the days when Gram strode the earth, and this album proves itself a perfect extension of the psychedelic country music made way back when. It may seem erratic and sketchy, but actually the band put a lot of cunning and craft into this album, and the payoff is pretty nice. If you're like me, you'll find yourself pleasantly surprised to be humming a tune or two of theirs at unexpected times during the day. Check it out.
Beachwood Sparks "Once We Were Trees" (SubPop, 2001)


This album finds the Beachwood lads deeper into psychedelic terrain, but still country-rock as all get-out. It's a bit densely constructed, but if you're willing to go along on their wavelength, it's also quite rewarding. I think this is pretty impressive musicmaking.

The Beastie Boys "The In Sound From Way Out!" (Capitol/Grand Royal, 1996)


Sometime back in the late 1980s, I had the opportunity to see some of the biggest hip-hop stars of the time -- De La Soul, LL Cool J, Public Enemy -- and they all pretty much sucked. The problem was that they just weren't prepared to perform live -- their choreography was nonexistant, they didn't know how to get what they wanted out of the sound crews, and above all else, they weren't really musicians. Back then, the musical portion of their shows consisted mainly of the MCs rapping over backing tracks pulled straight off their albums, and a turntabulist whick-whick-wakking haphazardly in the mix (which was invariably distorted over the unbalanced PAs...) Anyway, a few years later, in like 1992 or so, I went to see the Beastie Boys play a concert at San Jose State's indoor basketball stadium -- a pretty silly venue, but it turned out to be one of the greatest shows I've ever been to. The main reason was that they could hella play their instruments. It was hip-hop, for sure, but with high-class, electric rock guitar work seamlessly interwoven into the mix. Which brings us to this cool little album, packed with slinky, funky, salsa-and-soul drenched instrumentals, equal parts Santana and Shaft. The crafty percussion alone is worth the price of admission -- if you ever doubted these guys could really play their instruments, then check this disc out. It's an opulent, delicious reimagining of the oft-mined exploitation soundtrack soundtrack style, but without the kitschy trappings that so often go along with that hipsteriffic terrain. Nope, this is just pure funky soul, and it's pretty hard to beat.
The Beatles (just pick an album...) (Capitol)
Hey, I got no problem admitting I'm a total Beatles baby... I hear that there are those music lovers out there who profess to hate the mop-top lads from Liverpool, but frankly I think that's all a bunch of hooey. What's not to love? And for indiepoppers out there who think the Beatles are irrelevant to modern music, I'll just suggest you check out these three songs: "Look What You're Doing" (on ), "Revolution Number Nine" (The Beatles (aka "The White Album")), and "Too Much" (Yellow Submarine)... C'mon -- admit it: they were great.
Belle & Sebastian - see my Scottish pop section
Big Star "#1 Record" (Ardent/Fantasy, 1972)


Big Star "Radio City" (Ardent/Fantasy, 1974)


Well, duh. One of the great guitar rock bands of all time, luxuriant and indulgent as all hell, with shrill vocals and beautiful hooks, these guys had a profound influence on every power-pop band from Teenage Fanclub on down. This handy little CD reissues the first two albums of this short-lived '70s combo, capturing Alex Chilton and Chris Bell at their best. Pick this up, and you're set for life. Highly recommended. (Also check out Chilton's earlier band, the Box Tops, below.)
Big Star "Third/Sister Lovers" (PVC/Rykodisc, 1978/1992)


I have to confess, I've never been quite as captivated by this album, but it's still pretty cool, with plenty of beautiful songs to check out. Dutifully, I direct your attention its way as well.

Black Flag "Damaged" (SST, 1981)


Awesome California novelty punk. Few old-school albums were ever any better. Of course, on this one, it's all hits all the time -- "Rise Above," "TV Party" and (my personal favorite) "Six Pack".... As a hard-edged poet/boho celebrity, Henry Rollins turned out to be a bit of a bore, but as a smartass teen-ish punker from LA, he was hella fun. One of my favorites & highly recommended.
BMX Bandits - see my Scottish pop section

Marc Bolan & T-Rex "20th Century Boy: The Ultimate Collection" (Universal/Hip-O, 2002)


A tasty best-of from one of the '70s most charismatic and artistically searching pop artists. Bolan almost singlehandedly defined the androgynous look and piercingly treble-heavy sound of the early '70s "glam" genre, and his records remain the best of the lot, along with Bowie's Ziggy-era albums, and the random hits by David Essex or Sweet. By now, everyone in the free world must be familiar with the mega-anthemic 1971 hit, "Bang A Gong," although this collection includes nearly two dozen other goodies of near-equal caliber. Bolan, who died in 1977, was a prime example of the experimentation with celebrity image and musical expression that came about after the Beatles/'60s hippie rock scene solidified the rock'n'roll starmaking machinery. Some of his stuff -- including a few songs on here -- was a bit formless, but his best songs have a keen, clear-cut melodicism that is irresistible and the creative imperative is tangible in everything he did. Even when his seductive smashes were offset by the occasional flat number, he still gave the impression of an actual artist at work. Although several of his original albums are worth picking up in their own right, this is an excellent collection which does a nice job picking out the juiciest tunes from the Bolan/T-Rex catalog. Recommended!
Francoiz Breut "Francoiz Breut" (Lithium, 1997)


One of the most striking (and most inquired about) records of my fabulous radio career. If you are looking for a truly enchanting, different-sounding record to groove out on, give this a try. Produced along with her boyfriend, Dominic A, this features alluring, Marianne Faithfull-style vocals swathed in a cloak of spooky, dreamy, jazzy arrangements not unlike Marc Ribot-era Tom Waits, or (dare I say it?) the Cowboy Junkies. Highly recommended.
Francoiz Breut "Vingt A Trente Mille Jours" (Labels/Virgin France, 2000)


Though not as foreboding as her first album, this shares much of the brooding grace that first endeared France's most downcast mademoiselle to us in the late 1990s. Backed once again by her longtime partner, Dominique A, Breut has also enlisted many of France's most illustrious indiepoppers, including folks such as Phillipe Katarine and members of Autour de Lucie. The result is a lighter-sounding album which sheds the murky, mystical gravity of her earlier Tom Waits-y leanings in favor of a muted, slightly xylophonic orchestral pop, ala Tindersticks. Although not as immediately striking and unique, this is still a powerful and poetic album, one that hopefully will draw even more listeners into her orbit. If you haven't heard Breut before, take the time to track this (and her last album!) down... you won't regret it!
Carla Bruni "Quel Qu'un Ma' Dit'" (V2/BMG, 2005)


Laid-back cool and acoustic-based minimalism is the watchword on this fine set of whispery, alluring French indiepop tunes. The arrangements are pretty simple -- pretty-sounding acoustic guitar with the occasional addition of simple but not unpleasant slide work -- and the bluk of the attraction lies in Bruni's vocals, a mix of too-cool hush, and deft, dancing verbal playfulness. The music is nice, and her complex toungetwisters are just icing on the cake. Forget the comparisons to the incomparable Francoise Hardy -- they're just pointless and unimaginative -- but feel free to enjoy Bruni's music in its own right. You'll be quite pleased; this one's a gem.

Buzzcocks "Singles Going Steady" (IRS, 1979)


Buzzcocks "Operator's Manual" (Capitol, 1991)


Yeah, sure, this is like shooting fish in a barrel... Gathering together the earliest singles of the world's greatest pop-punk band ever is pretty much a no-brainer. These are the best and most melodic recordings by these Britpop progenitors, and there isn't an unworthy song on here. Play them all really, really loud and you'll be really really happy. (Matter of personal preference: sure, the Operator's Manual CD best-of has more songs and is super cool, but the original Singles album just looks way cooler.)
---
More Pop Faves
---



---