<! MP3 03/27/10, 01/27/13 > <! outside 00/00/00 > <! pix 03/27/10 > <! update 01/27/13 - added new comps, missing ASINS > <! RAY COLUMBUS - early '60s rocker >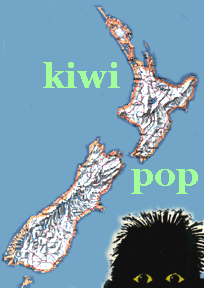 ---
It's so easy to tease kiwis... New Zealand is, after all, just a couple of little rocks in the middle of nowhere, surrounded on either side by sharks or Australians. But, oh! their music!
My infatuation with kiwipop goes back to when I first started working at KALX, back in (ulp!)1986. Kiwipop was a big thing on our station. American college rock was rather dreary at the time, mainly packed with endless turgid "postpunk" guitar bands that couldn't decide whether they wanted to "rock out" or try something more complex (which usually meant something awful.) Along with a handful of European and American power pop bands, the lilting, off-kilter kiwi bands were a nice bit of fresh air. With an artless, just-plain-folks charm crossbred with the easygoing, dark humour that only these Scots-Irish Commonwealth refugees can seem to muster, kiwipop has a lot going for it, in my book.
Gradually, the New Zealand scene became sombre and artsy, and my interest started to drift, so this section of Slipcue (like many others) is mostly just me living in the past. Still, if you look some of these records up, you may find them as alluring as the day they were made.
---
Recommended Records (& Other Odd Stuff)
---
Able Tasmans "A Cuppa Tea And A Lie Down" (Flying Nun, 1987)


Able Tasmans "Hey Spinner!" (Flying Nun, 1990)

Able Tasmans "Somebody Ate My Planet" (Flying Nun, 1992)

Able Tasmans "Store In A Cool Place" (Flying Nun, 1995)

Able Tasmans "Songs From The Departure Lounge" (Flying Nun, 1995)


Alec Bathgate "Gold Lame" (Flying Nun, 1996)


Naturally, this will feel familiar to Tall Dwarfs fans, but Bathgate tempers the quirkiness with a bit more melody and less aggro, less pessimistic feel than his cohort Chris Knox has on his solo albums. Inventive, bright pop with a sinister underside... if you're already in this deep, why quit now?
Alec Bathgate "The Indifferent Velvet Void" (Lil' Chief, 2004)

The Bats - see artist profile
Bird Nest Roys "Bird Nest Roys" (Flying Nun, 1986)

Brunettes "Holding Hands, Feeding Ducks" (Lil Chief, 2002)



Brunettes "The Boyracer" (EP) (Lil Chief, 2003)



Hmmm... I'm just not feelin' it here. This six-song EP is a good representation of this kiwi duo's basic approach -- super-goofy lyrics backed by rapidly-changing, purposely difficult music. If you're into artists that are clever for the sake of cleverness, and feel that the best way to underscore their cleverness is to make their music irritating and spasmodic, then you oughtta love these two. Not quite as abrasive as Ween, nor as cutesy-wootsy as Stereototal, Brunettes manage to summon distinctive, catchy riffs, then fritter them away at a moment's notice. My favorite song on here is "Don't Neglect Your Pet": the lyrics are hilarious, but almost impossible to hear, amid the cluttered, murky mix. I guess I'll have to pass.
Brunettes "Mars Loves Venus" (Reverberation OZ, 2004)


Brunettes "When Ice Met Cream" (EP) (Lil Chief, 2006)


Brunettes "Structure And Cosmetics" (SubPop, 2007)



Another super-clever, super-cluttered novelty outing from these New Zealand noisemakers. Perhaps this is just the thing for folks who think rock'n'roll (and indie rock, in particular) takes itself too seriously these days. But still, some of us still like a good melody, as well.
Chainsaw Masochists "Periphery" (Flying Nun, 1991)

The Chills - see artist profile

Graeme Downes "Hammers And Anvils" (Matador, 2001)



After an eight year hiatus, songsmith Downes (of The Verlaines) shows that he is still in fine form, as dark-toned and intense as ever. He can still pull a jangle or two out of his pocket, but this is mostly very dense, rather pessimistic material, rough-hewn, highly individual and pleasantly grating rock balladry. Fans of Mark Eitzel, perhaps, might want to check this one out.
Flight Of The Conchords "The Distant Future" (EP) (SubPop, 2007)



New Zealand's greatest supergroup... At least until they sold out and moved to America. This first, hard-to-find, fans-only EP is their best record... Everything else is rubbish. Except for the bootlegs.
Flight Of The Conchords "Flight Of The Conchords" (SubPop, 2007)


Flight Of The Conchords "I Told You I Was Freaky" (SubPop, 2009)


David Kilgour & The Clean - see artist profile
Chris Knox - see: Tall Dwarfs

The La De Da's "La De Da's" (Zodiac Records, 1966) (LP)



<! - no ASIN(?) 04/20/18 - blues-rock from Auckland, played a regular gig at the Galaxie Lounge - Brett, Bruce, Kevin Phil and Trevor - Pretty Things-ish? >

The La De Da's "Find Us A Way" (Philips Records, 1967) (LP)



< - #PL-08792! >

Larry's Rebels "I Feel Good: 1965-1969" (Cherry Red/RPM, 2015) (CD)


A fun collection of hit singles, album tracks and various odds and ends from this popular 1960s garage-pysch band from Ponsonby, New Zealand... Lead singer Larry Morris had a kind of Eric Burdon-esque blues-rock jones, though the band pingponged between various styles, most charmingly in a twee, Chad & Jeremy/Paul Revere-ish pop style, but also into bass-heavy Who-vian hard rock and playful, tounge-in-cheek psychedelic mode. The wannabe-Beatles songwriting often left something to be desired, though the distance between their influences and their artistry has a strong charm of its own, recalling one of the mightiest of all bands, ever, the fabulous Spongetones, though with much less of their intentional self-parody. All in all, this is a fun, honest portrait of a lively, eclectic band who were big in New Zealand, but little known outside of Tuatara.


<! AM: "...UK collection by the 1960' s New Zealand pop band who recorded storming versions of mid to late '60 s Mod Pop-Art songs plus same their own compositions. A pop band with a Bluesy bite they were somewhere between the Animals and Paul Revere & The Raiders, driven on by an insistent keyboard-organ led sound. The Rebels backed Paul & Barry Ryan, toured with The Easybeats, The Walker Brothers, Roy Orbison, The Yardbirds. Guitarist John Williams even depping for Jimmy Page at one show when Page was unable to perform. The Rebels were electrifying live cementing their big reputation and maintaining their national profile which covered Australia as well. All recordings taken from the original tapes, and mastered at the famous vintage studio Stabbings Recording Centre. Album produced by noted NZ music archivist Grant Gillanders with full cooperation of Larry Morris and the original band members.? >

Larry's Rebels "Study In Black / Madrigal" (Frenzy Records, 2013) (CD)


A reissue of two albums, A Study In Black and 1970's Madrigal, the band's final album, which was released under the name of The Rebels, with lead singer Glyn Mason replacing Larry Morris, who had left to pursue a solo career.


<! - date? https://en.wikipedia.org/wiki/Larry%27s_Rebels "...Larry's Rebels were a garage rock band, formed in Ponsonby, New Zealand, in 1964." - later lead singer was Glyn Mason >

Look Blue, Go Purple "Compilation" (Flying Nun, 1999)



I'm not a runaway, crazy-wild fan for these folks, but "Cactus Cat" is a great twee pop song. Nice stuff, typical of the unassuming approach of early Flying Nun albums -- this CD collects all their early EPs in one nice little package...


<! B004A1189W >

Mad Scene "Trip Through Monsterland" (1991)

Mad Scene "Sealight" (Merge, 1995)


Mad Scene "Chinese Honey" (EP) (Merge, 1996)



A 7-song EP...

The Magick Heads "Before We Go Under" (Flying Nun, 1994)


Those who are entranced by the pure pop possibilities of Robert Scott (of The Bats) gigging around with some other kiwipopsters (notably, the guitarist of the 3Ds...) may find themselves a bit baffled by this sometimes-difficult outing. Yes, there are pretty, melodic moments, but also plenty of darker, perhaps folk-influenced tracks... This is a band that's hard to get a handle on, but worth checking out if you're already a Bats fanatic.
The Magick Heads "Woody" (Flying Nun, 1997)

The Magick Heads "The Back of Her Hand" (7") (Flying Nun)

The Magick Heads "Transvection" (Flying Nun, 1999)


Barbara Manning "In New Zealand" (Communion, 1998)


Northern California's indiepop darling, Barbara Manning, has long had a sweet-tooth for all things kiwi, and over the years has recorded more than her fair share of Bats covers, etc... Here she hangs around with the cream of New Zealand's indie elite, coauthoring and covering songs galore. David Kilgour, Robert Scott, Graeme Downes, Chris Knox and others all pitch in... and it's all quite nice. For more info on this indiepop homegirl, check out this website....
Roy Montgomery
One of the more enigmatic, and heavier-sounding, New Zealand artists, guitarist Roy Montgomery specializes in dolorous, dreamy, spectral electric guitar instrumentals... like stuff you might have expected John Fahey to make when he was really down in the dumps. I don't have specific recommendations to make, just at the moment, but when I do, I'll let you know.
Martin Phillipps - see: The Chills
The Pin Group "The Pin Group" (Siltbreeze, 1998)



Guitar whiz Roy Montgomery's first band, The Pin Group, had an almost embarrassing debt to Joy Division, but that's understandable, all things considered. This CD collects several of their 7" singles from the early 1980s (some of the first records out on the Flying Nun label) and reprints some contemporary record reviews which are charmingly askance about the whole thing. In some of the undertones (and undertow) you can sense Montgomery's darker, more fluid leanings, and can hear the basis for his later, moodier instrumental work. A period piece, but certainly worth checking out.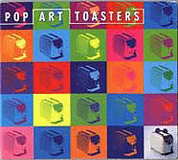 Pop Art Toasters "Pop Art Toasters" (EP) (Flying Nun, 1994)


Martin Phillipps (of The Chills) and a few other kiwi popsters kick back a bit and cover several fairly obscure '60s pop-psychedelic tunes. A nice side-project which brought the sparkle back into Martin's eyes.


<! Quincy Conserve "aire of good feeling" (EMI) - seen in album art of Day in My Minds Mind 3 No ASIN 3-2013 >

Robert Scott "The Creeping Unknown" (Flying Nun/Thirsty Ear, 2001)



Not what you might expect from a pairing up of Robert Scott and David Kilgour of the Clean... This is a dark, artsy, open-ended, semi-instrumental album that sounds a little like Looper at times, but a whole lot more like New Zealand's brooding, avant-ish guitar whiz, Roy Montgomery. Only jangly in tiny traces, but captivating in an odd kind of way.
Robert Scott "Songs Of Otago's Past" (Powertool, 2005)


An odd, fascinating album, in which indiepopster Robert Scott delves into acoustic folk music, poetry and other archival lore exploring the history of the Otago region, where the city of Dunedin is located. It's similar to, say, Martyn Wyndham-Reed's work collecting Australian outlaw and sheep-shearing ballads... A curious shift in style, but a fascinating record, nonetheless.
Sneaky Feelings "Sentimental Education" (Flying Nun, 1986)

Sneaky Feelings "Positively George Street" (Flying Nun, 2000)


Stephen "Dumb" (Flying Nun, 1988)
Stephen "Radar Of Small Dogs" (Flying Nun, 1999)


Sure, this is really just a spin-off of David Kilgour and The Clean, but this EP is nice enough to mention on its own. Just in case you've ever stumbled across it and wondered if it was worth checking out... why, yes, it most emphatically is! The Small Dogs CD has all the material on the original EP, as well as some other groovy stuff. Recommended! (Also check out Flying Nun's website for more info on this project...)
Tall Dwarfs - see artist profile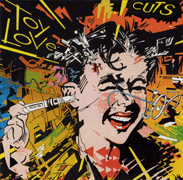 Toy Love "Cuts" (Flying Nun, 2005)



One of the legendary albums of New Zealand's odd, unpredictable "kiwipop" scene has finally found the light of day in the digital era... Before Chris Knox and Alec Bathgate founded the bizarro band, Tall Dwarfs, they fronted Toy Love, a punky group that was supposed to become New Zealand's answer to The Saints. They signed to a major label, and had begun a tour of Australia and the UK when the whole deal imploded and they were sent packing back to Dunedin... Their lone album, issued in 1980, was lost to the sands of time and as kiwipop became better defined and better known outside of NZ, the disc took on a Holy Grail status, forever drifting in the tide of corporate limbo. Well, here ya go: here's a 2-CD set that collects all the tracks off the original LP, along with several singles issued on other, smaller labels, and a ton of demo tracks and kitchen-table lo-fi stuff that dates back to the Toy Love years. The lyrics are more youthful and abrupt, and much of the music is more overtly punky than Knox & Bathgate's later work, but what's amazing is how much they sounded like themselves, even back in their angry young men days, how weird the lyrics were and how twisted the music sounded. It's not unlike Robyn Hitchcock's old band, The Soft Boys, a kooky riff on rock and punk, with surrealistic and self-referential lyrics galore. It's also very, very noisy, and might be a little hard to get into at first. But for fans of Tall Dwarfs, or anyone who appreciates the truly weirdo, oddball artists of the world, this'll be a set you'll want to check out. One technical note: the material from the Toy Love record comes courtesy of a label executive who surreptitiously dubbed a copy of the master before moving on to another job (...yay! you rock, dude!) so Knox & Co. took the opportunity to remaster the tracks and add in some of the low end that the LP lacked (one of many disagreements with the label, I'm sure...) Anyway, it sounds fine, but if you're super-picky and persnicketty about stuff like that, you might want to know that the original version sounded a lot tinnier than this... So I guess the vinyl copy will still remain an elusive prize!
The Verlaines "Juvenilia" (Flying Nun, 1988)



Classically trained guitarist Graeme Downes and his band, the Verlaines, generated several of the most magical moments of the early kiwipop scene, including the doleful "Joed Out" and the irresistable "Death And The Maiden," with its sweeping chorus of, "Verlaine, Verlaine, Verlaine, Verlaine..." Both songs are collected on the original Juvenelia LP, as well as on the remastered, expanded CD version. With tighter compositions and loftier, more poetical lyrics than many of his contemporaries, Downes' work later became a bit dense (impenetrable, almost...) but these early records were pretty sweet.
The Verlaines "10 O'Clock In The Afternoon" EP (Flying Nun, 1984) (LP)


All this stuff is collected on the CD/LP above, but if you're a vinyl junkie, this is a really nice record to have around. Just thought I'd mention it.
---
Collections
---
Various Artists "A DAY IN MY MIND'S MIND, v.1" (EMI-New Zealand, 2008)





<! 1992? >
Various Artists "A DAY IN MY MIND'S MIND, v.2" (EMI-New Zealand, 2008)

Various Artists "A DAY IN MY MIND'S MIND, v.3" (EMI-New Zealand, 2008)


Various Artists "MAKING LOSERS HAPPY" (Drag City, 1996)


The more grating, arty side of the kiwi sound, with dark artists such as Dead C, Alastair Galbraith, Graeme Jefferies, The Terminals, etc.

Various Artists "No. 8 WIRE" (Particles, 1998)


One of those marvelous, mysterious bootlegs (originally only out on LP) but packed with first-rate '60s material, collected from various impossible-to-find kiwi oldies. This has a more typical garage rock feel to it -- less poppy and immediately catchy, more into trippiness and distortion, less into infectious pop hooks and teen-beat cutesiness. It's also a smidge uneven, though certainly above average as far as your typical NUGGETS knockoff goes, and definitely worth checking out.


<! 1. The Gremlins - Blast-Off 1970 2. The Smoke - Never Trust Another Woman 3. The Avengers - Water Pipe 4. The Group - People In The Night 5. Lew Pryme - Gracious Lady Alice Dee 6. The Hi-Revving Tongues - Tropic Of Capricorn 7. The La De Da's - Find Us A Way 8. Larry's Rebels - Coloured Flowers Side 2 1. The House Of Nimrod - Slightly-Delic 2. The Brew - Bengal Tiger 3. The Top Shelf - Time Beyond 4. The Music Convention - Footsteps On My Mind 5. The Human Instinct - A Day In My Mind's Mind 6. The Dave Miller Set - Mr. Guy Fawkes 7. Vicky & Dicky - I'm Allergic To Flowers 8. The Zarks - Jumbo >

Various Artists "NOW WE ARE THREE!" (Lil' Chief, 2004)


An 11-song sampler from New Zealand indie label, Lil' Chief Records...

Various Artists "SHREW'D: A COMPILATION OF NZ WOMEN'S MUSIC" (Flying Nun, 1993)


Various Artists "TALLY HO! FLYING NUN'S GREATEST BITS" (Flying Nun, 1993)







Various Artists "UNDER THE SOUTHERN MOONLIGHT" (EMI-New Zealand)
Subtitle: "...The Kiwi Rock Scene: 1970-1975." Oooh! Oooh!! I wan' it!! I wan' it!!


<! seen in Day in MM 3 artwork >

Various Artists "WILD THINGS: WYLD KIWI GARAGE 1966-1969" (Flying Nun, 1992)


The kiwi equivalent of Australia's legendary UGLY THINGS '60s garage-pop comps... this is a pretty tasty set of rare New Zealand garage-psychedelia by bands such as The La De Das, The Action, The Bluestars, The Pleazers, etc. Since this is a Flying Nun production, attentive listeners may spot a musical "through-line" between some of these tracks and the later kiwipop of the '80s... But pretty much anyone is guaranteed to enjoy this collection -- it's all top-notch! Great liner notes, too.


<! really 108x108 >

Various Artists "WILD THINGS, v.2" (Zerophonic, 1996)


On a different label, but with an equally high level of quality, and only a couple of bands that overlap. As with the first collection, this has a great mix of original material and cover tunes, but the best news is that nothing on here is subpar. This disc may have a bit more of a poppy, teenybopper vibe... Tracks like "Go Go" and "One Track Mind" by the Four Fours are pretty irresistible, as are the "chick" rockers such as, well, The Chicks, who have the dazzling anti-conformity anthem, "Rebel Kind," and the Clevedonaires, who chirp "He's Ready" with all the adolescent lust they can muster. Also has spiffy liner notes... Recommended!


<! really 108x108 >

---
Links
---
Flying Nun home page -- Band profiles, discographies and general gossip from the world's best-known kiwi label.
There used to be a great website called Kiwi Rock is a music obsessive's dream site -- almost scarier than my site, even! It greatly grieves me that the author decided to take it down, 'cause my site can hardly do justice to the kiwi scene the way that one did. Kiwi Rock included biographical essays for dozens of bands, as well as old press clippings, etc, as well as discographies and links-a-plenty. We can only hope it will go up again some day! (Sigh...)
Aquarius Records in San Francisco has long catered and cozied up to all things New Zealand. Aquarius regularly posts their recent recommendations, which are well worth checking into, especially if you want information on kiwi artists like the Pop Group or Roy Montgomery who are a little more challenging (or more contemporary) than the bands I talk about on my site.
Sergent's New Zealand Music Page has an awesome listing of dozens of bands from the '60s and '70s, with as much information and as many archival images as possible. Cool beans!
---



Indiepop Indiedex
Slipcue Main Page



---