! MP3 00/00/00 > <! update 00/00/00 > <! outside 00/00/00 > <! pix 00/00/00 >
---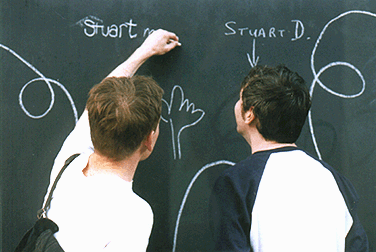 By now pretty much everyone knows about Belle and Sebastian, right? Indiepop's great white hope, this sprawling, multi-membered musical collaborative coalesced together sometime in the mid-1990s, as several members attended a Glasgow trade school program that was created up to teach students how to record, produce and distribute their own record. And boy, did that class pay off! Although they were originally only supposed to produce a 7" single, the lads and lasses found that you can work wonders with studio time if you offer to let the sound engineer join your band. Thus, having successfully produced the mysterious and beguiling Tigermilk LP, Belle & Sebastian promptly set out to market the 1000-copy run themselves, and failed miserably -- unused, orphaned copies cluttered shelves throughout Scotland and the rest of the UK. They couldn't give the darn thing away!
But strange things happen when you're brilliant and too cool to care -- the Tigermilk album became, naturally, one of the biggest indiepop fetish items ever, (since unless you bumped into singer Stuart Murdoch walking down the street, it was next to impossible to find a copy). And B&S became (as I mentioned above) everybody's darling -- the saviors of the wispy indie set -- and eventually the album, along with their others, made it into wider circulation, and into all out hearts, minds and stereo systems.
(For the story of my rather random and accidental association with the band, check out the article, "My Dream Date With Belle and Sebastian"; if you just want to see if I agree with you or not about their various releases and side projects, then look below.)
---
A Discography
---
Belle & Sebastian "Tigermilk" (Jeepster, 1996/Matador, 1999)


For a couple of years, this was the world's greatest indie-rock fetish item: an album with only a thousand copies pressed, and most of those languishing unsold for months on end. As the legend goes, this album was recorded as part of a class project in a Glasgow trade school job program, where the members of B&S met. Originally, it was only supposed to have been a 7" single, but since they agreed to let the sound man into the band, he let them use as much studio time as they wanted to, and behold! Tigermilk was born. Perhaps best of all is the news that, not only is the album rare, it's also very, very good. As fey and beguiling an album as anyone could ever hope for, Tigermilk takes the mellow twee vibe of early-'90s Sarah-label pop, and gives it a little bit of a musical and lyrical goose. Stuart Murdoch's story-song emotional character sketches beg comparison to Ray Davies of the Kinks, and (especially) to Nick Drake, whose wispy vocal style is also similar. The CD reissue has a notably brighter mix than the original LP -- the drums in particular are much punchier and more prominent. Whether that's "good" or "bad" I suppose is up to your individual temperament... (I happen to prefer the LP...) A groovy indie classic.
Belle & Sebastian "If You're Feeling Sinister" (Jeepster, 1997)


This was the perfect follow-up to the Tigermilk album: a bit weightier, more solidly produced, though just as lovely and dreamily poetic. There is a self-consciousness which has crept into the writing (song titles such as "Dylan In The Movies", for example, betray considerable cultural pretensions...) But the record is, on the whole, very solid and well-conceived, and extends the musical ideas and lyrical form of the first album. The songs still feel very individual and distinct from one another, and the musicianship is first rate. So far, this is my favorite Belle album.
Belle & Sebastian "Line Painter Lazy Jane" ('Box Set')


In 1997, working between albums, B&S recorded three EP's, Dog On Wheels, Line Painter Lazy Jane and 3...6...9... Seconds Of Light.All three of these EPs are notably uneven, even somewhat slipshod. Beautifully packaged, though. One imagines the choppy quality of the performances may have been meant to show an offhanded, casual attitude towards fame, fortune and the like... a desire to keep things simple and down-to-earth. That's the charitable view; one could also argue that they display a lack of respect for the audience, and a certain amount of cynicism on the part of the label and/or band. Matador's recent US reissue is a little odd in and of itself: rather than just put everything on one disc, they chose instead to gather the UK CDs together a prestige format: three separate CD-EPs bricked into a slipcase. This preserves the original Jeepster artwork, so if you're into aesthetic presentation, I suppose this is totally groovy... personally, I'd rather have the material collected on a single CD so I could have more shelf space at home.
Belle & Sebastian "The Boy With The Arab Strap" (Jeepster/Matador, 1998)


I have to confess, this one still hasn't made much of an impression on me. Everything's pleasant enough, and the album doesn't suffer from the unevenness of the EPs made around the same time, yet none of the songs really stand out. Is it the production? Or something else? I'm not quite sure. Maybe I'm just plain wrong!
Belle & Sebastian "This Is Just A Modern Rock Song" (EP) (Jeepster/Matador, 1998)

Belle & Sebastian "Legal Man" (EP) (Jeepster/Matador, 2000)


Or, "the Stevie Jackson EP", as the dreamy B&S guitarist is given center stage on all three tracks. This single, and the title track in particular, propelled Belle & Sebastian to the top of UK top ten, and even helped them crack into the Billboard chart in the US... "Legal Man" is a buoyant, sitar-laden bhangra-style pop tune that would make Cornershop envious. Great disc -- pity the hit isn't also on the Fold Your Hands album.
Belle and Sebastian "Fold Your Hands Child, You Walk Like A Peasant" (Jeepster/Matador, 2000)


Complaining that Belle and Sebastian sound a bit pretentious is like bitching about there being too much carbon dioxide in the air -- hey, it's just there, and you're still breathing, right? They've always had their precious side, but it was consciously balanced with all their baroque musical charm and wispy melodic brilliance. Still, the opening stanza to this new album is a bit of a clunker, with a highblown and semi-preposterous "when I was at war" theme, set to soft, twee orchestral pop... That trick worked for the Zombies in 1967, but with Stuart Murdoch in Y2K, I'm not so sure I buy it. One suspects, though, that this literary loftiness is a purposeful challenge aimed at folks like me who would bother to point it out the absurdity, a pastry crumb tossed out for would-be critics to snap at. Either way it really doesn't matter: the rest of the album picks up the pace, resulting in a gloriously realized homage to late '60s orchestral rock, particularly the LA sound that encompassed folks such as Lee Hazelwood, The Left Banke, and the dozens of weird studio-based acts that swirled about in the wake of Brian Wilson's Pet Sounds. It's a pity that the propulsively catchy, deftly-layered single, "Legal Man" was kept off the album (doubtless, in order to toy with the collector-nerd legions that clamor for B-sides and the like). The song didn't shoot to the top of the UK charts for no reason: it's pretty damn good, and the EP is also worth running out to get.
Belle & Sebastian "Jonathan David" (EP) (Jeepster/Matador, 2001)

Belle & Sebastian "Waking Up To Us" (EP) (Jeepster/Matador, 2002)


Nice one. The title track is one of the band's best, and acerbic dissection of a doomed romance, with more of that baroque pop backing that they're getting so good at. The other songs are fine, though not as focused or poignant. Still... nice one!
Belle & Sebastian "Storytelling" (Soundtrack) (Jeepster/Matador, 2002)


The band was commissioned to do the soundtrack to Todd Solondz's latest overwrought offering, and while not a lot of this music was actually used in the film, it's still an interesting effort. Guitarist Stevie Jackson continues to move to the fore, composing and arranging a lot of this material. If you're already a fan of cheesploitation soundtracks, much of this may sound familar, but it still has that winsome an unique B&S charm.
---
Other Belle-related records:
---
Gentle Waves "The Green Fields Of Foreverland" (Jeepster, 1999)

Gentle Waves "Swansong For You" (Jeepster, 2000)


The second album by Isobel's side project is more accomplished and musically cohesive than the first, abandoning her earlier indie-isms for a straight, string-and-woodwinds-laden recreation of the lush '60s Bacharach/Hazelwood pop sound. But it's also almost unbearably precious and self-centered. Her hushed, naifish vocals and exaggeratedly poetic lyrics don't do much for me, and at times it seems that she inhabits the Nico-esque ice queen persona a bit too effectively. Still, take what I say with a grain of salt. This kind of thing is just not my bag, but other folks -- particularly Lee Hazelwood or April March fans -- will probably love this record.
Looper "Up A Tree" (Jeepster/SubPop, 1999)


Beginning and ending this album with the sounds of little kids on the playground isn't exactly a declaration of war against the stuffy pretensions of the techno crowd, but it is an indication of the good-natured, easygoing enjoyability intended by Stuart David. This Belle & Sebastian spinoff band approaches electronica with the same lighthearted approach that Teen Fanclub takes towards guitar pop: it's fun, it's fab, and it doesn't take itself too seriously. With little blips and bloops, harmonica riffs and daft story-songs that echo the nonsensical fairytales that adorn many Belle albums, this disc deflates a lot of the snobbishness often associated with electronic music, all the while offering irresistably catchy, cheerful beats and melodies. It's a sweet little album, and it holds up to repeated listenings.
Looper "The Geometrid" (Jeepster/SubPop, 2000)


Further welcome tonic to the egotism rampant on the techno scene, this is another highly enjoyable album -- captivating and bouncy without being bombastic or self-important. Looper doesn't aim at high art, and as such they are quite listenable, dreamy and drony, and indeed have more than a spot or two of guitar worked in here and there. I even fall for the novelty toss-offs, such as "My Robot", which outlines the pitfalls of techno-fetishism as a substitute for creativity. Cute... and recommended!
Looper "The Snare" (Mute, 2002)


We have this joke in my household that the death of every band you ever love is the day that they decide to write a rock opera. Unfortunately, David Stuart seems to have fallen into that very trap, here on Looper's third album. Worse yet, this is actually an adaptation/outgrow of his second novel, which is loosely based on his experience touring in the US. There's some big semi-fictional backstory about having written the material with a mysterious road manager (who is also a character in the book), and having that guy -- the real guy, sort of -- get upset at having david "steal" his ideas. Apparently David did his press interviews for the project in character, acting like his fictional screw-up protagonist, and even taking potshots at "that David bloke." It's all very Andy Kaufmanesque, but the fact remains that the music, the stuff on this album, the one that exists here in the real world, is dark and dense, and probably won't appeal much to Looper fans who liked the lightehearted perkiness of his first two albums. It'll be interesting to hear where he goes from here, though.
---
Links
---
---



Indiepop Indiedex
Scottish Music Lovefest






---

top photo credit: J.A. Kaufman