<! MP3 00/00/00 > <! update 00/00/00 > <! outside 00/00/00 > <! pix 00/00/00 >
---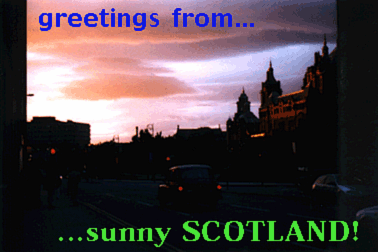 Just a tad north of England, just a bit to the right of America... Scotland has had an amazingly strong pop scene for the last couple of decades. In a land where Brian Wilson and Alex Chilton are revered as gods, the jingle-jangle mourning will come following, too. Here are a few of my favorite records, by a few of my favorite bands...
---
Brand New: My dream date with Belle and Sebastian - everybody's wispy voiced darlings!

---
bis "New Transistor Heroes" (Capitol/Grand Royal, 1997)


The raucous, fun-loving indie-disco-punk vibe put forward by this Glaswegian outfit is pretty compelling at first listen, but wears thin quick. This album follows that course: the first few tracks are giddy and goofy, by the end of the record the main challenge is to keep from hitting the "skip" button. This has its charms, but is best taken in small doses.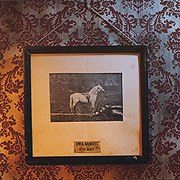 BMX Bandits "Star Wars" (Vinyl Japan, 1991)


It would not be unfair to refer to the goofy, intermittently brilliant head Bandit, Duglas Stewart, as a Glaswegian Jonathan Richman... he's boyish, he's mopey, he has an irrepressible love for his music, and doesn't worry to much whether folks think it's too silly or not... But perhaps a comparison to Art Blakey would be equally apt. If you traced one of those who-was-in-which-band charts for the Glasgow scene, the last couple of decades would look like a spiderweb, inexorably leading back to the sinister clutches of the BMX Bandits. Members of the Soup Dragons, Teenage Fanclub, and even newbies from Belle and Sebastian have at one time or another entered the Bandits' hallowed ranks. This early album features a lineup with Stewart, drummer Francis Macdonald, Teen Fanclub's Norman Blake, and the Battlefield Band's trad fiddler, John McCusker, playing on a light, Byrds-y version of Robbie Burns' "Green Grow." There are several quaintly innocent celebrations of having good, clean sex (including "Come Clean," which opens and closes the album), which one supposes is a giddy indie-rock refutation of the Calvinist reserve which dominated Scottish society for several generations. Things fall apart during many of these songs, but they always come back together -- Stewart's vocals may get a little too goofy, or he may quickly find himself out past his depth (and his range), while caught up in the throws of a song. But it's this very enthusiasm that makes the Bandits such a charming band -- how can you not love such a cheerful, naifish, good-natured band? This disc might not be for everyone, but if you're a tweefan, you'll want to check it out.

BMX Bandits "Theme Park" (Big Deal/Creation, 1997)


Another loopy, lovable album from the Bandits. Apparently, this is their only full album to be released domestically in the States -- and, sadly, the Big Deal label went under a little while back. The disc is still out there, though, and well worth tracking down... Plenty of charming nuggets are crammed into this naif-pop lovefest, including "Nuclear Summertime" and "One Big Heart," which are both delightfully goofy and cute. The Bandits are also capable of sweet, wistful pop ballads like the femme-voxed "I Want To Fall In Love," another winner on this disc. Guests and friends include Teen Fanclub's Norman Blake, and the Battlefield Band's trad fiddler, John McCusker. If you're willing to get onto the BMX wavelength, this is a very rewarding album.
---
Sheena Easton - Glasgow's Godmother of Punk!
---
Future Pilot AKA "Tiny Waves, Mighty Sea" (Domino, 2000)


I suppose this ragtag group could simplistically -- though not uncharitably -- be characterized as Glasgow's version of Cornershop... Project mastermind Sushil K. Dade mixes bits of East Indian spiritualism in with all the meandering, spacey, indiepop, in an amorphous jam-session mix. Along for the ride are significant percentages of the lineups of various Scottish bands such as Belle & Sebastian, Teenage Fan Club, BMX Bandits, the Pastels, and doubtless dozens of others I'm just not hip enough to know about. I wouldn't say the result ia a classic and undying album, but it certainly is pleasant. The instrumental numbers are especially nice and dreamy. (Here's a link to the band's website...)
Jesus and Mary Chain "Psychocandy" (Reprise, 1985)


Half mopey goth/death rock, half pure pop droney bliss, JMC cut a wide swath in the '80s college rock (hey... remember "college rock"?) scene... With guitar tones like this, it's easy to see why. What is it about Glasgow, anyway? Something in the water?
---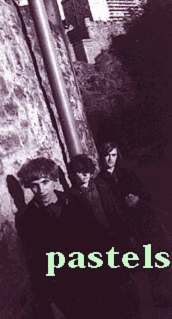 Pastels "Truckload Of Trouble" (Seed/Fire, 1993)


The grandaddy band of the Glasgow scene, formed in the mid-'80s, the Pastels originally billed their sound as "shambling" music -- offkilter, deliberately amatuerish, alternately loud and brilliantly power-poppy. A single CD collecting many of the best early Pastels EPs and singles, from a variety of labels. Lots of loud, lavish, quirky power pop here -- this is probably the way to go to get this stuff, unless of course you're really into haunting used record stores, in which case, don't let me stop you...
Pastels "Up For A Bit With The Pastels" (Glass, 1986)


A self-produced album, which has taken on an affectionate cult following... The title is a reference to slightly raunchy Scottish slang, which (politely put) means ready to party. Listen in and you'll see why...
Pastels "Illumination" (Up, 1997)


Years later, a dark and beautiful album, with sombre, space rock-y tracks and many lovely melodies. Sure, they still aren't "great" vocalists, but The Pastels sure can be expressive. Nice. Recommended. The Unfair Kind of Fame EP that accompanied the album's release is also nice, including more dark, sort-of ballads, and the lovely My Bloody Valentine remix of the song, "Cycle."
Pastels "Illuminati" (Up, 1999)


Some great blip-bloop navelgazey remixes of Pastels material, by folks such as Cornelius, Stereolab and My Bloody Valentine... the Pastels' music lends itself to this sort of electronica conceit better than you'd imagine... My favorite track on here is probably the aforementioned MBV remix... just lovely. Track this disc down and drag it home.
Pastels "The Last Great Wilderness" (Geographic, 2003)


Continuing to get spacey and mellow, the Pastels indulge in an almost-all instrumental outing, which is apparently the soundtrack to a film by one David MacKenzie. The disc drifts into '60s-y, Belle & Sebastian-y territory, including an odd cover tune like Sly Stone's "Everyone Is A Star," and "I Picked A Flower," which features vocals by guest performer Jarvis Cocker, of Pulp. The disc as a whole is a bit monochromatic, but folks who are in on that rarified wavelength will probably enjoy it quite a bit.
Link: The demi-official Pastels site is both disarmingly informative and quite droll... For all the latest, a complete discography, and then some...
---

Pearlfishers "The Strange Underworld Of The Tall Poppies" (Marina, 1997)


Opening with a picture-perfect Eric Carmenesque salvo, this settles into a dreamy power-pop, by way of... gosh, everyone from the Hollies to Gerry Rafferty and Brian Wilson. A tasty little treat, with special assist from BMX Bandit, Duglas Stewart. Yummy. Plus, anyone with the moxie to do a straight-faced slurpy-pop version of the old seafaring ballad, "Lord Franklin" deserves a little credit... Recommended!
Pearlfishers "Across The Milky Way" (Marina, 2001)


The Poets "Scotland's No. 1 Group" (Dynavox)


Folks looking for historical antecendants to the wry mopiness of modern-day Scottish indiepop need look no further than this classic '60s Glaswegian beat combo. Of course, you'll have to look pretty hard in order to track the Poets down -- they recorded only a few singles under the guidance of rock impressario Andrew Loog Oldham, and those few tracks are split up between his indie label Immediate, and his earlier stint as a producer for the British Decca label... Since the Universal label has not yet gobbled up the Immediate catalog, the only way to gather all the Poets material into one place has been through extra-legal measures. This lo-fi bootleg is the closest I've come to nailing the Poets down, and it's intriguing, though also rather frustrating. Sure enough, the semi-folky, multi-textured Poets were a bit of a square peg in the perkiness of the British beat scene -- not completely downcast, but definitely not bubblegum pop. They had a sound all their own (though the Byrds may have been an influence...) and that sound could, arguably be tied to later Scotspop bands such as Jesus & Mary Chain et al., in its sometimes murky, rainy day complexity. Sadly, though, the sound quality on this disc is pretty grey and flat, even on the pirated Decca singles. Half the disc is made up of unissued demo material which, tantalizing though it may be, mostly has abysmal sound quality. Still, if you've caught the Poets bug, this disc, or other boots just like it, are for now your only option, and are certainly worth checking out. (For more info on the band, check out Richie Unterberger's Urban Spacemen And Wayfaring Strangers, which discusses the Poets at length.)
---
Spare Snare "A Matter of Fact" (EP)
Although the various other releases by this (mostly one-man) act are tweaky good fun, this early 7" is the most arresting Spare Snare release I've heard. "Matter of Fact" is an awesomely tinny bolt of lo-fi brilliance: piercing yet melodic, in a manner similar to the first Ween album, for example. (Note: "Matter of Fact" also appears on one of Spare Snare's full albums, but it's a tamer, aurally flatter, version.)
---

Teenage Fanclub "Bandwagonesque" (Geffen/DGC, 1992)


A masterpiece -- a guitar rock heaven record which demolishes the notion of a musical "guilty pleasure." TFC really hit their stride with this ridiculously lavish, rich wall of harmony and melody -- almost singlehandedly, this is the record -- and the band -- that made the '90s safe for Big Star-style '70s power pop... where would Oasis be without them? The omnipresence of this album in the early '90s alterna-scene may have prompted a backlash against the lads, but it's still undeniably a grand album that easily stands up to the test of time. Favorite tracks: "The Concept" and "Metal Baby." Recommended!

Teenage Fanclub "Thirteen" (Geffen/DGC, 1993)


This album was considered TFC's downfall, a quieter, relaxed record which seems to have been largely overlooked when Teen Fanclub had fallen from favor with the press and the hipoisie, but it's another minor masterpiece. Requisite ooops-we're-famous-now potshots taken at record industry politics ("Radio") aside, this album is lovely and subtle -- one highpoint is the hidden "mystery" track, "Chords of Fame" -- a cover version of a Phil Ochs song, which in and of itself says great things about TFC's excellent taste in material. Recommended.
Teenage Fanclub "Grand Prix" (Geffen, 1995)


Teenage Fanclub "Songs From Northern Britain" (Columbia, 1997)


Simply wonderful. DRENCHED with rich harmonies, and soothingly sweet melodic grace. The humor is mainly musical on here -- a quoted dino-riff here, a powerchord cliche there -- the lyrics are fairly straightforward, and often quite nice. Really, quite lovely, and highly recommended.

Teenage Fan Club "Howdy!" (Sony, 2000)


Why the new TFC album didn't get US distribution after having been out for almost two years was a bit of a shocker, but at least it gave us all something to talk about. Predictability may be a factor: the Glasgow lads don't go off the deep end, they don't get all skittery-skee with the drum'n'bass or start screaming about social oppression or political values... They just stick to what they know and love -- pretty melodies and catchy guitar riffs, paired with oblique, vaguely rah-rah-reflective lyrics. There's a heavy Byrdsy influence throughout, and an elegance and economy of style that you can't help but admire. I suppose one could see why the marketing wing of a multinational conglomerate like Sony wouldn't go ape over an album like this, but there's no reason why we fans won't. Another nice, uncomplicated album... guitar rock heaven, and well worth the search!
Teenage Fanclub "Four Thousand Seven Hundred And Sixty Six Seconds: A Shortcut To Teenage Fanclub" (Sony, 2003)


Golly! It's a TFC best-of disc... what's there to complain about with that??
Links: Well, gosh, here's a surprise... Teen Fanclub have their very own home page, which is appropriately charming and tasteful. If nothing else, read the hilarious press statement for the "Songs From Northern Britain" album, which is in their "Bio" section.
---
Scottish Pop Links
---
Jockrock is a Scottish site with a fabulous wealth of information -- a bit flip and occasionally thin on details (they hardly mention Sheena at all...) But it certainly connects the dots, what with record reviews, a list of Scottish labels, club listings, gossip, etc... and way more Scottish bands listed than I would ever dream of putting on my site... Plus, what a lovely opportunity to stare at a screen fulla plaid... !
---



---