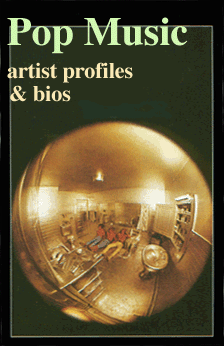 ---
Hi there... This is one of several pages devoted to reviews of rock and pop music books. This page deals with artist profiles and biographies, and is part of the larger Book Reviews Section of Slipcue e-Zine. Other Pop links are listed below...
---
Artist Profiles and Bios (this page)

---
This section is devoted to profiles of individual artists, as opposed to historical trends and books that are more general pop culture commentaries. I hope to expand this section in the future, but for now, here are recommendations for a few books you may find interesting...
---
Artist Profiles and Biographies
---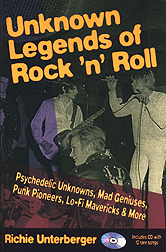 "Unknown Legends Of Rock 'n' Roll: Psychedelic Unknowns, Mad Geniuses, Punk Pioneers, Lo-Fi Mavericks & More"
by Richie Unterberger
(Miller Freeman Books, 1998)


In the 1980s, as punk formalized, factionalized and folded in on itself, and as New Wave melted into commercial synthpop, college radio DJs -- along with the scrabbling hordes of record collector nerds -- were treated to an amazing profusion of albums reissuing "lost" music from the '60s and '70s... In the spirit of the landmark garage rock collection, NUGGETS, homage was dutifully and extensively paid to hundreds of obscure bands, the forerunners of the DIY movement represented by punk rock. These artists entered into a canon of sorts, but for every knowing in-crowd nod towards Roky Erikson or Pretty Things, three dozen new albums would come out that would simply make you scratch your head and wonder: how many of these bands could there be??
Naturally, along with all the compilations and rarities collections, came the essays... the breathless, sometimes demi-coherent, often unreliable praise of obscuros gone by, writing that was often (purposefully) as kooky as the artists it described. Over time, these reissue writings have become more sophisticated, and this book stands at the apex of writing on psych-pop musicians. Unterberger follows the path blazed by music essayist Nick Tosches, spinning out dozens of remarkably compact 3-6 page artist profiles, which cover musicians as diverse as Can, John's Children, Chris Knox and X Ray Spex... Plus, he has the good taste to deplore the tacky, cynical promotion of mentally disturbed artists such as Wesley Willis and Daniel Johnston (and thus become my new personal hero!) Of particular note is Unterberger's exhaustive look at the contributions of British pop producer Joe Boyd, as well as his delectable article on the abrasive '60s punk band, the Monks (who were a bunch American soldiers stationed in Germany during the mid-1960s. They picked up their guitars, plugged in, and beat the Velvet Underground to the mantle of proto-punk godfathers by a good couple of years.)
Unterberger's writing style is nice and straightforward -- he concentrates on the artist's experience, and avoids the cumpulsion towards the lurid that is so present in Nick Tosches' writing, for example. Unterberger's love for the music is quite palable, and he is able to stir interest in unfamiliar bands (okay, I admit it... I didn't know all of these artists...!) To be honest, though, not all of these artists are exactly what I'd call "unknown", certainly not folks such as Syd Barrett, Francoise Hardy or Nick Drake, who each have large and ever-growing cult followings. But, then again, unknown is as unknown does, and the definition of what is considered "obscure" is pretty relative. Sure, maybe I know the Great Society was the precursor to the Jefferson Airplane... But these days, how many radio listeners have even heard of the Jefferson STARSHIP", much less the original SF outfit? Many of these bands are super-obscure, and even with the recent explosion of CD reissues out there, many of the records written about here are still going to be pretty darn hard to find. Of course, that's what makes it all so fun. This book is the written equivalent of finding one of those true-believer musical gems: it's a window into unexplored territory, a resource, as well as an artifact. I know it's sure lengthened MY shopping list considerably!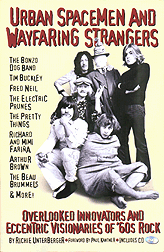 "Urban Spacemen And Wayfaring Strangers: Overlooked Innovators And Eccentric Visionaries Of '60s Rock"
by Richie Unterberger
(Miller Freeman Books, 2000)


In his second volume of hippie-era archeaulogy, Unterberger shifts away from cult artists to one- (or as he likes to put it, two-) hit wonders. Several of my faves lept out immediately -- Arthur Brown, The Pretty Things and Dino Valenti among them. Also included are garage-popsters, theatrical types (Arthuir Brown and the Bonzo Dog Band), folk-rock pioneers such as Fred Neil or Richard & Mimi Farina, and legendary producers such as Shel Talmy and Giorgio Gomelsky. The most tantalizing tales are those of the artists who completely fell off the map, like pianist/composer Mike Brown (of the Left Banke and Stories), or who never really had that fabled one hit (like the Glaswegian gloom-garage band, The Poets)... If anything, the writing this time 'round may be a little more breathless and full of hi-test adjectives, and Unterberger does have a tendency to take grandiose assertions at face value, for example, when if artist says something like, "the Beatles got their whole idea for writing their own songs from me", he tends not to challenge or fact-check it. Also, there is little link up to the present day -- for example, if Scotland produced a dark-shadowed mid-Sixties pop band with several regional hits (the Poets), wouldn't it be cool to hear if any present-day popsters (Stephen Pastel, perhaps?) considered them an influence on modern Scottish indie-pop? Still, these are minor quibbles with what is essentially a great book. These essays function mainly as guideposts and pointers on the road to obscuro-ville, rather than scholarly treatises... which for the most part is fine by me. Some of the nicest features are Unterberger's thumbnail record reviews, which let you know which of the various artist's albums are (or aren't) in print... yet another reason for us all to expand our little "want" lists! A very nice read, and highly recommended!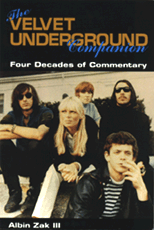 "The Velvet Underground Companion: Four Decades of Commentary"
ed. Albin Zak III
(Schirmer Books, 1997)


This is certainly a labor of love. Drawing heavily on the VU zine/journal What Goes On, and the obsessive research conducted by its editors, Philip Milstein and M.C. Kostek, this anthology presents a picture of this wildly influential proto-punk/art band which is in turns rapturously idolizing, and bracingly low-key. For me, the best sections are the extensive interviews with the bandmembers themselves: both drummer Mo Tucker and guitarist Sterling Morrison are wonderfully down-to-earth about their experiences, piercing the veil of the band's Andy Warhol mystique and alt-rock-icon status with simple, matter-of-fact recollections of what it was like working in a radical rock band which was, at the time, not very well recieved. The predictably dreary Nico, on the other hand, comes off as precious and egotistical, while Lou Reed is represented by a Rolling Stone interview which, while informative, does have a greater distance than the less formal 'zine chats. In some ways, this Companion book is equally illuminating in its presentation of the culture of rock criticism itself, and how writers would struggle to present the VUs in as lofty a light as possible. For example, from the much vaunted Lester Bangs comes a near-unreadable, stream-of-consciousness enshrinement of Nico's Marble Index album, an essay which does a better job demonstrating the post-grad intellectual pretensions of the '70s counterculture than it does explaining why the record was important. All in all, this is a fascinating, formidable overview of one of rock's greatest bands. The Companion provides a cohesive history of the band, a frighteningly complete discography (with extensive commentary), and numerous, insightful glints of the band's humanity and humor. If you're a VU fan, there really is no excuse not to get this book.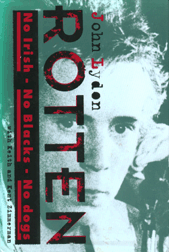 "Rotten: No Irish - No Blacks - No Dogs"
by John Lydon
(St. Martin's Press, 1994)


Ex-Pistol Johnny Rotten's ascerbic autobiography is an exceptional primary historical source which is fascinating and fun -- Lydon's story, intertwined with testimonials from friends such as Paul Cook, Chrissie Hynde and others who were actually there at the dawn of UK punk. Of course, Lydon has an axe to grind with Malcolm McClaren -- everybody's gotta try and get the last word in -- but that's part of what give this book its bite. I grew up listening to the Sex Pistols, and enjoyed reading this book, which explains their history with far less of a bullshit quotient than other "histories of punk" I've read. One of the best aspects is Lydon discussing his early pre-Pistols years, when he listened to Bowie and Eno and reggae... Of course he did! What else was there to listen to back then?? But for the bazillion opinionated, cliqueish punkers who have come down the pike since then, the sight a teenage John Lydon with long hippie-stoner hair should be instructive - you can't judge a book by looking at its cover. Definitely worth checking out!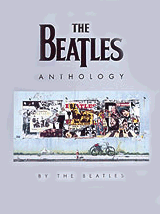 "The Beatles Anthology"
By The Beatles
(Chronicle Books, 2000)


I will admit to being only a teensy tinsy little bit embarassed that I ran out and snapped this one up along with all the other Beatle-geek suckers out there. I wanted to look at all the pretty pictures... especially the dozens upon dozens of outtakes from famous photo sessions that are all burned into our collective pop culture brain. God, those kids were cute. What was really surprising about this book, though, was that I actually started reading the text, too... I've never been a big Beatles bio buff -- I grew up listening to their albums (and heard one of their American concerts from my crib!) but I wouldn't know a studio outtake from my elbow, much less the arcane historical lore that so many true Fab Fanatics seem to have memorized. So it came as kind of a shock when I actually started reading about Paul's grade school days, or Ringo giving drum lessons to the Queen Mother. John, of course, was not around when this tome was compiled, so his testimonials are mainly drawn from old press articles and interviews. Still, this is a great coffee table book, no less fascinating for showing the continued mystical pull that the lads from Liverpool still have on those of us born in the 20th Century. Cool beans.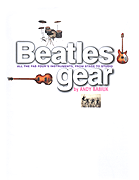 "Beatles Gear: All The Fab Four's Instruments From Stage To Studio"
by Andy Babiuk
(Backbeat Books, 2001)


For the true Beatles fanatic (and is there any other kind?) comes this look at the specific guitars, electric keyboards and organs, effects pedals, drums and amps used by the Liverpool lads. The author is a musician himself, from the retro-rific Chesterfield Kings, and his interest in the Beatles "sound" led to extensive research into their original instruments... The topic may seem a little goofy at first, but after a bit of browsing, this handsome coffeetable book gets pretty engrossing. After all, what could be more iconic in rocknroll culture than a glimpse at the very Fenders, Gibsons and Hammonds from which so many pop hits would emanate. Babiuk also parallels the musical growth of the band to their acquisition of various instruments -- when John or George got a new guitar, it was often to learn a new performance style. A nerdy but neat look at the fab toys of out favorite moptop combo.
---


Other Book Reviews
Indiepop Indiedex
Slipcue Main Index




---
Copyright 1998-2006 Slipcue.Com. All Rights Reserved.
Unauthorized use, reproduction or translation is prohibited.
---