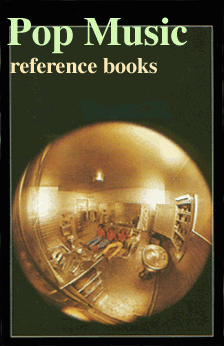 ---
Hi there... This is one of several pages devoted to reviews of rock and pop music books. This page deals with general reference works, and is part of the larger Book Reviews Section of Slipcue E-Zine. Other Pop links are listed below...
---
Pop Music General Reference Works (this page)

---
This section is devoted to reference books about rock and other forms of "pop" music. (as opposd to books that profile individual artists, or serve as more theoretical critiques or histories of musical trends...) I hope to expand this section in the future, but for now, here are recommendations for a few books you may find interesting...
---
General Reference Works
---

"Rock: The Rough Guide"
ed. Jonathan Buckley and Mark Ellingham
(Rough Guides, 1996)


Highly recommended. A far-reaching, informative encyclopedia of rock, with dozens of contributors. Excellent, though mildly marred by obligatory 1990s cynicism, this is especially admirable for its even-handed inclusion of various early '70s bands which could just as easily have been omitted. For example, there is an affectionate, and very balanced entry on British "heavy rock" giants, Spinal Tap --- could a reappraisal of Norm Wooster be far behind?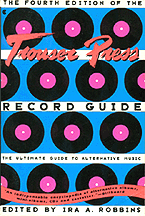 "The Trouser Press Record Guide: The Ultimate Guide To Alternative Music"
ed. Ira A. Robbins
(Trouser Press, various editions)


A fun read. For many, many years The Trouser Press was the Bible of indie rock. Chatty, overly-knowledgable, hip and devoted to "alternative" bands and labels, and full of matter-of-fact, album-by-album evaluations of various careers. And, of course, it was always incomplete and seemingly capricious in its omissions. Half the fun is looking through it to see what's been left out, or what was said about who. Unlike other music guides with multiple printings, you may actually want to hang onto the older copies when the new Trousers come out. -- editor Ira Robbins has a tendency to revamp the content as well as the look of the book, and artists who are listed in earlier editions may later be left out entirely. Thus each edition is a document of the tastes and musical mores of it's time. They also have a pretty cool website.
"The Trouser Press Guide To '90s Rock"
ed. Ira A. Robbins
(Fireside Books, 1997)


The latest edition, and a wonderful little doozy of a pop/indie reference. Curiously, although the title changed from "The Ultimate Guide To Alternative Music" to being a guide to "90s rock," the focus of the new book is actually less rock-oriented than any of the previous editions, profiling select rap, reggae and electronica artists along with all the guitar bands. Once you finish scratching your head over that little puzzler, though, you can just sit back and enjoy. Stylistically, Trouser's fifth edition gives its readers more -- it seems less insular and more explanatory and, as ever, is a really fun read.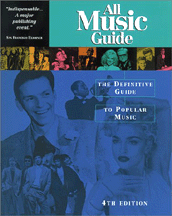 "The All Music Guide: The Definitive Guide To Popular Music"
ed. Michael Erlwine, Chris Woodstra, et al
(Miller Freeman Books, 4th Ed., 2001)


Holy Gazongas! What an ambitious tome -- a music guide for all genres -- rock, pop, blues, jazz, gospel-- you name it. Written by dozens of contributors, this condenses information from various AMG releases, with additional sections for styles which didn't merit their own books. For some of these genres you're selling yourself short if you don't get the complete work (esp. Jazz and Country), but this really is a dazzling work. The new edition removes earlier chapters on gay and Christian pop (the universe constantly seeking balance?), so hang onto those earlier editions... New terminology is included, such as definitions of jungle music, trance and other electronica fads... A great resource... well worth picking up!
"MusicHound Lounge: The Essential Album Guide To Martini Music And Easy Listening"
ed. Steve Knopper
(Visible Ink Press, 1998)


Despite the years-old bust in the lounge music boom, this is a fun and informative volume. My instincts tell me to check all critical thinking at the door, but I just can't help myself. Written by many of the same folks who valiantly strove to make easy listening a "thing", this book is pretty footloose and fancy free with what it chooses to call lounge ("... whatever sounds good when you're drinking a martini...") Latin dance music is sampled (Perez Prado, Desi Arnez, Mario Bauza) as are some relatively haphazard additions from the world of soul music (Isaac Hayes, sure, I guess ... but Erykah Badu??). Of course, anything croony or well-known from the big band era is up for grabs (but why no Glen Gray, Ruth Etting or Paul Whiteman, if you're going to include all those other old-timers?)... There are all sorts of questionable entries form the world of rock ("... but why Morrissey, the Beautiful South, Pizzicato Five and the Beach Boys and not so-and-so... ???") -- and practically nothing by John Zorn or the Boredoms (what's up with that???). Despite the perversity of presentation, this book is pretty groovy: who else is going to steer you towards Blossom Dearie or Dinah Washington these days? The companion CD is one of the better freebies in the MusicHound series, a sampler of the last six volumes in Capitol's exhaustive Ultra-Lounge series, and one of the very few such MusicHound discs to include an adequate number of tracks. Recommended for the kitsch-conscious reader.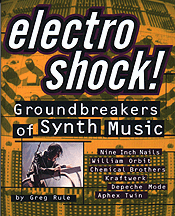 "Electro Shock! Groundbreakers Of Synth Music"
by Greg Rule
(Miller Freeman Books, 1999)


Take what I say here with a grain of salt -- I've never had the patience to immerse myself in the arcana and minutiae of electronic music, largely because I've often found the fervor and pretentiousness of its adherents to be directly in inverse proportion to the worthiness of the music. Plus, I'm just an old fart, and haven't got the time to sort the wheat from the chaff in this particular field. That being said, I have to tell you, I was a bit nonplussed by this book. Even a non-expert like myself can tell that this is a rather conservative reading of the electronica canon -- Bjork, Aphex Twin, The Chemical Brothers and Trent Reznor are all more or less household names, and while, sure, it's a small pool of readers that would be interested in a more esoteric selection, as an overview of the genre, this is a pretty limited and timid survey. Kraftwerk and Depeche Mode are included as representatives of the old school -- no one remotely less commerical is given consideration. In addition, Rule's writing is not, frankly, top-notch. At times he seems to think and reason strictly in cliches -- his prose is full of breathless, "gee whiz!" hype, the kind of in-print cheerleading that's supposed to pump the audience up, but fizzles out on the altar of insight. Most of the book is made up of interviews with his idols, but even these are less than gripping, being mainly preoccupied with fetishistic technical detail (-- what kind of filters do you use? --what range of equalization do you prefer? etc.) I had hoped, since the book was geared towards the pioneers of the genre, that it would deal more with its philosophies, rather than its techniques: Why choose to work in a medium that is deliberately mechanical and artificial? How does the human element come into play? How assiduously do the artists include or mask its presence? Sadly, these are issues that this book doesn't address in a meaningful way. Rule takes it as a given that the aesthetics of the genre are accepted and need no exploration, and thus he seems to have missed several golden opportunities in his face-to-face meetings with the very artists who might shed some insight into what makes this potentially remote music so compelling to so many people.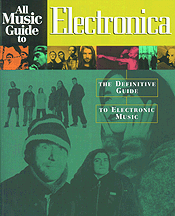 "The All Music Guide To Electronica: The Definitive Guide"
ed. Vladimir Bogdanov, Chris Woodstra, et al
(AMG Backbeat, 2001)


By contrast, AMG's voluminous electronic music directory is cogent and exhaustive, sure to be a delight for the style's fans and non-fans alike. Fans will love this book for its thoroughness, its uber-cool, authoritative air and for its immense lack of humor, all of which seem reflective of the scene(s) it seeks to document. Non-fans will be delighted by the intensive devotion to ephemera and the belligerently academic tone which seeks to browbeat outsiders into accepting the worldview of a musical movement that hails each club opening as the birth of a new subgenre. Hundreds of artists and dozens of styles are outlined and their histories detailed with absolute, messianic precision. While the AMG's level of writing is superior to most of its contemporaries, the tone is no less smug or evangelical; the sense of being intellectually bludgeoned will seem familiar to those of us who have watched the rise of electronica with wry but aggrieved detatchment. (Yes, I'm sure you love the stuff, but do you have to devote so much energy to coercing the rest of us into adopting your point of view?) All kidding aside, this book will be a definitive resource for years to come. Anyone interested in understanding the growth and self-perceptions of the electronic music cult will find this book invaluable.
"MusicHound R&B: The Essential Album Guide"
ed. Gary Graff, Josh Freedom du Lac, & Jim McFarlin
(Visible Ink Press, 1998)


This includes a hefty dose of hip-hop and rap albums, which I suppose makes sense, considering the intense recent cross-pollination of hip hop with cheesy quiet storm "soul" (which is also heavily emphasized in this volume). However, the book is disproportionately slanted towards contemporary music, rather than historical -- for example, the reference sidebars are entitled "Word Up!" (which seems tacky as well as rather dated...) Modern artists such as Bobby Brown, Sheena Easton, and Toni Braxton get equal -- if not superior -- billing with soul music touchstones such as Otis Redding, Sam Cooke, and the Stax/Volt and Motown crowds. Very few pre-rock artists are included -- Cab Calloway and Big Joe Turner make it in, for example, but not Buddy Johnson or Floyd Dixon, and several classic 60s soul stars such as Garnett Mimms are also omitted. Finally, while most of the big-name blues shouters such as Wynonie Harris, Amos Milburn and Louis Jordan have entries, practically none of their great gospel counterparts are included. This really is a disgrace, as well as a short-sighted, culturally revisionist nod to contemporary tastes (which do not embrace the preachin' and shoutin' religious side of African-American music). Rest assured that without Bessie Griffin, Clara Ward, the Soul Stirrers, or Rev. James Cleveland, there would never have been a BeBe and CeCe Winans, Mariah Carey or Aretha Franklin -- much less a Parliament, Lauryn Hill or KRS-One. As with other MusicHound books, this also provides useful appendices, including fan sites, etc., and the companion CD is a nice (if stingy) sampler of some of gems from the Mercury Records catalog. But if Wu Tang or Billy Oceans are not your "R&B" thing, you may wish to be wary of this tome.
"The Da Capo Companion To 20th Century Popular Music"
by Phil Hardy & Dave Laing
(Da Capo Press, 1990, 1995)


Similar in scope to the All Music Guide, this hefty text includes entries on pop, rock, country, blues, jazz, Broadway and soul musicians, though in this case they are listed together alphabetically, rather than grouped in sections. This has the advantage that it has only two authors, and thus a clearer editorial focus (and amusing when, as Brits, they include a few long passages on Euro bands that no one on this side of the Atlantic has ever heard of...) No graphics, but good writing, and admirably inclusive. Nice glossary of styles in the preface, too.
"The New Grove Dictionry Of Music And Musicians"
ed. Stanley Sadie, et al
(MacMillan, 2001)


Since this 29-volume monolith costs about $5000.00 for Joes like me, I include this entry for reference only. I rather doubt I will ever own a copy and, in fact, have never laid eyes on one. If I wanted to shell out a mere thirty bucks, I could subscribe to the online version of this eminent tome and have full access to its entire contents. The Grove is one of the great musical reference works, esteemed by the elite since the first edition came out in 1889, and updated six times hence. Formerly only concerned with classical music, the Grove now has opened up to include pop and jazz music, and -- as it were -- a whole can o' worms. Encourage your local library to get a copy! Or better yet, buy me one for my birthday!
"The Encyclopedia Of Pop, Rock And Soul"
by Irwin Stambler
(St. Martin's Press, 1974, 1989)


A stiff wind from squaresville, this survey comes to us from a writer/editor at Rolling Stone... By definition, that makes its focus fairly mainstream, not that that really detracts much from its value as a reference work (especially considering how snobbish we've gotten about all those bloated, scary AOR bands from the '70s). Some entries seem a bit overlong, and starstruck, but this is a solid reference work.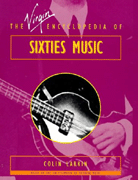 "The Virgin Encyclopedia of Sixties Music"
by Colin Larkin
(Virgin Books, 1997)


Let's set aside any questions of potential conflicts of interest (isn't Virgin also a record label?) and concentrate instead on the delightful nerdiness and obsessive collector geekitude which only a Brit could have brought to this series. These are reference works destined to land on the shelves of all those of us who cringed while reading the novel, High Fidelity... The '60s volume is particularly sweet, with profiles of plenty of obscure garage punks, second-line rockabilly rebels and Herman's Hermits knockoffs. It is a bit weirdly written, though -- concentrates on personality rather than describing musical styles or accomplishments. I guess we're supposed to already know that stuff before we get the book... Regardless, this has plenty of juicy factlets and trivia, and is recommended for all you '60s obsessos out there...
---


Other Book Reviews
Indiepop Indiedex
Slipcue Main Index




---
Copyright 1998-2006 Slipcue.Com. All Rights Reserved.
Unauthorized use, reproduction or translation is prohibited.
---