! MP3 00/00/00 > <! update 00/00/00 > <! outside 00/00/00 > <! pix 00/00/00 >
---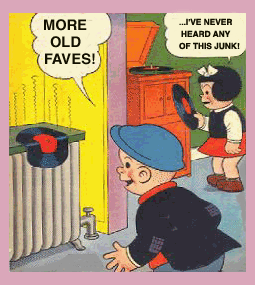 THE MISTAKES OF THE PAST
Joe Sixpack Reveals
A Few Cherished Albums
---
Hey, welcome to my "guide" to a few of my favorite rock and pop records. This isn't a definitive list, by any means, just some random comments about a few records that have stood out over the years, or that I've found the time to review.
This page covers the letter "T"
---
A | B | C | D | E | F | G | H | I | J | K | L | M | N | O | P | Q | R | S | T | U | V | W | X | Y | Z | Comps | Other Pop Styles | Pop Music Index
---
Talking Heads "77" (Sire, 1977)

Talking Heads "More Songs About Buildings And Food" (Sire, 1978)

Talking Heads "Fear Of Music" (Sire, 1979)

Talking Heads "Remain In Light" (Sire, 1980)

Talking Heads "Speaking In Tounges" (Sire, 1983)


Teenage Fanclub "Bandwagonesque" (Geffen/DGC, 1992)


A masterpiece by these avatars of the Scottish pop scene -- a guitar rock heaven record which demolishes the notion of a musical "guilty pleasure." TFC really hit their stride with this ridiculously lavish, rich wall of harmony and melody -- almost singlehandedly, this is the record -- and the band -- that made the '90s safe for Big Star-style '70s power pop... where would Oasis be without them? The omnipresence of this album in the early '90s alterna-scene may have prompted a backlash against the lads, but it's still undeniably a grand album that easily stands up to the test of time. Favorite tracks: "The Concept" and "Metal Baby." Recommended!

Teenage Fanclub "Thirteen" (Geffen/DGC, 1993)


This album was considered TFC's downfall, a quieter, relaxed record which seems to have been largely overlooked when Teen Fanclub had fallen from favor with the press and the hipoisie, but it's another minor masterpiece. Requisite ooops-we're-famous-now potshots taken at record industry politics ("Radio") aside, this album is lovely and subtle -- one highpoint is the hidden "mystery" track, "Chords of Fame" -- a cover version of a Phil Ochs song, which in and of itself says great things about TFC's excellent taste in material. Recommended.
Teenage Fanclub "Grand Prix" (Geffen, 1995)


Teenage Fanclub "Songs From Northern Britain" (Columbia, 1997)


Simply wonderful. DRENCHED with rich harmonies, and soothingly sweet melodic grace. The humor is mainly musical on here -- a quoted dino-riff here, a powerchord cliche there -- the lyrics are fairly straightforward, and often quite nice. Really, quite lovely, and highly recommended.

Teenage Fan Club "Howdy!" (Sony, 2000)


Why the new TFC album didn't get US distribution after having been out for almost two years was a bit of a shocker, but at least it gave us all something to talk about. Predictability may be a factor: the Glasgow lads don't go off the deep end, they don't get all skittery-skee with the drum'n'bass or start screaming about social oppression or political values... They just stick to what they know and love -- pretty melodies and catchy guitar riffs, paired with oblique, vaguely rah-rah-reflective lyrics. There's a heavy Byrdsy influence throughout, and an elegance and economy of style that you can't help but admire. I suppose one could see why the marketing wing of a multinational conglomerate like Sony wouldn't go ape over an album like this, but there's no reason why we fans won't. Another nice, uncomplicated album... guitar rock heaven, and well worth the search!
Teenage Fanclub "Four Thousand Seven Hundred And Sixty Six Seconds: A Shortcut To Teenage Fanclub" (Sony, 2003)


Golly! It's a TFC best-of disc... what's there to complain about with that??

Them "The Story Of Them" (A&M/Deram, 1997)


Sometimes, when you see a collection as good as this, a little voice inside your head will tell you, "Get this now! You may never have such a chance!" I shall play the part of that little voice. "Them" was the Van Morrison's first band, a colossus on the Belfast blues scene during the mid-'Sixties, and this 2-CD set collects the bulk of their legacy -- some of the best soul-drenched R&B to have come out of the UK... ever! Contemporaries such as Eric Burdon or Manfred Mann were pale reflections of the richly immediate, sometimes slashing power that Them had at the tips of its fingers. Their vibrancy was due in no small part to the presence of Van Morrison, who even then was on a collision course with his artistic godhead, and whose performances ooze charisma beyond all reasonable expectations. Taken in one sitting, the numerous blues-based rave-ups may start to feel repetitive and stylistically limited, but Them's greatest material -- songs such as "Here Comes The Night", "Gloria", "Mystic Eyes", and their version of Dylan's "It's All Over Now, Baby Blue" is simply stunning. On a few tracks, like "Friday's Child", you can hear Morrison groping towards his later, more expansive, folkie mysticism... but on the best of these rock numbers, there's a crackling energy that can match anything he did on the solo gig. Highly, highly recommended.
Kevin Tihista's Red Terror "Don't Breathe A Word" (Atlantic, 2001)


A genuinely seductive album, full of whispered, cynical lyrics and endlessly clever pop hooks. By now, the bag of tricks unleashed by Teenage Fan Club and soft-pop cohorts such as Belle & Sebastian and their Sarah Label predecessors are pretty familiar to the indiepop crowd. Naturally the temptation is to say, "oh, look, this is on Atlantic Records -- it's just some big, major label cooptation of mopey, poetic pop..." Whatever. All I know is, is that this is an engaging record, gimmicky, but well-produced and pretty-sounding, harkening back to the sexiness of old Squeeze albums as well. It's made its way back into my stereo several times already, and is likely to be played a few times more before the night is out... Recommended!
Toy Love "Cuts" (Flying Nun, 2005)


One of the legendary albums of New Zealand's odd, unpredictable "kiwipop" scene has finally found the light of day in the digital era... Before Chris Knox and Alec Bathgate founded the bizarro band, Tall Dwarfs, they fronted Toy Love, a punky group that was supposed to become New Zealand's answer to The Saints. They signed to a major label, and had begun a tour of Australia and the UK when the whole deal imploded and they were sent packing back to Dunedin... Their lone album, issued in 1980, was lost to the sands of time and as kiwipop became better defined and better known outside of NZ, the disc took on a Holy Grail status, forever drifting in the tide of corporate limbo. Well, here ya go: here's a 2-CD set that collects all the tracks off the original LP, along with several singles issued on other, smaller labels, and a ton of demo tracks and kitchen-table lo-fi stuff that dates back to the Toy Love years. The lyrics are more youthful and abrupt, and much of the music is more overtly punky than Knox & Bathgate's later work, but what's amazing is how much they sounded like themselves, even back in their angry young men days, how weird the lyrics were and how twisted the music sounded. It's not unlike Robyn Hitchcock's old band, The Soft Boys, a kooky riff on rock and punk, with surrealistic and self-referential lyrics galore. It's also very, very noisy, and might be a little hard to get into at first. But for fans of Tall Dwarfs, or anyone who appreciates the truly weirdo, oddball artists of the world, this'll be a set you'll want to check out. One technical note: the material from the Toy Love record comes courtesy of a label executive who surreptitiously dubbed a copy of the master before moving on to another job (...yay! you rock, dude!) so Knox & Co. took the opportunity to remaster the tracks and add in some of the low end that the LP lacked (one of many disagreements with the label, I'm sure...) Anyway, it sounds fine, but if you're super-picky and persnicketty about stuff like that, you might want to know that the original version sounded a lot tinnier than this... So I guess the vinyl copy will still remain an elusive prize!

T-Rex/Marc Bolan "20th Century Boy: The Ultimate Collection" (Universal/Hip-O, 2002)


A tasty best-of from one of the '70s most charismatic and artistically searching pop artists. Bolan almost singlehandedly defined the androgynous look and piercingly treble-heavy sound of the early '70s "glam" genre, and his records remain the best of the lot, along with Bowie's Ziggy-era albums, and the random hits by David Essex or Sweet. By now, everyone in the free world must be familiar with the mega-anthemic 1971 hit, "Bang A Gong," although this collection includes nearly two dozen other goodies of near-equal caliber. Bolan, who died in 1977, was a prime example of the experimentation with celebrity image and musical expression that came about after the Beatles/'60s hippie rock scene solidified the rock'n'roll starmaking machinery. Some of his stuff -- including a few songs on here -- was a bit formless, but his best songs have a keen, clear-cut melodicism that is irresistible and the creative imperative is tangible in everything he did. Even when his seductive smashes were offset by the occasional flat number, he still gave the impression of an actual artist at work. Although several of his original albums are worth picking up in their own right, this is an excellent collection which does a nice job picking out the juiciest tunes from the Bolan/T-Rex catalog. Recommended!
---
More Pop Faves
---



---