! MP3 00/00/00 > <! update 00/00/00 > <! outside 00/00/00 > <! pix 00/00/00 >
---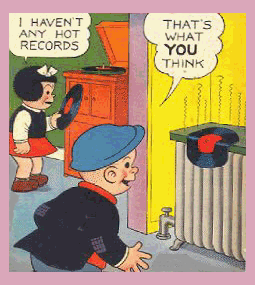 THE MISTAKES OF THE PAST
Joe Sixpack Reveals
A Few Cherished Albums
---
Hey, welcome to my "guide" to a few of my favorite rock and pop records. This isn't a definitive list, by any means, just some random comments about a few records that have stood out over the years, or that I've found the time to review.
This page covers the letter "G"
---
A | B | C | D | E | F | G | H | I | J | K | L | M | N | O | P | Q | R | S | T | U | V | W | X | Y | Z | Comps | Other Pop Styles | Pop Music Index
---
Holly Golightly "Serial Girlfriend" (Damaged Goods, 1998)


WOW. Solo Headcoatee Holly Golightly continues her explorations of Stones-y blues-rock, but this time aound with a smooth veneer of xylophonic spy-jazz slathered on top. The tounge-in-cheek lyrical theme is still largely unchanged from earlier albums (boy meets girl, girl draws blood), but here there's a bit more depth, and the songs coalesce to create a sense of drained energy and uneasiness. This is Golightly's best album yet, with Holly leading a ten-man band through some exceptionally captivating tunes. Highlight: the pure pop heaven of the instrumental, "Grand Stand," which may be the best theme song to a TV show that never was. HIGHLY recommended!

The Gossip "That's Not What I Heard" (Kill Rocks Stars, 2001)


If the Go-Gos have never gotten their shit together and remained a scruffy LA punk band, then later got into raunchy Jon Spencer-type electric blues... well, you know where I'm headed with this, right? ... The long and short of it is that The Gossip -- yet another idiosyncratic Olympia, Washington band -- have got the honest-to-goodness grrrlie goods. Any band with "SHAKE DAT FAT ASS, BABY!" as their motto have to have something on the ball. Sledgehammer drums, unapologetically frenetic vocals and pretty cool tunes all combine to make this one of those loud, ugly albums that you just can't help liking a whole lot.

The Grass Roots "The Millennium Collection" (MCA, 2001)


This budget-line reissue provides plenty of bang for your buck, this features a dozen tracks by one of the best of the late '60s AM radio groups, the sculptors of the ever-fab "Midnight Confessions," as well as several lesser-known gems. The liners notes sketch out the history of the Grass Roots (studio project gone Top Ten act; one set of musicians hired, then fired, then replaced in order to put the show on the road...) The sordid past hardly matters to us now; what endures is the excellence of their recorded legacy, which is well-represented on this all-too-brief best-of. I was particularly pleased to see one of my favorite early album tracks, the bouncy, Neil Diamond-like "Things I Should Have Said", made it onto this collection. Fun stuff.... recommended!

The Greenhornes "The Greenhornes" (Telstar, 2001)


This Cincinnati garage group has got the goods alright - nice, forceful material with passionate delivery and an ear for catchy melody. The band math formula says: Them+ Sonics+ The Pagans = check this out! Plus, I hear they're gr-r-r-reat live.

The Greenhornes "Dual Mono" (Telstar, 2002)


Upholding their state's reputation as a bastion of hard, no-nonsense rawk'n'roll, Cincinnati, Ohio's Greenhornes have emerged as one of the most powerful, accomplished, butt-kicking garage rock outfits in the world today. Oh, sure, you've got the Strokes and Hives vying for headlines and MTV airtime, but the Greenhornes sound like a band that would be content to play at the local college bar for the next ten years, as long as the management lets them crank their amps to 11. On their second album, the highly-touted 'Hornes reveal a quantum leap in their artistic growth, moving from the sledgehammer sonic attack of their self-titled 2001 debut, into an infinitely richer, reverb drenched soundscape that recalls the best work of '60s progenitors such as the Standells and '80s revivalists like the Lyres. Each track on this album is a standout, a resonant, well-sculpted sonic gem, with glittering, slinky melodies backed by a muscular, sweaty beat. British garage diva Holly Golightly recently namedropped the band as one of her faves, and provides quest vocals on this album -- it's a hookup that makes perfect sense, and bodes well for a band that renews our faith in the healing power of noise. Recommended!

Margo Guryan "Take A Picture" (Franklin Castle, 2001)


You could be forgiven for suspecting, momentarily, that this whole thing was a put-on. After all, as '60s cult figures go, Margo Guryan looks just too good to be true. A classically-trained jazz pianist who studied with Bill Evans, Ornette Coleman, and Milt Jackson, Guryan got the pop bug after hearing Brian Wilson's Pet Sounds album. She switched from writing torch-song material for the likes of Chris Connor to crafting odd, emotionally askew pop tunes, and for several years had modest success as a Top-40 songwriter. This record is her missing masterpiece, a beguiling, barely-released album from 1968, full of addictive orchestral arrangements, nutty, sometimes awkward electric guitar work and wispy femme vocals. Naturally over the years the original LP has become a collector's item and gathered a cult around it -- as it turns out, the veneration is well deserved. Musically, it's a perfect 'Sixties time capsule, straddling the string-laden pop-classical arrangements that Squaresville major labels blanketed around their female singers, and the more psychedelic explorations of the Left Banke and the Zombies, who Guryan paralleled and prefigured. Present-day indie archeologists such as the Tindersticks or Gentle Waves would give their eyeteeth to sound so authentically "retro." Like all great, mysterious musical also-rans, Guryan begs comparison with her contemporaries. As a composer, she was neither as solid, nor as rigid, as Brill Building tunesmiths like Carole King or Ellie Greenwich, while her thin vocals were reminiscent of Marianne Faithfull's early work, back when Faithfull was still a prefab starlet struggling to become a tortured artist. Guryan, however, seemed at least mildly tormented to begin with -- her lyrics were seeped in suppressed, strangled emotion, flashing a bitter self-knowledge while struggling to affect a casual, Summer-of-Love worldliness: "hey, it didn't work out, man, but that's the way it goes. You go on ahead and I'll sit here and seeth." If poet Sylvia Plath had started a garage band instead of writing The Bell Jar, the results might have been quite similar. The contrast between the ditzy Goldie Hawn-like sex kitten in "What Can I Give You (To Make You Happy)" and the forlorn, post-breakup cynic of "It's Alright Now" is compelling. Guryan's guardedly confessional lyrics were perhaps matched only by Brian Wilson's in terms of their unique introversion and slippery internal landscapes. This album may be too good to be true, but it's also everything you could wish for.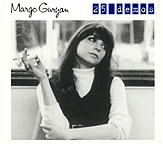 Margo Guryan "25 Demos" (Franklin Castle, 2001)


At first blush, this follow-up set of demo recordings isn't overly revelatory of unhidden reserves in Guryan's oevre... at least not as far as the early versions of songs that were previously released in punchier, completed form on the album reviewed above. But subtle nuances creep out of these sparse versions, and some of the unreleased tunes have an unusual charm... Particularly appealling are some of the tracks such as "Something's Wrong In The Morning" and "I Don't Intend To Spend Christmas Without You" which have seemingly pedestrian themes (guys who don't call the next morning, spending the holidays with a boyfriend) which capture the Dorothy Parker-like, disaffected domesticity, slice-of-life appeal of Guryan's lyrics. A few songs are less well developed, such as "The 8:17 Northbound," in which the bohemian narrator watches with distain as a handsome young fella boards the morning train to join the rat race downtown -- only in the last verse does she come up with the flight of fancy that this ritualistic boarding and unboarding could have a playful merry-go-round aspect. But time-capsule tunes such as "The Hum," which satirizes the Watergate tapes, are also fun as part of an historical perspective. If you enjoyed the Take A Picture reissue, you should check this disc out as well -- it confirms Guryan's good instincts on her debut LP, and also gives a nice look at her unreleased pursuits in the years that followed... definitely worth checking out.
---
More Pop Faves
---



---