! MP3 00/00/00 > <! update 00/00/00 > <! outside 00/00/00 > <! pix 00/00/00 >
---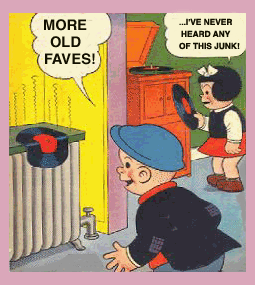 THE MISTAKES OF THE PAST
Joe Sixpack Reveals
A Few Cherished Albums
---
Hey, welcome to my "guide" to a few of my favorite rock and pop records. This isn't a definitive list, by any means, just some random comments about a few records that have stood out over the years, or that I've found the time to review.
This page covers the letter "F"
---
A | B | C | D | E | F | G | H | I | J | K | L | M | N | O | P | Q | R | S | T | U | V | W | X | Y | Z | Comps
Other Pop Styles | Pop Music Index
---

Marianne Faithfull "Marianne Faithfull" (London, 1965)


Her first album, which features the Mick Jagger-penned hit, "As Tears Go By," along with a lot of Francoise Hardy-styled chanson. It's unfortunate that this material is only available in super-expensive import formats, because it's charming enough to want to check out, but not really so good that you'd want to mortgage the farm in order to buy it. Still...

Marianne Faithfull "Broken English" (Island, 1979)


Of all the old-school pre-punk rock artists who tried to jump onto the new wave bandwagon, few were able to come up with anything nearly as powerful as this bleak, blunt and amazing album by Marianne Faithfull. Oh, sure, everybody knew that she'd gone through big drug problems that dated back to her days palling about with the Stones, but who suspected that such anger and such a searing, savage persona was hiding behind those once-doelike eyes? This contains some of the most raw, penetrating music recorded in the late '70s, all the more powerful for its relative lack of gimmickry -- just one great, depressing song after another. Faithfull's use of synthesizers is bold and blunt -- while the rest of the rock world was still wrestling with the new technology and stylistic language, she forged her way past the pop-vs-punk divide and made music, goddamn it. The input of songwriter-composer Barry Reynolds, who had been working with Faithfull throughout the decade, is not to be underestimated, but it's her force of personality that really carries the day. Highlights include the title track -- a real winner -- a sneering, modernized cover of John Lennon's "Working Class Hero," Reynolds's "Guilt," and (of course) the scabrously accusatory "Why'd Ya Do It," which is not your standard-issue unfaithful love song. This album was a stunning comeback for Faithfull, and remains a great work today. Highly recommended.

Marianne Faithfull "Faithfull: A Collection Of Her Best Recordings" (Polygram, 1994)


A starlet-turned-harlot, Marianne Faithfull painfully and deliberately liberated herself from being typecast as "Mick Jagger's girlfriend" to become one of the most powerful performers of the pre- and post-punk eras. This is a nice, but all-too-brief, overview of her career, from willowy '60s folkswinger-chanteuse to keening, merciless harpy. It's a very good collection, although I would recommend you track down her individual albums instead, since there's a lot of very powerful material that didn't make it onto this collection.

Fastbacks "Play Five Of Their Favorites" EP (No Threes/Safety First, 1982)
Fastbacks "...And His Orchestra" (Popllama, 1987)


One of Seattle's first, cutest, scruffiest, punkiest indie bands... The Fastbacks are a group that demands your admiration, in no small part because they are so classically unglamourous and legitimately DIY. The gals can't sing, Kurt Bloch sounds like he's on helium, the songs all have rough edges and sonic predispositions that bring new meaning to the word "treble"... and yet they ROCK. Probably the greatest song they ever wrote, "In America" was on their very first EP (which is included in full on the CD reissue of the Orchestra album...) The song remains every bit as blistering and captivating as it was back in '82... if you've ever thought to yourself, "Oh, god... If George Bush/Ronald Reagan/Clarence Thomas/etc. gets into office, that's when I leave this country..." then this song is for you. The rest of their songs are great, too.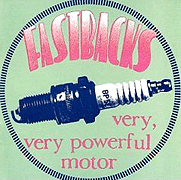 Fastbacks "Very Very Powerful Motor" (Popllama, 1990)


Wow! This rocks! Probably the Fastback's most coherent and catchiest album, and a great record to play really, really loud. Again, maybe this isn't for everyone -- you can't be all snooty about musical technique and be a Fastbacks fan -- but if you're on their wavelength, this one's a doozy! An all-time personal fave.
Fastbacks "New Mansions In Sound" (Sub Pop, 1996)


This one doesn't suck, either. By the way, for more Fastbacks info, check out their website, The Giant Lever, which will explain more about them than you'd care to know, including the mystery of their disappearing drummers!

Feelies "Crazy Rhythms" (Stiff/A&M, 1980)


Hard to go wrong with (or complain about) the Feelies. One of New Jersey's best bands, the Feelies had a sound that was unlike any of their punk/new wave/postpunk contemporaries. Building songs up from total silence to frantic hyperactivity, the Feelies combined simplicity with passion in a style that felt hypnotic and mystical... On their first album, they were closer to the new-wave-y vibe of the times, but their slow-to-fast, soft-to-loud dynamic range was still the same. A classic album -- highly recommended.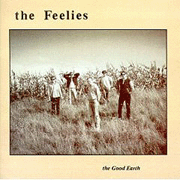 Feelies "The Good Earth" (Coyote/Twin Tone, 1986)


More of the same, but with a mellower, acoustic edge. Thankfully I don't have to choose, but if I did, this might be my favorite Feelies album. It's so-o-o-o-o good.
Feelies "Only Life" (Coyote/A&M, 1988)


This also does not suck. It's maybe a little bit in between the feel of their first two albums, and the production may seem a little more conventionally "pop," but really, it's a style all their own. Also a classic. (BTW, if you want to find out more about the band, Night Of The Living Feelies is a pretty sharp fan page, with plenty of great info.)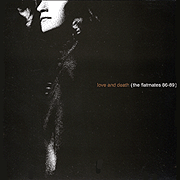 Flatmates "Love And Death -- The Flatmates: '86-89" (Subway, 1990)


In keeping with my radio station's long tradition of venerating gals who can't quite sing that well (X-Ray Spex, Kleenex, Rachael Sweet, PJ Harvey...) come Bristol, England's fab, fissile Flatmates -- one of my favorite '8-s bands! Twee? Perhaps... but they also rocked! There's a definite Flatmates cult out there, even though their records are impossibly hard to find. This is the only full-length Flatmates album, made up of (almost) all their songs from various EPs, singles and one-offs. I've heard that it was also put out in CD form, although I have it on LP. The original 45s have a richer tone, but good luck finding them! So, if you see this, snap it up... it's a great missing link in the whole Britpop panorama. (This disc can be purchased directly through the Claire Records website... )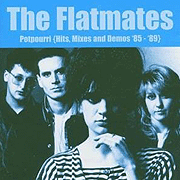 Flatmates "Potpurri -- Hits, Mixes & Demos: '85-'89" (Cherry Red, 2005)


For diehard fans, there's also this odds'n'ends retrospective, which has more rough spots, but also adds a few nice footnotes to this band's modest legacy, and gives a sense of how threy developed their giddy power-pop sound. A nice look back at a playful band who were an important missing link in the whole pre-Oasis Britpop panorama. Nice liner notes, too! (For more info on the band, see guitarist Martin Whitehead's band memoir on Tweenet.)

The Four Corners "Say You're A Scream" (Kindercore, 2001)


Since the Pandoras fizzled out in the late '80s, there's never quite been an adequate replacement in the Farfisa-organ-lovin' garage-chick department. Well, folks, get ready for the Four Corners. Hailing from Athens, Georgia, this mixed-gender foursome churns out an impressive blend of slinky, retro-rocking psuedo-oldies. It's a pity you can't understand a word they're singing -- the vocals are mixed way too low, probably on purpose to enhance the aura of coolth -- but the songs are still uniformly enjoyable, with catchy riffs galore. Plus, the CD version has each song in both stereo and mono mixes... how groovy is that? Fun stuff -- recommended!

The Fruit Bats "Echolocation" (Perishable, 2001)


Say what you will about those folks on the Chicago scene, they sure do make some purty music. This languid, country-shaded indie outing has some of the most intriguing soundscapes of recent vintage, calling to mind a mix of Kingsbury Manx and Richard Buckner. Yeah, they play mandolin and pedal steel, but they don't make a big deal of it... mostly this is all about the odd, elliptical songs, the hallmark of all good contemporary indiepop obscurantists. At any rate, this record sounds great, and is very pleasant to space out on... The only clunker is the song, "Dragon Eggs," which has lots of intrusive, gratuitous cussing. Otherwise, this disc hits a bullseye.
---
More Pop Faves
---



---