! MP3 00/00/00 > <! update 00/00/00 > <! outside 00/00/00 > <! pix 00/00/00 >
---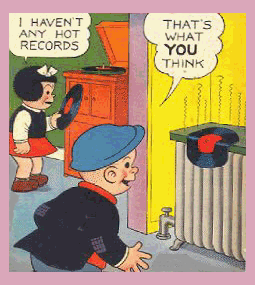 THE MISTAKES OF THE PAST
Joe Sixpack Reveals
A Few Cherished Albums
---
Hey, welcome to my "guide" to a few of my favorite rock and pop records. This isn't a definitive list, by any means, just some random comments about a few records that have stood out over the years, or that I've found the time to review.
This page covers the letter "W"
---
A | B | C | D | E | F | G | H | I | J | K | L | M | N | O | P | Q | R | S | T | U | V | W | X | Y | Z | Comps | Other Pop Styles | Pop Music Index
---
The Wedding Present "George Best" (Cooking Vinyl, 1987)


Wonderfully dense, driven, driving, jangly guitar rock. Songwriter David Gedge's cynicism-soaked lyrics perfectly match the propulsive mania of the guitars and the tambourine-y beat; this album is a real gem, although it may be hard to say just why you'll find it so compelling. I can't that say I was ever that taken by subsequent Wedding Present albums; they all seem like attempts to recreate the absurd urgency and intensity of this first album, and also don't seem to improve on the formula. Getting this album should ge enough to satisfy most casual listeners, although if you're really taken by Gedge's songwriting, then the other albums, as well as his work in the 1990s with the band Cinerama might also be of interest.



West Coast Pop Art Experimental Band "Part One" (Sundazed, 2001)


West Coast Pop Art Experimental Band "Volume Two" (Sundazed, 2001)


West Coast Pop Art Experimental Band "Volume Three: A Child's Guide To Good And Evil" (Sundazed, 2001)

---

As Sixties kitsch goes, the West Coast Pop Art Experimental Band is hard to beat. A weird confluence of hippie-poseur psychedelia and blatant hucksterism, the WCPAEB was a prefab exploitation band whose legacy has outlasted its own contradictions. Now -- decades later -- the Experimental Band seems nearly as authentic as the "real" hippie bands it sought to mimick. The story goes like this: during the Summer of Love, two brothers from Beverly Hills, Shaun and Dan Harris, were trying to beef up their surf band so they could make the psychedelic scene on Sunset Strip. Show biz can be tough, though, when you only have talent, but no industry connections. Enter Bob Markley, a megalomaniac heir to an Oklahoma oil fortune who offered the Harris brothers a deal: I'll finance your band if you let me stand on stage, bang a tambourine, and scam on the young girls who come to the shows. With a state-of-the-art, swirly light show, an absurdly Warholian moniker, and a lecherous manager who threw lots of big parties, the band landed a three-album deal on Reprise Records. The result remains a delectable testament to the silliness and pretensions of the time. Markley, naturally, hijacked the band and began writing bizarre, laughably awkward, faux-hippie poetry, including such winning ditties as "Buddha": "You have a perfectly round tongue/painted green/and a fountain/and a mountain/and a tunnel for me to follow... Let me in/let me in/let me in/I'll give you avocado..." Although the musicians chafed at recording Markley's inane, mildly psychotic ramblings, it's actually his material that makes the WCPAEB albums notable today. A project that started out as a near-hoax took on a life of its own: by its third album the Experimental Band had matured musically while Markley darkened into counterculture Nabokov, obsessing on little girls and whips and chains. In some ways his songs are more revealing and significant than the blank-eyed ramblings of top-flight flower-power bands like the Byrds and the Dead -- at least here was a guy who owned up to the hedonistic yearnings of the time, letting the whole world know that he just wanted to get laid, dammit... even if he had to take up the trappings of paisley and patchouli. Let me in, let me in, let me in!

Whistler "Faith In The Morning" (Wiiija, 2000)


Keeping the faith with the whole early-'90s Sarah-label acousto-twee sound, this British trio has hit a state of grace, musically speaking, particularly on viola-based tunes such as "You And Me", which remind me of some of Leonard Cohen's best stuff. Admittedly, the lyrics are of the emotional navelgazing, schoolgirl diary variety, an impression that's enhanced by Kerry Shaw's wispy, blase, English-girl-singing-off-key vocals. Still, this is all in keeping with a grand indiepop tradition, and if you're looking for something mellow to have on during a rainy day, this is an album that stands up to repeated play. Nice stuff.
Wilco? - Yeah, whatever. Feel free to check out my alt.country /twangcore/Americana guide
---
Wild Tchoupitoulas "Wild Tchoupitoulas" (Island, 1976)


Dang. It kinda seems almost like cheating, packing all these hotshot musicians from the Allen Toussaint-Meters-Neville Brothers axis into the studio to record a Mardi Gras marching band album... And what a great album it is! This is the atom bomb of 'Nawlins party music, one killer, super-catchy tune after another. These are songs that had been around for ages -- every brass band and "indian" crew worth its salt can stomp through a great version of "Brother John" or "Meet The Boys," but no one has ever done them better than on this album. Highly recommended.
Bill Withers "Just As I Am" (Sussex/Sony Legacy, 1971)

Bill Withers "Still Bill" (Sussex/Sony Legacy, 1972)


A folk-funk masterpiece. Following his big surprise hit with "Ain't No Sunshine," Withers insisted on the right to produce his follow-up album, and the results, as you can hear, were stellar. He rounded up some pals from the Watts 103rd Street Rhythm Band, guys that he jammed with regularly in the 'hood, and the tight, compact ensemble sizzled their way through his latest set of plainspoken, soul-piercing funk ballads. This album included chart-topping hits such as "Use Me," "Another Day To Run," and "Use Me," but it also had emotionally raw powerhouses like "Who Is He (And What Is He To You?)" and "I Don't Want You On My Mind" that tend to get forgotten in the foggy haze of various best-of collections. "Lonely Street, Lonely Town" is another fine example of Wither's empathic humanist world view, a soft folkie sentiment with a killer funk groove to back it up. Amazingly, this is the first time this album has been reissued in its entirety: snap it up while you can, and enjoy one of the best albums the early 1970s had to offer!
Bill Withers "Live at Carnegie Hall" (Columbia/Sony Legacy, 1973)


Playing live and at the height of his powers. For the most part, I prefer the studio versions, but this is still a really great album, particularly since the back-up band is rock solid, soulful, super-funky, and completely tapped into his wavelength. This live performance of "Grandma's Hands," complete with spoken introduction, is unquestionably the definitive version... Bill Withers fans cannot go without having this album, along with his first two. It's another masterpiece.
Stevie Wonder "Talking Book" (Motown, 1972)


This album marks a transition from Wonder's poppy Motown origins into the broader mystical expanse of his transcendent later albums. The disc's big hits, the syrupy ballad, "Sunshine Of My Life" and the funk monster, "Superstition" deliniate the divide -- one is a super-old-fashioned love song, while the other was at the cutting edge of a newly-emerging African-American pop style -- funk music. Wonder may have been slick, but he was riding on the top of a glorious groove that no one else could even come close to. Other songs on here teeter between conventional pop and more exploratory themes, perhaps the most unusual tune in "Blame It On The Sun," which is a little more downcast and minor-key than many of his hits until then. One of Wonder's first classic '70s albums.
Stevie Wonder "Innervisions" (Motown, 1973)


Stevie Wonder's meditations on inner city life and the African-American push towards middle-class stability in the wake of the '60s civil rights movement made for some pretty great music... This disc had its share of radio hits and anthemic ballads, such as "Living For The City," "Golden Lady," and "Don't You Worry 'Bout A Thing," but it also has some curious sleeper tunes as well, such as "Misstra Know It All," which is one of my favorite Stevie Wonder songs. Oh, yeah, "Higher Ground" is also an amazing funk classic... As is this whole album!
Stevie Wonder "Songs In The Key Of Life" (Motown, 1976)

Stevie Wonder "The Definitive Collection" (UTV, 2002)


A Motown equivalent of the Beatles "#1" collection -- all of Stevie Wonder's biggest hits gathered together on a single CD. Of course, his 1970s masterpiece albums really have to be appreciated in their own right, but it's still great to sample Wonder's career and hear his transitions from an incredibly talented teenager into a true pop genius, and then into a veteran show biz star. Nice set of music, even if it only skims the surface.
Norm Wooster - see artist profile
---
More Pop Faves
---



---