<! MP3 03/17/09, 12/07/10, 12/12/13 > <! outside 00/00/00 > <! pix 00/00/00 > <! icons 12/07/10 > <! UPDATES: 12/07/10 - probably need ALLizards page 12/12/13 - added AuLL page, need link to NRBQ, lots of MP3 links defunct > <! Apache Relay - too rock? Josh Abbott Wade Bowen "Live At Billy Bob's Texas" (2010) B003626TRC B003N48QWO Cody Canada & The Departed Casey Donahew Band Jackson Taylor and the Sinners Whiskey Myers JB and The Moonshine Band Turnpike Troubadours > <! Assjack - Hank3-related band Atomic Deluxe Kendel Carson Joe Purdy Jackie Greene Dylan LeBlanc The Low Anthem Darden Smith Scott Miller Cody Canada Stoney LaRue Whiskey Myers Wrinkle Neck Mules JB & The Moonshine Band Jason Isabell Bleu Edmondson Dawes Sons of Bill The Devil Makes Three (?) Dirt Daubers Lonesome Wyatt 77 El Deora "Sirens" (Western Independent, 2006) B000F26SKY B00148SR5W 77 El Deora "Hammer And Tongs" (Western Independent, 2008) B001CQP42U B005459JEE 77 El Deora w/ Maurice Tani & Jenn Courtney "The Crown And The Crow's Confession" (Western Independent, 2010) B004FNBWQO B0053O26P0 >
---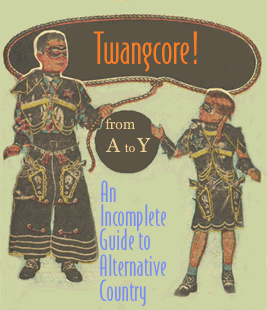 Welcome to my super-opinionated alt.country music guide!
As a fella who's been listening to hick music for decades now, I have viewed the whole alterna-country scene of the '80s and '90s with mixed feelings. On one hand -- yay, country music!! On the other hand... all that drawls is not Hank Williams. There's a tendency for many alt.country fans (and journalists) to uncritically cheer on every band that picks up a fiddle and sings off-key... But why settle for second-, third- or fourth-best? I, for one, think that there's some value in being critical, since it's partly through reflection and appraisal that art is able to grow.
Anyway, here's a quick look at some of alt.country's notable artists... This "guide" is incomplete for several reasons, not the least of which are shortages of time and money. Also, originally I had only intended to review alt.country records I like, and now that that the section's been expanded to be more inclusive, it may look a bit more sparse than the original, more compact version. What are my criteria? In short, I like folks who can play well, and who really "get" the vibe of country music. I'm particularly not fond of bands who play up to white trash stereotypes, or who play sloppy because they think it's cute or that that's all you need to do to sound "country." I also dislike artists that I think are stuck up, stagey, or overrated. Sure, it's all a matter of taste... and that's why I'm expressing mine. Hopefully my ramblings and raves will be helpful for at least some of y'all out there...
---
A | B | C | D | E | F | G | H | I | J | K | L | M | N | O | P | Q | R | S | T | U | V | W | X, Y & Z | Comps | Other Country Styles
---
Accident Clearinghouse "Volume One: Saginaw Sweetheart" (OBT, 1996)





<! "Saginaw Sweetheart" was recorded at OBT studios 1995 through winter 1996. Dan Gerber was playing washboard, spoons and Tide bottle. Scott Berndt, who would join the group for "Absolute Collision," was guest drummer on "Flamin' Hair." We had tried to get an album together during college, recording and re-recording the songs endlessly, but we were never happy with the results. We basically abandoned recording in favor or writing, actually learning to play our instruments, and refining our sound. We had all recently graduated from CoVA in St. Paul, and had plenty of time on our hands to get down to business. We worked up about 40 or so songs, at which point we toyed with the idea of putting out a double-CD. Ultimately we decided for economic reasons to do two separate volumes in case "Saginaw Sweetheart" was a flop. Thankfully, the album did extremely well, selling out two separate printings. The final album clocks in at over 60 minutes in length and is one of our more somber and personal projects. The instrumentation includes lots of banjo and mandolin. Dan left the group shortly after the release to do other stuff, most notably getting married and becoming a master of software at Adobe. The album was recorded and co-produced by Jeff's brother Jon Tranberry. >

Accident Clearinghouse "Volume Two: Absolute Collision" (OBT, 1997)

Accident Clearinghouse "By Blood And Marriage..." (OBT, 1999)





<! 188 x 188 available >
Ryan Adams "Heartbreaker" (Bloodshot, 2000)



I suppose I should confess that I never really tracked Whiskeytown all that carefully, although I have friends who are totally ga-ga over them... Not really knowing much about them was what made this solo outing by singer Ryan Adams such a pleasant surprise for me. It kicks off with "To Be Young", a picture-perfect homage to Blonde On Blonde era Dylan, and continues on in a Zimmerman-esque vein through a series of songs that are alternately sentimental and vengeful, with concisely executed production that ranges from picked-bone sparse to eerily lush... It's a rock-country crossover with an album-wide cohesion that sneaks up on you, full of impressive, glittering nuggets of songwriting and soulful, catchy guitar twangery. There's also a super-sweet duet with Emmylou Harris, which is worth the price of admission alone. Very nice stuff, and very well written.
Ryan Adams "Gold" (Lost Highway, 2001)



Another nice album, which alternately takes things down a notch or two, sticking to even mellower terrain, and plunges headlong into blaring, glammy rockstar wankery. There are still a few Dylanisms at the start, but most of this is sort of introspective, folk-ish pop songcrafting. In timbre he reminds me of Loudon Wainwright III (or, by extension, Loudon's son, Rufus Wainwright...) But on several tracks he overplays his knowledge of the pop past: "Tina Toledo's Street Walkin' Blues," for example, is just a little too Sticky Fingers-esque and the baldness of the swipe is distracting. (Besides, hipsters singing about hookers -- yawn.) Overall though, this is a very fine album, nicely sculpted and quite listenable, though only tangentially "country." Worth checking out, though he is in the process of transforming himself into a bona fide rawk star.
Ryan Adams "Demolition" (Lost Highway, 2002)



Although this disc is billed as an odds-and-ends demo collection, it's actually much more cohesive (and satisfying) than his last album, Gold... (At least Adams isn't still trying to remake Sticky Fingers on this one...) One catchy, moody song after another, evenly balancing his country and poppy-melodic tendencies... There are a few stylistic surprises, such as the Cars-like introduction to the modern-rock "Starting To Hurt" and a strong streak of U2-ishness throughout, but nothing that should cause his loyal fans any real dismay. Lyrically, numerous fire-and-smoke references suggest the spiritual aftermath of September 11th weighed heavily on Adams, but he approaches the subject elliptically and skillfully, and it the metaphysics don't get in the way of the music. All in all, this is a very nice record, alluring and well worth checking out.


<! ALT: This odds'n'ends set of demos and other "unreleased" material has its moments, both of purity and tedium, but it's certainly worth checking out, particularly if you're an Adams fan to begin with. Hey, I kept my copy...! >
Ryan Adams "Love Is Hell, Pt.1" (Lost Highway, 2003)



Well, y'all can pretty much forget about his lingering "country" influences: this is a rock record, pure and simple. Still, the strummy acoustic vibe laced inside this set of slinky, super-mellow indierock tunes is mighty nice, and easy on the ears. I'm a little nervous about the way his vocals have begun to edge into a Bono-style U2-ish over-emotive warble, but on the whole this is quite a nice, listenable little record. Recommended.
Ryan Adams "Love Is Hell, Pt.2" (Lost Highway, 2003)


Ryan Adams "Rock'N'Roll" (Lost Highway, 2003)






<! other albums? separate discography?>

Jason Allen "Something I Dreamed" (D Records, 2003)



(Produced by Clay Blaker)

Jason Allen "Wouldn't It Be Nice" (D Records, 2004)

Jason Allen "Live At Gruene Hall" (Smith Music, 2006)


Jason Allen "The Twilight Zone" (Smith Music, 2008)


Terry Allen - see artist discography

Gregg Allman "Low Country Blues" (Rounder, 2011)



(Produced by T Bone Burnett)
A rock-solid, pleasantly mellow roots-blues set from Southern Rock granddaddy Gregg Allman, who has seen his fair share of funky jam sessions in his time, often with a solid wall of rock-god guitars around him. This time, he's in a stripped-down, mostly acoustic mode, playing classic blues from the likes of B.B. King, Amos Milburn, Otis Rush and Muddy Waters, with a few more obscure songs in the mix and some original tunes for good measure. Underpinning Allman's B3 organ are the funky piano trills of Dr. John, and a host of tasteful pickers, including producer T Bone Burnett strumming on a tune or two. A very tasteful, tasty album, Allman's first solo set in thirteen years(!) and sure to satisfy his fans and old-school blues lovers everywhere. Definitely recommended.
Tommy Alverson "Texasongs" (Campfire, 1995)


Tommy Alverson "Me On The Jukebox" (Two Of A Kind, 1999)

Tommy Alverson "Live At Ozona" (Two Of A Kind, 2000)

Tommy Alverson "Alive And Pickin' " (Smith Music Group, 2001)

Tommy Alverson "Live At Ozona Revisited" (Two Of A Kind, 2003)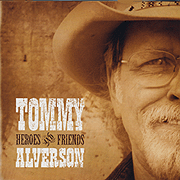 Tommy Alverson "Heroes And Friends" (Smith Entertainment, 2004)



Gather 'round, children, and take heed: here is Texas music at its casual, independent best. Back Forty picker Tommy Alverson has opened up the studio to invite a bunch of Lone Star artists he knows and admires to play on this fine, heartfelt guest-fest. Ed Burleson, Johnny Bush, Ray Wylie Hubbard, Gary P. Nunn, Rusty Weir, and the legendary Leon Rausch are among the more recognizable names on here; "new" artists like Heather Morgan and Jerry Max Lane may also perk up an ear or two, as well. There's a rough-hewn, even sloppy, soulfulness to this steel-drenched set, and a distinct sense that this is real music being made by real people, folks who play in local bars for a little free beer and a lot of fun, and who think that's about all you need to "make it" in the music world. Although the guest-performer aspect makes this album flow a little unevenly, but there are several standout tracks, so it all evens out. Particularly nice are "I Feel Like Drinkin' Today," "My Hometown," the alt-country anthem, "It Could Be Much Worse," and "My Way Or The Highway," Alverson's homage to the late, great Waylon Jennings. If you wanna hear some low-key country twang that's way off the Nashville radar, then Tommy Alverson's your man.
Tommy Alverson "Live At Poor David's Pub" (2007)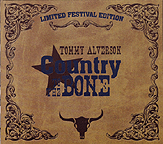 Tommy Alverson "Country To The Bone" (Palo Duro, 2007)



(Produced by Tommy Alverson & Patrick McGuire)
Another fine set from this unpretentious Texas independent... Alverson pays homage to Hank, twang and tequila -- and sounds like he means every word of it! This is real-deal, front-porch, gravel-road country music that still has plenty of ragged, rough edges to it: Alverson is the kind of guy you won't find playing halftime at the Superbowl, but you sure wouldn't mind having him pick a few tunes at your barbecue while the game is on. Several songs are Alverson originals, although there's also music by Clay Blaker, Walt Wilkins, Jim Lauderdale and Mickey Newbury, along with a tip of the hat towards Doug Sahm ("Be Real") and a few tunes from Alverson's pals, Roy and Jerri Lynn Robinson. This disc originally came out as a souvenir of the Texas Music Family Gathering festival (which Alverson promotes and organizes), but now all us folks outside of Texas can enjoy it as well... This is real country, the kind that sounds a little bit better with each you drink.
Tommy Alverson "Live Again" (Winding Road, 2007)


Tommy Alverson "Texas One More Time" (2007)


Tommy Alverson "Pickin' On Willie" (Winding Road, 2012)

Dave Alvin - see artist discography
Elizabeth Ames & The Countrypolitans "Anytime" (Ultrapolitan, 2007)


(Produced by Lloyd Maines & Elizabeth Ames)
This California-based artist brews up a mix of Neko Case-like twang, Bobbie Gentry-ish sunshine-countrypolitan and contemplative Rosanne Cash-y moping, anchored by some solid honkytonk picking. Didn't totally resonate for me -- a little too poetic for my tastes, and not enough clear melodic hooks. But it's solid stuff, certainly worth checking out.
Sam Amidon "Bright Sunny South" (Nonesuch, 2013)



An intriguing collection of dreamy re-imaginings of old American rural music and shape-note hymns, drawing on the repertoires of Appalachian musicians... An original modern take on some craggy old music.
Al Anderson "Al Anderson" (Vanguard, 1972)



The hotshot, blues-drenched lead guitarist for NRBQ dashed off this lovely solo album early in his career, and it's a real gem, definitely worth tracking down. Here the master musician of the alterna-bar-band repertoire nods his hat towards Hank Williams and Delta blues forerunners, while also sculpting several lovely, delicate acoustic love songs of his own. A nice mix of styles, mostly in a mellow, gentle, country-tinged mode. One of my favorite hidden gems from the past.
Al Anderson "Party Favors" (Twin Tone, 1988) <! date(?) >






<! Tommy Alverson >
Al Anderson "Pay Before You Pump" (Imprint, 1996)


It's been a long time since I actually listened to this record, but I remember when it came into my old radio station in '96... I was all jazzed because I knew who Anderson was, and was sorely disappointed when I heard how blunt, loud and clangy the disc turned out to be. Very testosterone-y and overproduced. That's when I found out Al had quit NRBQ and become a bigshot Nashville songwriter and sideman... Too bad his own record(s) turned out to be so unsubtle and clunky. But who knows? Maybe if I go back and check it out again, I might be more into it... It is Big Al, after all! How bad could it be?
Al Anderson "After Hours" (Sony, 2006)


Pete Anderson - see artist discography
Billie Joe Armstrong & Norah Jones "Foreverly" (Reprise, 2013)



If you asked me, I would have had a pretty hard time coming up with a more unlikely vocal duo than Green Day's Billy Joe Armstrong and roots-jazz chanteuse Norah Jones... And the two of them doing an Everly Brothers tribute album? Oy geyvalt! Maybe Jones is no big surprise here -- she's long since proven herself one of the most eclectic artists in contemporary American pop -- but Billie Joe has always had unexpected depths as well, and I say more power to him for going all roots-twang for a change.
Tom Armstrong "Sings Heart Songs" (Carswell, 2000)


A sweet tribute to the heyday of the heart song, that style of weepy ballads perfected in '40s and '50s and '60s by the likes of Webb Pierce, Kitty Wells and George Jones. First off, I love the graphics (an homage to the Columbia label's late 'Fifties look, back when Carl Smith was top of their country roster...) and the liner notes are a hoot, too -- a witty takeoff on the pretentiously written, pseudo-intellectual "essays" Nashville used to slap onto their LPs. Best of all, Armstrong -- an ex-Midwesterner who was once in the '80s rock band The Hollowmen -- is an SF Bay Area artist who backs up his obvious love for hard-country music with plenty of talent, especially as a songwriter. All twelve tracks on here are original compositions, written with an intentionally old-time feel. The material ranges from goofy Howard Harlan-style paradox tunes ("Looking Forward To Looking Back") to abject weepers and loser tunes galore. The production is a little uneven, but the material is great.
Tom Armstrong "Songs That Make The Jukebox Play" (Carswell, 2002)



Yay! This album is twice as punchy as his debut, packed with a dozen top-notch original compositions, and one well-chosen cover tune. Armstrong clearly has a strong command over the range of his material -- plain old, straight-ahead hard country music -- and he has a remerkable ability to write modern honkytonk songs that are every bit as good as the '50s artists he's out to emulate. Mighty good stuff. (PS - This time around the album art parodies the cover of Jimmie Skinner's LP by the same name (but wait; wasn't that on Mercury?), a clever homage that, once again, tips Armstrong's hat regarding his artistic intentions and his strong grasp of country music's rich history. His website is also a lot of fun to poke around.)


<! Cowboy Word by Tom Armstrong same guy? B000CAJRPM B0014DNGVC >
Tom Armstrong "Wine Stained Heart" (Carswell, 2011)






<! Arum Rae >


Asleep At The Wheel - see artist discography





Asylum Street Spankers - see artist discography




Ben Atkins "Small Town Things" (Rusty Records, 2001)


Ben Atkins "Mabelle" (Hightone, 2003)



(Produced by Kym Warner)
A sharp, punchy, musically lively little album from an energetic Austin newcomer... Lloyd Maines, Buddy Miller, and a few other top talents lend their hands, and the disc zips along at a nice clip. I have to admit, though, that I wasn't completely captivated by this one -- Atkins sounds awfully Steve Earle-ish, and copies the parts of the Earle sound that also don't appeal to me -- the hurried, brusque, muscular approach, etc. Seems he'd do a lot better to slow down a bit, and look for the subtler touches in his music. Still, as alt-country albums go, this is pretty impressive.
Atomic Deluxe "Swing Time Shoot 'Em Up" (Cool Cat, 1996)

Atomic Deluxe "My True Love" (Cool Cat, 1999)

The Austin Lounge Lizards - see artist discography

Axton Kincaid "Axton Kincaid" (EP) (Luster Music, 2006)
Nice, down-to-earth, twangy alt-country with a bluegrassy feel, sort of like Jim & Jennie or Freakwater -- a little more settled-down and conventional, but no less enthusiastic or lively. Nice set of original tunes, mostly written by San Francisco-based singer-guitarist Kate Howser, kicking off with a catchy honkytonk/old-timey ditty, "Who's Gonna Pour My Whiskey When You're Gone?" that sets a great pace for the rest of the record. Good, solid band with a nice grasp of country music's soulful, non-novelty side... I'm always in favor of folks who take it seriously and get things right. Lookin' forward to more from these folks! (For more info, check out the band's website at www.lustermusic.com )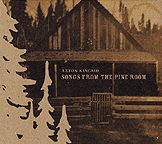 Axton Kincaid "Songs From The Pine Room" (Free Dirt, 2006)



The first full-length release from this gritty San Francisco alt-grass outfit reprises some of the songs from their earlier EP, notably "Who's Gonna Pour My Whiskey When You're Gone?", a catchy mix of honkytonk and old-timey stringband stomp, and the evocative drinkin'-and-thinkin' tune, "Red Light." The group handily fits into the contemporary altbilly scene, with a particular affinity for all those folks from the Midwest who know what it's like to drink too much, too often and really not give a damn. Freakwater and Scrawl come to mind right off the bat, but maybe that's just because the main vocalists are gals, but also because the lyrics are very downer-iffic and express a distinctly female perspective, albeit one that's rather grungey, raw, urban and hip. The remnants of the band's rock'n'roll past are readily evident, both thematically and musically -- mandolin picker Jennifer Daunt takes several searching, improvvy solos that have that choppy, rockin' feel to 'em, but while she lacks the technical rigor and formalism of mainstream bluegrassers, she makes up for it by sounding like a real, live human being, rather than just another hotshot superpicker. Flaws are one of the things that help define this band -- songwriter Kate Howser paints portraits that are often desolate and unfulfilled, but also joyful and unrepentant, a mixture of moods that is reflected in the music. In true DIY spirit, the imperfections are there, but they help you notice the sparkle of the gem underneath. (For more info, see axtonkincaid.com )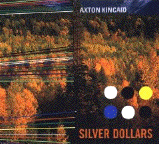 Axton Kincaid "Silver Dollars" (Free Dirt, 2008)



(Produced by Axton Kincaid & Bart Thurber)
Scrappy alt-country from the San Francisco Bay Area... Led by singer-guitarist Kate Howser, this scruffy band gallops through lively original material, rollicking songs with a wry confessional edge and a sincere appreciation for old-school honkytonk country. Just how sincere is seen in the album's closer, "I Don't Need To Wear A Hat (To Prove I'm Country)," an ardent anthem for the urban indiebilly scene... On "The Saddest Story," the band lets its rock roots show, not in loud guitar solos, but in the confident embrace of a melodic power-pop undercurrent, and, as ever, there are some finely-observed verses about drinking and flirting, big city style, sung here with perhaps a slightly lighter heart tan on their earlier album. Pretty twangy.
---
Alt.Country Albums - Letter "B"
---