<! MP3 07/14/09, 12/10/10 > <! outside 00/00/00 > <! pix 00/00/00 > <! icons 12/10/10 > <! UPDATES: 07/14/09 - update, complete Eliza Gilkyson; Chris Gaffney 12/10/10 - Gaffney may be complete - still need to do Gilkyson page > <! Greg Garing >
---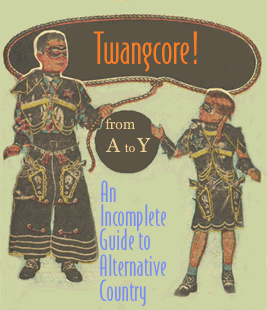 This page is part of an opinionated overview of "alt.country" music, with record reviews by me, Joe Sixpack... Naturally, it's a work in progress, and quite incomplete, so your comments and suggestions are welcome.
This is the first page covering the letter "G"
---
A | B | C | D | E | F | G / G-2 / G-3 | H | I | J | K | L | M | N | O | P | Q | R | S | T | U | V | W | X, Y & Z | Comps | Other Country Styles
---
Chris Gaffney "Road To Indio" (1986)
The first solo album by guitarist/songwriter Chris Gaffney... Long out-of-print, it has been reissued on CD on the Live And Then Some collection, listed below.
Chris Gaffney "Chris Gaffney & The Cold Hard Facts" (1989)

Chris Gaffney "Mi Vida Loca" (Hightone, 1992)


Chris Gaffney "Man Of Somebody's Dreams" (1994)





<! live album ~ Zurich, Switzerland, April 22, 1994 >

Chris Gaffney "Loser's Paradise" (Hightone, 1995)



(Produced by Dave Alvin)



<! Chris Gaffney & Walter Trout "The Warriors" (Deepwater Records, 1998) B002EY7OZY Chris Gaffney on vocals and guitar Walter Trout on guitar and harmonica Johnny Lee Schell on vocals, bass & guitar Bernie Pershey on drums Bobby Daniels on vocals TRACKS 1. Sinners and Saints 2. Before The Storm 3. When Loves Comes Around 4. Michelle's Song 5. I'm in Chains 6. Ten Days of Tears 7. I Miss My Baby 8. When I Saw You 9. Devil At My Door 10. Him>

Chris Gaffney "Live & Then Some" (Tres Pescadores, 1999)



A 2-CD set including a reissue of Gaffney's first studio album, Road To Indio.
Chris Gaffney/Various Artists "THE MAN OF SOMEBODY'S DREAMS: A TRIBUTE TO CHRIS GAFFNEY" (Yep Roc, 2009)






<! * 1986 - Road to Indio * 1989 - Chris Gaffney & the Cold Hard Facts * 1992 - Mi Vida Loca * 1994 - Man of Somebody's Dreams (Live, Zurich, Switzerland, April 22, 1994) * 1995 - Loser's Paradise * 2000 - Live & Then Some [2 CD set: CD 1 - live, California, March 27/28, 1999; CD 2- 'Road to Indio'] >
Sue Garner & Angel Dean "Pot Liquor" (Diesel Only, 2004)



An interesting, modernized reworking of Carter Family-style harmonies and old-fashioned country murder ballads, along with some moody lo-fi instrospection. Sounds a lot like Freakwater, with maybe less of a rough edge, and while the subject matter tends to be bleak, it suits the music well. Nice stuff, though it might fit more into the "rock" side of the altie equation.
Jeremy Garrett "I Am A Stranger" (Sugar Hill, 2009)



(Produced by Jeremy Garrett)
A solo album from the fiddler and singer of the Infamous Stringdusters... A nice, mellow mix of subdued, melodic truegrass and plaintive honky-tonk heartsongs, hearkening back to the sweeter, slower stuff by folks such as Jean Shepard and Webb Pierce. The best modern comparison might be to Ricky Skaggs, showing the same heartfelt appreciation for the sentimental side of old-fashioned twang. Garrett might not be the most powerful vocalist, but he's a mighty fine fiddler and clearly an accomplished student of hillbilly roots music. Nice stuff -- definitely worth checking out!

Anna Garrott "Only Time Will Tell" (Blue Steel, 2010)



(Produced by Rick Holt)
An independently produced album by an artist who sometimes tilts towards more commercial country, but seems comfortable with showing her indiebilly side as well. Garrott has a mousy little voice (the kind of mousy voice I like) which is perhaps best suited to smaller-scale production, but is pretty appealing on most of this album. About half the tracks were written by guitarist-producer Rick Holt, so I suppose it's as much a songwriter's demo as an artist debut; it's sometimes uneven, but the good tracks are strong. The set includes a couple of songs about domestic violence and related issues, including "Pink Roses" and "Only Time Will Tell," both co-written by Holt. Worth checking out.
Mary Gauthier - see artist discography
Geraldine Fibbers - see artist profile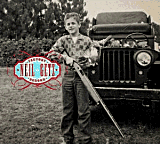 Neil Getz "Factory Second" (Agillator, 2011)



(Produced by Neil Getz)
An enjoyable, playful mix of folkie twang and power-pop, featuring half-rueful, half-novelty, quite clever lyrics, along with catchy, kooky melodies and a puckish sense of fun. This Berkeley, CA uber-indie singer-songwriter reminds me quite a bit of Richard Thompson... And I mean that in a good way! A little less twangy than my usual Americana diet, but definitely worth checking out.
Eliza Gilkyson - see artist discography
Tom Gillam "First Of All" (1999)


Tom Gillam "Dallas" (Gotham, 2001)



Country-rock with nice, punchy melodic hooks, draped over rambling, unruly, sometimes rather wordy tunes. This Philadelphia-based cowpoke unapologetically embraces the high, bright, energetic sound of '70s rockers like Jackson Browne or the Eagles... I think overall that his lyrics could use a little pruning back, and the production could be toned down a little, but this is still an impressive sounding disc -- with an audacious self-assurance, and more than the usual level of substance to back it up. Worth checking out, though maybe a little too rockin' for my tastes...
Tom Gillam "Shake My Hand" (95 North, 2004)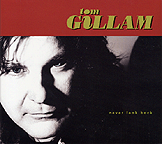 Tom Gillam "Never Look Back" (Treehouse, 2007)



(Produced by Joe Carroll)
Rich, good-natured retro-Southern rock with a light, mellow, playful feel; more Joe Walsh-y than Black Crowes-ish. If you appreciate that kind of old-fashioned, electrified twang, you might enjoy this album as well. Gillam's band, Tractor Pull, plug in and play loud, but they aren't too deathly serious about it -- they just like those rich, harmony-drenched power chords; you might too!


<! ALT TEXT from column: A powerful roots-rock/Americana set, with loud guitars, hammering rhythm, scathing, self-reproachful lyrics and alluring melodies. Gillam, a hard-rockin' road warrior who suffered a fatal heart attack during the production of this record (and was, thankfully, resuscitated...) presumably really knows something about the rough-edged, love-lorn, booze-soaked life of his songs. Fans of early Steve Earle, Dave Alvin and the Blasters will find something to cheer about here -- it's a hard-hitting set that stands out for its balls-out forcefulness and embrace of a druggy machismo that seems part of a bygone era. If you like your Americana with a real kick to it, check this guy out. >

Colin Gilmore "4 Of No Kind" (EP) (Self-Released, 2002)


Colin Gilmore "The Day The World Stopped And Spun The Other Way" (Squirmy, 2004)



An impressive debut by Colin (son of Jimmie Dale) Gilmore, who busts out of Texas with a perky mix of ebullient indie rock and real, rootsy twang. Sir Douglas himself woulda been proud. There's a nice set of original tunes, and some cool covers (Terry Allen's "The Beautiful Waitress" and the classic Clash song, "White Man In Hammersmith Palais," played pretty much straight, as heard in the '77 original...) There is a noticeable vocal similarity between father and son, but not so much so that it overshadows Colin in any way. Indeed, he's very much his own artist, and with a catchy first album like this, I'm hoping we'll hear plenty more from him... very, very soon.
Colin Gilmore "Black Wine" (EP) (Self-Released, 2008)

Colin Gilmore "Goodnight Lane" (Self-Released, 2010)


Jimmie Dale Gilmore - see artist discography
Gin Palace Jesters "Honky Tonk Fools" (Rhythm Bombs, 2005)


The Gin Palace Jesters "Roadhouse Riot" (Self-Released, 2007)



(Produced by Dave Sisson)
Now, see, these folks are talking my language!! This is fun, good, old-fashioned hillbilly music, mixing a few well-chosen oldies with a slew of fine originals, mainly written by lead vocalist Dave Sisson (who is one talented fellow...) Two songs won me over right away: their cover of an old Jim & Jesse classic, "Are You Missing Me" (a longtime favorite of mine, originally written by the Louvin Brothers) and "Ol' Webb's Bullhorn Pontiac," a fine tribute to my hero, the late, great Webb Pierce, who was the first artist I profiled on this site, lo, those many years ago. I mean, golly, what else can I say? I'm sold! I've been hearing about these guys for a while now, and I'm glad I finally got to check them out... They've been called one of Chicago's best alt-country bands -- I think that can be upgraded to one of the finest bands around, period. Fans of Dave & Deke and other retro-hick bands will definitely want to check these guys out... They're the real deal! (Available through the band's website at: www.ginpalacejesters.com )

The Giving Tree Band "Unified Folk Theory" (Crooked Creek, 2007)



(Produced by Eric Fink)
Amiable, optimistic, eco-billy hippie-folk with a bluegrass base -- plenty of mandolin and acoustic guitar, gentle, wistful lyrics, a bit of blues, a lot of lazy, easygoing pickin' and general hangin' out. This 2-CD set has a sincere homegrown charm to it: these guys from Chicago certainly aren't superpickers, but these days, in a world awash with note-perfect truegrass supergroups, it's kind of nice to hear some folks who are just kickin' back and making music, just having fun. Also, they're idealists: for each album they sell, they're donating two bucks to a nonprofit called Hand To Hand USA which provides humanitarian aid for a drought-stricken region of India. (Also available through the band's website at: www.thegivingtreeband.com )
The Giving Tree Band "Great Possessions" (Crooked Creek, 2009)


The Giving Tree Band "The Joke, The Threat, And The Obvious" (Crooked Creek, 2010)


---
Alt.Country Albums - More Letter "G"
---