<! MP3 07/08/09 > <! update 00/00/00 > <! outside 00/00/00 > <! pix 00/00/00 > <! icons 12/14/10 >
---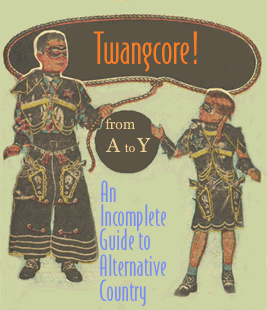 This page is part of an opinionated overview of "alt.country" music, with record reviews by me, Joe Sixpack... Naturally, it's a work in progress, and quite incomplete, so your comments and suggestions are welcome.
This is the first page covering the letter "S"
---
A | B | C | D | E | F | G | H | I | J | K | L | M | N | O | P | Q | R | S-1 / 2 / 3 / 4 | T | U | V | W | X, Y & Z | Comps | Other Country Styles
---
The Saddle Cats "Herdin' Cats: Adventures In Western Swing" (Easy Light Records, 2009)





<! The Saddle Cats "Livin' on the Streets" (2007) B000NIJ0WI apparently this is not the same band? >

The Sadies "Precious Moments" (Bloodshot, 1998)



Twangy cow-surf, or surfy cow-twang? You decide! Canada's Sadies, fronted by brothers Dallas and Travis Good, have an ambitious agenda, even if this debut disc is a bit jittery at times. This is a pleasant album, fun to listen to, though not particularly innovative or earthshaking; the reverb on old-time ballads like "Pretty Polly" is kinda clever, though their cover of "Tell Her Lies And Feed Her Candy" is too ironic by half... can't these alty types just admit they like country music and play it with some feeling, rather than always passing it off as a dumb joke? Anyway, the boys sure sound like they had fun making this records, and that playfulness comes through loud and clear. Neko Case guests on the vocals of one tune, "Cow Hand," which has a typically raspy feel to it. Not bad.
The Sadies "Pure Diamond Gold" (Bloodshot, 1999)



They get a bit more country on here, though the surf reverb is still pretty prominent, and the cowpunky stuff is sounding more and more like the Cramps going out on a bender with Ennio Morricone. The cover of Harry Johnson's cult classic, "It's Nothing To Me" (previously heard on the oddities collection, GOD LESS AMERICA) is a real eye-opener... Snotty, nudge-nudge, wink-wink covers of oldies such as the gospel evergreen, "Higher Power," are of less interest to me: I prefer music that's played with real feeling, not just to prove how clever you can be. Anyway, The Sadies are clearly a band of high caliber, with impressive guitar pickin' worthy of comparison to Deke Dickerson or Dick Dale, and their range of influences is equally impressive... just wish they'd take the country stuff a little more seriously and not just treat it as a joke. Kelly Hogan guests on several songs.

The Sadies & Andre Williams "Red Dirt" (Bloodshot, 1999)



R&B soul singer Andre Williams is one of those cult figures in the retro-garage scene who keeps eliciting shock and salacious giggle with his sleaze-drenched R&B oldies. On paper, the match-up of Williams and the versatile Canadian guitar quartet is a stroke of genius -- even if he's doing a "country" record, he gives them a chance to explore the R&B undercurrents that eddy up in their work from time to time. The end result, though, is a little less than stellar -- Williams cusses and yowls, he gets all Screamin' Jay Hawkins-y, and generally has a good time, but he seems to be doing it all a good foot-and-a-half away from the microphone. The crisply recorded backing tracks stand in too-stark contrast to the sloppy vocals, and, well, I guess you have to be kind of young or something to get into music that's sloppy and disorganized just on principle alone. It's okay, I guess, but it ain't my cup of tea.

The Sadies "Tremendous Efforts" (Bloodshot, 2001)



A much slicker, more accomplished set, with the Sadies settling comfortably into the garage-retro niche, though with a sly country twang that's pretty cool and distinctive. I gotta say, I'm pretty impressed: I'd put this at the top of the list as far as their albums to date. And did I mention an affinity to the cosmic cowboy era of the Byrds? Well, check out their cover of "I Wasn't Born To Follow..." It's maybe a little too faithful to the original, but it shows the lads had done their homework... Torturous closing number, but still an impressive album. Recommended!

The Sadies "Stories Often Told" (Yep Roc, 2002)



Well, now they're just getting' all sonic and psychedelic on us, with spacy sound washes and smudged-out surf licks, edging into the artier turf explored by bands like Beachwood Sparks. 'Salright, but a little lofty in some ways. I guess the twangy alt-country tunes, like "Within A Stone" (which sounds like it could've been on a late-era Byrds album...) show the kind of depth I complained they didn't show on previous albums... Still not really my cup of tea, though.
The Sadies & Jon Langford "The Mayor Of The Moon" (Bloodshot, 2003)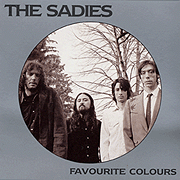 The Sadies "Favourite Colours" (Yep Roc, 2004)



When I first heard this disc, I totally flipped. This is the best Sadies album yet, with crisp, concise, compelling recreations of the classic psychedelic country-rock sound of the late-'60s Byrds and their ilk. It's a groovy, reverbalicious aural odyssey, with a subtle nudge into the grandiose latter-day trippiness of "navel-gazer" guitar bands such as Galaxie 500 and Spiritualized... You can carp about it being a slavish exercise in hippie nostalgia, or whatever, but the fact of the matter is this is a great record. Very listenable and very fun; definitely more rock than country. Recommended!

The Sadies "In Concert, Volume One" (Yep Roc, 2006)



A thoroughly satisfying 2-CD live set from February, 2006, which has the band romping through high-test surfabilly worthy of Flat Duo Jets or the Untamed Youth, as well as satisfyingly twang-bangy hoedowns such as "There's A Higher Power" and "Stay All Night." The Sadies are proving themselves one of the most durable and versatile alt-twang bands around -- they're mostly "rock," but when they want to, they sure can sound like hicks. Lotsa guests on here, notably Neko Case, Kelly Hogan, Jonboy Langford and Gary Louris, as well as a slew of the band's other uber-hip pals. I gotta say, it's a pretty cool record -- they were obviously having a lot of fun during the shows, and that sense of enjoyment comes through loud and clear, right into our ears. Give it a whirl!
The Sadies "Tales Of The Rat Fink" (Yep Roc, 2006)


The Sadies "New Seasons" (Yep Roc, 2007)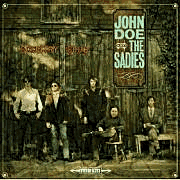 The Sadies & John Doe "Country Club" (Yep Roc, 2009)



The velvet-voiced punk icon, John Doe of X, teams up with the ultra-versatile Sadies for a heartfelt tribute to classic country songwriters such as Bobby Bare, Johnny Cash Waylon Jennings, Kris Kristofferson, Roger Miller, Mel Tillis and others. I love that this record isn't played for laughs -- there's no hint of indie-snob condescension towards these Nashville hitmakers, and the musicianship is consistently first-rate, played with conviction and depth. This is a nice lesson for all them alt-country rocker-types out there... This music doesn't have to be treated as a joke. In fact, it's usually much better when you don't, and John Doe really gets that.


<! who's the female singer? >


Doug Sahm (and The Sir Douglas Quintet) -- see artist profile




Shawn Sahm "Shawn Sahm" (Evangeline, 2002)


Les Sampou "Lonesomeville" (Self-Released, 2010)



(Produced by Les Sampou, David Ogden & Andy Plaisted)
A sweet, twangy set with deep blues roots... There are echoes of Delbert McClinton, Lucinda Williams, Bonnie Raitt and various other roots-music heroes, amid a strong set of original material. Ms. Sampou might be living in Lonesomeville, but she originally hails from Connecticut... and for a Yankee, she does a nice job getting greasy and gritty... Best on the uptempo numbers, with some nice David Lindley-esque slide guitar. Worth a spin!

Ann Savoy & Linda Ronstadt "Adieu False Heart" (Vanguard, 2006)



Going by the name of "the Zozo Sisters," country-rock doyenne Linda Ronstadt and cajun chanteuse Ann Savoy resume the partnership that sparkled and shone on the Evangeline Made compilation a few years back. This is a sweet set of uniformly lovely tunes, some more cajun than others, but all featuring gentle acoustic backing and wonderful vocal harmonies. Old-timey picker Dirk Powell lends his talent to the mix, as do a Balfa and Broussard or two, and the cream of the bluegrass studio crew... There's not much variety in the tempo or tone, but if pretty music is what you're looking for, this disc would be hard to beat.

Ann Savoy & Her Sleepless Knights "If Dreams Come True" (Memphis International, 2007)


Having long since secured her place in the firmament of the modern cajun revival, Ann Savoy is steadily shoring up her bona fides as one of the finer, most confident vocalists in the roots music ouvre. On this elegant outing, she sings swing with a lighthearted authority, her command of jazz timing and old-school pop sensibility coming through loud and clear... There's a smattering of French in the song titles, but it comes from the other side of the Atlantic -- from the work of Django Reinhardt and Georges Ulmer -- and the swampy side of her sensibility is largely left behind. Crooning her way through standards by Joe Burke, Benny Goodman, Rogers & Hart, Ray Noble and Dorothy Fields, Savoy makes all that old jazz sound new and fresh, a joyful expression of her own inner muse, and not just another retro-torch run-through. It's quite a lovely record... If you've enjoyed her recent collaborations with Linda Ronstadt, et. al., you should love this album as well!


<! see also: Savoy-Doucet, Magnolia Sisters >

Ann Savoy & Her Sleepless Knights "Black Coffee" (Memphis, 2010)


(Produced by Joel Savoy & Ann Savoy)
A heavy-hitter in the cajun music revival, in recent years Ms. Savoy has turned her attention to jazz, blues and swing, and this swell set picks up where her last record, If Dreams Come True left off, with another set of brisk, joyful acoustic jazz. She's probably best on the uptempo numbers (such as the snappy gypsy-jazz version of "I Cried For You,") but even on the ballads she sings with such conviction and a feeling of fun that you can't help but be drawn in. Her accompanists are in a similarly cheerful mode, and although this is a compact little quintet, they sure to make a big, big sound. A swell set of jazz and swing oldies, with a few French chanson classics thrown in as well. Fun stuff!


<! out July 6, 2010 >

---
Alt.Country Albums - More Letter "S"
---