<! MP3 07/05/09 > <! update 07/05/09 - Tracy Nelson needs her own page; Michael Nesmith, Gary P. Nunn, too > <! outside 00/00/00 > <! pix 00/00/00 > <! icons 12/13/10 > <! Nice Boys From New York "Countrytime" (1990) w/ Joe Goldmark on pedal steel >
---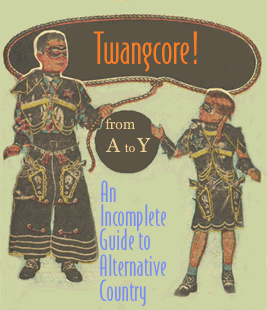 This page is part of an opinionated overview of "alt.country" music, with record reviews by me, Joe Sixpack... Naturally, it's a work in progress, and quite incomplete, so your comments and suggestions are welcome.
This page covers the letter "N"
---
A | B | C | D | E | F | G | H | I | J | K | L | M | N | O | P | Q | R | S | T | U | V | W | X, Y & Z | Comps | Other Country Styles
---


<! Nashville Station "Been Here, Done This" (Rootspop, xxxxxx) >

Nathan "Jimson Weed" (Nettwerk, 2004)



A very nice, very pretty record, with an enchantingly twee mix of melodic country-folk and soft indiepop... Fans of Hem, Jolie Holland or the Be Good Tanyas should love this album as well... I have no idea what any of the songs are about, but I sure like listening to them. If you're looking, perhaps, for a rootsy album that you can put on when folks who "don't like country" are around, this is a mighty fine option. Recommended!
Nathan "Key Principles" (Nettwerk, 2006)



Jimmy Nations Combo "Tarheel Boogie" (Rubric, 2000)



Pleasant contemporary country boogie from New York City. Fellow travellers of Wayne Hancock or Dave and Deke will recognize the terrain, though in this case the journey is more on a garden path than a backwoods gravel road. Strikes me as amiable, but overly restrained -- these guys sound so concerned about not goofing up that they never quite cut loose and have fun. The repertoire is fine, and the picking is good, but the tone of performances could be a little looser and more forceful.
NC Music Love Army "We Are Not For Sale: Songs Of Protest" (2013)



Caitlin Cary, aghast at the retrograde politics of contemporary North Carolina, raises her voice in protest to redeem her home state from the ravages of union busting and voter restrictions... And here you thought topical folk music was a thing of the past!
Lucas Nelson "Wasted" (Tone Tide, 2012)



Why, yes, that is Willie's son...

Paula Nelson "Coming Home" (Luck Records, 1998)


I hate to say it, but this set by Austin local Paula Nelson, daughter of Willie Nelson, is pretty underwhelming. Maybe most of my reaction is due to my disinterest in bluesy, white-girl soul, but the meandering musicianship and rambling songwriting also take their toll. All songs were written by Nelson herself, but the only one that stood out as having a memorable chorus is "No Uncertain Terms"; otherwise there just wasn't much for me to focus on. Willie plays acoustic on a few tunes, but his contributions don't really stand out, either. If you like bluesy gals like Sue Foley, Angela Strehli and Rory Block -- or even Tanya Tucker -- then this might be of interest... But I really wouldn't go out of my way to track it down. (Sorry!)
Tracy Nelson - see artist discography
Willie Nelson - see artist discography
Michael Nesmith - see artist discography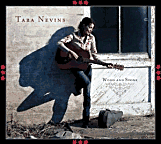 Tara Nevins "Wood And Stone" (Sugar Hill, 2011)



(Produced by Larry Campbell)
An exceptionally bouncy, really fun Americana set featuring singer Tara Nevins of the jam-band, Donna The Buffalo. These songs are more focussed and solidly twangy than the more loose-limbed music of the Buffalo band... and man, are they catchy! The album opens strong with the rollicking title track, "Wood And Stone," and gets more intricate and mysterious as it goes along... But consistently, this disc is a real earbender, the kind of record that stays in rotation at my place for a long time. Recommended!
New Country Rehab "New Country Rehab" (NCR, 2010)



(Produced by Chris Stringer)
Low-key Canadiacana from this talented Toronto quartet... Songwriters John Showman and James Robertson take their own distinctive slant on the rugged folk-country style, bringing to mind idiosyncratic auteurs such as Joe Ely, Buddy Miller and Tom Russell, yet still with a strong stamp of his own singular personality. There are nods towards tradition, including a trio of Hank Williams tunes and a cover of Bruce Springsteen's "State Trooper," though I found the group's original songs more compelling and more straightforward -- they seemed too self-conscious of walking in the shadows of their idols, and tweaked the oldies in ways that didn't always work as well as their own, more straightforward material. Songs such as "Angel Of Death" and "Cameo" have a compelling intensity, while other tracks are little too loosey-goosey for me. Worth checking out, though!
New Country Rehab "Ghost Of Your Charms" (Kelp, 2013)

Jeb Loy Nichols "Days Are Mighty" (Compass, 2008)



(Produced by Jeb Loy Nichols)
A veteran of the Austin, New York and London art scenes, Nichols has a voice I've loved in a country context, but he also has a wider musical palate that ofttimes takes him away from twang. Here, he's in a mellow mood that could be described as singer-songwriter funk, soft, drifting, introspective songs that bring to mind old John Martyn, early Tom Waits, and numerous other gauzy roots-pop crooners. Gentle piano, keyboards, bass and guitar accompaniment unfold ahead of his velvety voice, and while this album doesn't share the same commercialism as the current "adult alternative" soft-pop scene, I'm sure plenty of people in search of mature-sounding music will find this disc quite satisfying. Definitely worth checking out!

Gary Nicholson (as Whitey Johnson) "Gary Nicholson Presents... Whitey Johnson" (Palo Duro, 2008)



(Produced by Colin Linden)
Groovy whiteboy acoustic blues, featuring slide player Whitey Johnson, who is apparently a pseudonym for Gary Nicholson, a six-stringin' pal of Delbert McClinton. Delbert blows the harp on a tune or two, while "Whitey" does some fancy pickin' and growls his way through a bunch of gritty original blues tunes, including several cowritten with modern blues dudes such as Colin Linden, Kim Wilson, Guy Clark -- and Delbert McClinton, of course! Sounds like they had a lot of fun recording this one.

Gary Nicholson "Texas Songbook" (Bismeaux, 2011)



(Produced by Gary Nicholson)
A great, funky, completely countrified set from Texas songwriter Gary Nicholson, a fellow with a lot of friends and a lot of songs that a lot of folks have recorded over the years. Lots of these musical buddies kick in on this disc: his old boss Delbert McClinton sings harmony on "Same Kind Of Crazy," while Ray Benson, Joe Ely and Jon Randall Stewart appear on various tracks, and harmonica wizard Mickey Raphael blows the harp on "Listen To Willie," a good-natured tribute to Willie Nelson. It's pure Texas-indie honkytonk and western swing -- rootsy, robust and full of gregarious good humor. Nicholson has a modest voice, and he makes the most of it, presenting himself as your best buddy, over to drink a few beers and sing a few songs -- if you like the laidback vibe of guys like Robert Earl Keen or Jerry Jeff Walker, you're gonna love this record. And you'll especially love songs like "Talkin' Texan" (about the legendary Texan capacity for exaggeration) and "Lone Star Blues," a cowboy comedy that was recorded by George Strait... Another highlight is Nicholson's version of "Fallin' And Flyin'," a gem of a song that may be familiar from the "Crazy Heart" soundtrack, invested here with the kind of soulfulness that sometimes only a song's author can summon up. Great stuff, highly recommended!

Nick 13 "Nick 13" (Sugar Hill, 2011)



(Produced by Greg Liesz & James Intveld)
A sweet set of gentle, compelling twang from the founder of the band Tiger Army... The resonant, melodic approach suggests a less-bombastic Chris Isaak, or perhaps a more rockin' James Intveld... And lo: Intveld is actually on board as the album's bassist and co-producer, along with pedal steel player Greg Liesz (and on some tracks, steel legend Lloyd Green...) The mix is dreamy and seductive, the record's real fun... Highlights include the propulsive end track, "Gambler's Life," the kind of song that makes you scramble for the "replay" button once it's done. Recommended!
Nickel Creek -- see artist discography
Nitty Gritty Dirt Band - see artist discography
Gary P. Nunn - see artist discography
---
Alt.Country Albums - Letter "O"
---