<! cd = 04/20/11 > <! MP3 04/20/11 > <! update 04/20/11 > <! outside 00/00/00 > <! pix 00/00/00 > <! 208-pix: 00/00/00 > <! icons 04/20/11 >
---
One of my favorite Texas indiebilly old-timers, tunesmith Gary P. Nunn is like some dusty old bottle of whiskey or wine that got lost on a cattle drive a hundred years ago and keeps getting better and stronger every year... He started out in the Lost Gonzo Band, who backed stonerbilly legend Jerry Jeff Walker in his early-1970s glory days, while also recording a few albums under their own name. Nunn went on to an off-the-radar solo career, releasing some of the finest independent music in the Lone Star State. Here's a quick look at his work...
---
Discography - Albums
---
Gary P. Nunn "Home With The Armadillo: Live At Austin City Limits" (Campfire, 1984)


Gary P. Nunn "Borderstates" (Campfire, 1987)


Gary P. Nunn "For Old Time's Sake" (Campfire, 1989)

Gary P. Nunn "Live At Poor David's Pub" (Poor David's Recordings, 1992)

Gary P. Nunn "Totally Guacamole" (Campfire, 1993)


Gary P. Nunn "Road Trip" (Campfire, 1994)


Gary P. Nunn "Under My Hat" (Campfire, 1996)


Gary P. Nunn "That's What I Like About Texas: Greatest Hits" (Campfire, 1998)


Gary P. Nunn "Nobody But Me" (Campfire, 1999)


Gary P. Nunn "It's A Texas Thing" (Campfire, 2000)


Gary P. Nunn "Greatest Hits, v.2" (Campfire, 2001)


Gary P. Nunn "Something For The Trail" (Smith Music Group, 2004)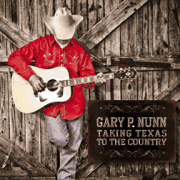 Gary P. Nunn "Taking Texas To The Country" (Campfire, 2010)



Sharp songwriting, good performances all around and the confidence of several decades singing real country stuff for real country fans. The songs alternate between uptempo tunes and sometimes-creaky slower songs; I prefer the fast numbers, and this album includes several of gems: "A Two-Step Away," the cajun-flavored "Down To Louisiana," "The Likes Of Me," and the honkytonk weeper, "I'm Not That Kind Of Guy." Lots of variety, too, from shuffles and western swing to cajun, Tex-Mex and roadhouse, all played with authority and ease... An exemplary Texas indie set.
---
Links
---
---