<! MP3 04/22/09, 02/13/13 > <! outside 00/00/00 > <! pix 02/14/13 > <! 208-pix: 00/00/00 > <! icons 04/09/11, 02/14/13 > <! UPDATES: 04/22/09 02/14/13 - some pix, reviews, ASINs >
---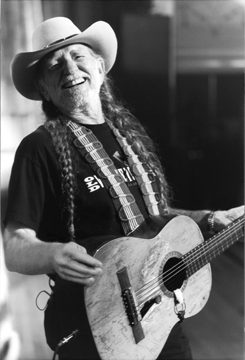 Lanky and grizzled, Willie Nelson has been the standardbearer of the country "alt" nation for many a decade. Like many country stars of the 1950s and '60s, Nelson started his career as a radio DJ, then moved into songwriting with several phenomenally successful hits, most notably Patsy Cline's early '60s smash, "Crazy." The subsequent move to Nashville proved kind of a letdown for Willie -- as far as the record companies were concerned, he had a golden pen, but they were flummoxed trying to figure out what to do with him as a performer. A lot of it had to do with his longstanding affinity for odd, lopsided, jazz-tinged phrasings, a habit he partly picked up from listening to old Floyd Tillman tunes. The Nashville studios tried burying Willie in the string sections and lavish arrangements that were all the rage at the time, and the two styles were an uneasy fit. Finally, in the early '70s Willie ditched Nashville in favor of Texas, and began performing stripped-down hits for hippies, instead of for record execs. Willie became an icon of the budding alternative country scene (back then they called him an "outlaw" musician) and along with the likeminded and hard-partying Waylon Jennings, Nelson helped shift some of the creative power away from Nashville and Los Angeles, creating the vibrant Austin music scene we know and love today.
I have to confess, I've never been the world's hugest Willie Nelson fan, although I do kinda dig his deep-seated love of pop and jazz standards, and somewhat unique, elipical sense of phrasing and rhythm. I guess it's when Willie gets all solomn and high-concept that he starts to lose me. But when it comes to the simpler stuff -- a scraggly guy with a profound understanding of the interconnections between pop, blues and country -- Willie can't be beat.
---
Willie Nelson: The 1960s & '70s | 1980s | 1990s & '00s | Best-Ofs & Links
---

Willie Nelson "Crazy: The Demo Sessions" (Sugar Hill, 2003)


Texas "outlaw" singer Willie Nelson has long had an uneasy relationship with Nashville. He first made his mark as a songwriter, providing Patsy Cline with her smash hit, "Crazy," and country crooner Ray Price with the immortal boozer's ballad, "Night Life." As a performer in his own right, though, Nelson's solo career was years in coming -- his now-familiar paper-thin voice and odd, off-beat phrasing were square pegs that round-hole record producers were loathe to take on. These early demo sessions, made between 1960-66, when Nelson was still fresh-faced and eager to please, were made for a publishing house rather than a record label, and lay largely forgotten until 1994, when a faintly-marked reel-to-reel tape was unearthed in a dusty vault somewhere in Music City. They reveal Willie at his rawest and most earnest, and at his darkest and most downcast. Tweaking country music's standard formulas, Nelson gave the characters in his songs more to sing about than just losing a girl and getting drunk: they also became mean drunks, hardcore lost causes who contemplated either murder or suicide, often in the same teary sentence. Some of the demos are just sketches of the songs to come, others are haunting versions of songs that would soften and smooth out over the years. It's all a treasure trove for Nelson fans: well worth picking up!
Willie Nelson "Always On My Mind" (Oh Boy, 2000)


This set seems to cover much the same time period as the Crazy collection above, though the liner notes are much more vague and less helpful. It's still Willie, though!




Willie Nelson "Love And Pain" (Aura Records, 1961)



<! B000PHL6QU (?) B005GW4MNI (LP?) >
Willie Nelson "And Then I Wrote" (Liberty, 1962)



(Produced by Joe Allison)



<! 1. Touch Me 2. Wake Me When It's Over 3. Hello Walls 4. Funny How Time Slips Away 5. Crazy 6. Part Where I Cry 7. Mr. Record Man 8. Three Days 9. One Step Beyond 10. Undo the Right 11. Darkness on the Face of the Earth 12. Where My House Lives >

Willie Nelson "Here's Willie Nelson" (Liberty, 1963) (LP)





<! Roly Poly * Half a Man * Lonely Little Mansion * The Last Letter * Second Fiddle * Take My Word * Right or Wrong * Feed it a Memory * Let Me Talk to You * The Way You See Me * The Things I Might Have Been * Home Motel >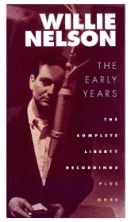 Willie Nelson "The Early Years: The Complete Liberty Recordings Plus More" (Liberty, 1994)



This 2-CD box set collects Willie's earliest, string-laden forays into Nashville musicmaking. It seems, sadly, to be out of print, but it's still worth tracking down a copy if you can. Like Willie, most fans don't like what Liberty did with his tunes, but it's worth knowing what he sounded like back when things were getting started.
Willie Nelson "Country Willie: His Own Songs" (RCA, 1965)



(Produced by Chet Atkins)


Willie Nelson "Country Favorites, Willie Nelson Style" (RCA, 1966)



(Produced by Chet Atkins)
His second album for RCA was a fairly uncomfortable affair, teaming Willie up with Ernest Tubb's band, the Texas Troubadours and hot fiddler Wade Ray. It's a mismatch: Willie's vocal style is more akin to that of the jazzy crooner Floyd Tillman rather fellow Texan Tubb, a notoriously stiff stylist, who tended to rollick his way through songs, and used a rather static set of arrangements. It's not that the Troubadours, with steel player Leon Rhodes and a host of seasoned musicians, aren't up to it musically, it's that Willie's sense of timing and the band's simply don't coincide. He does sneak some sly phrasings in, but the band either gallumphs along too brusquely for Willie to get funky and loose or, as on faster tunes like "Columbus Stockade Blues," they just barrel past him without providing any openings for his singing to connect with the song. There are some effective numbers in here, and a couple of tunes like the poppy, go-goed-out rendition of "Heartaches By The Number" that'll leave you scratching your head, wondering: was this brilliant or just lame? Still, Willie's career is always worth examining, and odd and iffy albums such as this have their light to shed and gems to share as well. Worth checking out.
Willie Nelson "Live Country Music Concert" (RCA, 1966)


Willie Nelson "Make Way For Willie Nelson" (RCA, 1967)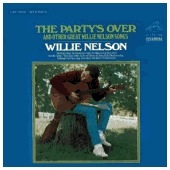 Willie Nelson "The Party's Over" (RCA, 1967)


(Produced by Chet Atkins)
A prime example of how the Nashville studio system wasn't quite working out as far as Willie's songwriting style was concerned. The songs are great -- typically gloomy, downcast loser tunes which pack a sly lyrical punch -- but you have to work past the cluttersome orchestrations and the noodly guitar work (Willie, perhaps?) that each seem at odds with each other. Anyway, it's good, but not as gritty or as direct as his later material would sound. Chet Atkins is listed as the producer, but who knows what was actually happening in that studio booth?
Willie Nelson "Texas In My Soul" (RCA, 1968)



(Produced by Chet Atkins)

Willie Nelson "Good Times" (RCA, 1968)

Willie Nelson "My Own Peculiar Way" (RCA, 1969)






<! LP B000YB648M >

Willie Nelson "Both Sides Now" (RCA, 1970)

Willie Nelson "Laying My Burdens Down" (RCA, 1970)

Willie Nelson "Yesterday's Wine" (RCA, 1971)



(Produced by Felton Jarvis)

Willie Nelson "Willie Nelson & Family" (RCA, 1971)

Willie Nelson "The Willie Way" (RCA, 1972)


Willie Nelson "The Words Don't Fit The Picture" (RCA, 1972)

Willie Nelson "Shotgun Willie" (Atlantic, 1973)



(Produced by Arif Mardin)


Willie Nelson "Phases And Stages" (Atlantic, 1974)



(Produced by Jerry Wexler)
Willies tenure at Atlantic ended with a sojourn to Muscle Shoals to record an -- uh-oh! -- concept album about a man and woman drifting apart. It sounds like a hokey idea, but it's another great record. What's most remarkable, however, is how densely packed this disc is with top-flight songs that Willie would revisit and improve on for years -- "Pick Up The Tempo," "Down At The Corner Beer Joint," "Bloody Mary Morning" and "It's Not Supposed To Be That Way," as well as "Sister's Coming Home," which Emmylou Harris made her own a few years later. There are also several spooky emotional gems such as "Walkin'," "(How Will I Know) I'm Falling In Love Again" and "I Still Can't Believe You're Gone" that didn't lend themselves as readily to the Nelson Family party vibe, but that surely rank among the best work he's done. Although these sparse, swanky Jerry Wexler-ized arrangements aren't immediately as captivating as some of the more hard-edged versions Willie recorded later on, this album definitely hits a groove that works, and works well. Recommended!

Willie Nelson "Red Headed Stranger" (Columbia, 1975/2000)



(Produced by Willie Nelson)
I'll admit that back during the follies of my youth, I wasn't that into this record-- I thought it was a little slow and pretentious. But now I know better. Willie's stripped down country concept album really is a masterpiece. A literate, disturbing song-cycle which traces the murderous fallout of a crime of passion on the open frontier, Red Headed Stranger has the compact, matter-of-fact storytelling grace of a Larry McMurtry novel. Nelson's narrative voices tend to be less reliable than McMurtry's, though, which turns out to be a brilliant literary move for a medium as brief and intangible as the LP. This album requires active listening, and rewards its audience well. In addition to the story arc itself, it also contains Willie's surprise hit, a sparse reworking of the old Fred Rose tune, "Blue Eyes Crying In The Rain", which is brilliantly woven in as the album's most mournful moment. This new CD edition also includes some studio outtakes recorded around the same time as the album; they don't fit into the plotline, but they also don't detract. If, like myself, you've held off from exploring this album, now is a great time to make up for your shortsightedness... Highly recommended.




Willie Nelson "Willie Nelson Live" (RCA Victor, 1976)



<! Willie Nelson Live (1976) is a re-release of the 1966 "country music concert" country singer Willie Nelson. >

Willie Nelson "The Sound In Your Mind" (Columbia, 1976)



(Produced by Willie Nelson)


Willie Nelson "The Troublemaker" (Columbia, 1976)



(Produced by Arif Mardin) <! producer? >
An extraordinary country gospel album, recorded by Nelson in 1973 during his brief stint on Atlantic Records, but shelved for several years until the time was right for the world to hear his hippiedelic version of the holy word. Fellow Texan hippiebilly Doug Sahm, who was also on Atlantic at the time, provides backup and major musical assist. The title track is a real humdinger, a brief little Vietnam War-era ditty that decries a longhaired troublemaker who stirs the kids up and tell them not to go to war... Hey, turns out it's that Jesus feller! Separate from Willie's rare venture into topically oriented protest music, there's a remarkable brace of rough-hewn, sincerely rendered versions of a dozen-plus old-fashioned, washed-in-the-blood, Bible-thumpin' great old gospel songs -- songs like "Uncloudy Day," "Precious Memories" and "Where The Soul Never Dies" -- all delivered by Willie and his band with a rawness and affection that puts life back into the country canon. Hearkening back to the soulfulness of Albert E. Brumley and his generation of country gospel pioneers, Willie approaches the music with reverence and feeling, but also with a lustiness and looseness that acknowledges the soaring, searching aspect of down-home religion. It really is a remarkable record, well wrth tracking down. The 2004 CD reissue includes several live tracks with Nelson's drunken hippie fan base rompin' and stompin' their way along with Willie and the boys, as Willie makes 'em soak up some of the holy spirit. It would have been easy for him to pass it off as a campy joke, but that wasn't where his head was at on this one. He's sincere, and the music is swell.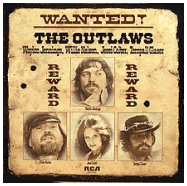 Willie Nelson/Various Artists "Wanted: The Outlaws" (RCA, 1976)



(Various producers)
Great record, and a touchstone of '70s country. Waylon and Willie, Jessi Colter, Tompall Glaser and other joined forces on this best-selling celebration of the "outlaw" movement -- signifying both a marketing gimmick and a seismic shift in the country music landscape. When Jennings and Nelson left Nashville and took their songs with them, giving a one-finger salute to Music City, they opened new doors for new artists who wanted to break out of the confines of the studio system. They also provided a creative critical mass for the nascent indie scene in Texas, where a generation of alt-country pioneers was waiting in the wings. Not coincidentally, when this album went mega-ultra-platinum (topping the Country charts and crossing over into the Pop music Top 10) Waylon and Willie also make a mint and cemented their places in the country music firmament. Lots of great songs on here, including the chart-topping hit, "Good Hearted Woman," and "Suspicious Minds," a Waylon Jennings/Jessi Colter duet that hit #2. Also included is Colter's "I'm Looking For Blue Eyes," Waylon's "Hony Tonk Heroes" and -- of course -- Tompall Glaser's infamous ode to the healing power of sexism, "Put Another Log On The Fire," a tongue-in-cheek novelty song considered so reactionary there were actually boycotts organized against radio stations that played it... Now there's an outlaw country song for you! (Though for some reason, "Put Another Log" keeps getting left off the album... not sure whether that's because of copyright issues or because of the content, but sometimes it's there, sometimes it's not. Currently, it's not... sorry!)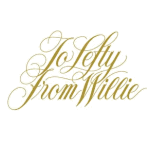 Willie Nelson "To Lefty From Willie" (Columbia, 1977)



(Produced by Willie Nelson)
This tribute to the great Lefty Frizzell is, sadly, one of Willie's least engaging albums of the late '70s. I suppose you could make the case that Willie's being all subtle and croony... Mostly, though, he just sounds kinda tired, like he'd been staying up too late on the tour bus. His soft rendition of "That's The Way Love Goes" is nice, though, as are a few other tunes, but this album sure coulda been a lot better. Oh, well.
Willie Nelson & Waylon Jennings "Waylon & Willie" (RCA, 1978)



(Produced by Waylon Jennings & Willie Nelson)
A super-groovy collection of good-natured, good ole boy-ish tunes from the poster children of the "outlaw" scene. This disc is so packed with goodies, it's hard to know where to begin heaping on the praise. Waylon's soul-drenched sound is a great match for Willie's jazzy sensibilities, and both guys sound like they had a blast recording this album. With songs like "Mamas, Don't Let Your Babies Grow Up To Be Cowboys," "Wurlitzer Prize," "Pick Up The Tempo" and "I Can Get Off On You," this is an absolute must-have album. Sure, you can get a lot of these tracks on best-of packages, but it's worth it to hear this collaboration in its glorious full context. Highly recommended: the disc that made "Waylon and Willie" a brand name, back in the day.


<! is this '76 or '78?? >

Willie Nelson & Family "Live" (Columbia, 1978)



At first blush these rowdy live versions of Willie's big hits (and a few favorite standards) may seem a little too abrasive and distracting. But this album definitely rewards attentive listeners, especially those who are willing to be happily surprised by an established artist who doesn't just paint by numbers. Willie takes all kinds of kooky chances and sideroads while trotting out his hits -- he'll improv a jazzy guitar line, pound a familiar hillbilly ditty into an acoustic heavy metal tune, even make a joking reference to the minor-key pretensions of the then-current prog rock scene. He's a remarkably playful and inventive live performer, captured here at full strength with a band that stays with him at every turn. Definitely worth picking up to see what all the fuss was about.

Willie Nelson "Stardust" (Columbia, 1978)



(Produced by Booker T. Jones)
At the helm of his raspy, scraggly Texabilly band, Willie blew everybody's minds with this multi-platinum, mega-bazillion selling set of gently refashioned old-time Tin Pan Alley standards, tunes by the likes of Hoagy Carmichael, Irving Berlin, Kurt Weill and the Gershwins. Willie's jazzy streak was, of course, well known beofre this album came out, with his odd, off-kilter phrasing copped from old Floyd Tillman tunes, and years of singing stuff in his own unique style. But few folks expected him to settle down and sing it so smoothly; the even-metered production by Booker T. Jones (of Booker T. and The MGs) definitely helps, but mostly what makes this work is Willie's palpable love for the material, and the affectionate, authoritative command of the sentimentality and soulfulness the old masters wove into their songs. A great record that still holds up.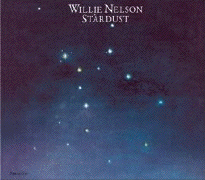 Willie Nelson "Stardust" (30th Anniversary Legacy Edition) (Sony-BMG-Legacy, 2008)



(Produced by Booker T. Jones)
In 1978, Willie Nelson blew everyone's mind by releasing a set of old-school pop vocal standards -- "Stardust," "All Of Me," "September Song," "Someone To Watch Over Me" -- while giving a hearty tip of his bandana-ed cowboy hat to the world of classy, classic Tin Pan Alley songsmiths such as Irving Berlin, Hoagy Carmichael and the Gershwin brothers. This excursion into "square" mainstream pop came after Nelson's sustained effort to free himself from the confines of the Nashville studio system had finally paid off, making him an icon of the pot-puffing hippie-centric "outlaw" country scene... But the radical shift of direction to torchsongs from twang wasn't the only shocker: despite a cool reception from the sales execs at Columbia Records, the Stardust album yielded several huge #1 hits, crossing over into pop radio and earning Willie a Grammy award for his version of "Georgia On My Mind." The super-mellow, album transported Willie from the world of rebel country into superstardom, making his name a household word, and his voice an indelible part of the American cultural aether. It also brought to the forefront an often misunderstood aspect of his creative work, namely Nelson's unusual grasp of off-meter vocal phrasing, and his abiding love of jazz music and jazz-style singing (which he had picked up in part from Texas honkytonk pioneer Floyd Tillman). This fab 2-CD reissue includes all the tracks from the original Stardust album, as well as an additional disc's worth of tracks culled from the numerous pop standards-oriented albums that followed... Arguably, Willie went a little overboard in his devotion to commercial pop stylings, so this additional "best-of" set provides a great service to fans who want to hear the best stuff but not necessarily sift through all those early-'80s offerings. This is an essential part of the Willie Nelson saga, and definitely worth picking up.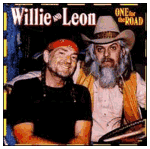 Willie Nelson & Leon Russell "One More For The Road" (Columbia, 1979)



One of Willie's first duets album, this time pairing him up with the freaky-blues piano plunker, Leon Russell. The disc starts out much in the same vein as the Stardust album, a nostalgic, reverential stroll through some familiar old favorites, with these two veteran rootsers sharing a pretty similar vibe. The album bogs down, though, in the second half, when Willie gives free rein to some of Russell's more ephemeral, airy electric piano work... One or two songs in this vein might have been okay, but when it becomes the center of the album itself, it's a bit much. You may find your attention wandering, as did mine. Nice, but it starts to sound static.
Willie Nelson "Willie Nelson Sings Kris Kristofferson" (Columbia, 1979)



(Produced by Willie Nelson)



Willie Nelson "Pretty Paper" (Columbia, 1979)



(Produced by Booker T. Jones)
A laid-back set of Christmas songs, produced by Booker T, and largely replicating the stylistic restraint (and commercial success) of the Stardust album. If you like holiday music, you could certainly do worse than hear it from Willie Nelson!
---
Willie Nelson: The 1960s & '70s | 1980s | 1990s & '00s | Best-Ofs & Links

---



Hick Music Index


---
Top photo credit: Rahav Segev, courtesy of Lost Highway Records.
---