<! MP3 07/03/09 > <! update 00/00/00 > <! outside 00/00/00 > <! pix 00/00/00 > <! icons 12/13/10 > <! Lariats Of Fire "Jack Jenkins' Last Ride" (Digestive Records, 2010) B004FYNHN4 - MP3 >
---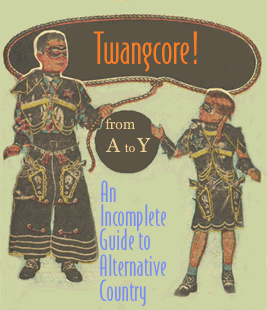 This page is part of an opinionated overview of "alt.country" music, with record reviews by me, Joe Sixpack... Naturally, it's a work in progress, and quite incomplete, so your comments and suggestions are welcome.
This is the first page page covering the letter "L"
---
A | B | C | D | E | F | G | H | I | J | K | L / L-2 | M | N | O | P | Q | R | S | T | U | V | W | X, Y & Z | Comps | Other Country Styles |
---
Lambchop "I Hope You're Sitting Down" (Merge, 1994)



Lambchop "How I Quit Smoking" (Merge, 1995)



Witness the collison of alt.country (sort of...) and noodly, introspective, obscurist "lo-fi" indie pop, with the requisite touchstones of orchestral Beach Boys/Bacharach "sunshine pop" and a smidge of Glen Campbell-era countrypolitan. This Nashville-based slowcore ensemble is the sort of indie darling band that invites all kinds of lofty, high-falutin,' all-over-the-map musical comparisons and breathless outpourings of fanboy prose... Lambchop clearly rests way more comfortably in the "rock" camp, but worth noting here since the band's subtle, cliche-free use of "country" stylings, particularly an understated pedal steel, is refreshing, and a welcome lateral move in a sometimes-stalled indie scene. Lyricist Kurt Wagner is, however, an artist who will not appeal to the average indierock listener... As far as his vocals go, he comes from the make-the-most-of-your-modest-range DIY/Calvin Johnson-is-my-hero school of thought; in terms of songwriting, he tilts towards the mopey, willfully meandering, frequently pretentious, stream-of-consciousness anti-song style that typifies the lo-fi crowd. Many people, myself included, find the style too self-limiting and amorphous, but for others, the purposeful rejection of standard pop songwriting formulae is a triumph in and of itself. I find the High Llamas-ish musical wash to be alluring and sensuous, but the lyrics tend to pull me out of the experience, and are well-intergrated on only a handful of this album's fourteen songs. Groundbreaking in a quiet way, certainly worth checking out and sampling from liberally, but for me personally, not an album that would find itself spinning in the stereo with great frequency.

Lambchop "Thriller" (Merge, 1997)



Ooops... did I forget to name-check Tindersticks in the last review? Yeah, them, too. Lots of swirly, hazy, heavy-lidded, loungey, irony-laden material here as well. Less monochromatic and monotonous than their debut, but also less discernably "country" as well. Still, somehow I think that fitting into our narrow little genre slots is the last think on Lampchop's mind. More overtly melodic, even bouncy material marks the start of this album, which soon settles into mid-tempo meanderings, with that pedal steel swoosh that makes them sound so sweet. There's also plenty of pretentiousness, including a dip into Japanese-style noise music. Challenging stuff for folks who fancy themselves brainier and more alterna- than thou! Nice record, but it works best as a complete piece, an oddessy that may test your patience, but has a nice stylistic arc.
Lambchop "Hank" (EP) (Merge, 1996)






<! 07/09: a few other EPs & singles >

Lambchop "What Another Man Spills" (Merge, 1998)


Lambchop "Nixon" (Merge, 2000)


Lambchop "Tools In The Dryer" (Spunk, 2001)



An oddities, rarities and one-offs collection.


<! original edition - B00005NW68 >

Lambchop "Is A Woman" (Merge, 2002)


Lambchop "Aw, C'Mon" (Merge, 2004)


Lambchop "No, You C'Mon" (Merge, 2004)


Lambchop "The Decline Of Country And Western Civilization, Part II: The Woodwind Years" (Merge, 2006)


Lambchop "Damaged" (Merge, 2006)

Lambchop "OH (Ohio)" (Merge, 2008)






<! Ray LaMontagne "Gossip In The Grain" (RCA, 2008) B001AX9DT0 >
D. Landry And The Dirty Cajuns "Keep What's Left (17 Songs)" (Self-Released, 2004)



Well, these guys from Louisiana certainly win the indier-than-indie award for the year, just based on the packaging alone. The CD comes sandwiched inside a folded-up hunk of cardboard, held together with packing tape. The song titles are rubberstamped onto a scrap of colored 20-bond paper which is taped onto the cardboard; if you want to check out the lyrics, there's a plain, white xeroxed sheet, cut lengthwise with a grainy photocollage on one side and the words to four songs handwritten on the other. Wish I'd kept the handout that came with this in the mail, although after I glanced at it, with the loud proclamations of the artist's "coonass" rednecky-ness and all, I just rolled my eyes backwards and figured this'd be another forgettable, ho-hum disc full of white trash stereotypes and gun-truck-drunk-incest-is-best references and intentionally sloppy, why-even-try-it's-just-country musicianship. When I finally popped it into the stereo, though, I was pleasantly drawn in by Drew Landry's loose-limbed, idiosyncratic, kooky roots music jamming. The songs are odd, but they have substance, and there's real wit and humor behind Landry's art. Musically, this ranges over a wide landscape, with scrappy, sorta-bluegrassy twang alongside kerangging backporch blues jams and even some quieter introspective stuff... Okay, I admit that's a pretty lame, vague description... So let me compare Landry to a few folks -- he's in the same sort of inventive, eclectic, just-havin'-us-some-fun territory as, say, the Bad Livers or the Gourds, just with far less ambition towards anything remotely resembling commerical viability or conventional song structure. Or, to go lowbrow, Landry's sort of like a raspier, more low-rent version of the Drive-By Truckers, if they weren't so completely full of shit. This guy I respect. This record is weird, but it's also sincere and it's also worth checking out. His website's fun to poke around as well: (www.dirtycajuns.com)
Drew Landry & The Dirty Cajuns "Tailgaten Relief & Hurricane Companion EP" (Self-Released, 2006)



Wow. Louisiana native Drew Landry caught my attention last year when his funky first album came across my desk, and I thought it was kinda cool... This seven-song follow-up, however, just knocked me on my ass... It's really good! The core of it comes from a couple of topical/political songs written after Hurricane Katrina leveled much of Louisiana and Mississippi, and brought about a pathetically botched Federal response. The pure anger that is channeled by Mr. Landry (who lives in Lafayette) comes through loud and clear on "Category 5," a throwback to the current events broadsides of the Great Depression, when musicians would name names and tell stories about what really happened. Dick Cheney and Rudy Guiliani are characters here, and they don't come off well. The dumbfounded shock of having entire towns flattened and flooded comes through loud and clear, as does the boiling anger at a government that sat on its thumbs the whole time... Landry takes sides with New Orleans mayor Ray Nagin, who famously called for the folks at the White House to get off their asses and help people who were dying... This is all old history, of course, except that the anger is still there, and Landry has made it palpable in a way that'll raise goosebumps on your arms... On the lighter side, there's "Tiger Fan," a goofy tune about a ultra-loyal sports fan who'll go for any team LSU cares to offer, from football to tiddlywinks, and "Grosbec," a tall tale about a backwoods family that makes its living by poaching off the government lands... Throughout, Landry's lyrics, vocal delivery and musicianship are all first-class, with a plainspoken directness that makes him stand out from the crowd. Heck, I'd even go so far as to call him Louisiana's answer to High Sheriff Ricky Barnes... And in my book, that's pretty high praise. I'm lookin' forward to when Landry can put out that full-length album he had planned before Katrina hit... the guy's a major talent. (Check out his website at www.dirtycajuns.com for more info.)
k. d. lang - see artist discography
Jon Langford "Skull Orchard" (Sugar Free, 1998)

Jon Langford & Sally Timms "Songs Of False Hope And High Values" (EP) (Bloodshot, 2000)

Jon Langford & The Sadies "The Mayor Of The Moon" (Bloodshot, 2003)



Jon Langford "All The Fame Of Lofty Deeds" (Bloodshot, 2004)



Oh, whatever. I mean, yeah sure, the Mekons were a super-cool punk band, more diverse and seemingly more literate than others, but Langford's countrified ramblings on the Chicago scene have long left me cold. I suppose a big part of it is his plangent, Joe Strummer-like voice and his equally Strummer-like tendency to harangue his listeners and to assume that good politics and good intentions will be enough to make up for the concessions given to musicality, all in the name of a higher calling. Me, personally, if I'm listening to a record, I want the musical end to stand on its own... I have no problem mixing social causes with art -- quite the contrary -- but it's nice when you also stay in meter and stick to the melody. Which is, I guess, my longwinded way of saying that I thought this disc was another moderately difficult Wacos-y offering, not intellectually engaging or musically satisfying enough to hold my attention. I don't want to have to work so hard to apprehend points and poetics that I don't find that interesting to begin with. I mean, I get it, already! Geez. And, um, can I make another admission that is sure to drive loyal Langfordites into conniption fits? I don't like his paintings, either. Never have. Yeah, it's a striking, recognizable style, but it's also kind of ugly and trafficks in overly-obvious, repetitive cultural touchpoints. That being said, longtime Jonboy fans will probably love this disc... And more power to ya!
Jon Langford & Richard Buckner "Sir Dark Invader vs. The Fanglord" (Buried Treasure, 2005)


Jon Langford "Gold Brick" (Bloodshot, 2006)


Jon Langford & Kat Ex "Katjonband" (Carrot Top, 2008)


Jon Langford & Skull Orchard "Old Devils" (Bloodshot, 2010)


Jon Langford "Here Be Monsters" (Bloodshot, 2014)


k.d. lang - see Hillbilly Fillies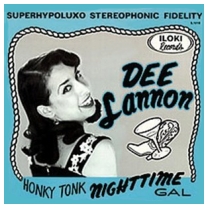 Dee Lannon "Honkytonk Nighttime Gal" (Iloki, 1994) (LP)


An irresistibly adorable -- though admittedly sometimes uneven -- countrybilly filly with a major Rose Maddox/Wanda Jackson jones... Working at an ultra-indie level, Dee sometimes had trouble balancing out her production, but her choice of material -- especially her originals -- is always first-rate. Cool beans. (For more info, check out Dee's website.)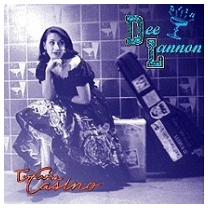 Dee Lannon "Town Casino" (Blue Puffer, 1996)

Dee Lannon "Dance And Sing With Dee Lannon & The Daredevil Dillies" (Tail Records, 2002)

Dee Lannon "Vinylly On CD" (Norge Texas, 2004)

Lariats Of Fire "Jack Jenkins' Last Ride" (Digestive Records, 2010)

Last Forever "New And Old Songs Out Of The American Tradition" (Nonesuch, 1997)





<! Sonya Cohen, Dick Connette >

Last Forever "Trainfare Home" (Nonesuch, 2000)


The Last Hombres "Redemption" (Koch, 2003)


A strong, well-produced alt.roots album, with equal grounding in country, blues and jam band styles. Levon Helm is the drummer, providing faultless backup for the group's multiple songwriters. This is pretty solid, if somewhat dino-rific, material -- a lot like the Dead in their more cohesive, countryish moments, with a dash of Doug Sahm-like border blues thrown in on top...Also reminds me of various eclectic-minded early '70s roots music explorations by the likes of the Byrds, etc. Not earthshaking, but solid and admirably rough-hewn... worth checking out, particularly for those in the mood.
Last Train Home "True North" (Adult Swim, 1999)


Low-key, mellow country-rockish material, which sounds a bit like Dave Alvin's solo stuff. Not earthshaking, but pretty-sounding and pleasant.
Last Train Home "Last Train Home" (Adult Swim, 2000)

Last Train Home "Travelogue" (Laughing Outlaw, 2002)


A compilation of songs off their first two albums... A few tracks were dropped to get it all to fit on one disc.
Last Train Home "Holiday Limited" (Adult Swim, 2003)

Last Train Home "Tributaries" (Adult Swim, 2003)

Last Train Home "Time And Water" (Adult Swim, 2003)

Last Train Home "Bound Away" (Blue Buffalo, 2005)



(Produced by Jared Bartlett)
A nice, mellow, understated roots-twang set, with a strong stylistic debt to Dave Alvin. Well-crafted, soulful, and compelling; most songs are Eric Brace originals, but there's also a nice cover of Dylan's "Tonight I'll Be Staying Here With You." Definitely worth checking out.
Last Train Home "Last Good Kiss" (Red Beet Records, 2007)



(Produced by Last Train Home)
Although I guess technically it still fits into the "Americana" category, this one really feels like more of a rock/folk record, with contemplative moments balanced by a little bit of guitar-hero action... Sort of a cross between Tracy Chapman and Eddie Vedder. Doesn't quite do it for me; it's very, very serious and even a bit dreary.
Jim Lauderdale - see artist discography
---
Alt.Country Albums - More Letter "L"
---