<! MP3 03/17/09, 12/07/10 > <! update 00/00/00 > <! outside 00/00/00 > <! pix 12/07/10 > <! icons 12/07/10 >
---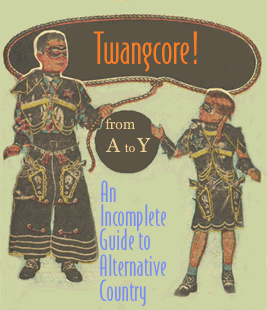 This page is part of an opinionated overview of "alt.country" music, with record reviews by me, Joe Sixpack... Naturally, it's a work in progress, and quite incomplete, so your comments and suggestions are welcome.
This page reviews various alt.country compilation albums.
---
A | B | C | D | E | F | G | H | I | J | K | L | M | N | O | P | Q | R | S | T | U | V | W | X, Y & Z | Compilations-1 / 2 / 3 | Other Country Styles | Hick Music Index
---
---
Recommended Records
---

Various Artists "ACROSS THE GREAT DIVIDE: THE SONGS OF JO CAROL PIERCE" (Deja Disc, 1993)


Actor-performance artist Jo Carol Pierce has been a longtome fixture on the alt-Texas landscape: the author of the stage pieces, Chippy and Bad Girls Upset By The Truth, longtime member of the "Lubbock Mafia," ex-wife of Jimmie Dale Gilmore and, as it turns out, one heck of a songwriter. Yup... this album is packed full of songs with lyrics that bite, clever turns of phrase and caustic concepts that'll make you turn your head... The trouble is, though, that on the musical side of things it's less entralling. There's a lot of what I would consider subpar indie-rock and roots-rock on here, along with the twang that we all know and love so well. A few heavy-hitters pitch in, notably Joe Ely and Jimmie Dale Gilmore, but while Gilmore is in fine form, Ely was in a rut at the time, and even his contribution isn't terribly memorable. I remember this album causing a stir at my radio station when it first came out, but picking it up again years later, I have to admit I found it rough going... a bit grating and unpleasant to listen to, even. If you're interested in it purely from a storytelling and songcraft perspective, it might be worth checking out... But as an album you'd just want to listen to for pleasure... well, I have my doubts.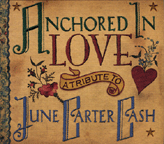 Various Artists "ANCHORED IN LOVE: A TRIBUTE TO JUNE CARTER CASH" (Dualtone, 2007)



(Produced by John Carter Cash)
An star-studded cast pays homage to the late, beloved doyenne of the Cash family... In keeping with the Carter/Cash legacy, there are several duets here, the best of which is Patty Loveless and Kris Kristofferson's stately intertwine on "Far Banks Of Jordan." Other album highlights include Rosanne Cash's sorrowful "Wings Of Angels," Brad Paisley's rock-solid rendition of "Keep On The Sunny Side" (Note to Brad: do more traditional stuff!! Could we get a whole album's worth someday?) and Billy Joe Shaver's irrefutably desolate "Kneeling Drunkard's Plea." Loretta Lynn, Ralph Stanley and Emmylou Harris weigh in as well, and doubtless many will be thrilled by Elvis Costello doing "Ring Of Fire..." Overall, a nice record, although in some ways it almost feels too soon for a tribute album to come out; so many fine June Carter reissues and the like have come out in the last few years, it feels like a record like this might get lost in the shuffle. Certainly worth checking out, especially for the fine gospel track by Mr. Paisley.

Garrison Keillor/Various Artists "A PRAIRIE HOME COMPANION: ORIGINAL MOTION PICTURE SOUNDTRACK" (New Line Records, 2006)



The soundtrack to Robert Altman's curious film adaptation of the famed public radio series, A Prairie Home Companion... I have this whole kinda love-hate relationship with APHC... It's all because the two major NPR stations here in the SF Bay Area both play the show to death on Sundays, and many's the weekend where I've found myself with a sinkful of dishes to do and nothing to listen to but old Garrison and his guests. Well, hey, at least it's not Car Talk. The thing is, I almost always get sucked in -- Keillor's fusty, wheezing whisper and wry wit lure me in every time, and between the skits there are, of course, some dazzling musical moments. The in-house Guys All-Star Shoe Band have become a bit too set in their ways for me, but the excitement of hearing Americana icons such as Gillian Welch or John Prine, et. al. being broadcast into the heartland is, honestly, a thing of beauty. Whether or not you're too hip to hang with Keillor and his crowd, you have to admit, the man has done a great thing by keeping live radio alive, and he has consistently used his power and influence for good, championing countless folk/twang artists who otherwise would never reach even a fraction of his audience. This disc captures much of the flavor of the weekly broadcasts, but it's also kind of a curio, since it includes performances from actors such as Woody Harrelson, John C. Reilly, Meryl Streep and Lily Tomlin singing some of the songs and telling some of the jokes... There's not a lot of yakkin', either, just the standard show intro followed by a lot of music. Fans will love it. (And, wait... you say there's a movie, too? Now, how does that work??)

Various Artists "AVALON BLUES: A TRIBUTE TO MISSISSIPPI JOHN HURT" (Vanguard, 2001)



A first-rate, heartfelt roots-folk tribute to the acoustic bluesman Mississippi John Hurt, who was one of the great rediscoveries of the '60s folk scene... Spearheaded by Peter Case, this is a captivating and effective album, with performances by some of the best roots musicians around -- folks such as Lucinda Williams, Dave Alvin, Ben Harper and Steve Earle, and even slumming indiepopstars like Beck... The ever-naifish Victoria Williams chirps her way along, as well as Gillian Welch, who does an atypically goofy rendition of the gospel-tinged "Beulah Land". What marks this album is it's near-total lack of the stiff self-consciousness with which folkies have approached blues material in the last few decades -- these artists all "get" the easygoing, playful vibe that made Hurt such an appealling performer, lo those many years ago. Good stuff! Recommended!

Various Artists "THE BEST OF TIMES: TEXAS ARTISTS PERFORMING THE MUSIC OF SARA HICKMAN" (Sleeveless, 2011)


(Produced by Sarah Hickman)
A tribute to folk/pop songwriter Sara Hickman, who is well known for her charitable and philanthropic work. This 2-CD set is a benefit for the Theater Action Project, which helps support arts education in the Texas schools. On board are several folk and Americana heavy-hitters, including Marcia Ball, Edie Brickell, Shawn Colvin, The Flatlanders, Rhett Miller and Robert Earl Keen, along with a slew of others, dipping into the more indie and obscure end of the spectrum. High marks go to Willie Nelson for his gentle rendition of "Simply," which perfectly frames the sentiments of the song in an old-fashioned Tin Pan Alley aura; the same song closes the album in a hyper, popped-up dance version, courtesy of Brave Combo... I'll take Willie's version any day. Much of Hickman's ouvre is too pop-crossover for me, but I imagine that for many of her longtime fans, this collection will be a real treat. (For more info, check out Hickman's website...)


<! Certainly worth checking out if you're a Hickmanista, and if you think the Texas school system need our help. >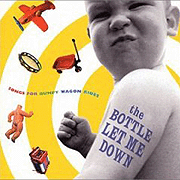 Various Artists "THE BOTTLE LET ME DOWN: SONGS FOR BUMPY WAGON RIDES" (Bloodshot, 2002)



A cute little set of countrified kiddie tunes, some old, some new, and some less suitable for little ears than others. Lots of high-power talent on here, including Rosie Flores, Kelly Hogan, Jim & Jennie, Rex Hobart, Robbie Fulks, The Waco Brothers, and the ever-popular Austin ensemble, the Cornell Hurd Band, whose "Don't Wipe Your Face On Your Shirt" is one of the album's highlights. Some of these songs really do connect on that super-goofy "kid" level, although others seems a bit too grown-up to me -- a little less melodic than what might be of interest to the under-8 crowd. Still, the songs that are fun are a gas, and if used properly this album should get the little people all charged up. Recommended.

Various Artists "CAUGHT IN THE WEBB: A TRIBUTE TO THE LEGENDARY WEBB PIERCE" (Audium, 2002)


An all-star tribute to my personal honkytonk hero, Webb Pierce. The level of talent assembled for this project is staggering, ranging from grizzled old-timers such as George Jones and Charley Pride to contemporary Top 40 stars Trent Summar, Dwight Yoakam and Pam Tillis. The twangcore crowd and '70s mavericks also get in their licks: Emmylou Harris delivers a plaintive reading of "Wondering," while Rosie Flores and Robbie Fulks cheerfully plow their way through a pair of Pierce's rock-era hits. It's difficult for anyone to match the charm and immediacy of Webb's original recordings, but high marks go to Dale Watson for his explosive version of "In The Jailhouse Now" and to Guy Clark, who hits the goofy mood of "Honk Tonk Song" right on the head. Willie Nelson is also in on the fun, which is appropriate since his 1982 duets LP was the last album Pierce recorded. Here, Nelson takes his time with a bittersweet, appropriately mournful version of "That's Me Without Out You," one of Pierce's weepiest and best ballads. With an all-star cast like this, and such great material to work from, this disc should open a few new ears to the Webb Pierce legend. Check this out, and be sure to pick up one of the great Webb reissues out there as well.

Various Artists "CONCERTS FOR A LANDMINE FREE WORLD" (Vanguard, 2001)


A worthy cause, if ever there was one. Landmines and other "anti-personnel devices" get scattered about like popcorn in the dozens of wars and feuds which simmer across the planet... The trouble is, like yard sale signs, no one ever bothers to clean the damn things up and they maim countless civilians, even year after the struggles are over. It's a big problem. The international community (especially the Europeans... god bless 'em!) are grappling with the logistical problems of how to disarm and dispose of all these leftover killer bombs, and there's a big push to ban them outright. So, this album? It's a bunch of the best alt.country types alive -- Emmylou Harris, Guy Clark, John Prine, Steve Earle and others -- gathered together and all on their best behavior to raise awareness and a little cash to help address the situation. Overall, this disc is a little sedate, but it's not very preachy, and there are no sub-par performances. (For more info on the landmine issue, check out the Vietnam Veterans of America Foundation website.)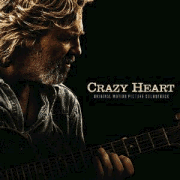 Various Artists "CRAZY HEART" (Soundtrack) (New West, 2010)



(Produced by T Bone Burnett)
I haven't seen the movie yet, but I love the soundtrack. Jeff Bridges, in character as Otis Blake, as a grizzled old, Willie-esque country rebel, perfectly taps into the low-key vibe of the indie-oriented Texas scene -- if you've told me his tracks had been recorded by someone like Tommy Alverson or Gary P. Nunn, I would have totally believed it. "Fallin' & Flyin'," his character's theme song, is a great tune: co-written by Gary Nicholson and the late Steve Bruton, it practically sings itself, it's the kind of country song that you'll be singing along with by the end of the first time you hear it (which is my personal standard for what makes a country song great...) There are also some oldies in the mix -- Buck Owens, Lightning Hopkins, The Louvin Brothers -- and when I first heard 'em I thought, uh-oh, is this going to be just another mish-mashy oldies-laden soundtrack? But the classic tracks help set up and perfectly compliment the new, original material... After a while, I just decided this was the mix-tape that Otis might have punched up on his tour bus, singing and drinking along as the power lines whiz by... Which brings me to my last point: I can personally attest that this is a great record to play while driving... So roll down the windows and crank 'er up... This is the real stuff.

Various Artists "DON'T LET THE BASTARDS GET YOU DOWN" (Jackpine, 2002)



A half indie-alt, half twangcore homage to 1960s/'70s outlaw songwriter Kris Kristofferson, with veteran altbilly rockers such as John Doe, Paul Burch, Kelly Hogan, Jon Langford and Chuck Prophet kicking in, along with more straight-ahead rock bands of various size and description. Kristofferson fans might also want to check out the more mopey, slowcore NOTHING LEFT TO LOSE collection, which was released at the same time, on a different label.
Various Artists "EDGES FROM THE POSTCARD 2" (P2, 2000)





<! Every year, a group of folks on an Internet mailing list called POSTCARD2 puts on a huge music festival and party in St. Louis, MO known as Twangfest. This year, in an effort to raise money for the cause, they also put out a 2-CD compilation called EDGES FROM THE POSTCARD 2. The cd features work from "P2 Bands" along with some unreleased material from several national acts such as Robbie Fulks, Mike Ireland & Holler and Bill Lloyd. Robbie Fulks (Artist), Belle Starr (Artist), Wooden Leg (Artist), Chris Wall (Artist), Sovines (Artist), Five Chinese Brothers (Artist), Naked Omaha (Artist), Buck Diaz (Artist), Fear and Whiskey (Artist), Walter Clevenger (Artist) >

Various Artists "EDGES FROM THE POSTCARD, v.3" (Hayden's Ferry, 1999)

Various Artists "EDGES FROM THE POSTCARD, v.4" (Hayden's Ferry, 2002)

Various Artists "EVANGELINE MADE" (Vanguard, 2002)


An all-star country-folk tribute to cajun music, produced by Ann Savoy, of Beausoliel fame. The artists on here are pretty amazing -- Rodney Crowell, Linda Thompson, Maria McKee, Nick Lowe, Patty Griffin and others, all backed by a crackerjack cajun band fronted by Anne and Micheal Doucet, Steve Riley and others. Richard Thompson contributes a gorgeous version of "Les Flammes d'Enfer" and Crowell's take on "Bosco's Blues" is surprisingly soulful. If you're one of the many who normally find cajun and zydeco a bit too grating, you should think about picking this up: it's much smoother and less chanky-chank than the style normally sounds, and is pretty consistently good throughout.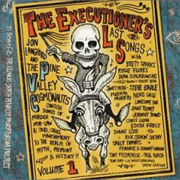 Various Artists "THE EXECUTIONER'S LAST SONG" (Bloodshot, 2002)



One of the best Bloodshot albums of recent vintage, this disc features the semi-group called Pine Valley Cosmonauts -- Jon Langford and whoever he gets in as guest performers -- in a protracted examination of murder, vengance and the death penalty, a hot topic in Bloodshot's home state of Illinois, where state-sponsored executions have been put on hold, following a dramatic and horrifying rise in the 1980s and '90s. Personally, I like the album's political bent. I'm anti-capital punishment myself, opposed to the death penalty both because of the potential misapplication of justice, and also because I think that the political manipulation of public bloodlust and victim's grief is a grotesque and cynical exercise; every sheriff, police chief and district attorney who has "made" their own career on a capital case really oughtta take a good, hard look in the mirror and see if they really like what they see. Musically, this is also a very strong record, with contributions from Neko Case, Freakwater, Steve Earle, Edith Frost and others... Definitely worth checking out.

Various Artists "EXPOSED ROOTS: THE BEST ALT.COUNTRY" (K-Tel, 1999)


Hey, laugh all you want, but lowly old K-Tel, the king of the "as seen on TV" labels really kicks some booty on these collections. Assembled with the help of the folks at No Depression magazine, the 2-CD "alt.country" set gathers some of the best material by some of the best '90s twangster outsiders. Heck, if it starts out with Lucinda Williams ("Passionate Kisses"), you know this record is going to be on the right track. Also included are Gillian Welch, The Gourds, Freakwater and Steve Earle, as well as some great selections by bands I was never that wowed by, such as Blue Mountain and Golden Smog, and nods to oldtimers like Johnny Cash and Gram Parsons. A couple of artists on here I will never be reconciled to, such as BR5-49 (who I think are utter hacks) and Alejandro Escovedo (whose appeal I just don't get), but when all is said and done, this is an impressive document of the times. The single CD companion COUNTRY LEGENDS collection, with a smattering of stuff by country greats including George Jones, Lefty Frizzell and Willie Nelson, isn't as compelling, but it's certainly no disservice to the style. One interesting entry is the inclusion of a track by Emmett Miller, a blackface minstrel performer from the Depression era who did smutty blues numbers similar to those done by Jimmie Davis and Jimmie Rodgers, early in their careers. Miller's work isn't exactly aimed at a P.C. audience, but its inclusion here shows a nice sense of country history... blemishes and all. Recommended!
Various Artists "THE EXECUTIONER'S LAST SONGS, v.2" (Bloodshot, 2003)



The first volume of this death-penalty-related series was so much fun that a bunch of folks wanted to chime in the second time around. This 2-CD set is a little less intense, and perhaps less focussed that the first, but a remarkable entourage of artists take part, ranging from Mark Eitzel, Rhett Miller and Dave Alvin to the usual Bloodshot/Chicago insurgent gang: Jon Langford, Sally Timms, Kelly Hogan, etc. The tone is generally lighter and more relaxed this time around, and includes outlaw ballads as well as odd covers such as Diane Izzo's version of "Strange Fruit" and Charlotte Greig's spin at the old British ballad, "Willie O'Winsbury." Not surprising Rex Hobart (who I think is a god) contribute's one of the most resonant songs on here: "(Two Days To Live) Forever To Burn," an original tune which may send a shiver down your spine. Sally Timms and Edith Frost also knock one out of the park with their version of "Long Black Veil" -- they oughtta harmonize together more often!
---
Alt.Country Albums - More Compilations
---