<! MP3 04/008/09 - all but a couple > <! update 04/008/09 > <! outside 00/00/00 > <! pix 00/00/00 > <! 208-pix: 00/00/00 > <! icons 03/21/11 >
---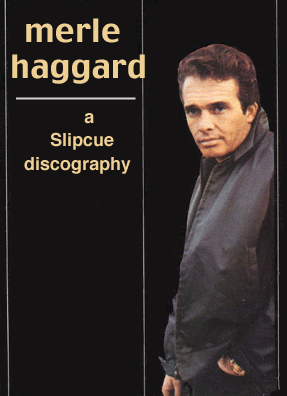 Merle Haggard (1937-2016) was one of those guys who showed up right when the country world needed a real shot in the arm... After a rough adolescence which culminated in his being sent to San Quentin on an auto theft rap, a freshly paroled Haggard decided to turn his life around, and pursued a career in music. In the early 1960s, he worked his way into the booming Bakersfield-Los Angeles "California Country" scene, alongside star performers such as Wynn Stewart and Buck Owens, who had gained notice for helping shift attention away from the musically conservative studio system in Nashville. Joining Buck and Wynn at the maverick Capitol label, Haggard became the poetic voice of the "Bakersfield Sound," recording a remarkable series of powerful, landmark albums in the late '60s that established him on the scene as the thinking man's redneck. His first major hits were written by songsmith Liz Anderson (who was also the mother of Lynn Anderson, later a huge country star), but Merle swiftly proved himself as a prolific and soulful composer. This is the first page of an extensive discography, taking a quick look at Haggard's career...
---
Merle Haggard Discography: 1962-69 | 1970-1979 | 1980- Present | Best-Ofs Tributes & Links
---
Merle Haggard "Untamed Hawk: The Early Recordings" (Bear Family, 1980)


Five CDs and 133 songs charting Merle's explosive appearance on the Capitol label. This box set covers 1962-68, Haggard's first golden era. I haven't heard it, but I imagine it's pure heaven for the true Haggard fan.
Merle Haggard "Strangers" (Capitol, 1965) <! [ST-2373] >



It's kinda surprising to listen back to Merle's mid-decade debut and realize how green he sounded at the start, and how new he was to the studio setting. But he certainly had a distinctive presence, and his odd, outside-the-melody vocal phrasing, even here in its raw form, flew in the face of the super-smooth style that dominated the Nashville sound of the time. What's most remarkable about this album, though, is the calibre of the songwriting. Liz Anderson (mother of Lynn) provided the title track, which is a brilliant dissection of the barfly mentality; Merle himself provides the bulk of the other songs, including the album's big stunner, "You Don't Have Very Far To Go," and the anthemic "Please Mr. DJ" (which was echoed decades later by Merle's #1 fan, Dale Watson.) A couple of songs show how beholden the young Merle was to the label -- the goofy arrangement and chirpy background vocals on Tommy Collins' "Sam Hill" are kind of embarassing, and his cover of ET's "Walkin' The Floor Over You," while okay, also sounds like filler. But for the most part, this is a pretty swell album, packed with good tunes that don't often make it onto the best-of collections... Well worth checking out!
Merle Haggard & Bonnie Owens "Just Between The Two Of Us" (Capitol, 1966) <! [ST-2453] >





<! B0000DIGL3 twofer B00004XR5A single on King >
Merle Haggard "Swinging Doors" (Capitol, 1966) <! [ST-2585] >



Man... talk about your quantum leaps! Here's Haggard, fully emerged, a hard country balladeer of devastaing emotional directness. His unusual, jazz-tinged, disjointed vocal style has a lot to do with it, but the caliber of the songs is what makes this album truly impressive. "Swinging Doors," "Bottle Let Me Down" and "Somebody Else You've Known" are the big hits, the classic, hard-partying numbers that everyone remembers today, but they are perky, fluffy pop songs in comparison to smouldering weepers such as "I Can't Stand Me," "No More Me And You," and "If I Could Only Be Him..." Masterpieces all, of booze-soaked self-pity and resignation, and a stunning resume for an up-and-coming songwriter busting down the doors of the Nashville in-crowd. While Merle's Bakersfield rival, Buck Owens, excelled at hillbilly novelty tunes, with Merle it was pathos all the way, and this is one of his most convincing early albums. It's worth it to pick this one up for the lesser-known songs... As well as for the overall mopey, mournful vibe.

Merle Haggard "I'm A Lonesome Fugitive" (Capitol, 1967) <! [ST-2702] >


Merle Haggard "Branded Man" (Capitol, 1967) <! [ST-2789] >


Merle Haggard "Sing Me Back Home" (Capitol, 1968) <! [ST-2848] >


Merle Haggard "The Legend Of Bonnie And Clyde" (Capitol, 1968) <! [ST-2912] >


Merle Haggard "Mama Tried" (Capitol, 1968) <! [ST-2972] >



Y'all know the hits: "Mama Tried" is superlative Haggard; likewise, his versions of other folks' tunes, such as "Green, Green Grass Of Home," "Little Old Wine Drinker Me" and Dolly Parton's "In The Good Old Days" all ring true and fit right into Merle's Okie-poor, plainspoken persona. But the secret, hidden gems here are the understated stunners like "I'll Always Know," "I Could Have Gone Right" (a mournful echo of "Mama Tried") and Leon Payne's abject, forlorn weeper, "Teach Me To Forget," which may pack the album's biggest wallop. Merle's in fine form here: tiny, subtle vocal twists serve to transform these simple country songs into emotional depth charges: you won't notice 'em until they hit, but when they do, you're gonna know it. Lots of great non-hit winners here, definitely an album worth hearing in its entirety. Recommended!
Merle Haggard "Pride In What I Am" (Capitol, 1969) <! [SKAO-168] >



Musically, this one is a bit more sluggish and has the feel of a by-rote performance, both by Merle and the band; the beginning of Merle's sideways slide, depending on who you ask. Still, a great set of songs. In an interesting contrast to the previous album, he sings his own compositions with much more conviction than the cover tunes. Oldies from Jimmie Rodgers and Lefty Frizzell come close to being just filler, while he'll bowl you over with originals like "Keep Me From Crying Today" and "I Just Want To Look At You One More Time" (and the title track, of course) And any record that introduces "I Can't Hold Myself In Line" is a classic, just from that song alone. The arrangements lack passion, but the lyrics are doozies. Worth checking out... After all, it's Merle!
Merle Haggard "Same Train Different Time" (Capitol, 1969) <! [SWBB-223] >


This Jimmie Rodgers tribute album
Merle Haggard "Okie From Muskogee" (Capitol, 1969) <! [ST-384] >






<! live album >
---
Merle Haggard Discography: 1962-69 | 1970-1979 | 1980- Present | Best-Ofs Tributes & Links
---
---



Hick Music Index



---

<! cd=9/10/03>