<! MP3 07/06/09, 12/14/10 > <! outside 00/00/00 > <! pix 00/00/00 > <! icons 12/14/10 > <! update 07/06/09 - 07/09: pistilli GIF; lee roy parnell own page? vet Graham Parker's other Bloodshot albums >
---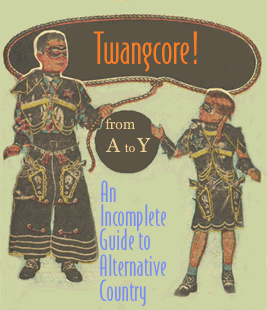 <! PINE HILL HAINTS Pinetop Seven Phil Pritchett - more rock? AARON PARRETT "Sinners" (Hormone Derange, 1996) - private pressing Pistol Hill - info below Jake Penrod - Hank Williams imitator The Psychedelic Cowboys >

This page is part of an opinionated overview of "alt.country" music, with record reviews by me, Joe Sixpack... Naturally, it's a work in progress, and quite incomplete, so your comments and suggestions are welcome.

This page covers the letter "P"




---
A | B | C | D | E | F | G | H | I | J | K | L | M | N | O | P | Q | R | S | T | U | V | W | X, Y & Z | Comps | Other Country Styles
---

Palace Music "Arise Therefore" (Drag City, 1996)



Praised as avatars of an indie-rock/altabilly revolution, the Palace Songs/Palace Music/Palace Brothers nexus around songwriter Will Oldham has its ups and downs... I place 'em pretty firmly in the "rock" camp, particularly on a meandering slowcore outing like this... Yes, there are traces of a Neil Young-ish fragility and sorta-folk sensibility, but its pretty navel-gazey and not that distinctly rooted in country traditions, at least as far as my rigid little mind can perceive. Not that I'm dissing them, mind you -- I do like it when Palace get all power-poppy and melodic, and some of the more "country" stuff can be fun. This particular album is a little too wanky and self-indulgent for me, but I can still see the appeal it would hold for someone of the right temperament. (NOTE: since its original release, this has been re-named as a Will Oldham album. Oh, well.)


<! B0015BZKT4 - MP3? - name changed to Oldham's on Amazon >

Palace Music "Lost Blues And Other Songs" (Drag City, 1997)


This odds'n'ends set has stuff from 1993-97, and highlights Oldham and pals in a variety of moods, ranging from silly-proggy stompers like "Riding," to more doleful, contemplative moments. Overall, the improvisatory songwriting and loose-limbed noodling still strikes me as a bit self-indulgent, and if any of these songs are actually about anything, the meaning has eluded me... But, hey, who am I to criticize such obvious genius? Seems like these guys are capable of creating much more cohesive, resonant music, although I'm sure to do so would violate some deeply rooted, postmodern artistic principles. Thus, for folks who are on the band's rather rarified wavelength, this is a super-duper treat; other listeners should feel free to express their own boredom, if so compelled. Also bizarrely rechristened as an Oldham album, rather than as Palace Music.

Joe Paquin "The Duct Tapes" (Perhelion, 2001)



Amiable latter-day honkytonk/western swing, ala Hank Thompson... A little rough around the edges, but fun nonetheless. Paquin is a co-founder of the long-lived cajun band, The Sundogs, heard here in a more distinctly country mood.
Joe Paquin "Only Human" (Perhelion, 2001)


Graham Parker "Your Country" (Bloodshot, 2004)



England's ascerbic Graham Parker, a punk-era/New wave-ish rocker who's always been a little hard to pin down, returns here with a sharp set of alt-countryish tunes that may be his best album in many a moon. The lyrics are typically dense and brainy, but Parker adopts enough of old-school country's keep-it-simple ethos that most songs have sharp hooks and clean choruses. He's backed here by Tom Freund, with Don Heffington and Ben Peeler of the band the Wallflowers, who have enough of an alt-country vibe to bring in some twang while zeroing in on Parker's strengths as a rocker. The addition of Americana diva Lucinda Williams seals the deal -- she helps Parker hit a homer with "Cruel Lips," and even those folks who might not have been huge Graham Parker fans in the past may be surprised by the strength of this new album. Definitely worth checking out!


<! Graham Parker "Songs Of No Consequence" (Bloodshot, 2005) B0009G0P9G B000UPRRPQ > <! Graham Parker & The Figgs "103 Degrees in June - Live In Chicago" (Bloodshot, 2006) B001NIEZN6 B0012CETBQ - MP3 > <! Graham Parker "Don't Tell Columbus" (Bloodshot, 2007) B000MR9C1Y B000UPRRZ6 >
Greg Parker "On The Break" (Whitewall, 2004)



(Produced by Greg Parker)
This 5-song EP is basically a self-produced, self-released demo, but it sure has some damn fine country songs on it. With all-new, all-original gems like "Disaster Waiting To Happen" and "A Heart Is A Terrible Thing To Waste" (stuff that George Jones might have sung back when he was a whippersnapper) as his calling cards, Nashville's Mr. Parker's definitely got my attention. Apparently Parker played all the instruments, too, except on one track where he gets some assist on lead guitar from Adam Hill. This is some fine retro-hillbilly music - can't wait to hear what he does next.


<! kaput - 07/2014 > <! - same guy? Greg Parker "Christmas Eclectic: Songs For The Season" (xxxxxxxx, 2004) B000CAA7Z6 (probably not... no sound samples...) >

Rodney Parker & Fifty Peso Reward "Blow The Soot Out" (Double Xxposure, 2004) <! 2005? >


Rodney Parker & Fifty Peso Reward "The Lonesome Dirge" (RP50, 2008)



(Produced by Erik Herbst)
Self-produced, hard-edged alt-rock twang from Texas... The piercing electric guitars and grinding rhythm aren't really my bag, but the songwriting is often compelling. All but two of the songs are Rodney Parker originals, complimented by well-chosen covers of Bruce SPringsteen's "Atlantic City" and Kinky Friedman's "Wild Man From Borneo." The Springsteen thread is strong: Parker is into densely-woven, gritty story-songs; fans of Steve Earle might like this as well.
Rodney Parker & Fifty Peso Reward "The Apology: Part One" (Smith Entertainment, 2010)



A five-song EP...
Rodney Parker & Fifty Peso Reward "Live In The Living Room" (Smith Entertainment, 2011)


Rodney Parker & Fifty Peso Reward "The Apology: Part Two" (Smith Entertainment, 2013)



A full-length album that also incorporates some songs from the first Apology EP...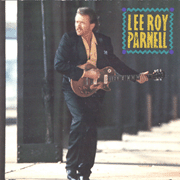 Lee Roy Parnell "Lee Roy Parnell" (Arista, 1990)


(Produced by Barry Beckett)
Parnell's rather rootsy debut set him up as a '90s version of roadhouse roots-rocker Delbert McClinton, fusing country vocals with bluesy, old-school R&B, sometimes with a 'Fifties doo-wop edge. The use of saxophone and piano triplets may have quashed any hopes of major success on the country charts (this disc had three singles in the back 'fifty...) but folks who like McClinton's work, or perhaps Conway Twitty's or T. Graham Brown's stuff in the '80s, should find a lot to like about this album. What's more, none of these early songs were included in the 1999 Arista best-of, Hits And Highways Ahead, so fans should definitely track this one down.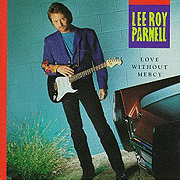 Lee Roy Parnell "Love Without Mercy" (Arista, 1992)


(Produced by Scott Hendricks & Barry Beckett)
Thank goodness the folks at Arista had faith in Parnell after his poorly-performing debut, 'cause this followup record was mighty fine. His debt to Delbert McClinton is still pretty obvious, but there's a slinkier, softer side in there as well (a wisp of Ry Cooder, perhaps?) and an interesting, pop-melodic update of the Southern rock sound... A couple of songs are duds ("Road Scholar?" Yawn.) though mostly this is a pretty funky, soulful album... Parnell's vocals, are particularly appealing... He's really into it, singing with grit and subtlety, throwing himself into every song and investing this album with a level of passion and immediacy that you don't often hear coming from the jaded confines of modern-day Nashville. He also scored his first big hits, the soft-edged "Tender Moments" and the more rollicking "What Kind Of Fool Do You Think I Am," which both hit #2 on the charts, the first of a handful of Top 5 hits he had in his career. Nice record; definitely worth checking out.
Lee Roy Parnell "On The Road" (Arista, 1993)

Lee Roy Parnell "We All Get Lucky Sometimes" (Arista, 1995)


Lee Roy Parnell "Every Night's A Saturday Night" (Arista, 1997)


A rollicking later album by this roots-rocking, slide playing neo-honkytonker. Parnell dips into a bit of roadhouse blues, with a prominent barroom piano, and some dirty, crunchy guitar. He also tilts into smoother, more commercial sounds, with ringing guitars (as on "Tender Touch"), and even some soft-spoken schmaltz (the acoustic based "Better Word For Love"). Overall, this is a pretty rich sounding record, with a wide variey of styles, and a welcome recognition of both the Nashville and Austin sides of the street. Plus, anybody who covers Guy Clark ("Baton Rouge," with Clark joining Parnell on the last chorus...) is alright by me. Check it out.

Lee Roy Parnell "Hits And Highways Ahead" (Arista, 1999)


Whiteboy roadhouse soul. Like a kinder, gentler Delbert McClinton; Parnell acquits himself well on this greatest hits package, though very few of the songs really grab me emotionally. The tightly crafted production feels kinda flat, for some reason... plus I've never been a big fan of talky lyrics, and this album's full of 'em. I know I'm supposed to like this guy, but his attempts at building up country-rock anthems never really seem to take off. Character flaw on my part, I'm sure. (Parnell's albums are also reviewed in my Commercial Country section.)

Lee Roy Parnell "Tell The Truth" (Vanguard, 2001)



Twang takes a back seat to romp and stomp on this one, a houserockin' blues and soul set, with guest artists like Bonnie Bramblett, Keb Mo and Delbert McClinton adding some bluesy oomph to the proceedings. It's not my bag, but if you go for modern blues, this disc might really turn you on. Sounds like Little Feat at times, particularly on softer numbers, like the title track, which offers a welcome moment of contemplation amid the general high volume level of the rest of the album...

Lee Roy Parnell "Back To The Well" (Universal South, 2006)



A strong set of smoky southern soul and roadhouse blues-tinged twangy pop... It's not really my kind of music, but I can tell this is a pretty strong record for the style. Fans of Delbert McClinton, Gary Stewart and Little Feat are gonna want to check this one out. There's grit, fire and the passion of a true believer, along with some really solid musicianship. Worth checking out!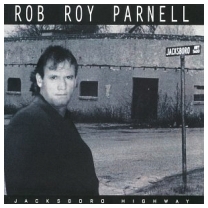 Rob Roy Parnell "Jacksboro Highway" (Blue Rocket, 1999)


(Produced by Lee Roy Parnell)
Contemporary roadhouse blues - worth mentioning here since harmonica player Rob Roy Parnell is Lee Roy Parnell's brother, and gets some assist from Lee Roy, as well as Gary Nicholson and Waylon Jennings. Folks who dig Delbert McClinton's mix of roadhouse blues, country and rock will want to check this album out as well. It's good, solid, hard-rockin' blues.
Rob Roy Parnell "Let's Start Something" (Blue Rocket, 2008)






<! only two albums on AM 07/14 >


Gram Parsons - see artist discography



Jeremy Parsons "Doggondest Feelin' " (PCG Nashville, 2009)



(Produced by Bernard Porter)
A swell set of hillbilly retro, with a familiar, old-school feel that might appeal to fans of Wayne Hancock, or the Dave & Deke Combo. Parsons takes a less frantic, more subtle approach, still up for a bit of novelty wordplay, but with a craftsmanlike, measured feel. Good stuff! He's got a confident hand and talent to back it up... Worth checking out.

Tom Paxton & Anne Hills "Under American Skies" (Appleseed, 2001)



A good old-fashioned hardcore leftie-liberal earnest folkie album, with many songs old and new, thematically linked around the idea of living in the good old US of A... Mostly the album is a bit of a downer, focusing on poverty, injustice and environmental damage, themes that are sure to become more timely as the Bush presidency soldiers on... Many of the songs are cover tunes, and I definitely found myself wishing there was a bit more of Paxton's mellow, romantic side on display here, as well as his playful wit. Without his charm, these proceedings are fairly grim (although Paxton's delivery is, as always, first-rate...)


<! really 109x108 >
Waylon Payne "The Drifter" (Universal/Republic, 2004)



Meh. Color me unimpressed. This is basically Wilco/Son Voltish soft indie rock with an added twangy sheen -- some okay pedal steel work added onto a seemingly endless morass of amorphous, ill-defined songs. I just don't think the themes are very well developed, or all that interesting. It's okay, but there's lots of stuff I like better. Here's the cool part, though: this lad is apparently the son of guitarist Jody Payne (a mainstay of Willie Nelson's old band...) and '70s singer Sammi Smith. Who knew??
Andrea Peterman "Miles To Go" (Highway W, 2007)



(Produced by John Abella)
A self-released Americana outing, from a songwriter living in LA... I'd say her voice might be better suited to introspective folkie stuff, but the uptempo country-rock arrangements she prefers are pretty solid. I'm not familiar with the guys backing her up, but they seem like good representatives of the indie-billy pickers in LA at the time...
Lawrence Peters "What You Been Missin' " (Self-Released, 2011)



Super-indie country from the Chicago twang scene... Lead singer Lawrence Peters plays snare drums, of all things, but he makes plenty of room for the plunky guitars and some really sweet pedal steel and fiddle licks, as well as harmony singers who include Robbie Fulks, Kelly Hogan and Nora O'Connor (the backup chorus on "Dirt On My Hands") and several songs with Dave Sisson, of the Gin Palace Jesters. Nice songwriting, with plenty of true twang and soulful singing - a roots-lover's delight. The sound mix could have been richer, but in some ways I enjoy the imperfections -- no Nashville sound machine here -- and the more I listened, the more I loved it. High Sheriff Ricky Barnes would be proud.


<! no producer credit >

Phantom 409 "Hits You Like A Tumbleweed" (Jungle Records, 2001)


Friendly, funky rockabilly and country boogie from... Finland? Looks like it. These guys are alright; depending on your sense of humor, you might get a kick out of their Northern accents, as they try to wrap themselves around an American country twang.
Phantom 409 "Mustang Ranch" (Jungle Records, 2003)

Phantom 409 "King Of The Gutter" (Jungle Records, 2004)

Kelly Joe Phelps "Lead Me On" (Burnside, 1994)


Kelly Joe Phelps "Roll Away The Stone" (Rykodisc, 1997)


Kelly Joe Phelps "Shine Eyed Mister Zen" (Rykodisc, 1999)


Kelly Joe Phelps "Sky Like A Broken Clock" (Rykodisc, 2001)


Kelly Joe Phelps "Beggar's Oil (EP)" (Rykodisc, 2002)

Kelly Joe Phelps "Slingshot Professionals" (Rykodisc, 2003)



A lot of folks really dig this guy. I don't know why, but this record really bugs me. Or rather, this time around, he just leaves me cold. Sort of a poor man's Tom Wait's, I guess. Anyway, noteworthy contributors include world-jazzicana luminaries Bill Frisell and Scott Amendola, although, frankly, they seem more like hired guns on an overly-perfect, rather ornate and hopelessly mannered album.
Kelly Joe Phelps "Tap The Red Cane Whirlwind" (Rykodisc, 2005)

Kelly Joe Phelps "Tunesmith Retrofit" (Rounder, 2006)


Kelly Joe Phelps "Western Bell" (Black Hen, 2009)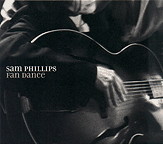 Sam Phillips "Fan Dance" (Nonesuch, 2001)



(Produced by T Bone Burnett)
Not alt.country, per se, but still such a great album it'd be a shame to pass it by. For many a month, this was one of my favorite albums, full of captivating tunes and odd, evocative lyrics. Phillips has long been something of and indie inbetweener, too rootsy for a mainstream breakthrough, and too mainstream to be fully embraced by the indie hipoisie... The production on this mainly-acoustic album -- steered, as ever, by her hubby, T Bone Burnett -- is slick and mellow, but inviting. Orchestral pop pioneer Van Dyke Parks pitches in, as well as Tom Waits' erstwhile guitarist, Marc Ribot, who lends a recognizably Kurt Weill-ish twist to several tunes. This is Phillips' first album in five years, and while she seems to have missed the "Alice" style of femme-centric Top 40 programming, she certainly has my attention. This is an album packed with songs you could fall in love with. Mature, mysterious, enchanting rootsy modern music.


<! Pine Box Boys http://www.pineboxboys.com Pine Box Boys "Arkansas Killing Time" (Hi Horse, 2005) B000SO7IYO B000QQYJAA Pine Box Boys "STAB!" (Hi Horse, 2006) B000SO7IYY B000QQYJAA Pine Box Boys "Child Of Calamity" (Hi Horse, 2008) B001B4RLO2 Pine Box Boys "Tales From The Emancipated Head" (LTR, 2011) B004YQVEU6 B005J57VHQ Pine Box Boys "Worms" (LTR, 2012) B009ZQCPJE - MP3 >

Pine Box Boys "Arkansas Killing Time" (Hi Horse, 2005)


Pine Box Boys "STAB!" (Hi Horse, 2006)


Pine Box Boys "Child Of Calamity" (Hi Horse, 2008)

Pine Box Boys "Tales From The Emancipated Head" (LTR, 2011)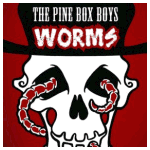 Pine Box Boys "Worms" (EP) (LTR, 2012)


An odds-and-ends, live tracks and outtakes collection from this grisly, gothic, good-timing' "bloodgrass" band... The Pine Boxers started out as a "cover band" specializing in punked-up versions of old country murder ballads like "Knoxville Girl" and the sort of stuff the Louvin Brothers used to sing. Naturally they branched out into original material -- but with similarly morbid themes -- seen here in songs such as "O Death," "The Band's Drunk" and "Puking Blood Spitting Teeth Being High." This particularly brand of novelty twang isn't really my thing, but if you're into groups like Drive By Truckers (or if you're already a fan of this band) you might enjoy this collection. Apparently, if you buy directly from the band, they'll send you a bigger batch of files... more misery for your money!


<! http://en.wikipedia.org/wiki/The_Pine_Hill_Haints PINE HILL HAINTS What goes 'round, comes 'round, often in a weird kind of way. The Pine Hill Haints, -- a loosely-structured, insanely prolific, uber-eclectic lo-fi 'billy band from Alabama – might remind you of the UK's fabled punks-gone-roots Mekons, with their wild, scrappy mix of styles and try-anything-once musical ethos. Plunky, rattling old-timey tunes mix with stripped-down rockabilly and occasional balmy gusts of power-pop rock. "You Were Born To Suffer," off their new album on K Records, the Haints This uber-eclectic lo-fi 'billy band from Alabama may remind you of the UK's fabled punks-gone-roots Mekons, with their wild, scrappy, try-anything-once musical ethos. Plunky old-timey tunes vie with stripped-down rockabilly and occasional gusts of power-pop. Try this tidy morsel of catchy acoustic rock, with a solid, toetappable beat and surprisingly quick ending: a too-brief tune that leaves you wanting more each time you hit replay. --------------- 2000 God, the Devil and the Two by the Gate Arkam Records 12" LP 2002 The Cold, Cold Hand Arkam Records CD Split album with The Natchez Shakers ("The Devil's Backbone"). 2002 Tales From The Front Porch Arkam Records 12" LP Split album with The Crypt Kickers and The Plain Clothes Creep String Trio. 2002 Alabama Ghost Country Music Nation of Kids 7" EP 2003 Trains Have No Names Arkam Records CD 2003 Split Arkam Records 7" EP Split with David Dondero, 500 copies pressed on black vinyl. 2004 Those Who Wander Arkam Records CD 2004 You Bury Your Hate In A Shallow Grave Lelp Recordings CD 2005 The Pine Hill Haints Meet Clampitt, Gaddis & Buck Lelp Recordings CD Split album with Clampitt Gaddis & Buck. 2005 Jack of Diamonds Arkam Records 7" EP 500 copies pressed on black vinyl. 2007 Darktime Came to the Hills Sunburst Records 7" EP 500 copies pressed on black vinyl with handscreened covers 2007 Ghost Dance K Records 12" LP / CD 2009 To Win or To Lose K Records 12" LP / CD 2009 Riding the Long Southern Train Blues Arkam Records 7" EP Included with Spidder #14 zine. 2010 Black Casket Razorcake / 45RPM Records 7" EP 110 copies pressed on translucent red vinyl, the rest on black vinyl. 2010 Split Let's Pretend Records 7" EP Split EP with the Trainwreck Riders. 110 copies pressed on clear vinyl, 440 copies pressed on black vinyl. 2011 The Evening Star Arkam Records / 45RPM Records/Burger Records 12" LP / CD / Cassette Compilation album featuring songs from various Haints 7" EPs and previously unreleased tracks. LP and CD released on Arkam Records, cassette jointly released by 45RPM Records and Burger Records. Cassette edition limited to 250 hand-numbered copies. 2011 Welcome to the Midnight Opry K Records 12" LP / CD 2011 Split Ya Dig? Records 10" EP / CD-R Split EP with Serious Sam Barrett. Packaged together with CD-R of the Split. 2011 Tales of Crime K Records 7" EP Release #138 in K Records' International Pop Underground 7" series >

The Piners "The Piners" (Brick House, 1999)



A nice, unassuming, low-key, acoustic-swing/stringband combo from Maine... Not mind-blowing, but totally likeable, with a nice brace of original songs written by singer/bassist Haakon A. Kallweit. Dan Hicks and Jimmie Rodgers would be proud.
The Piners "Nashville Pine" (Brick House, 2003)

The Pines "Dark So Gold" (Red House, 2012)


Pinetop Seven "Pinetop Seven" (Truckstop, 1997)



This Chicago-based band crafts moody modern art-rock with a twangy tinge, ala Lambchop, or perhaps Richard Buckner... Kind of far afield into the "rock" camp for me, though they do have their alt-country adherents...
Pinetop Seven "Rigging The Toplights" (Atavistic, 1998)


Pinetop Seven "No Breath In The Bellows" (EP) (Atavistic, 1998)


Pinetop Seven "Bringing Home The Last Great Strike" (Atavistic, 2000)






<! Pinetop Seven "Lest We Forget" (2001) 06/12: listed on WP, but not on band's website >

Pinetop Seven "The Night's Bloom" (Empyrean, 2005)


Pinetop Seven "Beneath Confederate Lake" (Empyrean, 2006)



Gene Pistilli "I Still Get Dressed On Sundays" (Memphis International, 2003)


An amiable set of western swing oldies and fine new originals, written by one of the founding members of the retro-jazz vocals ensemble, Manhattan Transfer. (No -- I'm not kidding!) Pistilli, who's nicknamed himself "The Hoboken Saddletramp," has a real feel for the music, which isn't too surprising -- he's moving from one style of retro swing to another -- and has written several swell new tunes (the title track in particular). There's a certain reserve to this album that makes it less than overpowering, but it's still pretty nice -- fans of The Hot Club Of Cowtown will wanna check this out as well.


<! Pistol Hill "Performing The Western Ballad Opera 'Joe, Moses & Doc' And 'Abbey, Morgan & Rueben' " (Parthenon Records, 2002) - apparently unreleased? - no ASIN 07/2014 - >

Poor Man's Whiskey "Train To California" (2004)


Poor Man's Whiskey "Roadside Attraction" (Poor Man's Whiskey, 2006)

Poor Man's Whiskey "Dark Side Of The Moonshine" (Poor Man's Whiskey, 2009)



(Produced by Poor Man's Whiskey & Miguel Urbizgontondo)
This 2-CD set features a first disc that's a Americana/bluegrass cover of the entire Pink Floyd album, The Wall, while Disc Two is a set of original material written by the band. Yeah, sure, the Floyd thing is gimmicky, but it's also kinda cool... The banjo is the most distinctive element of twang on here -- they also mix in sound effects of farm animals and dogs barking to give it a more rural feel -- but a lot of the original Floyd arrangements and orchestrations are left intact, particularly the percussion on "Time," and towards the album's end they indulge in some electric guitar solo-age. These guys aren't really superpickers or anything, so the acoustic twang doesn't overshadow the material... Indeed, as someone who grew up with the sound of these songs on the radio a lot and also wafting from the far side the schoolyard where the stoners hung out, hearing them affectionately re-contextualized in this way actually helps me listen to the lyrics in a way I didn't when they were literally in the air... (I was never a mega-Floyd fanatic, so I didn't obsessively parse the lyrics the same way as some kids I grew up with... And, man, these songs are kind of a downer, dude... On "the dark side," you might even say!) Anyway, this album is kind of fun, with more heft than the grassed-up rock covers of the Iron Horse albums, for example. You can tell these guys were having fun delving back into the old Floyd tunes. Not sure if this syncs up with The Wizard Of Oz, though -- you'll have to test that one on your own!


<! They change the lyrics to "Money," hillbilly-izing it to "Moonshine," which doesn't really do much for me. >

Poor Man's Whiskey "Goodbye California" (Moonshine Records, 2011)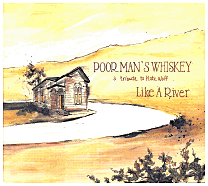 Poor Man's Whiskey "Like A River" (2012)



(Produced by Jason Beard & Josh Brough)
A heartfelt, bluegrassy tribute to the late Kate Wolf, foremother of the California contemplative folk scene... Nice, mellow stuff mixing indie-folk and old-timey vibes. Wolf herself was always just a stone's throw away from the '70s West Coast bluegrass scene, and her songs adapt nicely to the banjodelic jug band vibe of this easygoing Northern California crew. As they point out in the liner notes, her songs have been adapted for years by various 'grass and twang artists, but it's nice to hear an entire album's worth of top-flight adaptations. Includes Kate Wolf classics such as "Like A River," "Across The Great Divide," "Everybody's Looking For The Same Thing" (one of Wolf's rare overt novelty songs) and "Here In California," a song whose magnificent chorus encapsulates the real feel of rural California in a few deft lines: Here in California/the fruit hangs heavy on the vine/There's no gold/I thought I'd warn you/And the hills turn brown in the summertime. A nice tribute album that manages to be respectful and reverential while also having fun and breathing new life into old songs... Definitely worth a spin!


<! Porter Hall "Porter Hall" (Edible Records, 1997) B002BFU6BK Tracks are: Cat, Let it go, Plane, Time for me to go, Who's the one, In the street, King of my heart, River, Wake up wake up/ Broken strings, Room is spinning, Rainin'. >

Porter Hall, Tennessee "Welcome To..." (Slewfoot, 2002)



(Produced by Gary Roadarmel & Brian Carter)
Although these fellow traffic in the sort of white trash stereotypes that normally drive me buggy (songs about one drinkin,' druggin,' drawlin' foul-up after another...) I have to admit they have the instrumental ooompf to pull it off... mostly, that is. Singer Molly Conley has a major Lucinda Williams jones, which isn't necessarily a bad thing, but it is a bit overplayed... She trades off and occasionally duets with the band's other singer-songwriter, Gary Roadarmel, and overall, this is pretty darn good, at least for the Bloodshot-ish "insurgent country" style. Worth checking out if you like them sassy, rockers-go-urban hick types.


<! 130 x 130 >
Porter Hall, Tennessee "All Sinners Welcome Here" (Big Bender, 2007)


Porter Hall, Tennessee "Satan On The Run" (Sheridan, 2008)

The Posse "Justice Is Coming" (Perdenales, 2003)



(Produced by Britt Ennis, Brian Sacco & Freddie Fletcher)
An interesting indie effort, recorded down in Austin, but with definite Top 40 leanings. Singers Britt Ennis and Brian Sacco both have rich, robust voices that put them in the general orbit of Tracy Byrd and Mark Chesnutt, and while there's a strong dose of honky-tonk twang throughout, there are also some tinkly ballads that seem to be aimed at the folks in Nashville. One of these more commercial-sounding tunes, "Should've Said You," is a real gem; there are also some nice hard-country novelty songs that are quite good, like "Leave My Mama" and "Off My Mind" (which namechecks Jerry Jeff Walker...) Plus they cover Jimmy Reed's "Bright Lights, Big City..." that gets my attention. I guess these guys never got a break, but this is a pretty nice record. Worth checking out it you like modern DIY, off-the-radar country.
Leroy Powell "Leroy Powell" (Self-Released, 2007)



(Produced by Leroy Powell & Dave Cobb)
A very nice set of latter-day "outlaw" country, very much in the style of the late, great Waylon Jennings. Rugged, world-weary songwriting, punctuated by plucky electric guitar and sparing pedal steel. When I came back to this album for a second look, I was really impressed by the quality of the songwriting: seriously, if you like classic, '70s-era Waylon, you'll want to check this guy out.
Leroy Powell & The Messengers "Atlantis" (Self-Released, 2010)


Leroy Powell & The Messengers "Life And Death" ($Signs, 2013)


A weirdly uneven album. This starts out with some nice, soulful Waylon Jennings-y, Jamie Johnson-type outlaw-country ballads, and then shifts abruptly and abrasively into some really lame, old-school hard rock. For a split second I thought, oh -- this'll be a little ZZ Top-ish, but then it quickly devolved into stuff that sounded a lot like Kiss. Which I don't mean as a compliment. If he'd stuck to the country stuff, it would have been fine, but the retro-'70s rock thing didn't do much for me.
Luke Powers "Picture Book" (Phoebe Claire, 2006)


A pretty solid set of gruff-voiced, hard country-tinged, DIY folksong Americana... Fans of Greg Brown, Tom Russell, Mary Gauthier or Jon Dee Graham might wanna check this out. Different songs will stand out for different folks -- I was drawn in by some of the softer numbers, particularly "Beautiful Lie" and "Northern Lights" (a gorgeous song about living with someone who has a terminal illness...) and "Going Back To The Mountain," about the pull of the land. This didn't totally grab me, but it's certainly worth checking out.
Luke Powers "Texasee" (Phoebe Claire, 2008)


Luke Powers "Running To Paradise" (Phoebe Claire, 2009)


Luke Powers "Hwy. 100" (Phoebe Claire, 2010)
More than a little rough around the edges, Mr. Powers has a voice that, perhaps, only a mother could love... But while his singing style might be an acquired taste, the indie-ness and DIY of it all is undeniable. Plus, he writes some interesting songs... Not everything's going to knock your socks off, but Powers is a distinctive, unusual artist, and a real oddball, to boot. (Check out a song like "World's Smallest Confederate Veteran," to see what I mean...) Worth checking out if you like stuff that really is off the beaten track...
John Prine - see artist discography

Ryan Purcell "Kick The Dirt" (Self-released, 2008)



(Produced by Johnny Sangster)
Craggy, lanky, rock-tinged twang with curious, cranky lyrics and solid musicianship. My attention was drawn this Seattle-based band by the presence of Jim Sangster, a founding member of the fabled Young Fresh Fellows, one of the most musically accomplished indie rock bands around, and certainly the rangy Mr. Purcell shares some of the YFF's aggressive eclectic vibe. I'm also reminded of a bunch of '70s hippiebilly obscuros, folks like Ed Sanders, The Band, Terry Allen... or more recently, the work of the late Jim Luther Dickinson, whose records aren't terribly accessible to a mainstream audience, but sure can shed a lot of light on attentive, committed listeners. This album is bookended by a couple of anti-George Dubya Bush anthems ("Guantanamo" and "The Decider") but it's more of a dusty-trucks-and-leaning-shacks, hard-drinking Americana album than a big lefty political screed. I'm not sure how much of this I'd come back to listen to recreationally, but I found this to be a consistently engaging, unusual album, with musical strength and thematic depth... Worth checking out!
Ryan Purcell & The Last Round "Pick Me Up" (Self-Released, 2012)


---
Alt.Country Albums - Letter "Q"
---