<! MP3 06/06/09, 07/25/10, 03/05/13 > <! outside 07/25/10 - BB > <! pix 03/05/13 > <! icons 10/29/11 > <! UPDATES: 07/25/10 > <! Ira Allen - singles-only artist; appeared on a Buck Owens Vegas album; married to Molly Bee > <! Mark Anthony "Operation Desert Shield" (Belltune) 45 >
---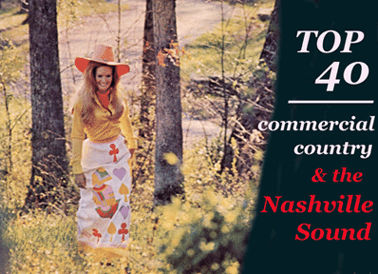 Are you a George Jones guy in a Garth Brooks world? A Loretta Lynn gal trying to understand why people still call Shania Twain a "country" artist?
If so, this website is for you... I'm DJ Joe Sixpack, and this is part of my friendly, opinionated Guide to Hick Music, where I try and make sense of the Nashville pop phenomenon. I've been a country fan since the 1970s, with a tilt towards the twangy stuff, but an open mind and a good ear for sharp songwriting wherever I find it. I may be a hick music traditionalist, but I'm not too snobby about it, and I've logged a lot of hours checking out the slick stuff that's at the top of the charts... 'Cause ya never know, even those phony-baloney, prefab country superstars can get things right every now and then. This section is mostly geared towards folks like myself, people from the alt-country side of the street who might also want to check out what's going on in Nashville, and maybe make find a few fun discoveries...
Your comments and suggestions are welcome, particularly suggestions for artists or albums I might have missed. If you're a Top 40 fan you might like this site as well... Turns out there are a lot of great songs that never make it onto the radio, and discovering these lost gems is also part of the fun. If I also happen to hate something you really like... Well... try not to take it so personally. Variety is the spice of life!
This is the first page covering the letter "A"
---
A-1 / A-2 / A-3 / A-4 | B | C | D | E | F | G | H | I | J | K | L | M | N | O | P | Q | R | S | T | U | V | W | X, Y & Z | Comps | Hick Music Index
---


<! BB: Jerry Abbott "Jerry's Best" B001CIS786 Mack Abernathy Don Adams Terry Aden - 1981-82 Wendell Adkins '77 on Hitsville Buddy Alan Alert Urel - 1973 comedy single Daniele Alexander Wyvon Alexander Alibi - '87-88 on Comstock Joe Allen ' 75 Warner Judy Allen - '78 single on Polydor Melody Allen ' 75 Rex Allen Rex Allen Jr. Jim Alley '68, '75 singles The Almost Brothers on MTM '86 Amazing Rhythm Aces Durelle Ames (f) '87 Bill Anderson - full disco - John Anderson Lynn Anderson - full - Andi & The Brown Sisters Sheila Andrews Rayburn Anthony '77-79 on Polydor, Mercury Vince Anthony Tony Arata Archer Park Judy Argo Wayne Armstrong - 1980 single Addy Arnold - full Rick Arnold Leon Ashley Ernest Ashworth Asleep At The Wheel Bob Atcher Chet Atkins - full - Atlanta - on MCA Bobby Austin Bryan Austin Darlene Austin >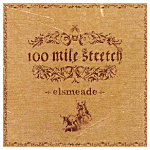 100 Mile Stretch "Elsemeade" (Self-Released, 2008)



Rugged country-rock -- a mix of indie-roots and Skynyrd-ish bar-band booziness, marked by an exaggerated vocal (and musical) twang. This Southern-based band is led by two songwriters, Scott Murchison and J. G. Spencer, who lay it on a little thick, but seem to have their hearts in the right place.
The Josh Abbott Band "Scapegoat" (Winding Road, 2009)






<! 2008? >

The Josh Abbott Band "Brushy Creek EP" (Pretty Damn Tough, 2009)



A 4-song EP...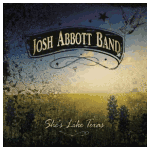 The Josh Abbott Band "She's Like Texas" (Pretty Damn Tough, 2010)



A "red dirt" Texas band that's verging on the bigtime, The Josh Abbott Band got close enough to rattle the brass ring with this one: the single "Oh, Tonight" narrowly missed the bottom end of the Top 40. This disc is certainly more commercial-sounding than their debut... more is sure to come!
Mack Abernathy "Different Situations" (CMI, 1988)


Mack Abernathy "Fire On The Line" (Hombre, 2007)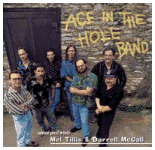 Ace In The Hole Band "Ace In The Hole Band" (Texas World, 1995)


George Strait's old band -- well, two of them, steel player Mike Daily and bassist Terry Hale, along with some other dudes -- laying down their first full-length album, a couple of decades after those distant days when they cut a few singles with George as their frontman. Texas indie will never die!
Roy Acuff -- see artist profile
Roy Acuff, Jr. "Roy Acuff, Jr" (Hickory, 1970) (LP)


(Produced by Wesley Rose & Roy Gant)
Wow. Ouch. I mean, I don't want to be mean just for the sake of being mean, but I guess a little bit of Acuff goes a long way, and I think Roy Senior may have used most of the glamor and magic up in his own long career. Roy, Jr. had a pretty thin, underwhelming voice -- I guess he was shooting for a Bill Anderson/Hank Locklin kind of thing, but this album just lacks spontaneity or spark, and the youth-culture touches don't really put it over the top. Probably the most interesting aspect is that there are four John D. Loudermilk songs on there (including a really embarrassing rendition of "Lament Of The Cherokee Reservation Indian") as well as a couple by newcomer Mickey Newbury, and two by Bobby Bond. But mostly, this was clearly a vanity record, with pretty perfunctory accompaniment by the studio crew at dad's record label. Oh, well. Diehard Loudermilk fans might want to check it out...
Roy Acuff, Jr. "California Lady" (MGM-Hickory, 1974) (LP)





<! includes a couple of songs that were on the first album, too >
Don Adams "On His Way" (Atlantic, 1973) (LP)


(Produced by David Paul Briggs)
The lone album, I believe, of this semi-rootsy country crooner from rural Ohio. Adams broke through in '67 with a modest hit on an indie label, and landed a spot in Johnny Paycheck's band, but it never quite clicked for Adams as a solo artist. This major label debut was well-produced and pretty satisfying I like the loping honkytonk numbers, including the opening track, "I'll Be Satisfied," although it only barely cracked into the Top 100, followed by a handful of non-album singles that also fizzled on the charts. Adams was best with a backbeat; there are also a few slower ballads where he sounds kind of Hank Locklin-esque, but these just underscored his limitations as a singer. Among the backing musicians are a couple of other Paycheck pickers, notably steel player Doug Jernigan and fiddler Paul Justice; Paycheck himself contributes brief liner notes and good wishes. Not an earthshaking album, but certainly worth a spin.
Kay Adams -- see artist discography
Trace Adkins -- see artist profile

Rhett Akins "A Thousand Memories" (Decca, 1995)



(Produced by Mark Wright)
An okay debut album from a Georgia-born softcore honkytonker, much of which has a rock-oriented sound ("young country," as they called it in the early '90s...) that derives some of its poetic pretensions from pop-roots rockers like John Mellencamp and Bryan Adams. The ballads are terrible, but on more rompy-stompy honkytonk tunes, Akins is pretty likable. This album has his first hits, and oddly enough the ones that did best were the more uptempo, rootsy ones, notably "That Ain't My Truck" and "I Brake For Brunettes." The success of twang over crooning isn't the only thing that was backwards with Akins' career: he also got more twangy on later albums, rather than the usual pattern of losing one's roots as time goes on, and album sales beckon. So, in an interesting twist for twangfans, this first record actually isn't his best... Though it's still certainly worth checking out.

Rhett Akins "Someone New" (Decca, 1996)


This album had its iffy moments, but even with the glossy "young country" production, Akins still has an inherent, deeply ingrained likability. Akins ain't the world's greatest singer, but like, say, Hank Locklin, he has a knack for turning his shortcomings into an asset: his voice stands out, and when he falters, it makes him sound genuine and sincere. Similarly, the material is lightweight, but likeable, though some of it's pretty lackluster. You don't have to think too much about an upbeat tune like "K-I-S-S-I-N-G," but that's just part of its charm; and a song like "Every Cowboy's Dream" is also admirably dopey and old-school. Worth a spin!

Rhett Akins "What Livin's All About" (Decca, 1998)



(Produced by James Stroud)
Y'know... I just find this guy to be kinda down-to-earth and unpretentious. For starters, there's the album art -- none of this "I'm-country-but-I'm-not-a-hick" fashion plate posing for this '90s cowboy -- nope, here's Akins hanging out in a barn, propped up on a rail fence, the way they used to do back in the 'Forties and 'Fifties, projecting an unapologetically backwoods image, and ya gotta respect that, especially considering how glossy and antiseptic Top Country has gotten in recent years. Musically, I'll admit that this isn't the strongest set ever, but his feel for singing fast numbers is pretty nice. Akins might want to shy away from the slow stuff, but when he gets to just belt 'em out, he's pretty fun. His main strength is his sheer sincerity; when he hits an anthemic chorus, you're with him all the way. This disc kind of tanked out on the charts, but I think part of the problem might have been the choice of singles -- I would've gone with the uptempo tunes, such as "Happy As We Wanna Be" or "She's Got Everything Money Can't Buy" instead.
Rhett Akins "Friday Night In Dixie" (Audium, 2002)


Rhett Akins "Down South" (Self-Released, 2009)

Rhett Akins "People Like Me" (BNA, 2010)





<! Songs: (1) Kiss My Country Ass (2)I Love Women (3) If Heaven (Wasn't So Far Away) (4) Trouble With A Woman (5)People Like Me (6) Old Bird Dog (7) Must Be Livin' Right (8) Something I Gotta Have (9)If That Don't Get You (10) Something Gonna Kill Me (11) Friday Night In Dixie >

---
Commercial Country Albums - More Letter "A"
---