<! MP3 06/19/09, 07/20/10, 10/31/11, 03/19/13 > <! outside 07/20/10 - BB, PF > <! pix 00/00/00 > <! icons 10/31/11 - BOO! > <! updates 06/19/09 - break out Fairchild & Fender, maybe Felts, too? 07/20/10 - all but Felts 03/19/13 > <! Feb, 2013: Rachel Farley - first single charts >
---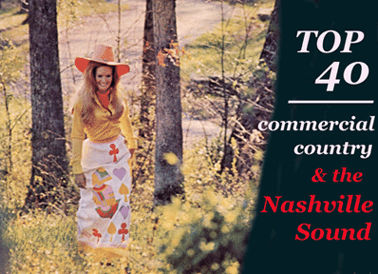 Are you a George Jones guy in a Garth Brooks world? A Loretta Lynn gal trying to understand why people still call Shania Twain a "country" artist?
Well, then this website is for you! Here's your chance to read all about Nashville pop, from the late-'50s "Nashville Sound" and the "countrypolitan" scene of the '70s to today's chart-toppers and pretty-boy hat acts, seen through the lens of DJ Joe Sixpack, a hick music know-it-all with a heart of gold...
Your comments and suggestions are welcome, particularly suggestions for artists or albums I might have missed. Other types of twang are reviewed elsewhere in my Hick Music Guide.
This is the first page covering the letter "F"
---
A | B | C | D | E | F-1 / 2 | G | H | I | J | K | L | M | N | O | P | Q | R | S | T | U | V | W | X, Y & Z | Countrypolitan Compilations | Other Country Styles
---
Barbara Fairchild - see artist discography
Shelly Fairchild "Ride" (Sony-Columbia, 2005)



(Produced by Buddy Cannon & Kenny Greenberg)
Blechh. In the wake of Gretchen Wilson's redneckin' breakthrough debut, Ms. Fairchild was hailed as another back-to-basics bad girl, part of a "new generation" of kickass country gals... Yeah, right. She just sounds like another warbling, overwrought wannabee soul singer to me, with bad, loud, clunky, overly-obvious, power chord-heavy musical backup. This is just bad music, and her vocals are really mannered and really irritating. Sorry, folks, but listening to this record is like having my teeth pulled by a blind tree sloth. I'm sure she'll be fabulously successful, but for an old-school country fan like me, this disc doesn't offer much that's worth revisiting.
Shelly Fairchild "Ruby's Money" (Revelation Nation, 2011)


Bluesy soul and bland, generic soul-rock. I guess, given the drift of Nashville over the last few decades, parts of this could be considered "country," but it's a pretty straight-up rock/pop record. Doesn't do much for me.
Donna Fargo - see artist discography
Tyler Farr "Redneck Crazy" (Columbia Nashville, 2013)



A decent, slightly mediocre entry into the generic Top 40 dude-country style... I didn't think Farr's voice was particularly strong, but with all that high-tech music around him, I guess it doesn't really matter. Like a lot of these guys, he's better on the uptempo, novelty-oriented material, and they wisely only give him a couple of slow ballads to sing. There's a whiff of the whole Big & Rich rock-rap influence as well, which doesn't do much for me.
Narvel Felts - see artist discography
Freddy Fender - see artist discography
Rick Ferrell "Different Point Of View" (Dreamworks, 2001)



(Produced by James Stroud)
Terrible. Poppy crap that sounds like a mildly countrified version of Toto. Or something like that. The arrangements are just too cutesy and lightweight for me (hate that tinkly electric piano!) and Ferrell's voice seems pretty thin... Usually I can find something on a Nashville album that I find okay... Not here, though.
Florida Georgia Line "Anything Like Me" (EP) (FGL, 2010)

Florida Georgia Line "Here's To The Good Times" (Republic Nashville, 2012)


Danny Flowers - see artist discography
Charlie Floyd "Charlie's Nite Life" (Liberty, 1993)


(Produced by Jimmy Bowen & Clyde Brooks)
Some folks once heralded Charlie Floyd as a neotrad roots-country dude, but I think that's mostly in contrast to the ever-increasing prefabness of Nashville around him... This album seems pretty by-the-numbers to me, disappointing even, with Floyd distinguishing himself on some tracks by employing a Springsteen-ish growl, though overall I'd say his vocals are fairly weak. While he pays homage to the greats (in ""By George, I'm Jonesin' ") the arrangements are pretty pedestrian, pitting his Keith Whitley-ish voice against the studio production that's more along the lines of what you'd hear on a Shenandoah or Alabama album. There were two chart entries from this one, "Good Girls Go to Heaven" and "I've Fallen in Love (And I Can't Get Up)" but I'd I'd go for the George Jones song, and another ballads that's paired up with it, "If It Wasn't For The Pain." Otherwise, this is pretty skippable, though not bad. Apparently the album title, "Charlie's Nite Life," was also the name of a nightclub that Floyd owned in his home state of South Carolina.
Charlie Floyd "Sounds Of Home" (Country Boy, 2010)


Flynnville Train "Flynnville Train" (Show Dog Nashville, 2007)


Flynnville Train "Redemption" (Evolution, 2010)



(Produced by David Barrick & Flynnville Train)
Over the last few years, the classic Southern rock sound has found a new venue in the country Top 40, championed by bands like Montgomery Gentry, et. al. On their second album, this Indiana-based quartet ups the ante with a headlong rush into classic a Lynyrd Skynyrd/Johnny Winter/Allman-esque guitar attack. Lots of blue-collar, middle-America, heartland nostalgia as well: the opening track, "Home," follows a familiar path of extolling the virtues of the American family farm, although the Flynnville boys do it with way louder guitars than most of the Nashville bands. "Preachin' To The Choir" is a political number that puts a harsh spotlight on the current economy, probably more from Glenn Beck's perspective than Paul Krugman's, but a legitimate, heartfelt blast of frustration and anger, nonetheless. (Note to the band: the one line here I don't really like is the one that condemns "all" politicians -- I think there are real differences between the parties, and individuals on both sides of the aisle that are working in good faith to solve our problems; voter apathy and anger definitely are not going to help us get out of this hole... But paying attention to voting records and putting people's feet to the fire will help. Anyway, enough preaching from me... back to the music...) This is a really strong record, with many different textures and talents on display... If you like a more rugged sound than what's coming out of Nashville, you might wanna check this album out.
---
Commercial Country Albums - More Letter "F"
---