<! TAA-THZ > <! MP3 10/30/10 > <! update 10/30/10 - no BB, need to thrash out Thrasher Brothers discography > <! outside 00/00/00 > <! pix 00/00/00 > <! icons 10/30/10 >
---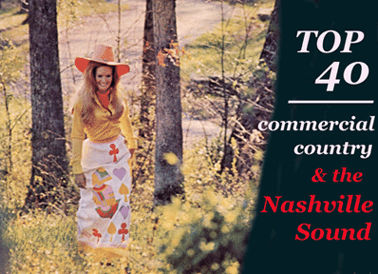 Are you a George Jones guy in a Garth Brooks world? A Loretta Lynn gal trying to understand why people still call Shania Twain a "country" artist?
Well, then this website is for you! Here's your chance to read all about Nashville pop, from the late-'50s "Nashville Sound" and the countrypolitan scene of the '70s to today's chart-toppers and pretty-boy hat acts, seen through the lens of DJ Joe Sixpack, a hick music know-it-all with a heart of gold...
Your comments and suggestions are welcome, particularly suggestions for artists or albums I might have missed. Other types of twang are reviewed elsewhere in my Hick Music Guide.
This is the first page covering the letter "T"
---
A | B | C | D | E | F | G | H | I | J | K | L | M | N | O | P | Q | R | S | T / T-2 / T-3 / T-4 | U | V | W | X, Y & Z | Comps | Other Country Styles | Hick Music Index
---


<! Chip Taylor?? >
Mary Taylor "Mary Taylor's Very First Album" (Dot, 1971) (LP)


(Produced by Joe Allison)
Despite the humiliatingly banal album title, this old LP has some interesting touches, although overall it hints at a sad story. The blonde, beaming Taylor was an early-70s also-ran who sang at county fairs and apparently was a cast member on Hee-Haw -- for one season -- but she also was a talented songwriter and a fine singer. This album seems to have been cobbled together from various studio sessions and what must have originally been demo recordings (the sound quality on the sessions run by Billy Mize is rather muffled, although the rest of the album is not...) On a few tunes, Taylor's heart hardly seems in it, but on others she's perky and quite fun... One track made me laugh out loud: in the middle of a so-so rendition of "Flowers On The Wall," she stops cold and tells the band, "give me an 'A'," then segues into "Hava Nagila," which is as funny as it is absurd. Taylor also apparently wrote "Queen Of The House" (a minor hit for Jody Miller) as well as "The Bridge I Tried To Burn," which is a first-rate country weeper. I'm not sure, but I suspect that Taylor's full story would be rather interesting to hear... Sadly, it appears there never was an album #2...


<! a slew of singles and unreleased tracks for Capitol, 1963-66 >
The Tennessee Twisters "Twist Country Hits" (Smash Records, 1962-?)
(Produced by Jerry Kennedy)
Though this has the look of a fly-by-night cheapo album of anonymous pickers, this was actually the A-list studio crew for Smash Records, led by guitarist Jerry Kennedy, doing a goofy (and super-square) set of "twist" covers of country standards. The musicians include Kennedy on guitar, along with Harold Bradley and Kelso Herston, bassist Bob Moore, Hargus Robbins plunking piano and Ray Stevens(!) playing organ. There's also an unidentified vocal chorus called the "Merry Melody Singers" who chime in randomly on a chorus or two, and even occasionally sing some actual verses, although with no rhyme or reason, since this is basically an instrumental album. The twangy, reverby tunes aren't quite as swinging and "hep" as one might hope, though there's moderate kitsch appeal and the musicianship is pretty high. The one track that really rocks is their version of John D. Loudermilk's "Waterloo," which spotlights some wicked lead guitar with tons of reverb, worthy of Link Wray and the sub-surf set. Other than that, the primary appeal of this album may be the cheesecake shot of some girl's rear end, captured mid-twist in a pair of ragged bluejean cutoffs. Oh, pre-feminist era, you were so goofy!


<! - no ASIN 09/05/15 >

Chalee Tennison "Chalee Tennison" (Elektra/Asylum, 1999)



Apparently Tennison has real working class roots and admirers from within the rootsy end of the country community... I've heard her hailed as a return to the good old days, a rural-voiced throwback to the days of Melba and Dolly, and will admit that in her rootsier moments, she sounds sort of like Reba McEntire did in her early years. But the arrangements on the opening tracks undercut her claim to the new roots throne; some songs like "Handful Of Water" and "It Ain't So Easy" are quite nice, but the drippy ballads ("I Can Feel You Drifting," "Leave It At That," "Someone Else's Turn To Cry") are absolutely dreadful. Midway between these two points are a few decent Tammy Wynette-ish countrypolitan ditties like "Just Because She Lives There," where she brings the lyrics home with a heartfelt delivery. On the whole, though, even with the rugged, rural voice, Tennison is wa-a-a-ay too popped-up for me. Mostly, this is the same old overproduced Nashville stuff.

Chalee Tennison "This Woman's Heart" (Warner Brothers, 2000)



Blech! A slow-paced, lethargic, Wynonna-esque set of glossy high-tech weepers packed with swelling synthesizer lead-ins and bombastic, rock-tinged drums and electric guitars. Way too overproduced, monotonously introspective and far too serious. Humorless in the extreme, as a matter of fact -- the most interesting song on here is "Makin' Up With You," about a couple that likes to fight (and have make-up sex afterwards)... This track is followed, figuratively, by "We Don't Have To Pray," about the aftermath of a family splitting apart when the no-good dad hits the highway. (Interesting lyrics but terrible, crashing, clamorous musical backdrop...) I suppose there is an emotional rawness to this album that redeems it, but the music is so overblown I can't stand to listen to it. Not my cup of tea.

Chalee Tennison "Parading In The Rain" (Dreamworks, 2003)



(Produced by James Stroud)
I simply can't find anything nice to say about this record... I don't like her voice, the music is super-generic and prefab, the songs mostly sound alike, and the lyrics are artless and bluntly crafted. I suppose this album is inoffensive in a muzak-y way, but that's about as much praise as I can muster for this one. I don't get her appeal.
The Texas Troubadours -- see artist discography
B. J. Thomas "Wind Beneath My Wings" (Sony Special Products, 1993)


'60s/'70s second-stringer Thomas had kind of outstayed his welcome by the time these tinkly-sounding early '80s hits came along. The title track is one of those atrociously cheesoid keyboard ballads that someone out in middle-America seems to love (lord knows who, though!), and most of the album follows in pretty much the same pattern. I can happily hum along to the sunshine pop of "Whatever Happened To Old Fashioned Love," but that's about as far down this path as I'll go.


<! some country hits, a lot of his records are more Pop > <! 1966 I'm So Lonesome I Could Cry Scepter Records Tomorrow Never Comes 1968 On My Way 133 1969 Young and in Love Raindrops Keep Fallin' on My Head 12 10 1970 Greatest Hits, Vol. 1 90 Everybody's Out of Town 72 71 Most of All 67 44 1971 Greatest Hits, Vol. 2 92 1972 B. J. Thomas Country 209 Billy Joe Thomas 145 Rock'n'Roll Lullaby 1973 Songs 221 Paramount 1974 Longhorns & Londonbridges 1975 Reunion 59 2 40 ABC Help Me Make It (To My Rockin' Chair) 26 1977 B. J. Thomas 114 39 MCA Home Where I Belong Myrrh 1979 Happy Man You Gave Me Love (When Nobody Gave Me a Prayer) Word 1980 The Best Of B.J. Thomas Myrrh In Concert MCA 1981 Amazing Grace Word Some Love Songs Never Die MCA 1982 Peace in the Valley Word 1983 Love Shines Epic New Looks 193 13 Columbia The Great American Dream 27 1984 ShiningA 40 1985 Throwin' Rocks at the Moon You Gave Me Love Myrrh 1986 Night Life Columbia All Is Calm, All Is Bright 1987 Hey Won't You Play Another Somebody Done Somebody Wrong Song MCA 1989 Midnight Minute Reprise 1991 As We Knew Him MCA Jesus Hearted People 1992 Rock Against the Wall Reprise Rock & Roll Lullaby Trace 1994 Still Standing Here Laurie 1995 Precious Memories Warner Bros. Scenes of Christmas Cross Three 1996 B. J. Thomas Sings Hank Williams and Other Favorites Buckboard 1997 I Believe Warner Bros. Christmas Is Coming Home Warner Resound 1998 Sounds of Christmas Kardina 2000 You Call That a Mountain 2005 That Christmas Feeling Madacy 2006 We Praise: Glorify Thy Name Braun Media We Praise: Just as I Am 2007 Home for Christmas Lifestyles >


Hank Thompson -- see artist discography




Josh Thompson "Way Out Here" (Columbia, 2010)



Thompson Square "Thompson Square" (Stoney Creek, 2011)



(Produced by NV... whoever that is...)
The debut album of the husband/wife duo of Keifer and Shawna Thompson who, amazingly enough in this prefab decade, were not discovered on an American Idol-style TV talent show. Building on the modest success of a couple of exploratory singles, the Thompsons recorded this record, which I hear as sort of the kind of record that bigger bands such as Sugarland or Lady Antebellum should be making, if they weren't so overinflated by their own success and stardom. Sure, Thompson Square are playing by the same rules and they have the same Top 40 aspirations, but they're way further down the totem pole, so they don't sound so pompous and pretentious -- instead they sound hungry and sincere, and also their arrangements are a lot simpler and more direct -- good news, in my book. The opening tracks are the strongest; midway through it all starts to sound a little same-y. Worth checking out if you prefer fancy Nashville stuff, but still like to go go a little off the beaten track.


<! http://en.wikipedia.org/wiki/Thompson_Square >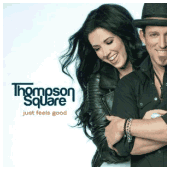 Thompson Square "Just Feels Good" (Stoney Creek, 2013)



(Produced by NV)
If I'm not mistaken, this album may herald the arrival of a new country supergroup... Thompson Square's previous record was okay, but this one's a real country-pop juggernaut. The opening track, "Everything I Shouldn't Be Thinking About" is pure, shameless, totally catchy crossover pop, with a killer hook and a good chorus, and the tracks that follow are similarly addictive. Now, I'm a trad-country kind of guy, and not necessarily that into slick modern stuff, but I was pretty impressed by this album and can see how many of the tracks could become hot singles in months to come. They've really upped their game on this one, and gone for a pretty bold, bright sound -- more like '70s power-pop than the lush synth-soul stuff that's been big in Nashville for the last couple of decades. As a rock-pop-friendly husband-wife duet, the Thompsons will appeal to fans of Sugarland and Lady Antebellum, but they seem to have a slightly brighter, more human feel than those mega-acts, and hopefully they can hold onto that simplicity when they become a mega-band themselves. In general, I prefer the tracks that highlight Shawna Thompson as lead vocalist, rather than hubby Keifer Thompson, but they also harmonize well and this is an album packed with tunes that fans definitely can dig into. Give it a spin!


<! "Produced by NV" (??) New Voice Entertainment (?) >


Sue Thompson -- see artist discography




Cyndi Thomson "My World" (Capitol, 2001)



(Produced by Paul Worley & Tommy Lee James)

The Thrasher Brothers "Country In My Soul" (MCA, 1982) (LP)


(Produced by Jim Fogelsong)
Some old geezers, most of whom actually were brothers, singing group harmony vocals, ala the Statler Brothers or the Oak Ridge Boys. This album starts off with a tepid cover of that crappy pop hit by Orleans, "Still The One," which -- as it turned out -- was the high point for the Thrashers, hitting #60 in the charts. Too bad they didn't also add the group's first single, "A Message To Khomeini," a topical tune about the Iran hostage crisis. Oh, well. That would have been fun. On the other hand, this does include Hank Strzelecki's "Long Tall Texan," which, if memory serves me right, was covered by Lyle Lovett many years later... His version is better, but their's was first. No great shakes here, but if you like the group vocals sound of the time, this disc holds up well.


<! 11/11: still no GIF >

Thrasher Shiver "Thrasher Shiver" (Elektra, 1996)



A short-lived duo featuring aspiring songwriters Kelly Shiver and Neil Thrasher... Thrasher is the son of Joe Thrasher, a member of the popular Alabama-based gospel harmony group, The Thrasher Brothers. Neil went on to compose a number of songs recorded by artists such as Rhett Akins, Kenny Chesney, Reba McEntire and Rascal Flatts (including two of their #1 hits). This was the duo's only album.
Sonny Throckmorton "The Last Cheater's Waltz" (Mercury, 1978) (LP)


(Produced by Buddy Killen)

Sonny Throckmorton "Country Music Songwriter Of The Year" (Tree International, 1980) (LP)

Sonny Throckmorton "...Does Sonny" (Phonorama, 1982) (LP)

Sonny Throckmorton "Ten Number Ones" (Country Garden, 1985)

Sonny Throckmorton "Southern Train" (Warner, 1986) (LP)


(Produced by Eddie Bayers & Sonny Throckmorton)


Sonny Throckmorton "The Hits, Volume One" (Country Garden, 2005)



A digital-age reissue of his 1985 Ten Number Ones album...


<! Sonny Throckmorton "The Last Cheater's Waltz" (Mercury, 1978) (LP) B009Z1SOUS Sonny Throckmorton "Country Music Songwriter Of The Year" (Tree International, 1980) (LP) B00B4KD9NA Sonny Throckmorton "...Does Sonny" (Phonorama, 1982) (LP) B009GQ1M4C Sonny Throckmorton "Ten Number Ones" (Country Garden, 1985) Sonny Throckmorton "Southern Train" (Warner, 1986) (LP) B00412OG1W Sonny Throckmorton "The Hits, Volume One" (Country Garden, 2005) B00AANWROE B009ZRVQW0 "A Girl Like You" (MCA) single? B003UIXGUU >

---
Commercial Country Albums - More Letter "T"
---