<! cd = 05/22/14 > <! MP3 00/00/00 > <! outside 00/00/00 > <! pix 00/00/00 > <! 208-pix: 00/00/00 > <! styles: Real Hicks, Top 40 > <! UPDATES: 05/30/14 - posted w/ a couple of reviews, pix >
---
The Texas Troubadours were the hard-working backup band for honkytonk legend Ernest Tubb. Originally formed in the 1940s, the Troubadours launched the careers of country stars Jack Greene and Cal Smith, and included virtuoso musicians such as steel player Buddy Emmons and guitarist Leon Rhodes. The band made some "solo" recordings that showcased their instrumental virtuosity and gave them a chance to stretch out and explore a wider musical palette than Tubb's standard sound. Here's a quick look at their work...
---
Discography - Best-Ofs
---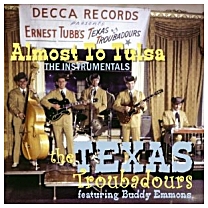 The Texas Troubadours "Almost To Tulsa: The Instrumentals" (Bear Family, 2008)


The ultimate Texas Troubadours collection: this generously-programmed single-disc CD gathers together three dozen instrumental tracks from various Troubadour albums, including a bunch of songs that were previously only available as part of Bear Family's massive Ernest Tubb box sets. Fans of country instrumentals will appreciate having all this stuff in one place, and with fab Bear Family sound quality to boot. Nice chance to hear some early work by pedal steel player Buddy Emmons, too! I suppose a 2-CD set with the vocal tracks from their albums would have been nice, too, but so far I haven't heard anyone complaining.
---
Discography - Albums
---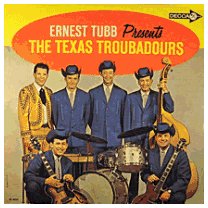 The Texas Troubadours "Ernest Tubb Presents..." (Decca, 1964) (LP)


(Produced by Owen Bradley)



<! with Jack Greene (and Cal Smith?) >
The Texas Troubadours "Country Dance Time" (Decca, 1965) (LP)


(Produced by Owen Bradley)



<! with Jack Greene (and Cal Smith?) >
The Texas Troubadours "Ernest Tubb's Fabulous Texas Troubadours" (Decca, 1966) (LP)


(Produced by Owen Bradley)



<! with Jack Greene and Cal Smith >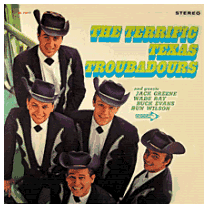 The Texas Troubadours "The Terrific Texas Troubadours" (Decca, 1966) (LP)


(Produced by Owen Bradley)
This was the last "solo" Troubadours album for the Decca label... Interestingly enough, there are actually more vocal tracks on this album than instrumentals... Cal Smith was still in the band, although Jack Greene had finally launched his solo career, and is listed as a "guest" performer, along with Wade Ray, Buck Evans and Bun Wilson. The band itself shows remarkable verve and versatility compared to the Ernest Tubb albums of the same era, with some poppy flair and even a hint of western swing. Fun stuff; not all the guest vocalists take their songs seriously though -- there are some straight-up ballads, though also a couple of tracks where they're just goofing around. It's okay, though -- the lighthearted mood matches the band's peppy, melodic performance.


<! - no producer listed on LP > <! Wade Ray/*Steve Chapman/+Buck Evans & Texas Troubadours aka The Adours (Steve Chapman, Cal Smith, Buddy Charleton, Jack Drake, Billy Pfender, Jerry Smith > <! with Jack Greene and Cal Smith >
The Texas Troubadours "The Texas Troubadours" (First Generation, 1981)
(Produced by Pete Drake)

---
Links
---
---