<! MP3 11/05/10 > <! update 00/00/00 > <! outside 00/00/00 > <! pix 11/05/10 > <! icons 11/05/10 >
---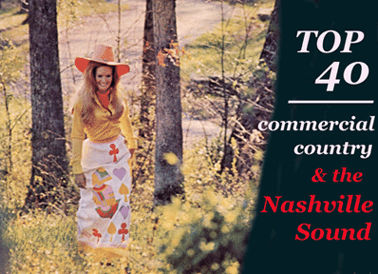 This page is part of an opinionated overview of countrypolitan and commercial, Top 40 country music, with record reviews by me, Joe Sixpack... I have to confess, I'm more of a traditionalist and not so into the slick stuff, but I've heard so much of the slick stuff that I figured I might as well start writing about it. This survey is admittedly quite incomplete, so your comments and suggestions are welcome. You might also want to check out the rest of my "Hick Music Guide", which covers mostly hard country artists.
This page reviews various commercial country compilation albums.
---
A | B | C | D | E | F | G | H | I | J | K | L | M | N | O | P | Q | R | S | T | U | V | W | X, Y & Z | Comps | Other Country Styles | Hick Music Index
---
---
Recommended Records
---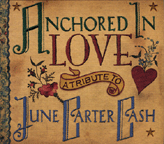 Various Artists "ANCHORED IN LOVE: A TRIBUTE TO JUNE CARTER CASH" (Dualtone, 2007)



(Produced by John Carter Cash)
An star-studded cast pays homage to the late, beloved doyenne of the Cash family, on a disc that's a companion to John Carter Cash's autobiographical memoir of the same title. In keeping with the Carter/Cash legacy, there are several duets here, the best of which is Patty Loveless and Kris Kristofferson's stately intertwine on "Far Banks Of Jordan." Other album highlights include Rosanne Cash's sorrowful "Wings Of Angels," Brad Paisley's rock-solid rendition of "Keep On The Sunny Side" (Note to Brad: do more traditional stuff!! Could we get a whole album's worth someday?) and Billy Joe Shaver's irrefutably desolate "Kneeling Drunkard's Plea." Loretta Lynn, Ralph Stanley and Emmylou Harris weigh in as well, and doubtless many will be thrilled by Elvis Costello doing "Ring Of Fire..." Overall, a nice record, although in some ways it almost feels too soon for a tribute album to come out; so many fine June Carter reissues and the like have come out in the last few years, it feels like a record like this might get lost in the shuffle. Certainly worth checking out, especially for the fine gospel track by Mr. Paisley.
Various Artists "BACKSTAGE AT THE GRAND OLE OPRY" (RCA, 1983)
Bill Anderson hosts this recreation of a typical Opry variety lineup, with interview segments and music, some of it (possibly) live and much of it obviously lifted from studio albums and overdubbed with prerecorded applause... It's totally fake and canned, but it's still kinda fun; an extended segment with Minnie Pearl is of particular historical value. Emcee Grant Turner turns the mic over to Anderson early in the show, and other old-timers like Roy Acuff, Jimmy C. Newman, Connie Smith, Hank Snow and Dottie West rub shoulders and chat with Whispering Bill. I guess the Opry elders shared the feeling that many fans had that not much was going on in contemporary country, as the new generation is represented by just one artist, John Conlee. He's a good choice, for sure, but it is kinda weird that no one else from his generation is included. Apparently this disc was meant to accompany an early TNN special of the same name...
Various Artists "BACKSTAGE AT THE GRAND OLE OPRY" (RCA, 2000)


In fact, the whole thing was so great, they did it again, two decades later, with newcomers like Diamond Rio, Alan Jackson, Martina McBride and Brad Paisley sharing the limelight with old-timers such as Roy Acuff, Hank Snow and Dottie West. Bill Anderson hosts again...

Various Artists "COUNTRY COMES TO CARNEGIE HALL" (ABC-Dot/Varese Sarabande, 1977/2005)


Four old-timers, each at different phases in their careers, share the stage at New York City's prestigious Carnegie Hall, providing a fascinating glimpse at live country musc during the peak of the countrypolitan scene. Honkytonk-swing legend Hank Thompson opens the show, moving through his seasoned stage routine -- boisterous, professional and full of pep, Thompson's star had long since fallen, yet like a true road warrior, he shows no signs of slowing down, and even if he's just going through the motions, he's still better that most. Between songs, he delivers an interesting aside about how his song "Wild Side Of Life" helped spark the career of Kitty Wells and, by extension, the careers of dozens of female country stars to follow. Ironically, he still refers to these woman as "girls," and takes the opportunity to make a crack about how "big" a star Dolly Parton is... Ah, me... how boys will be boys! Then there's Freddy Fender from Texas, whose career had kicked into high gear in '75 after longs years laboring in obscurity, and who was riding high at the top of the charts with hits like "Wasted Days And Wasted Nights" and "I'll Be There Before The Next Teardrop Falls." His career was about to level off soon after this concert, but here he's still at the top of his game, singing the hits as well as unapologetically dipping into his deep reservoir of Spanish-language Tex-Mex tunes. Hee-Haw host Roy Clark comes next, and lets loose with some dazzling, aggressive guitar work before sidling into a few gooey soft-pop countrypolitan vocals, and then wows the rubes with a fast, flurried version of the flamenco chestnut, "Malaguena." The superstar of the evening was crooner Don Williams, who was in the middle of a long, solid string of #1 hits and who gets the crowd singing along to his soulful, sentimental ballads, and laughing at his self-deprecating humor... One gets the sense that ABC Records might have done well to have included his full performance here, but hearing the other artists is nice from an historical perspective, and this is quite a nice album, when all is said and done. Recommended!

Various Artists "THE DUKES OF HAZZARD" (Soundtrack) (Sony Legacy, 1981/2005)



I'll confess, without any shame, that I have never seen the Dukes Of Hazzard TV show -- I was living off the grid, out in a cabin in the woods when it was originally being broadcast... (No, seriously, I was...) And yet, I don't think I really missed that much. I love the theme song, though, at least the hit single by Waylon Jennings, and one nice feature of this reissue disc is that as a bonus it includes that version, along with the Jerry Reed-ish original, recorded by the cast. The album is mostly made of lowbrow comedy skits, knitted together by purposefully bad "hick" music, with a couple of serious attempts to sing for real by actors John Schneider and Tom Wopat, who both pursued modestly successful careers as legitmate commercial country singers. Cajun fiddler Doug Kershaw also quickly cashed a paycheck after contributing several songs to this disc... Still, outside of some marginal nostalgic camp value, I'm not sure what this album has to offer country fans. The added Waylon & Willie tracks are nice, but you can get those elsewhere, with other music of comparable quality. Apparently there's a new soundtrack album from the new movie out as well, though I can't vouch for that one, either.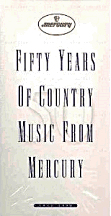 Various Artists "FIFTY YEARS OF COUNTRY MUSIC FROM MERCURY" (Mercury/Polygram, 1995)


A mighty fine 3-CD box set, badly in need of being brought back in print. The Mercury label was a bit of a latecomer in the industry, and always had an odd-man-out quality in relation to the other majors. Countrywise, Mercury had some major country stars signed at one time or another -- Flatt & Scruggs, The Stanley Brothers, George Jones and Faron Young, then later on folks like Tom T. Hall, Johnny Rodriguez and the Statler Brothers -- but it was the lesser-known also-rans that really make Mercury a cult favorite of country collectors. The brilliance of this box set is that it spends the first two discs profiling dozens of artists that practically no one remembers even vaguely anymore, folks such as The Carlisles, Connie Hall, Bill Nettles, Lonnie Glosson, James O'Gwynn and others. The tilt towards the obscure is due to writer Colin Escott running the show -- even while looking at the later records by celeb artists, he has a knack for picking weird selections, for example, Johnny Cash's apocalyptic 1990 religious number, "Goin' By The Book," or for drawing the connection between postwar hillbilly music and early rock'n'roll. It's the old stuff that's super cool here, though: skip Disc Three (the stuff from the '80s and '90s) and this set's a doozy. Great liner notes, too. It's definitely worth tracking down an old used copy.

Various Artists "THE HICKORY RECORDS STORY, v. 1" (Audium, 2001)


Nashville establishmentarian Roy Acuff started his independent Hickory label 'way back in the mid-'50s, but most of its output came in the late '60s and early '70s, when countrypolitan was in full swing. Most longtime record hunters probably think of Hickory as the label that sheltered crooners like Don Gibson after their major label careers faltered, and generally speaking, serious collectors don't prize those admittedly iffy albums. What might be surprising about this 18-song compilation, though, is how heavily Hickory's producers were into straight pop material, particulary bouncy, California-styled sunshine pop. Sure, nobody today remembers acts such as Kris Jensen or the Neon Philharmonic, but their marginality is in large part what makes this collection worth checking out. Also of interest is Bill Carlisle's jittery 1966 remake of "No Help Wanted," made at a time when Carlisle was jumping from label to label, trying to recapture the commercial success of his early '50s heyday... I sure wish some brilliant producer somewhere could track all this material down and compile it somewhere... in the meantime, check out Carlisle here, along with other searchers in the wilderness, such as Don Everly and Doug Kershaw, who were struggling along with their own solo careers around the same time... (For more info about Hickory, check out the Both Sides Now website...)
Various Artists "THE IMUS RANCH RECORD, v.1" (New West, 2008)



Various Artists "THE IMUS RANCH RECORD, v.2" (New West, 2010)



I'm not a big commercial radio listener, so I've actually never heard the Don Imus show, although I did have some inkling that he's a fan and champion of various kinds of roots music, and likes to have guests come in and play live on his show. (Good for him!) He also enjoys having them do cover versions of famous songs, sometimes with unexpected stylistic combinations (rockers doing country tunes, twangsters covering oldies, etc.) This is the second volume of a series collecting these cover songs, and there are some nice tracks for fans to enjoy. Artists include Hayes Carll, Elizabeth Cook, Kinky Friedman, Levon Helm, Jamey Johnson, Charlie Robison and Delbert McClinton (and from the rock side of the street, Cheap Trick, Adam Duritz and others...) I hear Volume One is fun as well!

Various Artists "THE LOST NOTEBOOKS OF HANK WILLIAMS" (Columbia/Egyptian, 2011)



Really nice. This album is tied to an exhibit at the Country Music Hall Of Fame that features the notebooks of the late, great Hank Williams, including several unfinished songs. Those lyrics are brought to life by some of the most talented twangsters America has to offer: Alan Jackson opens things up with "You've Been Lonesome, Too," one of the finest songs on the album. Other highlights include tracks by Norah Jones, Patty Loveless and Rodney Crowell, as well as Hank's granddaughter, Holly Williams, a soulful singer who digs deep into the family tradition. Old-timers like Bob Dylan, Levon Helm and Merle Haggard bring another level of resonance to the project, as pioneers of the '60s folk, roots-rock and neotrad scenes whose connection to Hank's sound was immediate and profound. Nothing will ever match the majesty of Williams' own original recordings, but this disc latches onto the spirit of his work with surprising vigor and depth... It's a fun record as well as an honest one - definitely worth checking out!
Various Artists "THE MUSIC INSIDE: A COLLABORATION DEDICATED TO WAYLON" (Scatter, 2010)

Various Artists "NOW THAT'S WHAT I CALL COUNTRY, v.2" (Sony-EMI-Universal, 2009)



Trace Adkins, Gary Allan, Dierks Bentley, Kenny Chesney, Miranda Lambert, Montgomery Gentry, Taylor Swift, Keith Urban... Like it's pop-oriented counterparts, this multi-label collection gathers the mega-hits of moment and delivers a powerful wallop for fans of the modern Nashville sound. If you want a record that'll have all the hits you hear on the radio, this one will really deliver. (The only thing I find weird is that the Top 40 pop series is called "That's What I Call Music" while other editions refer to the genres... I mean, are they saying that Country Top 40 isn't music, too?) Anyway, these are the big hits, all in one nice little package, no fuss, no muss. Wahoo!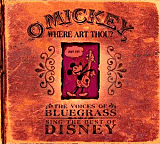 Various Artists "O MICKEY WHERE ART THOU? THE VOICES OF BLUEGRASS SING THE BEST OF DISNEY" (Walt Disney Records, 2003)


Bluegrass??? Collin Raye and Ronnie Milsap? Stonewall Jackson and Charlie Louvin? Sonya Isaacs? Robbie Fulks?? Uh, I don't think so. Well, aside from the cheesy opportunism of Disney trying to latch onto the O Brother Where Art Thou bandwagon, I guess this is an okay album. A lot of the more modern, crappy soundtrack themes ("You'll Be In My Heart," "Circle Of Life," etc.) are included, and an near-equal amount of oldies ("Supercalifragilisticexpialidocious," "Zip-A-Dee-Doo-Dah," et al) and while there are a couple of instrumentals (giving slight plausibility to the "bluegrass" claim), for the most part this is a fairly twangless album. I was happy to see the squeeky-voiced hillbilly filly Elizabeth Cook on here, even though her track doesn't highlight her strengths that well. Mostly this is a pretty iffy album.

Various Artists "PATRIOTIC COUNTRY" (BMG, 2004)



This is a pretty handy collection of flag-waving commercial country songs, gathering together a bunch of songs that can be appreciated either as sincere expressions of heart-stirring pride, or as jingoistic kitsch... Either way, it's a nice record of its time... There are some older, pre-9/11 songs, like David Ball's perfect, beautiful tearjerker, "Riding With Privte Malone," and Lee Greenwood's super-cheesy, nigh-unbearable "God Bless America," which originally came out in 1984, and has since been remixed so many times you'd think Greenwood owned stock options in the Cuisineart company... Even though this is a multi-label collection, there are also several significant omissions, including lame-o hits like Clint Black's "Iraq And Roll" and Toby Keith's numerous stupid propaganda songs; more importantly, it misses some of the good songs, like John Michael Montgomery's "Letters From Home" and Lonestar's "Somebody's Someone" (which are both current hits, and thus unavailable for repackaging), and Darryl Worley's "Do You Remember." And the most glaring omission is, of course, Alan Jackson's "Where Were You (When The World Stopped Turning?)," which is without doubt the single greatest artistic statement to have come out of Nashville after the 9/11 attacks... Even so, even without those songs, this album is still a good document of country music's patriotic resurgence. The one question I have, though -- and it's kind of depressing to even ask it -- is why this album is touted as a fundraiser that "will benefit the USO, our active-duty troops, and the families of fallen soldiers"? I mean, why is a benefit album even necessary? Shouldn't the government be doing that already?

Various Artists "PATRIOTIC COUNTRY v.2" (Sony-BMG, 2005)



The second volume in BMG's patriotic series fills in a few gaps from the first disc, but also suggests a weakening of the brand, reaching back pretty far to come up with enough songs to fill the playlist, and including several tracks that might not actually fit the theme. The first volume was pretty explicitly a pro-war response to the events of 9/11/01 and the passionate political debate concerning the Iraq War. This disc is more diluted and ambiguous, although it is still a valuable document of its time. It corrects the glaring omission on Volume One of Darryl Worley's "Have You Forgotten," which was one of the biggest, most influential hits of the post-9/11, let's-get-Saddam era... It also adds several notable new songs, recorded after the first flush of war fever cooled down a little -- John Conlee's stirring "They Also Serve," Chely Wright's tepid denunciation of a fellow motorist who gave her the finger because Wright's car had a USMC bumper sticker on it ("The Bumper Of My SUV," a song that, sadly, misses the oil-related irony of the situation, although I do agree with Wright that the other driver was being a real jerk...) It also includes the surprisingly reflective Lonestar 2004 single, "Somebody's Someone," which is one of the most saddening and emotionally honest songs to have come out of the war, wherein a father watching the nightly body count on TV cries for the loss of life, and nary a partisan or pro-war political view is expressed. Like other songs on this collection -- such as Phil Vassar's "This Is God," Willie Nelson's "Living In The Promiseland" and Johnny Cash's "Ragged Old Flag" -- "Somebody's Someone" is hardly a rah-rah, flag-waving anthem, it's a more subtle commentary than, say Montgomery Gentry's bullheaded, truculent "You Do Your Thing" and Aaron Tippin's equally macho "You've Got To Stand For Something," which both equate schoolyard chest-puffing with the highest moral good... In a sense, though, this inconsistence or ambivalence is welcome, as it may be a closer match to the actual mood of the country than the political arm-twisting found on the first disc of this series. The inclusion of oldies like Merle Haggard's "Okie From Muskogee" and Elvis Presley's over-the-top rendition of "America The Beautiful" feel a little tacked on, but since the series producers still haven't dredged up Clint Black's embarassingly bloodthirsty "Iraq And Roll," they can hardly be said to be scraping the bottom of the barrel. This disc, like the first, is a valuable document of its time, one you can either appreciate as a history lesson in the making, or as a call to rally around Old Glory...

Various Artists "REDNECK COUNTRY" (Time-Life, 2006)


See, the funny thing about Time-Life Records these days is that they actually put out some pretty good colelctions these days. This disc is a top-notch set of goofball celebrations of all that is big, beer-soaked, and Bubbadelic. There are a few more modern, faux-rowdy anthems (Sawyer Brown's "Some Girls Do", Alabama's "Down Home") and a song or two that seem out of place (Dwight Yoakam's cover of "Honky Tonk Man" is a great tune, but I wouldn't exactly tag it as a "redneck" song...), but the inclusion of outlaw-country oldies-but-goodies such as Vernon Oxford's "Redneck National Anthem," Johnny Russell's "Rednecks, White Socks And Blue Ribbon Beer" and "Longhaired Redneck" by David Allan Coe make this one tasty little record, particularly when surrounded by hits like Hank, Jr.'s "Rowdy Friends," Travis Tritt's "Country Club" as well as the old Moe & Joe stuff and the Dukes Of Hazzard theme. Dang, dude. Just sit back and pop open a few brews -- and keep your baseball cap pointed forwards, okay?

Various Artists "REMEMBERING PATSY CLINE" (MCA-Nashville, 2003)



Patsy Cline is a hard act to follow, that's for sure. But I don't doubt for a second that every singer on here felt they owed her a debt as a pioneering foremother of popular song. Mixing real rural roots with an explosively bluesy delivery and sweet, swank sophistication, Cline helped revolutionize not only Country, but Pop music as a whole... In the R&B world, her closest match was probably Dinah Washington, who also combined heartfelt emotion with glorious technical precision, and moved from a rough and wild style into a torch singing, orchestral smoothness. Okay, so fast forward to forty-plus years after Patsy's untimely demise, and we have two (or three) generations worth of show biz gals coming in her wake, approaching the same big production values, but with a much narrower artistic vision. Scanning the list of artists -- Natalie Cole, Diana Krall, Martina McBride, et al -- I expected sheer disaster. I was surprised, though, to find how restrained the singing was in general -- no crazed modern soul vocalese, no endless parade of "money notes," little in the way of swooping, lavish production. But also little to get stirred up about either. Norah Jones delivers another fine country-cover one-off (check her previous duets with Willie Nelson... I hope she does a full country album soon...) Michelle Branch belts out a surprisingly lively, yet restrained version of "Strange"; Patty Griffin does alright on "Faded Love..." Perhaps the biggest surprise comes from vanilla gospel icon Amy Grant, who delivers an understated, effective rendition of "Back In Baby's Arms..." certainly the highlight of this album. On the whole, this album falls flat, but it doesn't completely fall apart, and there are some nice tunes. Ya can't beat Patsy, though... why even try?

Emmylou Harris/Various Artists "SINGIN' WITH EMMYLOU, v.1" (Raven, 2000)


Music writer John Morthland, in a rare lapse of judgement, once dissed Emmylou Harris as nothing but a glorified harmony singer, but I'm sure any of the artists who have worked with her in that role have considered themselves to be pretty lucky. This disc is a mixed bag from Australia's grooviest reissue label, which had already given us a fab Gram Parsons collection a few years back. This set of Emmylou duets and guest appearances has plenty of gems, but also a lot of real drek. The sappier stuff -- her work with folks such as Glen Campbell, Dan Fogelberg and Vince Gill -- is pretty goddawful, but when she's paired up with the likes of Waylon Jennings, George Jones and Guy Clark, it's pretty hard to beat. I suppose that's what they make programmable CD players for.

Emmylou Harris/Various Artists "SINGIN' WITH EMMYLOU, v.2" (Raven, 2003)


This second volume of duets is much more delicious than the first, with tasty performances by Emmylou and the likes of Johnny Cash, Billy Joe Shaver, Barry & Holly Tashian, Jim & Jesse, and even old Bill Monroe. Well selected, with gems such as "Greenville" by Lucinda Williams and a rare vocal number by dobro whiz Mike Auldridge, and oddities like an English-German with Tom Astor ("Geh Nicht Allein"). There are some sappy numbers (Mary Black, T. Graham Brown -- ugh.) but for the most part this is a great collection, gathering a lot of rare or widely-separated material. Well worth picking up!

Various Artists "THE SONGS OF HANK WILLIAMS, JR: A BOCEPHUS CELEBRATION" (Warner, 2003)



For more years than anyone cares to remember, Hank, Jr. couldn't get no respect in and outside of Nashville. His tepid early albums, made in the depths of the late '60s folk/countrypolitan days, were okay, but you had to work at appreciating them. Later, in the 1970s, when he re-emerged as a rockin', rowdy good old boy, things got better, but then that inevitably led to his stick-figure rightwing redneck image, the messy-bearded, Monday Night Football theme-singin,' know-nothing Bubba we've all come to know, and, well... not quite love. These days, it seems Hank, Jr.'s back in fashion, as evidenced by these rowdy, rockin tributes by the likes of Blake Shelton, Montgomery Gentry, Chad Brock, and other would-be good ole boys. Some of these songs are pretty good, but the uptempo tracks by the likes of Trick Pony and Aaron Tippin are a little embarrassing... Hank II did 'em better the first time around, and more often than not these new versions simply echo the least worthy parts of his work. Still, compared with the N'Sync-ish pablum that's coming out of Nashville these days, this disc almost seems like a slab of hard country heaven.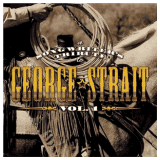 Whitey Shafer/Various Artists "A SONGWRITER'S TRIBUTE TO GEORGE STRAIT, v.1" (Compadre, 2008)



A bunch of folks whose songs that George Strait took to the top of the charts deliver a heartfelt homage, Back 40 style, reverse-engineering their own material. Whitey Shafer is a standout; other artists include Gretchen Peters, Sonny Throckmorton, Mack Vickery, Dave Kaz, Jeff Stevens, Steve Bogard and others. Probably most fans can stick with the George Strait "originals," but it's still an interesting idea.
Various Artists "SWEET HOME ALABAMA: THE COUNTRY MUSIC TRIBUTE TO LYNYRD SKYNYRD" (Universal/Hip-O, 2010)



(Produced by Jay Joyce)
A raucous, good-natured tribute to Southern Rock forefathers Lynyrd Skynyrd, with contributions by modern-day goodle boys and girls such as Eric Church, Randy Houser, Shooter Jennings, Jamey Johnson, Uncle Kracker, Randy Montana, Ashley Ray and Eli Young Band. Yeee-haw!!


<! SWEET HOME ALABAMA – The Country Music Tribute To Lynyrd Skynyrd represents a distinct collection of many of the band's most iconic tracks by the genre's brightest stars, including Eric Church, Randy Houser, Shooter Jennings, Jamey Johnson, Uncle Kracker, Randy Montana, Ashley Ray and Eli Young Band. Randy Houser delivers a soulful rendition of "Simple Man" while Eli Young Band offers up a raucous version of "Three Steps," both from Lynyrd Skynyrd's groundbreaking debut. Jamey Johnson keeps with tradition on the dobro laced "Four Walls of Raiford" and Eric Church's smoky vocals are front and center on the powerfully evocative tale, "The Ballad of Curtis Loew." The 8-song compilation will be released exclusively through Wal-Mart stores on July 20th. More than 25 years following the release of their groundbreaking debut album (pronounced 'leh-'nérd'skin-'nérd), Lynyrd Skynyrd's legacy remains irrefutable. The band has cataloged over 60 albums and sales of more than 30 million, including 13 platinum or multi-platinum albums. Lynyrd Skynyrd's influence on music remains all encompassing, ranging from Blues Traveler to Metallica to Montgomery Gentry to Kid Rock. And now, country's brightest stars pay homage to Lynyrd Skynyrd's everlasting legacy with the new CD, SWEET HOME ALABAMA – The Country Music Tribute To Lynyrd Skynyrd. SWEET HOME ALABAMA – The Country Music Tribute To Lynyrd Skynyrd Track Listing 1. "The Ballad Of Curtis Loew" Performed by Eric Church 2. "Simple Man" Performed by Randy Houser 3. "All I Can Do Is Write About It" Performed by Uncle Kracker 4. "Call Me The Breeze" Performed by Shooter Jennings 5. "Four Walls Of Raiford" Performed by Jamey Johnson 6. "Tuesday's Gone" Performed by Randy Montana 7. "Gimme Three Steps" Performed by Eli Young Band 8. "Sweet Home Alabama" Performed by Ashley Ray Produced by Jay Joyce > <! URBAN COWBOY http://en.wikipedia.org/wiki/Urban_cowboy interesting track listing artists >

Various Artists "THE VERY BEST OF OUTLAW COUNTRY" (Sony-BMG Legacy, 2008)



This is a good set of rowdy songs, with classics by Waylon, Willie, Jessi Colter and the boys, as well as a slew of other folks feudin' like the Hatfields and McCoys... The songs are generally high-calibre, but I agree with other reviews that this collection really stretches its credibility by calling them all "outlaw country" when indeed a hefty chunk of the playlist is really made up of Southern rock and redneck boogie tunes -- Marshall Tucker's "Can't You See", Molly Hatchet's "Flirtin' With Disaster" and the Georgia Satellite's "Keep Your Hands To Yourself" are prime examples of Top 40 rock songs that are dubious inclusions in a "country" collection. In the 1970s, the longhairs who were into Willie Nelson might have also been rockin' out to Lynyrd Skynyrd and the Allman Brothers, but everyone knew there was a difference between the two genres. Still, it's a fun album, and since the macho end of modern, 21st Century Top 40 country is frequently peppered with retro-leaning Southern rock, the revisionist blurring of the two genres isn't all that hard to understand. So it comes as no surprise (and a singular delight) that Gretchen Wilson is included ("Here For The Party") although once you go down that path, one might wonder why no tracks by Montgomery Gentry or Dierks Bentley made the grade as well. There are some great songs on here -- and there could have been a bunch of others. As with any thematic collection, there's lots of room to quibble over song selection. The tracks by Johnny Paycheck and David Allen Coe ("Take This Job" and "You Never Even Called Me By My Name") are solid choices, but both artists, as legitimate members of the original outlaw scene, have a lot of other songs that would have been cool, too. "Whiskey River" is a great Willie Nelson song, but it's more of a love song, if you ask me... etc, etc. I think a 2-CD set could have covered the ground more coherently and satisfied the diehard fans... But if you're just looking for a great set of rowdy twang tunes to crank up at your next backyard barbeque, this disc packs a lot of bang for the buck.

Various Artists "WAYLON: THE MUSIC INSIDE, v.2" (Average Joe's, 2012)



(Produced by Witt Stewart & Friends)
Nashville's current crop of outlaw-identified singers -- dudes like Dierks Bentley, Colt Ford, Justin Moore and Montgomery Gentry -- pay homage to the great Waylon Jennings. Also on board are semi-old-timers like Pat Green and Jack Ingram, as well as Hank Jr. and, adding an extra layer of class, Waylon's longtime partner, outlaw queen Jessi Colter. The one head-scratcher on here is folk-popster Jewel, who looks "one of these things is not like the other" when lined up with all the bad-boys, but she does sing a lovely version of "Dreaming My Dreams." Also noteworthy is the rugged, raspy "bonus track" by Wyatt McCubbin that closes out the album -- he's one of the outside country dudes that the Average Joe's label gives a chance to record stuff that Nashville's major labels would overlook... His version of "A Long Time Ago" is a nice coda to a pretty solid set of Waylon covers. Definitely worth a spin.
---