<! MP3 10/21/08 > <! update 10/21/08 > <! pix 10/21/08 > <! 208-pix: 00/00/00 > <! icons 11/20/10 >
---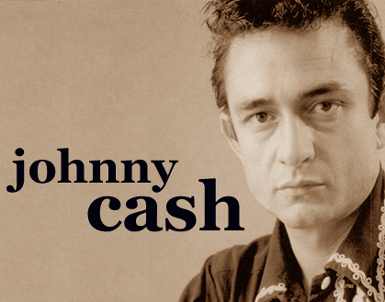 Johnny Cash (1932-2003) was a towering figure in country music, a unique stylist who took a stripped-down, rockabilly-tinged minimalism to the top of the charts, and who recorded dozens of classic songs over his decades-long career. Nicknamed "The Man In Black," Cash was at once a rebel and a mainstay of the country establishment, hosting a popular TV show even as he spoke out on social causes and championed songwriters and artists that Nashville might have otherwise ignored. He first hit the charts in the 1950s, recording for Sun Records, the same label that discovered rockers like Jerry Lee Lewis and Elvis Presley; by decade's end, Cash had moved to Columbia Records and into the bosom Nashville. A gruelling tour schedule led to dependence on various drugs, a problem that plagued him throughout the 1960s, until his future wife June Carter Cash helped him conquer his addictions. When he married June Carter in 1968, Cash became forever tied to the country music dynasty of the famed Carter Family, and throughout the 1970s he helped buoy the flagging careers of Mother Maybelle Carter and her brood, whose old-fashioned backwoods style had been lost amid the glitz and glamour of modernized countrypolitan pop. Cash's own career had many peaks and valleys -- it the early 1990s, after many years adrift, Cash found a new voice as an elder statesman of the "alt-country" scene, recording several innovative records with rock/rap producer Rick Rubin, who refashioned Cash's image as an ultimate icon of cool... Here's a quick look at Johnny Cash's career...
---
Discography
---
Johnny Cash "Johnny Cash And His Hot And Blue Guitar" (Sun, 1957)



By the time this album came out, Johnny Cash had had a string of country hit singles, stretching back a couple of years. Yet, clearly the time had come, and Sam Phillips and Sun Records entered new, uncharted territory by issuing the label's very first long-play album to meet the demand for more Cash product. Stellar early hits were included, such as "Cry! Cry! Cry!," "Hey, Porter," "Get Rhythm," and "I Walk The Line," as well as lesser-known numbers that reflect the throw-it-on-the-wall-and-see-if-it-sticks stylistic diversity of the Sun production line. A killer debut, and classic music. Be advised, though, that in some cases the reissue label chose to use different mixes than were on the vinyl original: to get the complete picture, you might have to shell out the big bucks for Bear Family's first Man In Black box set, which is reviewed on the Best-Of discography page.
Johnny Cash "Johnny Cash Sings The Songs That Made Him Famous" (Sun, 1958)



A slew of his early hits -- great stuff, including the original versions of "Big River," "I Walk The Line," and the doleful "Guess Things Happen That Way," which has always been a personal favorite. The CD reissue on the Varese sarabande label includes some stripped-down alternate versions of a few songs, notably "Ballad Of A Teenage Queen," which are pretty interesting in contrast to the official Sun single releases of years gone by.
Johnny Cash "Johnny Cash Sings Hank Williams" (Sun, 1960)



Released after Cash left Sun in favor of the big bucks over at Columbia, this disc is a bit lackluster at times. If you pick up the CD cersion, you should be aware that these are radically different mixes than on the original LP. The vinyl version featured larger arrangements and added vocal choruses -- the 2003 CD version reverts back to the original trio recordings, which, admittedly, sound a bit sparse.


<! "Now Here's Johnny Cash" (Sun) B001B8IN3Q - MP3 >
Johnny Cash "The Fabulous Johnny Cash" (Columbia, 1959)



Cash's first album for the Columbia label was definitely a bit sleepier than his live-wire, chunka-chunka hillbilly material for Sun, but is still pretty cool. Understated but effective, this shows Joy jumping headfirst into the Columbia studio system, and taking full advantage of everything the major labels had to offer. Recommended!
Johnny Cash "Hymns By Johnny Cash" (Columbia, 1959)



The first of many, many gospel albums by the Man In Black... The story with this one is that Sun Records owner Sam Phillips wouldn't let the rugged, rough-n-tumble Cash record any religious material, so Johnny up and split for a more lucrative contract at Columbia, and released this as his very first album. I bet if Phillips knew how good this gospel album was going to turn out, he wouldn't have been so darn stubborn about it. A really nice record -- one of Cash's best and most heartfelt early albums on the Columbia label. Defintely check it out, if you're not overly troubled by the Christian proseltyizing. (You might also check out my Country Gospel section, if you're really into it...)
Johnny Cash "Songs Of Our Soil" (Columbia, 1959)



One of Cash's classic early albums. I actually find it to be one of his less appealing records, sort of where you can start to mark the by-the-numbers phase of his career. Americana in the truest sense of the word, a mix of old folk ditties like "Cementine" and "Great Speckle Bird" and old-sounding new tunes. Still, it's got a lot of classic material on it, including "I Got Stripes" and "You Dreamer You," which were both chart hits, along with the his immortal flood ballad, "Five Feet High And Rising." Formulaic, but solid Cash.
Johnny Cash "Ride This Train" (Columbia, 1960)



Cash jumps onto the "historical song" bandwagon that served Johnny Horton and Claude King so well, with this goofy set of railroad-themed story-songs, each of which is prefaced by a growly-voiced narration. On balance, this album is okay; when the music gets going, the band seems to have its heart in it. The blithe reference to owning a slave (on the introduction to one song...) is pretty troublesome, though... I know he's just playing a character, but it's still kinda icky.
Johnny Cash "Hymns From The Heart" (Columbia, 1962)

Johnny Cash "The Sound of Johnny Cash" (1962)

Johnny Cash "All Aboard The Blue Train" (Columbia, 1962)


Johnny Cash "Blood, Sweat And Tears" (Columbia, 1963)


Johnny Cash "Ring Of Fire" (Columbia, 1963)


Johnny Cash "The Christmas Spirit" (Columbia, 1963)

Johnny Cash "Keep On The Sunny Side" (Columbia, 1964)

Johnny Cash "I Walk The Line" (1964)

Johnny Cash "Bitter Tears: Ballads Of The American Indian" (Columbia, 1964)


Johnny Cash "Orange Blossom Special" (Columbia, 1965)



I'm not really up on the whole Johnny Cash mythos, but I gotta say, this album doesn't seem to be his best effort. Yes, it's cool that this early in the game Cash was already championing the young Bob Dylan, but his rendition of "It Ain't Me Babe" seems half-psychotic, half-Mrs. Miller novelty song... so was Cash really as "with it" as we're led to believe? I dunno. His voice is odd here as well, odder and froggier than usual, and the band seems like it was on autopilot. Kind of a weird cross between slapdash and camp. (The three "new" unreleased tracks on the 2002 reissue are all excellent, though, particularly the still-scandalous "The Baby Is Mine," about a fellow who marries -- and sticks up for -- one of "those" kind of girls.
Johnny Cash "Now There Was A Song" (Columbia, 1965)



If, like myself, you've sometimes found the Cash catalog a little on the, um, monotonous side, then you might wanna check out this little disc. It's one of his most atypical albums, Johnny doing covers of country standards that were originally recorded by other artists -- folks like George Jones, Hank Williams, Ferlin Husky and Ray Price -- and the arrangements are much different than his usual minimalist approach. Pedal steel and fiddles seep into his sound, instruments that Cash had generally shied away from, and it sounds pretty darn good. Honestly, he doesn't sound much more uncomfortable with this backup than with any of his other studio efforts around this time, and if he'd cut loose a little bit more, these tracks would be even more fun than they are to begin with. Regardless, this is one of my favorite Johnny Cash albums -- I like the material, and I like his spin on it. One silly note: Cash (or, more likely, his producers) altered the lyrics to "Cocaine Blues" into "Transfusion Blues," which not only doesn't make much sense, it also sounds a lot more dangerous. Anyway, I think this album is a goodie & recommend it wholeheartedly.
Johnny Cash "Sings Ballads Of True West" (Columbia, 1965)



Originally issued as a double-LP set, this sort-of concept album doesn't really hold together as a cohesive whole, but there are several songs that stand out, where Johnny's heart does seem to be in it. On the flip side, some of the more disjointed songs, like the manic, wigged-out, amphetamine-laced, hootin' & hollerin' version of "Sam Hall," seem to have finally found their audience in this day and age of sloppy cowcore alt.country. (This was recorded at the height of Cash's pill problems...) This album is mixed bag, but the Johnny Cash faithful will be pleased with the new CD reissue.
Johnny Cash "Mean As Hell" (Columbia, 1965)

Johnny Cash "Everybody Loves A Nut" (Columbia, 1966)

Johnny Cash "Happiness Is You" (Columbia, 1966)
(Produced by Don Law & Frank Jones)


Johnny Cash & June Carter Cash "Carryin' On" (Columbia, 1967)



Johnny & June at the peak of their fame as one of Country's leading couples... "Jackson" hit #2 on the charts, and it is definitely the highlight of this album. There's a whole slew of folk-influenced tunes, including some of the Dylan material he was famous for bringing to Nashville. The trouble is Johnny's bending over backwards to accommodate June's vocal shortcomings, and to impart a sense of weighty poetic import onto the loftier-sounding songs, and as a result, his phrasing is really weird, and he seldom hits a strong enough emphasis, nor does he sound particularly at ease with himself, or with most of the material. I mean, I guess it's okay for him to try something new, but it doesn't always work for me.
Johnny Cash "From Sea To Shining Sea" (Columbia, 1968)

Johnny Cash "At Folsom Prison" (Columbia, 1968)



(Produced by Bob Johnston)

Johnny Cash "...At Folsom Prison" (Box Set) (Sony-BMG/Columbia Legacy, 1968/2008)



The Columbia label takes the bull by the horns on this one, releasing an expanded version of the fabled 1968 Folsom Prison concert, adding a second disc's worth of performances from Cash and his road crew -- whoo-hoo!
Johnny Cash "The Holy Land" (Columbia, 1968)


Johnny and June visit Israel and send back an audio postcard for all the rest of us... The Holy Land, seen through an old-fashioned Christian bedrock perspective.
Johnny Cash "At San Quentin" (Columbia, 1969)


The charismatic appeal of Johnny Cash -- in case it's ever been lost on you -- has never come through clearer than on this CD. The original album, released in 1969, included the novelty hit "A Boy Named Sue," but that was just the tip of the iceberg, as this new, unedited version of the concert reveals. Now at last, we get to hear how Cash really won over the convicts at San Quentin, who were probably about as hardened audience as could ever be imagined. A lot of it's pure showmanship, but the way he delivers the material -- mainly his plain-spoken delivery, with plenty of cussing and roughneck asides, spoken to the prisoners pretty directly and without condescension. It was a tightwire act, but he kept his balance and bowled them over -- and it should work for you as well. There's a lot of great material on here, and a one of the most striking artist-audience rapports ever put on wax. Pretty cool stuff.


<! deluxe ed. B0013D8EQK MP3 > <! Amazon has these two mixed up. This is the studio album MP3 B00138EYHS >
Johnny Cash "At Madison Square Garden" (Columbia Legacy, recorded 1969/released 2002)



An entire album of prevously unreleased live Johnny Cash goodies from his commercial heyday in 1969, repeating the success of his earlier concert albums, although here he's performing for the city slickers in the Big Apple, instead of some convicts in a penitentiary. Johnny is joined by the reconstituted Carter Family, brother Tommy Cash, The Statler Brothers (who he was a patron of...) and fellow Sun Records veteran Carl Perkins (as we hear on a track intro at the very end of the album, June Carter Cash wasn't able to attend as she was six months pregnant at the time...) It's an efficient, professional presentation, yet one that gives some nice glimpses into Cash's inner life, mostly through the spoken introductions that accompany many of the songs. The most telling is the intro to "Last Night I Had The Strangest Dream," in which Cash addresses the thorny issue of the Vietnam War. Stumbling nervously, hoping not to offend anyone one way or the other, Cash recalls how he and his show went to entertain the troops overseas, declaring, "I may not be a hawk... But maybe I'm a dove with claws..." He also introduces a few songs with asides about his down-home background; back then, these monologes may have been a bit hokey, but they've added resonance as Cash has gotten older and his legend increased. Also of interest is an angry, emotional reading of his Native American rights protest song, "As Long As Grass Shall Grow," which is one of the most powerful performances of Cash's career. There are also plenty of religious tunes, which he also puts his heart into. There are some rushed moments, but on the whole, this is an album well worth checking out, and certainly a delight for longtime Cash fans who have never heard this material before.
Johnny Cash "Johnny Cash" (1969)

Johnny Cash "Story Songs Of The Trains and Rivers" (1969)

Johnny Cash "Get Rhythm" (1969)

---
Johnny Cash: 1955-1969 | The 1970s | The 1980s - Present | Best-Ofs | Related Records | Resources & Links
---
---