<! MP3 06/28/09 - only those already listed as CD ASINs > <! update 00/00/00 > <! outside 00/00/00 > <! pix 00/00/00 > <! icons 12/18/10 > <! Brother Claude Ely "At Home And At Church" (Gold Star Records, 19--?) (LP) Brother Claude Ely "...Sings Get Away Jordan" (Gold Star Records, 19--?) (LP) The Primitive Quartet "He Is The Light" The Primitive Quartet "When Jesus Brings Sweet Glory Down" - N.C. Hillbilly Gospel Ernest Martin "...Sings Heaven's Highway 66" - Ohio Bluegrass Gospel Bop Ernest Martin "...Sings Great Day In The Morning" (LP) Ralph Trotto "The Things I See" (Artists Records, 19--?) (LP) - #711213 - Ohio Hillbilly Gospel Bop - includes "I Dreamed I Saw America On Her Knees" - no musician, producer or composer credits - alternates between vocal and instrumental tunes - Ohio? LP pressed in Cinn. Ralph Trotto "Gentle Shepherd" (Artists Records, 19--?) (LP) - #780223 - home address in Aurora, Indiana - no musician, producer or composer credits Ralph Trotto "If I Can Help Somebody" (Artists Records, 19--?) (LP) - #700908 - blank bc - Ohio? Ralph Trotto "So Trust The Lord" (Jewel Records, 19--?) (LP) - #LPS-532 Ralph Trotto "Sings And Plays Jesus Take A Hold And Lead Us Through" (Artist's Records, 19--?) (LP) (Produced by Rollin Bennett) - #750159 - home address in Aurora, Indiana - Dennis Whitaker (bass), Tammi Rogers (drums), Ralph Trotter (guitar), Ralph Stalfer (harmonica) Ralph Trotto "Sings And Plays Jesus Take A Hold And Lead Us Through" (Artist's Records, 19--?) (LP) - #780223 - home address in Aurora, Indiana - no credits https://www.discogs.com/artist/3902993-The-Looper-Trio The Looper Trio "Life Beyond Beath" (Gospel Shore Records, 19--?) (LP) - #760217 - label from Dayton, Ohio - Brenda sounds more Loretta Lynn - title track is a Melba Montgomery number! - featured on the Hillbillies From Hell comp - hence their popularity The Looper Trio "I Don't Want To Get Adjusted To This World" (Gospel Shore Records, 19--?) (LP) - Hillbilly Gospel Bop - third album - trio includes brothers Coleman Looper (electric guitar) and Oral Looper (flattop guitar) , and Oral's daughter, Brenda (Looper?) - trio includes Brothers Coleman Looper and Oral Looper, and Oral's daughter, Brenda (Looper?) - Oral's daughter, Brenda (Looper?) sounds like Rose Maddox! - bassist Virgil Jones, from Dayton, Ohio - trio address in Monterey, Tennessee - stark! great stuff, echoes old Carter Family, but rawer The Gospel Ramblers - Indiana band - wright-sound J. D. Jarvis "The Hyden Miners Tragedy" (Down Home Records,19--?) (LP) - Ohio hillbilly gospel - pretty straight-up bluegrass gospel, with banjo, fiddle, guitar. good Clyde Murphy & The Murphy Trio "I Found What I Was Searching For" (LP) Clyde Murphy & The Murphy Trio "Blessed Quietness" (LP) - "the gospel singing coal miner" - with two gals - nice stuff, a solid blend of bluegrass and old-school country Bryant Wilson & The Kentucky Ramblers "Meet Me Up Yonder" (Adair Records, 1966) (LP) - #600 ~ 17100 - Indiana Bluegrass Gospel - strong female harmony, very rootsy and plangent - includes "A Tribute To J. F. Kennedy" - bc nv Homer Smith & The Hymn Time Singers "That Same Road" (Basic Records, 19--?) (LP) - #B-1001 ~ 10476 - 1976? - very early Louvin-esque - Indiana Bluegrass Gospel - from Sellersburg, Indiana The Cooke Duet "The Cooke Duet" (Arthur Smith Studios Records, 19--?) (LP) - #7-7535-A/B - recorded at Arthur Smith Studios in Charlotte, NC - first album? - bc nv - very stark - just the two of them - she really wails, very high lonesome The Cooke Duet "I'm Moving Up Home Someday" (Artist's Records, 19--?) (LP) - #710 - Virginia Hillbilly Gospel - Jeanette Cooke, Hubert Cooke, and son James on bass - from Wise, Virginia The Cooke Duet "God Is Not Dead, He Is Alive" (Rite Records, 19--?) (LP) - #25619 The Cooke Duet "God Is Not Dead, He Is Alive" (Rite Records, 19--?) (LP) (Produced by Rusty York) - #LPS-317 ~ 210520 (QCA) - with James, Ronny (piano) and Donny (drums) The Singing Cookes "I Know Jesus Will Welcome Me Home" (Jordan Records, 1974) (LP) (Produced by Dennis Hensley) - # - with James, Ronny (piano) and Donny (drums) - liners say first record was "A Better Place To Go" in 1968 The Singing Cookes "Beautiful" (Jordan Records, 1982-?) (LP) (Produced by Dennis Hensley) - #750171 Esco Hankins & Jackie "Working God's Fields" (Rite Records, 19--?) (LP) (Produced by Rusty York) - #LPS-210 Bill McElroy "I Saw Heaven In A Vision" (Jayln Records, 19--?) (LP) (Produced by Phil Mehaffey) - piano and electric guitar; unusual sound - Elder Bill McElroy, of Whiteland, Indiana - Rite Record pressing The Miller Family "Sings That Beautiful Shore" (Gospel Recording Servie, 19--?) (LP) (Produced by Dennis Lamb) - #101172 - from Kokomo, Indiana - nice Chet Atkins-y guitars, okay female vocals (a little flowery compared to other Ohio country gospel of the same era) The Singing Journeymen "The Sounds Of The Singing Journeymen" (LP) - groovy guitar, REVIEWED Taylor Brothers (Marvin & Minnis) "Sing Keep Your Eyes On Jesus" (Pathway Records, 19--?) (LP) - PLP-170 - label from Ypsilanti, MN - Taylor Brothers -- Marvin and Minnis -- grew up in Greenville, Tennessee and were living in Lincoln Park, Minnesota when they cut this album - Brenda Farley (piano), Junior Porter (mandolin, a little clunky), Bill Loveday (bass), Jerry Hyatt (lead guitar) - very imitative of the Louvins, musically a little sluggish - a couple of originals by Marvin Taylor, "How Can You Stand" and "Build Your Life On That Stone" >
---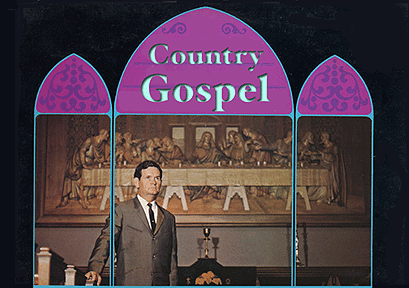 The gospel spirit fills the history of country music... For many country and bluegrass fans, the constant Jesus-isms can be a real turn-off, yet, like many kinds of religious music, it can bring out amazing, powerful performances and an emotional conviction that is rarely matched in secular pop culture. I'm hardly a preacher man, but there is some of this stuff I love, and having had the opportunity to hear a lot of country gospel over the years, I decided to take the chance to share some of my thoughts and impressions of the genre with y'all... Ready? Here we go!
---
COUNTRY GOSPEL: A | B | C | D | E | F | G | H | I | J | K | L | M | N | O | P | Q | R | S | T | U, V &W | X, Y & Z | Comps
---
Gospel MP3s | Holiday Music | Other Country Styles
---
Roy Acuff "The King Of Country Music" (Bear Family, 1993)


This 2-CD set is actually made up of Acuff's 1950s recordings, made for the Capitol and Decca labels, and includes re-recorded versions of many of his classic songs, first recorded on Columbia in the 1930s and '40s. It's nice, though the studio sound at the time was much smoother and less bluesy than on the originals. Although he was one of the most powerful men in Nashville at the time, Acuff was still a bit of a throwback, with sparse arrangements and a plain, simple delivery that was in sharp contrast to the increasingly lavish production and poppish crooning of the day. Personally, I find his old stuff more exciting, but this is still a nice set, and has Bear Family's hallmark great sound quality and well-researched liner notes. Lotsa gospel material mixed in with the secular stuff.
Roy Acuff "Favorite Hymns" (MGM, 1958)

Roy Acuff "That Glorybound Train" (Columbia Harmony, 1961)

Roy Acuff "Waiting For My Call To Glory" (Columbia Harmony, 1966)

Roy Acuff "Hand Clapping Gospel Songs" (Hickory, 1964)

Roy Acuff "Sacred Songs" (MGM/Metro, 1965)
This appears to be a repackaging of the MGM album listed above.
Roy Acuff "Roy Acuff" (Hilltop, 1970)

Roy Acuff "Gospel Favorites" (Music Mill, 2004)


Religious material; this disc is generously packed with twenty tracks, although I'm not sure what vintage they are (haven't seen the album myself, and often these cheapie reissues don't have the greatest liner notes anyway...)
Roy Acuff "The Good News According To Mr. Roy Acuff" (Audium, 2001)


A collection of gospel material recorded during Acuff's stint on his own Hickory Records label, recorded during the 1960s and '70s.
Alabama "Songs Of Inspiration" (RCA, 2006)


Alabama "Songs Of Inspiration II" (RCA, 2007)


The Alabama Sacred Harp Singers "Sacred Harp Singing" (Rounder, 1998)

The Alabama Sacred Harp Singers "Harp Of A Thousand Strings: All-Day Singing From The Sacred Harp (Southern Journey, v.9)" (Rounder, 1998)


Tony & Susan Alamo "Mister DJ" (Alamo Records, 1977) (LP)


(Produced by Dan Hoffman)
I'm not perzackly sure what the story was on this 1970s evangelical duo... I think they normally sang Southern gospel or poppier, 700 Club type stuff, and did this country album as a one-off. Anyway, it's a fun album and the cover art shows them onstage with Porter Wagoner at the Opry, so that got my attention. Porter also wrote a testimonial for them on the liners. And, hey, if Porter liked 'em and sang on their record, I wanna check them out, too. The album is all Christian music, and the title track, "Mister DJ," is sung by a guy who wants the local radio station to spin "The Old Rugged Cross." Other tracks may have been recorded earlier in non-country versions -- anyone know for sure? Anyway, it's all Jesus-y but there's decent twang in there, too.


<! >

Rex Allen "The Faith Of A Man" (Mercury, 1962)





Rex Allen "The Touch Of God's Hands" (Decca, 1970)





Allison's Sacred Harp Singers "Heaven's My Home: 1927-1928" (County, 2004)



A fascinating collection of extraordinarily rare old 78s made at the dawn of the country music industry. The religious tradition that the Allison's Singers were from is pretty far afield from the readily commercialized scene that other rural artists pursued, but as with many shape-note performers, the rawness and emotional immediacy of their work is quite striking. It's also such a distinctive sound! This is an American-born musical tradition that is truly like no other, and the County label has done a commendable job rescuing these old discs from the brink of obscurity. This stuff isn't for everyone, but folks who do like it will be thrilled to hear these songs. (Also check out the companion collection, RELIGION IS A FORTUNE, reviewed below...)
Bill Anderson & Jan Howard "Singing His Praise" (Decca, 1972) (LP)

Eddy Arnold "When It's Roundup Time In Heaven" (RCA Victor, 1954) (10" LP)

Eddy Arnold "The Chapel On The Hill" (RCA Victor, 1956) (LP)


Eddy Arnold "Praise Him, Praise Him: Fanny Crosby Hymns" (RCA Victor, 1958) (LP)


A tribute to songwriter Fanny Crosby, a 19th Century American Methodist best known for the abundant flow of hymns and religious songs she composed over several decades, such as "Blessed Assurance" and "Praise Him, Praise Him," both included here.
Eddy Arnold "Faithfully Yours" (RCA Victor, 1963) (LP)

Eddy Arnold "Christmas With Eddy Arnold" (RCA Victor, 1962)


It's the crooniest Christmas ever... Look out there, Bing!!
Chet Atkins "Christmas With Chet Atkins" (RCA Victor, 1961)



Nashville's superpicker of superpickers gets homey with the holiday spirit... This'll hit the spot if you're up for a bit of twangy yuletide cheer. (For more Christmas music, check out my Hillbilly Holiday section.)
Chet Atkins "Back Home Hymns" (RCA, 1962)


The ever-silky Atkins touch is applied to a dozen old-time hymns, some better known than others. Chet takes it slow, which is pretty nice on the more vigorous melodies, (like "Just A Closer Walk With Thee" and "Lonesome Valley"). On the churchier numbers, though, it can get a little leaden. A nice new take on this traditional material, with Chet's buttery electric guitar weaving a whole new experience of these fine old tunes.


<! other editions >

Chet Atkins "East Tennessee Christmas" (CBS, 1983) <! 1987? >


---

More Country Gospel -- Letter "B"

---



Hick Music Index



---

<! cd = 11/21/03 >