<! MP3 12/18/10 > <! update 00/00/00 > <! outside 00/00/00 > <! pix 00/00/00 > <! icons 12/18/10 > <! JUST PLAIN BILL "Welcome Aboard The Glory Train" (More Records, 1973) Gladness Jennings "Gladness At Cash's" (Marvel Records, xxxxx) (LP) Gladness Jennings "Happiness Is Gladness" (Marvel Records, xxxxx) (LP) B002HPDEVS Gladness Jennings "Instant Gladness" (Marvel Records, xxxxx) (LP) B003NX12QC #MJ-GJ-113 Gladness Jennings "xxxxxxxxxxxxxxx" (Marvel Records, xxxxx) (LP) Gladness Jennings "xxxxxxxxxxxxxxx" (Marvel Records, xxxxx) (LP) Gladness Jennings "xxxxxxxxxxxxxxx" (Marvel Records, xxxxx) (LP) Gladness Jennings "xxxxxxxxxxxxxxx" (Marvel Records, xxxxx) (LP) http://gladnessjennings.com - Christian singer - >
---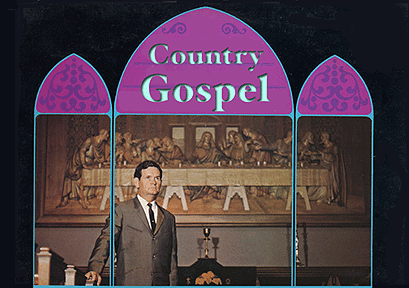 The gospel spirit fills the history of country music... For many country and bluegrass fans, the constant Jesus-isms can be a real turn-off, yet, like many kinds of religious music, it can bring out amazing, powerful performances and an emotional conviction that is rarely matched in secular pop culture. I'm hardly a preacher man, but there is some of this stuff I love, and having had the opportunity to hear a lot of country gospel over the years, I decided to take the chance to share some of my thoughts and impressions of the genre with y'all... Ready? Here we go!
---
COUNTRY GOSPEL: A | B | C | D | E | F | G | H | I | J | K | L | M | N | O | P | Q | R | S | T | U, V &W | X, Y & Z | Comps
---
Gospel MP3s | Holiday Music | Other Country Styles
---
Stonewall Jackson "Old Country Church" (Columbia, 1969) (LP)

Wanda Jackson "Praise The Lord" (Capitol, 1972) (LP)






<! with the Oak Ridge Boys? >

Wanda Jackson "Country Gospel" (Word, 1973) (LP)

Wanda Jackson "Now I Have Everything" (Myrrh, 1975) (LP)

Wanda Jackson "Make Me Like A Child Again" (Myrrh, 1976) (LP)

Wanda Jackson "Closer To Jesus" (Word, 1978) (LP)

Wanda Jackson "My Testimony" (Word, 1979)

Wanda Jackson "My Kind Of Gospel" (Tab, 1984)


Buddy Jewell "I Surrender All" (Diamond Dust, 2011)



(Produced by Michael Bush & Buddy Jewell)
An independently-released, all-gospel set from this former Top-40 contender and reality-show winner... The title track and others are a little too tinkly and Southern gospel poppy for my tastes, but others have a nice, twangy vigor. "Hell Bent And Heaven Bound" has a nice trucker-song feel. while "Jesus, Elvis And Me," and his version of "There Is Power In The Blood" have a strong, thumping backbeat. I think Jewell sounded better with a bigger studio budget behind him, but if you're a country gospel fan, this is certainly worth checking out.
Jim & Jesse "Old Country Church" (Epic, 1964) (LP)

Jim & Jesse "Sing Unto Him A New Song" (Epic, 1966) (LP)

The Johnson Family Singers "Sunday Morning In Dixie" (Binge Discs, 2003)





<! with Betty Johnson >
Joey + Rory "Inspired: Songs Of Faith And Family" (Gaither/Spring House, 2013)


Fern Jones "The Glory Road" (Dot, 1959)


Long-lost late-1950s gospel sessions with a rockabilly tinge... Jones was a little-known regional performer who hooked up with some pretty impressive heavyweight talent for these religious recordings, including pianist Floyd Cramer and guitarist Hank Garland... (Reissued on Numero label in 2005.)
George Jones "Country Church Time" (Mercury, 1959)

George Jones "Homecoming In Heaven" (United Artists, 1962)

George Jones & Tammy Wynette "We Love To Sing About Jesus" (Epic, 1972)



Aw, shucks... who doesn't??

George Jones "In A Gospel Way" (Epic, 1973)


George Jones "The Gospel Collection" (BMG/BNA, 2003)



(Produced by Billy Sherrill)
Another amazing late-career album by the indefatiguable George Jones. His old pal, Billy Sherrill, came out of retirement to helm the production of these two dozen tracks, and it's all top-notch material, striking just the right balance of solemnity and schmaltz. These are mainly old gospel standards, from "Amazing Grace" and "What A Friend We Have In Jesus," along with some newer songs, such as "When Mama Sang (The Angels Stopped To Listen)," all delivered with the seriousness and soulfulness that are George's trademark style. Anyone, from a true Southern Gospel aficianado to a diehard honkytonk fan, should be able to jump on board with this one. Talk about heavenly!


<! Grandpa Jones??? >


The Jordanaires - see artist discography




The Judds "Spiritual Reflections" (Curb, 1996)



A gospel set that includes the hit "Grandpa (Tell Me Bout The Good Old Days)," along with a bunch of religious standards.
---

More Country Gospel -- Letter "K"


---



Hick Music Index



---

<! cd = 04/05/05 >