<! MP3 12/18/10 > <! update 00/00/00 > <! outside 00/00/00 > <! pix 00/00/00 > <! icons 12/18/10 > <! THE GOSPEL TRAVELAIRES "On the Cross" (xxxxxxxxx, xxxxxxxxx) PRIVATE/CUSTOM lo-fi HILLBILLY/BLUEGRASS LP only label info is OTC-10783 - all songs by BJ Pope whose band was the "Ozark Gospel Singers" BOBBY GROVE "Sings It Was For You" (King, xxxxx) The Heralds "Our Brand Of Country" (Acclaim, 1984) (LP) (Produced by Glenn Wallace) Bobby Giles "Never Gonna Roam" (BG, xxxxx) (LP) (Produced by Jerry Abbott) - Private label Texas Country - all songs originals - looks '70s, early '80s - looks like a Christian album - d'oh! - with pedal steel by Junior Knight Bobby Giles "Never Gonna Roam" (19--?) #BG1-A/BG2-B - from Arlington, Texas - no label, no date - looks early '80s? - all original material - possible 2008 album? "Music Mountain" B001O54T1Q http://bobbygiles.com/ - Christian-themed? - could email Giles to get more info(?) >
---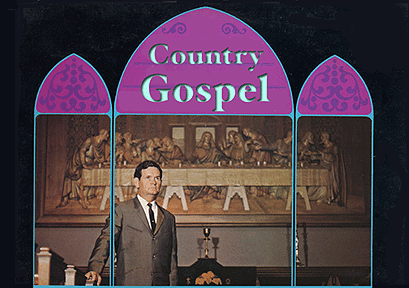 The gospel spirit fills the history of country music... For many country and bluegrass fans, the constant Jesus-isms can be a real turn-off, yet, like many kinds of religious music, it can bring out amazing, powerful performances and an emotional conviction that is rarely matched in secular pop culture. I'm hardly a preacher man, but there is some of this stuff I love, and having had the opportunity to hear a lot of country gospel over the years, I decided to take the chance to share some of my thoughts and impressions of the genre with y'all... Ready? Here we go!
---
COUNTRY GOSPEL: A | B | C | D | E | F | G | H | I | J | K | L | M | N | O | P | Q | R | S | T | U, V &W | X, Y & Z | Comps
---
Gospel MP3s | Holiday Music | Other Country Styles
---
Bill & Gloria Gaither/Various Artists "Mountain Homecoming" (Spring House, 1999)

Larry Gatlin & The Gatlin Brothers "Sing Their Family Gospel Favorites" (Dualtone, 2004)



This is a nice Christian country set, if that's a style you go for. Admittedly, Larry is sounding a little long in the tooth and slightly shaky as a soloist, but their obvious sincerity and love of the music lifts this album up, and when they sing in an upbeat jubilee style, the Gatlins can really get your toes a-tappin'. There are also some slower ballads sung in a more modern Southern Gospel style, though almost all the songs are older traditional tunes like "Amazing Grace," "Rock Of Ages," Albert E. Brumley's "I'll Fly Away," etc. Another nice thing is that the musical backup is pretty restrained: they just have the band play as much is necessary to get the message across, and leave the emphasis on their vocals and on the words, which is really where is belongs. Gospel fans and Gatlin fans alike should enjoy this record quite a bit.
The Gibson Brothers "Ring The Bell" (Compass, 2009)



(Produced by The Gibson Brothers)
Over the last few years, the Gibson Brothers have made remarkable, multi-layered explorations into the folk-tinged field once called "progressive bluegrass..." Here, they return full-force into the high-lonesome traditional truegrass camp, with a beautiful, compelling set of secular and gospel tunes, and plenty of sweet, hot picking. Highlights include the uptempo "Jericho" and the joyous title track, "Ring The Bell," which each have an irresistible singalong chorus. The sentimental songs are nice, as well, in particular "Farm Of Yesterday," which philosophically reflects on America's disappearing rural heritage. If you like Del McCoury or old stuff by Jimmy Martin, you might want to check this out as well. Lots of great solos and solid musicianship all around.
Download picks:

Ring The Bell


Jericho


Farm Of Yesterday
Don Gibson "No One Stands Alone" (RCA Victor, 1958) (LP)

Don Gibson "God Walks These Hills With Me" (RCA Victor, 1964)

Don Gibson "My God Is Real/I Walk Alone" (Collectables, 2004)

Mickey Gilley "I Saw The Light" (K-Tel, 1996)



Billy Gilman "Everything And More" (Image Entertainment, 2005)



He made his mark as a pre-teen pop-country sensation, but after the novelty wore off, Gilman faded from sight for several years, sorting out what he characterizes as personal doubts... On his return disc, as a full-fledged adolescent, Gilman unveils his new voice, still youthful and thin, but presumably settled down after breaking with puberty, with a range that places him squarely in the Emerson Drive-ish boy band style... He's also found religion: although there are some good secular songs on here, the album is preponderantly inspirational and perhaps we can assume that religion helped Gilman sort out the pressures associated with being so famous so young in life. The opening track, a secular love song called "Something To Do With That," shows Gilman is top form, and could easily make it into the charts, even if the rest of the album is very pop and not very country. Even if a mainstream commercial comeback isn't in the offing, I'm sure he'll find an eager audience among faith-based listeners. Fans of his old albums will not be disappointed.
Johnny Gimble "I Saw The Light: Gospel Instrumentals" (Delta, 1980) (LP)
Johnny Gimble "Glorybound" (Word, 1986) (LP)
Tompall Glaser "Outlaw To The Cross" (Clint Miller Music, 2007)


An all-gospel outing from this notorious ne'er-do-well...
Vern Gosdin "If Jesus Comes Tomorrow" (Compleat, 1984) (LP)


A fine, low-key country gospel album, a real throwback to simpler times and simple pleasures... Hard country crooner Vern Gosdin opens with an old-fashioned quartet vocal number, "Jesus Hold My Hand," and swings smoothly between archaic gospel styles and more modern-sounding country, although seemingly without any concern for finding a radio-friendly hit. More power to him: with BACKING FROM folks like guitarist Fred Carter, Jr. (Deana's dad) and erstwhile Quicksilver harmony vocalist Lou Reid, along with numerous session pickers from the rootsier side of the avenue, this album has exactly the right feel to it. Recommended, for the religious and the secular alike.

Vern Gosdin "The Gospel Album" (Music Mill, 1995)


The CD reissue of his 1984 album, If Jesus Comes Tomorrow (What Then), which originally came out on the Compleat label. (See above.)
Jack Greene "I Am Not Alone" (Decca, 1968) (LP)

Jack Greene "He Is My Everything" (Step One, 1991)

Lee Greenwood "Christmas To Christmas" (MCA, 1985)


Lee Greenwood "Have Yourself A Merry Little Christmas" (Free Falls, 2001)


Lee Greenwood "Inspirational Songs" (Curb, 2002)



In the wake of the September 11th terrorist attacks, Lee Greenwood found a new audience for his patriotic gospel number, "God Bless The USA," which, in a re-recorded version, became a staple of the first wave of patriotic and topical songs that raced up the country charts. The album that accompanied the single was made up of more re-recordings, including gospel standards such as "Amazing Grace" and "Rock Of Ages," as well as Greenwood's "Totally Devoted To You," and a few covers songs including Kris Kristofferson's "One Day At A Time" and the old Carpenters hit, "You Light Up My Life." I'm personally not a fan of the synthetic, tinkly keyboards that are a hallmark of modern country gospel, but for Greenwood's fans, this album may be a delight.
Lee Greenwood "Gospel" (K-Tel, 2003)


Wylie Gustafson "Glory Trail: Cowboy And Traditional Gospel Songs" (Cross Three Records, 1994)


---

More Country Gospel -- Letter "H"


---



Hick Music Index



---

cd = 11/21/03