<! MP3 12/18/10 > <! update 00/00/00 > <! outside 00/00/00 > <! pix 00/00/00 > <! icons 12/18/10 > <! BURRUSS FAMILY & JIMMY WIDNER "Life's Railway To Heaven" (Western Gospel Messengers, xxxxxx) - PRIVATE MONTANA Bluegrass KIRBY BUCHANAN "Songs Of Faith And Inspiration" (Starday, xxxxx) The Bethel Ambassadors "God Bless America" (Ambassador Records) (LP) (Produced by Jack Linneman) - #CRI-SLP-1 - 09/15/18 A vocal quintet from Columbus, Indiana, the Bethel Ambassadors were led by Lloyd Stader, and were generally a little too strident and showy a vocal group for my tastes. What drew me to this album was the liner notes that show the backing of several country studio pros, including guitarists Al Gore and Jeff Newman, with Newman playing both lead guitar and steel... Looks like they recorded these sessions at the Starday studios in Nashville, though the country dudes are mostly subsumed by a fairly generic white-gospel/barbershop sound. For country fans, the album highlights include "Sweeter Gets The Journey," "Jesus Is Coming Soon" (which balances some jaunty Chet Atkins-influenced chicken-pickin' with the Hank Locklin-esque lead vocals) and a lively "Get Behind Me Satan," with hillbilly recitation ala Tex Williams. The Ambassadors apparently recorded at least five albums before this one, listed on the back cover, though I found this one a little jarring: they seem like they;re trying a little too hard to sound like flashy, zip-bang vocalists, if you ask me. Dan Betzer - Last Mile Of The Way lp Vine Records - country? Barrier Brothers "Gospel Songs Bluegrass Style" (Philips Records, 1962) (LP) 1977 BORN AGAIN BLUEGRASS BAND "st" (BABB, xxxx) - Born Again Bluegrass Band Records #1002... With Dave and Steve Hatfield, Leroy McNees and John Bivens... Selections are: "JOY IN THE CAMP, I SHARE THE VICTORY, NOAH FOUND GRACE, SMILE JESUS LOVES YOU, SORRY I NEVER KNEW YOU, HAVE A LITTLE TALK WITH JESUS, BUILD ME A CABIN, JORDON, DWELLING IN BEULAH LAND, ONE TOO MANY TIMES, DIXIE BREAKDOWN, BALLAD OF DR. JOHNSON" >
---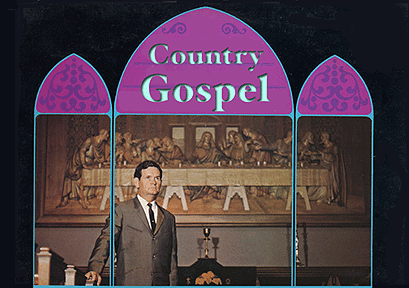 The gospel spirit fills the history of country music... For many country and bluegrass fans, the constant Jesus-isms can be a real turn-off, yet, like many kinds of religious music, it can bring out amazing, powerful performances and an emotional conviction that is rarely matched in secular pop culture. I'm hardly a preacher man, but there is some of this stuff I love, and having had the opportunity to hear a lot of country gospel over the years, I decided to take the chance to share some of my thoughts and impressions of the genre with y'all... Ready? Here we go!
---
COUNTRY GOSPEL: A | B | C | D | E | F | G | H | I | J | K | L | M | N | O | P | Q | R | S | T | U, V &W | X, Y & Z | Comps
---
Gospel MP3s | Holiday Music | Other Country Styles
---
Bad Livers "Dust On The Bible" (Quarterstick, 1994)



These early kitchen table sessions from alt-country bluegrassers offer disappointing readings of many great old gospel tunes; what's so great about bluegrass gospel music is the heartfelt passion and searching, earnest feel of the singers... By contrast, the Livers lazily lope their way through through classics such as "I Saw The Light," "Working On A Building," "Gathering Flowers" and "I'm Using My Bible For A Roadmap" and seem to expect to score points just for showing up and knowing all the words to the songs... I suppose these too-cool renditions could be hailed as radically new reinterpretations of these peppy old standards, but I'm mostly struck by how lackadaisical and tounge-in-cheek they seem... (To be honest, they kind of sound like the Grateful Dead, except that the Dead connect with this sort of material in a more sincere fashion...) I guess I'm a stickler for tradition, but if ya don't really mean it, why sing it? I'll take some old Carl Story or Bill Monroe tunes over this stuff anyday.

The Bailes Brothers "Oh So Many Years" (Bear Family, 2002)


Walter and Johnnie Bailes followed in the path of many other "brother bands" such as the Monroe Brothers and the Blue Sky Boys, although the Bailes's came to the game a little late, and hit their peak in the late 1940s, just as the brother act sound was giving way to larger, more aggressive bluegrass arrangements. Even with added musicians (these recordings from 1945-47 feature added guitar, bass and even a steel guitar), they sounded remarkably like the Blue Sky Boys (see below), so much so that they seem to lack an original style of their own. No matter, however: if you like the style to begin with, then these are grand recordings, fun of energy and life, tight harmonies and tremendous musical drive. Most of the material is religious, including fine gospel songs such as "Do You Expect A Reward From God" and "Has The Devil Got A Mortgage On Your Soul"... Mighty fine listening for fans of the old-timey sound!
Moe Bandy "Gospel Favorites" (Intersound, 1995)

Moe Bandy "Watching Over You" (2001)

Moe Bandy "Gospel -- Songs My Mama Sang" (Sweetsong, 2008)

Ava Barber "All Time Gospel Favorites" (LP)

Bobby Bare "This I Believe" (RCA, 1966) (LP)

Jeff Bates "One Day Closer" (Black River, 2011)



A 6-song EP of inspirational songs...




Bill And Margaret Beeny & The Westerners "Sonny Boy" (Temple Records) (LP)
The Beenys were, I believe, married couple from Saint Louis, Missouri who evangelized in the area as well as recording several albums of all gospel material, including both standards and songs they themselves wrote. I'm not sure about the time-frame for these uber-indie albums (some of which didn't even have cardboard jackets!) but I think they were made in the early 1970s.


<! - #LP-501 - no ASIN 08/19/16 >

Bill And Margaret Beeny & The Westerners "Heaven's Hall Of Fame" (Temple Records) (LP)



<! - #LP-1000/SO-1183 - no ASIN 08/19/16 >

Bill And Margaret Beeny & The Westerners "Circuit Ridin' Preacher" (Temple Records) (LP)
This album includes a twenty-minute long sermon entitled "Are There Communists In Our Churches?" along with the title track and "Heaven's Hall Of Fame" (which appears on another Beeny album) and versions of oldies such as "Did You Think To Pray," "Supper Time," et. al. The sermon sounds pretty fun!


- #LP-500/SO-1336 - no ASIN 08/19/16 - is this the right review for the right album? - I think "The Preacher And The Outlaw" 45 (#L80H-3751) might have been from 1973(??) >

The Bellamy Brothers "Jesus Is Coming" (Curb, 2007)


John Berry -- see artist profile
The Blackwood Brothers "Rock-A My Soul" (Bear Family, 2002)


This 5-CD set may be for true believers only, but if you fit that category... what a treat this will be! The Blackwood Brothers quartet were one of the pillars of the Southern Gospel sound, and this fancy box set gathers together all their recordings on the RCA label, from between 1950-59... classic, foundational material for the country gospel sound!
Norman & Nancy Blake "The Morning Glory Ramblers" (Western Jubilee/Dualtone, 2004)



Another sweet, understated set of quiet, old-timey tunes which slows the pace of life down and takes us back to simpler days. The Blakes are old hands at this kind of musical wizardry, and while this disc doesn't cut any paths for them, it's another fine example of their mastery of the style. This is a mostly gospel set, and if you want a mellow, nonconfrontational version of the country gospel, this is a pretty little disc.
The Bluegrass Cardinals "Sunday Mornin' Singin' " (CMH, 1980)


The Bluegrass Cardinals "The Shining Path" (Sugar Hill, 1985) (LP)

Blue Highway "Wonderous Love" (Rounder, 2003)



An all-gospel album, with musically softened edges that nudge the work into Southern Gospel territory. More vocally oriented and not that much going on in the super-duper picking department; I'd say this disc is more aimed at the true belivers, rather than at bluegrass fans. It's okay, but not that distinctive, particularly given the post-millennial glut of similar god-grass material.
Blueridge "Gettin' Ready" (Pinecastle, 2006)



An all-gospel bluegrass album, with emphasis on harmony vocals...
The Blue Sky Boys -- see artist discography
Ginger Boatwright "Inside The Gate" (2007)

John Bowman "Remember Me" (Mountain Home, 2000)



A sweet, straightforward gospel outing, with smooth, sleek melodies and nice, honey-toned harmonies. Recommended!

Dale Ann Bradley "Songs Of Praise And Glory" (Pinecastle, 2001)



Former New Coon Creek gal Dale Ann Bradley returns to her roots with a fine all-gospel album -- sincere, heartfelt and full of gorgeous harmonies and solid, down-to-earth picking. One of her best, and the kind of album that gives bluegrass gospel a good name, even for the more secular-minded among us. Recommended!
Dale Ann Bradley "Send The Angels" (Mountain Home, 2004)


Terry Bradshaw "Sings Christmas Songs For The Whole World" (Dove, 1996)


At the height of his fame as quarterback of the 1970's Pittsburgh Steelers, football dude Terry Bradshaw also tried his hand at country music. His first album yielded a modest hit with a cover of an old Hank Williams song, but that success was never quite replicated on his later records, and he went back full-time to the gridiron. In the 1990s, Bradshaw returned to the studios to record this pair of gospel and holiday records...
Terry Bradshaw & Jake Hess "Terry & Jake" (Chordant, 1996)





<! >

The Browns "Songs From The Little Brown Church Hymnal" (RCA Victor, 1961) (LP)

The Browns "Old Country Church" (RCA Victor, 1967) (LP)

The Browns "Family Bible" (Step One, 1996)


The Brown's Ferry Four "16 Greatest Hits" (Starday, 1968) <! date? >





<! 16 tracks, 39 mins, highly recommended 16 superb examples of gospel quartet sings from this legendary occasional group featuring Merle Travis, Grandpa Jones & The Delmore Brothers. The Delmores provide most of the leads with the others providing harmonies with occasionally Red Foley substituting for Travis on bass vocals. Backup is mostly Merle's guitar with occasional mandolin. The songs are mostly Alton Delmore originals along with a few old favotites. The sound on a few tracks is muffled but most of it sounds fine. >

The Brown's Ferry Four "16 Sacred Songs, v.1" (King)


The Brown's Ferry Four "Sacred Songs, v.2" (King)

The Brown's Ferry Four "Rocking On The Waves" (King)

The Brown's Ferry Four "Fine Singing Of Wonderful Sacred Country Songs: 24 Songs" (Gusto, 2008)





<! 1. Arm of God Listen 2. Bound for the Shore Listen 3. Can't You Hear Him Calling Listen 4. Eternity Without Him Listen 5. Everybody Will Be Happy Over There Listen 6. Hallelujah Morning Listen 7. Heaven, Eternal for Me Listen 8. His Boundless Love Listen 9. I Am a Weary Pilgrim Listen 10. Jesus Hold My Hand Listen 11. Keep on the Firing Line Listen 12. Lord Is Watching Over Me Listen 13. On the Jericho Road #1 Listen 14. Over in the Glory Land Listen 15. Praise God! He Loves Everybody Listen 16. Rock of Ages, Hide Thou Me Listen 17. There's a Light Guiding Me Listen 18. There's a Page in the Bible Listen 19. Through the Pearly Gate Listen 20. What Shall I Do with Jesus Listen 21. When He Blessed My Soul Listen 22. When the Good Lord Cares Listen 23. Will the Circle Be Unbroken Listen 24. You Must Be Born Again >

Ed Bruce "In Jesus' Eyes" (Varese Sarabande, 2010)

Brush Arbor - see artist discography
The Brush Arbors "Old Brush Arbor" (M&M Gospel Studio, 197-?) (LP)
(Produced by Wade Mitchell)
Not to be confused with the pioneering country-rock gospel group, Brush Arbor, this amateur band features guys from two families in Jamestown, Tennessee, the Roysdens and the Winninghams, playing a set of straight-up gospel oldies. The musicians include some country touches, with Perry Winningham on banjo, and lead guitar by Harold Hatfield. This privately released album also features a couple of original songs, "Are You Building A Temple In Heaven," by Perry Winningham, and "Patience From Above," by Patricia Roysden.


<! - Jamestown, TN >
Jimmy Buffett "High Cumberland Jubilee" (Barnaby, 1971)



Well, okay, this isn't really a gospel album... Hardly. Rather, it's the second album by the future King Of The Parrotheads, back when he was still keepin' it country. But I have always loved his faux old-timey revival tune, "God Don't Own A Car," and I also think he was probably right on that point as well. It's a cute song.
Carl Butler & Pearl "Avenue Of Prayer" (Columbia, 1967)

Carl Butler & Pearl "Watch And Pray" (Columbia Harmony, 1972) (LP)


This is a reissue of the Avenue Of Prayer album, with two less tracks than on the original release.
---

More Country Gospel -- Letter "C"


---



Hick Music Index



---

<! cd = 04/05/05 >