<! MP3 12/19/10 > <! update 00/00/00 > <! outside 00/00/00 > <! pix 00/00/00 > <! icons 12/19/10 > <! BIG DAVE SCROGGINS "Gospel Country" (1974) (LP) - Private Press JUNIOR SASNETT & THE TENNESSEE RAMBLERS '79 Private Country Gospel Christian Ben Swett "I Sing For I Cannot Be Silent" (xxxxxxxx, 1960-?) (LP) (Produced by Fred Adam) - return address in Mandeville, Jamaica A reformed alcoholic who turned to religion and was ordained in 1958, Ben Swett became a traveling minister and evangelist, as well as a Southern gospel performer. This album seems to have been recorded at the start of his two-year assignment to Jamaica, though judging from the musician credits, it was probably recorded in the States before he left. Not sure how "country" it is -- the instruments include piano, organ, vibraharp and bass, as well as some pedal steel, played by Ruth Osterhus. Ben Swett "Riding The Range For Jesus" (KNOF Sacred Recordings, 1962-?) (LP) - the LP sponsored by a St. Paul radio station - liner notes mention two-year stint as an evangelist in Jamaica - pressed by RCA Custom >
---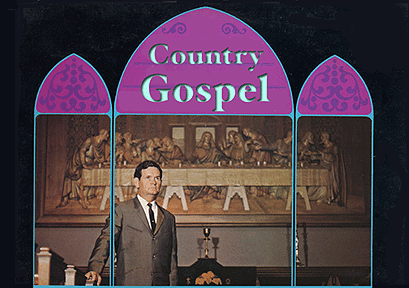 The gospel spirit fills the history of country music... For many country and bluegrass fans, the constant Jesus-isms can be a real turn-off, yet, like many kinds of religious music, it can bring out amazing, powerful performances and an emotional conviction that is rarely matched in secular pop culture. I'm hardly a preacher man, but there is some of this stuff I love, and having had the opportunity to hear a lot of country gospel over the years, I decided to take the chance to share some of my thoughts and impressions of the genre with y'all... Ready? Here we go!
---
COUNTRY GOSPEL: A | B | C | D | E | F | G | H | I | J | K | L | M | N | O | P | Q | R | S | T | U, V &W | X, Y & Z | Comps
---
Gospel MP3s | Holiday Music | Other Country Styles
---

Sawyer Brown "Hallelujah He Is Born" (Curb, 1997)



Sawyer Brown "True Believer" (Curb, 2003)


(Produced by Mark Miller, Ron Chancey, Mac Macnally, Randy Scruggs & Brian Tankersley)
Adrift since the mid-1990s, Sawyer Brown regain their footing on this religiously-themed album. There's more twang in the mix, and more clarity of purpose, This is probably their strongest album since the early '90s; indeed, it may be a more mature and more moving record than most of their frothier early hits. If you were a fan back then, you'll probably want to check this out, too... It's a pretty strong record, all things considered; the single, "Circles," is pretty catchy, although non-evangelical listeners may be a little turned off by the preachy content.
Barry Scott & Second Wind "In God's Time" (Rebel, 2009)



This is an absolutely stunning, top-flight set of bedrock bluegrass gospel music - beautiful melody and harmonies, heartfelt performances and uncompromised lyrics about preparing for the Judgment Day. It's the kind of stuff that can send shivers up the spine of even the most agnostic listener. And you certainly don't have to share the band's theology to recognize the beauty of the music -- there's plenty of sweet picking and great vocals, particularly Scott's high, pure lead. This album ranks up there along with the best gospel works of Doyle Lawson, the Stanley Brothers, the Bluegrass Album Band, or Paul Williams. It's first-rate stuff: if you like the style, this record is a must-have.

Earl Scruggs "I Saw The Light" (Columbia, 1972)


Shaver "Victory" (New West, 1998)



A stark, stripped-down, emotionally direct album, featuring plainspoken vocals from Billy Joe Shaver, and subtle, sympathetic accompaniment from his son, Eddy. The title alludes partly to Billy Joe's mother, Victory Odessa Watson (as she's listed on his birth certificate, which is reproduced in the album art...) and partly to the religious-redemptive theme that runs through the album... Initially I thought, uh-oh -- this is going to be one of those overly literary country-poet albums... But Shaver's soft-spoken, earnest delivery will win you over. This disc seems not only heartfelt and soul-searching, but soulful and artistically rich as well; songcraft was not sacrificed on the altar of introspection... Hardly! If anything, Shaver brings emotional depth to his Christianity that is sorely lacking in most contemporary country gospel... for him this isn't a way to make a living, it's a way to live his life. Definitely worth checking out.
Ricky Van Shelton "Don't Overlook Salvation" (Columbia, 1992)



A country gospel album; ideal for the true believer.
Jean Shepard "I'll Fly Away" (Capitol, 1969) (LP)


Martin Simpson "A Closer Walk With Thee" (Gourd, 1994)



English folk guitarist Martin Simpson with a quiet, contemplative set of instrumental, acoustic reinterpetations of classic American gospel themes such as "I'll Fly Away," "Palms Of Victory," "Wayfaring Stranger," "What A Friend We Have In Jesus," and many other, much more obscure tunes. Some of these tracks are gorgeous, some are a bit goopy, and some go way out in left field... in a very nice way. Simpson really makes this material his own, and slows the pace way down, with the express purpose of getting us out of the hustle and bustle of everyday life. This didn't really move me as much as I thought it might, but it's still quite nice.

Charlie Sizemore "Singing With The Angels" (Old Homestead, 1989)


An all-gospel offering featuring bluegrass bandleader/vocalist Charlie Sizemore...
Ricky Skaggs & Kentucky Thunder "Soldier Of The Cross" (Skaggs Family, 1999)



A born-again, all-gospel album that is often a bit on the overwritten and sluggish side. New songs such as "Joshua Generation" and "Seven Hillside" are full-scale disasters of overly-flowery poeticism, with a somewhat show-offy Skaggs trying to stand above the common Southern Gospel crowd. Still, his more straightforward versions of older, more traditional tunes sound alright... all except for an otherwise sterling cover of the Louvin Brothers' "Are You Afraid To Die," which regrettably has a passage from a Billy Graham sermon tacked on at the start. Still... when else will you get the chance to come across an album dedicated to 16th Century Crusaders such as a the Knights of Malta? I think Ricky may have gotten a little carried away on the scripture-packed liner notes, but I suppose that's his perogative. This is a fine album for the territory; the first release, I believe, on Skaggs's own independent label.
Ricky Skaggs & Kentucky Thunder "Soldier Of The Cross - The Concert" (DVD) (Skaggs Family, 2003)


It's possible that at this point in his life, bandleader Ricky Skaggs has done more to promote old-fashioned bluegrass gospel than practically anyone else alive, other than his old mentor, Dr. Ralph Stanley. This concert DVD captures Skaggs and his band, Kentucky Thunder, in fine form, performing top-flight versions of many standards of the genre and several new tunes that he has contributed in recent years. The "high lonesome" vocal harmony tunes are the sublime, although the picking is pretty darn hot, as well. In addition to his various hotshot bandmembers -- multi-instrumentalists Jim Roll, Andy Leftwich, et al. -- Skaggs also plays host to several soulful guest performers, including his wife, Sharon White and her family, The Whites, who can throw on a mean harmony or two themselves, if they put their minds to it. The songs are interspersed with commentary by Ricky, about his faith, family and friends. In general, this material shouldn't too noxious to secular-minded bluegrass fans, since the performances themselves are both skillfully filmed and spine-tinglingy resonant. If you are of a resolutely agnostic or atheistic bent, though, then best to leave this one be... Ricky's born again envangelicism will probably get on your nerves. Anyone who likes Ricky on either his religious or musical merits, though, will love this: it's quite a nice concert!
Ricky Skaggs "Mosaic" (Skaggs Family, 2010)
Carl Smith "Sunday Down South" (Columbia, 1957)

Connie Smith "Great Sacred Songs" (RCA, 1966)
(Produced by Bob Ferguson)
A pretty decent Nashville gospel album. Things only bog down when the session players try to get all artsy (with classical guitar licks, etc.) but even then it only slows things down a little. Not as all-out fun as her earlier pop stuff, but pretty solid.
Connie Smith & Nat Stuckey "Sunday Morning With..." (RCA)
A gospel duets album that also includes popular tunes such as "Daddy Sang Bass" The original LP is a highly sought-after collector's item, but if you just wanna check out the music, it has (hoorah!) been reissued on CD under the title God Will on an indie label run by Stuckey's family. (See CD reviews above for more info...)
Connie Smith "Come Walk Along With Me" (RCA, 1971)
A hopelessly overwrought, countrypolitan gospel album. Even with Bob Ferguson in tow, this record came out sounding way too lethargic... I think this may have been one of those religious records that nobody but Connie wanted to make; she's the only one who sounds like they were that into it.
Connie Smith "God Is Abundant" (Columbia, 1973)
Uh, would it come as a surprise if I told you this was a gospel album? What is surprising is how thoroughly Columbia cast Connie as a Loretta Lynn-style yelper. Most of the songs on here are either too drippy or bombastic, but there are a couple of exceptions. "You Can Move That Mountain" has a nice chicken-pickin' bounciness to it, and "The Baptism Of Jesse Taylor" is a pretty good novelty song (about a hell-raiser who gets religion, abandons the bars and leaves all them loose wimmin high and dry...) There's also an okay duet with Larry Gatlin ("Help Me") where she's able to draw you in a bit, at least more than the rest of the ho-hum tent-revival cheerleading on the rest of this album.
Connie Smith "Connie Smith Sings Hank Williams Gospel" (Columbia, 1975)
All gospel material... To be honest, this is pretty lackluster and indifferently produced, though she does hit the mark on a few songs. But really, there's better Hank, there's better Connie, and there's better gospel.
Connie Smith "Joy To The World" (Columbia, 1975)
This Christmas album includes a mix of traditional carols such as "The First Noel" and "O Come All Ye Faithful," along with non-holiday specific spiritual numbers such as "Go Tell It On The Mountain."
Connie Smith "Clinging To A Saving Hand" (RCA, 1995)

Connie Smith & Nat Stuckey "God Will" (Music Row Talent, 2001)



A highly welcome CD reissue of her classic gospel duets recorded with Nat Stuckey in the late 1960s. This disc combines all the material from the much sought-after Sunday Morning album, and some tracks off of the earlier Young Love LP. Country gospel fans in particular will be ecstatic that Stuckey's family was able to convince RCA to let them reissue this album, so that fans no longer have to contend with extravagant collector prices to hear this fine Nashville-politan gospel material!
Kenny & Amanda Smith "Tell Someone" (Rebel, 2006)



A fine all-gospel bluegrass set with sweet vocals and soulful but understated picking; the singing takes the front seat here, and all voices are raised in praise. A couple of tunes are too intense for me, but mostly this is the kind of sweet bluegrass gospel that I really like. Nice song selection, and plenty of heartfelt emotion to back it up. If you like the genre, you'll love this album.




Carol & Jimmy Snow "Visions Of Glory" (Heart Warming Records, 1962)
One of several gospel albums recorded by Jimmy Snow, the son of country star Hank Snow and his wife, Carol Snow, the daughter of Wilma Lee and Stoney Cooper...




Carol & Jimmy Snow "Sweethearts Of Sacred Song" (Heart Warming Records, 1964)





Carol & Jimmy Snow "Carry On Family Traditions" (Heart Warming Records, 1966)



<! http://countrydiscography.blogspot.com/2012/10/jimmie-rodgers-jimmy-snow.html >

Hank Snow "Sings Sacred Songs" (RCA, 1958) (LP)

Hank Snow "Gloryland March" (RCA, 1965) (LP)

Hank Snow "Gospel Train" (RCA, 1966) (LP)


(Produced by Chet Atkins)
Snow was starting to sort of phone in his secular albums by now, but on thsi gospel offering he seems to have had his heart in the material a bit more... His guitar is buried back in the mix a bit, in favor of a vocal-dominated approach, and the results are quite nice. Back him on harmony are the Imperials gospel quartet, who are deeply anchored in the old-school version of the Southern Gospel tradition, and who add a buoyant, cheerful air to the proceedings. This album is also notable for the number of original songs that are new to the gospel canon, including highlights such as "My Religion's Not Old-Fashioned (But It's Real Genuine)", "How Big Is God?" and "Shop Worn," as well as a hefty dose of old standards like "Dear Lord, Remember Me" and "This Train." Nice album -- worth checking out!
Hank Snow & Jimmy Snow "Live From Evangel Temple" (RCA, 1976) (LP)

Southern Rail "Glory Train" (Pinecastle, 1995)



A bluegrass gospel set...
Red Sovine "Sunday With Sovine" (Starday, 1968) (LP)

Red Sovine "Sixteen New Gospel Songs" (Gusto, 1978) (LP)

Red Sovine "Cryin' In The Chapel" (Hollywood, 1989)

Red Sovine "16 Super Gospel Hits" (King, 2000)


These later Sovine sessions show him mining Tennessee Ernie Ford territory -- poppish country gospel with a painfully earnest "oooh-waaah" chorus singing behind him. Actually, these recordings aren't so bad, although hearing Sovine in a context where he's called upon to really sing, you kinda get why he was best when he was doing recitations. Still, the songs that were more simplistically written ("Church Around The Corner," for example...) suit him well. As with many of these latter-day King releases, the liner notes are pretty vague, and it's hard to say exactly when these recordings were made... I'd guess the mid-1970s, or so.
Red Sovine "20 All-Time Greatest Gospel Hits" (TeeVee, 2003)
The Stanley Brothers -- see artist discography
Ralph Stanley -- see artist discography
The Statler Brothers "Oh Happy Day" (Columbia, 1969) (LP)

The Statler Brothers "Holy Bible - Old Testament" (Mercury, 1975)


The Statler Brothers "Holy Bible - New Testament" (Mercury, 1975)


The Statler Brothers "Radio Gospel Songs" (Mercury, 1986)


The Statler Brothers "Today's Gospel Favorites" (Mercury, 1993)


Ray Stevens "Turn Your Radio On" (Barnaby, 1972)

Ray Stevens "The Gospel Side Of Ray Stevens" (Arrival, 1992)

Ernest Stoneman "Gospel Music Treasures" (King, 2003)

The Stonemans "The Family Bible" (Rutabaga, 1988) (LP)

The Stonemans "For God And Country" (Old Homestead, 1991) (LP)

Carl Story -- see artist profile
Nat Stuckey & Connie Smith "Sunday Morning" (RCA Victor, 1970)
Reviewed above.
---

More Country Gospel -- Letter "T"


---



Hick Music Index



---

<! cd = 11/21/03 >