<! MP3 12/20/10 - only one album??? > <! update 00/00/00 > <! outside 00/00/00 > <! pix 00/00/00 > <! icons 12/20/10 >
---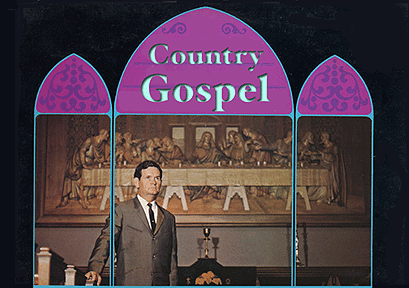 The gospel spirit fills the history of country music... For many country and bluegrass fans, the constant Jesus-isms can be a real turn-off, yet, like many kinds of religious music, it can bring out amazing, powerful performances and an emotional conviction that is rarely matched in secular pop culture. I'm hardly a preacher man, but there is some of this stuff I love, and having had the opportunity to hear a lot of country gospel over the years, I decided to take the chance to share some of my thoughts and impressions of the genre with y'all... Ready? Here we go!
---
COUNTRY GOSPEL: A | B | C | D | E | F | G | H | I | J | K | L | M | N | O | P | Q | R | S | T | U, V &W | X, Y & Z | Comps
---
Gospel MP3s | Holiday Music | Other Country Styles
---
Faron Young "My Garden Of Prayer" (Capitol, 1959) (LP)


This is honkytonk legend Faron Young's lone religious album... Faron's heart was obviously more into the riotous secular material he was recording at the time and his approach to gospel material was pretty flat, but still pretty enjoyable... The arrangements are generally pretty stark, with plain acoustic accompaniment and matter-of-fact vocals, with a subdued but authentic twang. All the songs on here are also included on a lavish Bear Family box set, along with a few more ornate songs and less traditional tunes such as "God Bless God," and several tunes recorded with a vocal chorus. But the original Garden LP is also pretty swell, and certainly worth tracking down.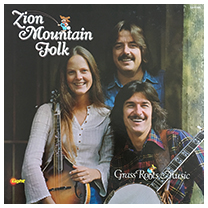 Zion Mountain Folk "Grass Roots Music" (Light Records, 1978) (LP)


(Produced by Jack Joseph Puig)
An all-gospel folk-bluegrass set from a longhaired band from the Kona coast of the island of Hawaii. This group featured Steven Smith (guitar), Ruth Smith (mandolin) Harry Browning (banjo), Herb Melton (bass) and Jim Pennington (harmonica), with fiddler Byron Berline sitting in as well. Mahalo!


<! >

---

More Country Gospel -- Compilation Albums



---



Hick Music Index



---

Creation date = 11/21/03