<! MP3 12/19/10 > <! update 00/00/00 > <! outside 00/00/00 > <! pix 00/00/00 > <! icons 12/19/10 > <! Dr Robert Manly, Janet,Carol and Bob Jr. "Listen To The Lord: Songs Of Nebraska And The West" (xxxx, xxxx) Oddbl VANITY Country PATRIOTIC LP Slippin AWAY MITCHELL Dean Mitchell "Slippin' Away" (Foundation Records, 1984) - Patriotic Country LP Classic.."SLIPPIN' AWAY"! Check out the cover of this LP..Dean, in his Cowboy Duds...Lookin' at Lady Liberty and The American Flag, and the Little White Country Church...JUST SLIPPIN' AWAY!...Fun Oddball Amaturish cover, with AUTOGRAPH And Dedication by DEAN on the back...DM-7777. Selections by Dean Mitchell and the Nashville Superpickers are: "SLIPPIN' AWAY, THE JOURNEY, WHY ME, LORD OF LORDS AND KING OF KINGS, TWO ROBES, UNCLOUDY DAY, DO RIGHT BY OTHERS, ONE DAY AT A TIME, FROM JIMMY TO JESUS, ON THE WINGS OF A DOVE" Big Jim McDonald "Stand By Me" (Bridge) (LP) -# 2308 Private Country Xian Gospel The Masters Family "Gospel Sing" (Decca Records) (LP) B01LZMEZM0 - Johnny and Lucille Masters, first recorded together in 1946 - album also features their son, Owen - songs are about half Johnny Masters originals, with a Bailes Brothers oldie ("One Way Ticket To The Sky") and one by Teddy Wilburn - this was their first Decca album, but they may have recorded LPs on indie labels earlier - #DL-74237 Alan McGill "...Sings Words And Music By Roy Rogers" (Sacred Records, xxxxx) (LP) >
---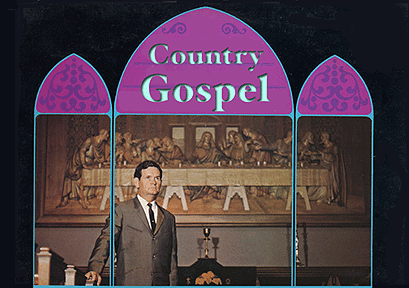 The gospel spirit fills the history of country music... For many country and bluegrass fans, the constant Jesus-isms can be a real turn-off, yet, like many kinds of religious music, it can bring out amazing, powerful performances and an emotional conviction that is rarely matched in secular pop culture. I'm hardly a preacher man, but there is some of this stuff I love, and having had the opportunity to hear a lot of country gospel over the years, I decided to take the chance to share some of my thoughts and impressions of the genre with y'all... Ready? Here we go!
---
COUNTRY GOSPEL: A | B | C | D | E | F | G | H | I | J | K | L | M | N | O | P | Q | R | S | T | U, V &W | X, Y & Z | Comps
---
Gospel MP3s | Holiday Music | Other Country Styles
---
Warner Mack & His Sister Dean "Songs We Sang In Church And Home" (Decca, 1967) (LP)

Maddox Brothers & Rose "A Collection Of Standard Sacred Songs" (King, 1956)



Gospel recordings from the 1950s... good stuff!
Rose Maddox "Precious Memories" (Columbia, 1958)

Rose Maddox "Beautiful Bouquet" (Arhoolie, 1977)


Wade Mainer "Soulful Sacred Songs" (King, 1961) (LP)



<! Mother's Prayers Have Followed Me; Don't Write To Mother Too Late; The Hill Lone And Gray; No Place To Lay Your Head; I'm Glad I'm On The Inside Looking Out; He Signed My Pardon; That Star Belongs To Me; Home In The Rock; Dust On The Bible; The New Bright World; My Soldier Boy; Standing Outside; Now I Lay Me Down To Sleep; The Little Brown Church; Building On That Rock; Streamlined Religion Ð 61 (Recorded 1947, 1951, 1961) NO ASIN - 06/2013 >

Barbara Mandrell "He Set My Life To Music" (MCA, 1982)


(Produced by Tom Collins)



<! Gospel album It includes covers of songs such as "What a Friend We Have in Jesus", "Swing Low, Sweet Chariot", and Dottie Rambo's "I Will Glory in the Cross".[1] The album included four duets with mainly Gospel artists. "What a Friend We Have in Jesus" was recorded with B.J. Thomas, "I Turn to Him" with The Blackwood Brothers, "I Will Glory in the Cross" with Dottie Rambo, and "Through It All" with Andrae Crouch. > <! Joe Maphis? >

The Marshall Family "The Legendary Marshall Family, v.1" (Rebel, 2002)



The Marshall Family "The Legendary Marshall Family, v.2" (Rebel, 2004)



Two fine sets of good, old-fashioned bluegrass gospel tunes, with bright, cheerful vocal and instrumental performances and a simple, joyous set of songs. Each of these discs collects tracks drawn from several of the Marshall Family albums of the 1970s, when the group was still a working, touring truegrass band. There are a few guest appearances -- a young Ricky Skaggs joining in some sweet a capella quartet vocals, for example -- but mostly it's the family itself, presenting this music in as simple and sincere a light as possible. It's great stuff. Later, after the familt act disbanded, various members moved into the equally under-the-radar Southern Gospel scene, either as songwriters or as members of up-and-coming bands such as The Isaacs (who praise the Marshalls in the liner notes of Volume 2, and cite them as early influences). Folks of a more secular bent who still appreciate certain strains of bluegrass gospel, the kinds that have a buoyant, optimistic feel, may find these albums quite enjoyable. I liked 'em!
The Marshall Tucker Band "Gospel" (K-Tel, 1999)

Ernest Martin "...And His Gospel Melody Makers" (BACM, 2005)

Jimmy Martin "This World Is Not My Home" (Decca/Music Mill, 1963/2005)


Bluegrass gospel simply doesn't get better than this -- this is bandleader Jimmy Martin at the peak of his powers, with a band that included Bill Emerson on banjo and Paul M. Williams on tenor vocals and mandolin. Williams, of course, has gone on to become one of the finest gospel singers in the truegrass scene, and still leads a band of his own. Here, in recordings made between 1958-62, he stepped out of a supporting role in Martin's Sunny Mountain Boys to emerge as a powerful songwriter -- all but four of these songs were co-written by Williams, and he indelibly stamps them all with his fervor and conviction. Martin and all the high-powered pickers on these sessions were no slouches, either, and the musical end of this album is all first rate. This is the kind of gospel music that even secular truegrass fans can get into, since it's performed with such feeling and soulfulness. Recommended! (By the way, anyone know if the Paul Craft listed as playing the banjo on two tracks is the same guy who wrote all those great country songs in the 1970s?)
Jimmy Martin "Singing All Day And Dinner On The Ground" (Decca/Music Mill, 1970/2005)


More fine bluegrass gospel from Jimmy Martin and his crew. About half these tracks were recorded in the early 'Sixties with Paul Williams in the band, playing mandolin and penning original spiritual material. The other half of the record is from a 1970 session that featured talented "progressive" bluegrassers such as banjoist Alan Munde and Doyle Lawson on mandolin. Like Williams, Lawson would go on to specialize in gospel material, and it's nice to hear him here, early in his career, taking the tenor vocals in a fine group harmony sound. Recommended!
Jimmy Martin "Will The Circle Be Unbroken" (Hollywood, 1995)

"Country" Johnny Mathis - see artist discography
Kathy Mattea "Good News" (Mercury Nashville, 1993)


Janet McBride "Gospel Country"

Charlie McCoy "Precious Memories" (RR Records, 1998)

Charlie McCoy "Classic Country Hymns" (Spring Hill, 2009)



I'm assuming this is a repackaging of the Precious Memories album listed above... I could be wrong about that, though...
Ronnie McDowell "Great Gospel Songs" (Curb, 1996)


Kate & Anna McGarrigle/Various Artists "The McGarrigle Christmas Hour" (Nonesuch, 2005)


The McPeak Brothers "Pathway To Heaven" (Copper Creek, 1996)


Buddy Miller "Universal United House Of Prayer" (New West, 2004)



It's tough to know just what to make of alt-country veteran Buddy Miller's all-gospel album... I have a lot of respect for Miller as a musician and it's obvious that his heart is really in this dark, complex, challengingly religious record. That being said, it's hard to figure out just who the audience might be: college-age alt-country hipsters are generally a blasphemous lot, and might find all the Jesus talk and soul-searching spirituality a bit off-putting... Old-fogey Southern gospel and country gospel fans will probably find its hard-edged, bluesy musical approach a bit off-putting, as well as its multi-layered view of the Christian faith... For example, alongside the Louvin Brothers' rally-the-troops anthem "There's A Higher Power," Miller also covers Bob Dylan's scathing "With God On Our Side," which is one of the greatest folk scene satires of religious triumphalism and hypocrisy. Most of the other songs are Miller originals, with co-writers that include his wife Julie as well as Jim Lauderdale and Victoria Williams, and while his exploration of his own faith is fascinating, it doesn't lend itself to the embrace of those who look to religion for easy answers. On the musical end, I found it a little too loud and overly muscular, as if Miller & Co were trying to reclaim Christianity for the neo-Southern rock wing of the Americana scene... I personally could do with a few less of the sludgy, soul-tinged electric guitar power chords, but then again, I might not be Buddy's target audience either. Anyway, if you want to check out a country gospel album that has sincerity and substance, with depth and shades of dark and light, this disc really might speak to you.




Mississippi Homecoming "Mississippi Homecoming" (Rebel Records, 1981) (LP)
(Produced by Carl Jackson, Gordon Reid & Robert Meadows)
This gospel-oriented album features Carl Jackson on vocals and multiple instruments, along with Marty Stuart playing fiddle and mandolin, Joe Cook picking mandolin, Vicki Cook playing rhythm guitar and Jim Brock Jr., on bass, with everyone chipping in on some sweet vocal harmonies, notably on about half the album sung a cappella.


<! - no ASIN 08/22/16 - #1599 >

Bill Monroe "I Saw The Light" (Decca, 1958)





<! does this CD have all the tracks? >

Bill Monroe "I'll Meet You In Church Sunday Morning" (Decca, 1964) (LP)


Bill Monroe "A Voice From On High" (Decca, 1969) (LP)

Bill Monroe "The Road Of Life" (MCA, 1974) (LP)


Bill Monroe "Cryin' Holy Unto The Lord" (MCA, 1991)



A fine gospel release, with strong ensemble work from Clarence Tate, Tom Ewing and Blake Williams, who formed the core of the Blue Grass Boys at the time, as well as numerous guest stars and contributors, such as Ricky Skaggs, Ralph Stanley, Jim & Jesse and Mac Wiseman. Bill himself seems somewhat subsumed by all the flurry of other musicians, but it's still a fine album, regardless. Recommended!
Monroe Crossing "Then Sings My Soul" (Monroe Crossing, 2002)
(Bluegrass gospel - available through the band's website)
Monroe Crossing "The Happy Holidays" (Monroe Crossing, 2005)


Monroe Crossing "Into The Fire" (Monroe Crossing, 2006)


<! all-gospel >
Melba Montgomery "The Hallelujah Road - Sacred Songs" (Musicor, 1966) (LP)


I'm not a big fan of country gospel, per se, but Melba really does it up right on this one. Her down-home Gomer Pyle delivery really carries this material, and her delivery is so lively that the arrangements (which are all solid) simply fade into the background. Heartfelt, musically sound, and pretty upbeat. It's a goodie.
Jimmy Murphy "The Legendary Starday-Rem Sessions" (Ace, 1999)


Almost all gospel material.. But considering how great a gospel song "Electricity" is (and that the original version is included here), maybe that ain't such a bad thing. If you like hillbilly gospel music, you might wanna check this out.
---

More Country Gospel -- Letter "N"
---



Hick Music Index



---

<! cd = 11/21/03 >