<! MP3 04/16/09 > <! update 04/16/09 - could research, add LPs > <! outside 00/00/00 > <! pix 00/00/00 > <! 208-pix: 00/00/00 > <! icons 03/26/11 >

---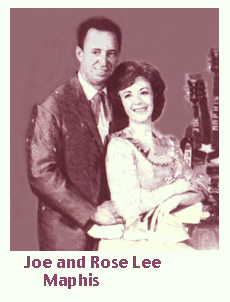 Some folks credit Joe Maphis as the man who created guitar flatpicking, back in the 1930s. Before that, the fiddle was the main lead instrument in country and old-timey music, and Maphis was one of the first people to take fiddle solos and transpose them into guitar licks. By the end of the 1940s, his revolutionary style had been copied by Merle Travis, Chet Atkins, Jimmy Bryant and a thousand other hotshot pickers. Maphis stayed in the head of the pack, recording with dozens of country and pop artists, including Wanda Jackson, Ricky Nelson and --of course-- the Collins Kids. He taught Larry Collins, age 12, how to tear through guitar strings like they were tissue paper, and in the late 1950s, the Collins Kids appeared with him on Los Angeles' legendary country TV show, Town Hall Party.
Maphis' solo work has been out of print for decades, but now thanks to our friends overseas, three excellent new discs showcase him at the height of his career.
---
CD Discography
---
Joe & Rose Lee Maphis "Hot Time In Nashville" (Binge Discs, 1997)
In my book, this is most exciting of these Maphis re-releases, a modest CD with a wicked wallop, featuring Maphis the hardcore honky-tonker, along with his wife, Rose Lee, an underrated and largely forgotten female vocalist from the mid-'50s country scene. These compelling, heartfelt recordings have been out of print for decades, due to inattention and disinterest on the part of Columbia Records. One can only wonder why the powers-that-be have let the hard-working Maphis duo languish out of print for so long. Thank goodness, then for the record collection of Dagmar Binge, who runs the amazing Cowgirlboy/Binge Discs label. This CD may be the hardest Maphis disc to find -- you'll probably have to order it directly from Binge Disc -- but it's a beauty.
Joe Maphis "Flying Fingers" (Bear Family, 1996)


This all-instrumental disc starts off at a gallop, and never really lets up. Maphis and a host of super-talented West Coast 50's honky-tonkers try on a variety of styles, from Jimmy Bryant/Speedy West style turbo-twang, to some late '50s tracks which sound an awful lot like proto-surf music. Includes a pair of sizzling duets with Larry Collins that will get the attention of anyone in earshot. By the end of the disc the formula starts to wear out a bit, but only when taken all at once. Great stuff, previously long out of print.
a Joe Maphis "Fire On The Strings" (Sony Legacy, 1959/2001)



For folks eager to hear more of Maphis' instrumental dazzle, this reissue is long overdue. Includes the full 1957 LP of the same name, along with a bunch of extra tracks from singles and an EP Maphis recorded with the rockabilly whizkid, Larry Collins. In some ways it's cornball, but Joe's picking is super-tasty nonetheless. Great sound quality and classy packaging -- let's hope the US labels keep up the quality control on their new reissue efforts... 'cuz with records like this, they're really starting to cook!
Joe Maphis & Merle Travis "Country Music's Two Guitar Greats" (Capitol, 1964)


Joe Maphis & Merle Travis "Country Guitar Giants" (CMH, 1978)


Joe Maphis & Merle Travis "Country Guitar Thunder" (CMH, 1983)


A collection of Maphis/Travis duets from their tenure on CMH, between 1978-81.
The Collins Kids "Rockin' On TV" (Krazy Kat)


Spunk galore as this brother-sister teen-scene rockabilly act rips, snorts and jokes their way through live performances on the legendary late '50s Los Angeles' country TV show, Town Hall Party. Prepubescent electric guitar hero Larry Collins took lessons from our hero, show host Joe Maphis, and highlights of this disc include some of the stunning instrumental duets the two performed regularly on the program. Also, this disc reveals the Collins Kids' strong country music background, a side of them which is frequently neglected in recaps of their flashy recording career. Iffy sound quality, but great music.
Various Artists "LIVE AT TOWN HALL 1958-1961" (Country Routes, 1997)


This CD suffers from the same poor sound quality as some other Country Routes releases, but compensates by the exhilarating historic and musical power of these live performances. Hearing Maphis back country legends such as George Jones, Rose Maddox, and Skeets McDonald is a treat not to be missed, whether it's dubbed from video or not.
Joe & Rose Lee Maphis "Ridin' The Frets" (Jasmine, 2010)

---
Discography - Albums
---
Joe Maphis "Fire On The Strings" (Columbia, 1959) (LP)





<! Fire On The Strings; Randy Lynn Rag; Twin Banjo Special; Bully Of The Town; Flying Fingers; Lorrie Ann; Tennessee Two Step; Floggin' The Banjo; Guitar Rock And Roll; Town Hall Shuffle; Sweet Fern; Katy Warren Breakdown >
Joe Maphis "Hi-Fi Holiday For Banjo" (Columbia-Harmony, 1959) (LP)





<! Marching To Pretoria; Camptown Races; Missouri Waltz; When You And I Were Young, Maggie; Under The Double Eagle; You Are My Sunshine; Oh Susanna; Bye Bye Blues; Little Liza Jane; Over The Waves; Barbara Polka; The World Is Waiting For The Sunrise >
Joe & Rose Lee Maphis "Mr. And Mrs. Country Music" (Starday, 1964) (LP)

Joe Maphis "King Of The Strings" (Starday, 1965) (LP)

Joe Maphis "Golden Gospel Guitar" (Starday, 1965) (LP)

Joe Maphis "Country Guitar Goes On The Jimmy Dean Show" (Starday, 1966) (LP)

---
Video & Other Media
---
Joe Maphis "At Town Hall Party" (DVD) (Bear Family, 2006)

---
Links
---
Wikipedia: Joe Maphis
Paul Vidal's "Big V Jamboree" website includes an exhaustively complete Maphis discography, as well as tons of biographical information and information about Maphis' session work. Pretty damn cool.
The Bakersfield Sound site is also nice -- it's set up as a tutorial on West Coast country and the so-called "Bakersfield Sound" popularized by Rose Maddox, Wynn Stewart, Buck Owens, and others. Features somewhat telegraphic bios, as well as audio links to examples of their music, and includes several rather obscure artists, as well as the biggies.

<! Elaine Frizzell "A Tribute to Joe Maphis & Merle Travis" (Mosrite Records) B000USV97A tribute album >


---