<! MP3 07/02/09, 12/18/10 > <! update 00/00/00 > <! outside 00/00/00 > <! pix 00/00/00 > <! icons 12/18/10 > <! Vanessa Edmonds "Oh What A Sunrise" (Gospel Shore Records,xxxxx) (LP) (Produced by Rusty York & Reverend Dan Brockman) - 8-year old singer from Dayton Ohio - Private Ohio Country Teen Gospel - Brockman also plays keyboards and guitar; steel guitar by Chubby Howard Phil Enloe "For People Country Style" (Professional Artists, 1974) (LP) - from East Alton, Illinois Paul Emms & the Green Valley Boys - Church in the Wildwood LP (Arc, 196?) VG+ - Canadian? >
---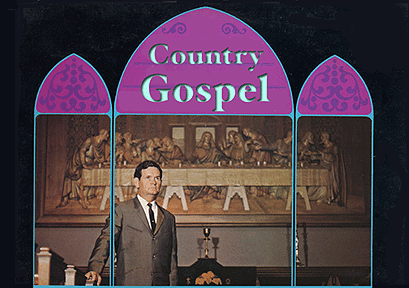 The gospel spirit fills the history of country music... For many country and bluegrass fans, the constant Jesus-isms can be a real turn-off, yet, like many kinds of religious music, it can bring out amazing, powerful performances and an emotional conviction that is rarely matched in secular pop culture. I'm hardly a preacher man, but there is some of this stuff I love, and having had the opportunity to hear a lot of country gospel over the years, I decided to take the chance to share some of my thoughts and impressions of the genre with y'all... Ready? Here we go!
---
COUNTRY GOSPEL: A | B | C | D | E | F | G | H | I | J | K | L | M | N | O | P | Q | R | S | T | U, V &W | X, Y & Z | Comps
---
Gospel MP3s | Holiday Music | Other Country Styles
---
Jim Eanes "In His Arms" (Rebel, 2004)



The Easter Brothers "They're Holding Up The Ladder" (Rebel, 2004)



Soulful and sweet. A great, gorgeous all-gospel bluegrass set, drawn from two albums the Easter Brothers cut for Rebel Records in the early '80s, I Feel Like Traveling Home, from 1980, and 1981's Almost Home. It's beautiful stuff, richly melodic and drenched in the classic 1950s style of Jim & Jesse, with plenty of sweet picking and high mandolin work to guide the songs. This is the sort of gospel bluegrass in which infectious musicality propels each song -- even folks who aren't into the whole Jesus thing should find themselves as drawn in by this disc as anybody else... It's just so darn yummy!
The Easter Brothers "By Request: Their Greatest Hits" (Daywind, 2000)


The Easter Brothers "Heart And Soul" (Daywind, 2000)



Sure, these guys were old farts by the time this record was recorded, but they sure did know how to harmonize and sing with plenty of soul. A nice, twangy bluegrass surprise from this Southern Gospel label.




The Ellison Family "The Ellison Family" (Vision Records, 196--?) (LP)
A family gospel band who appear to have done some performing on the evangelical circuit, the Ellison Family included Richard Ellison (Spanish guitar), Leana Ellison (accordion), Mike Ellison (bass) with additional backing on steel guitar by Don Parks. They played old-fashioned country gospel, slow, doleful material reminsicent of early Roy Acuff or Gene Autry (or even Hank Williams). Alas, the album notes don't say where they were from, although Southern California is a good bet: this is an early release on the Vision label, with a mailing address in Lakewood, CA, where label founder Wayne Walters lived before moving up towards Stockton.


<! - #2008 - producer not listed >
Tim Eriksen "FestivaLink Presents Tim Eriksen And Shape Note Singers At Newport Folk: 8/6/06" (FestivaLink, 2006)

The Everly Brothers "Christmas With The Everly Brothers & The Boys Town Choir" (Warner Brothers, 1962)

Skip Ewing "Following Yonder Star" (MCA, 1990)



Skip Ewing "Until I Found You" (Word-Nashville, 1997)


(Produced by Billy Joe Walker, Jr.)
A mainly-gospel album, with secular-sounding "love" songs that have barely-masked religious overtones, like the uptempo "All That Matters To Me," which kicks off the album. It's on the more upbeat and more country-sounding songs that Ewing excels; the middle section of the record has a few slower, sappier songs that drags things down. But Ewing is one of those welcome rare artists who can take the most formulaic production and still bring the songs to life -- for the most part this is an album that'll draw you in and get your toes tapping. Standout secular tracks include "Some Fools," which sings the virtues of sad country songs... All in all, a nice record (though folks who don't like gospel material will want ot steer clear of this one...)
---

More Country Gospel -- Letter "F"


---



Hick Music Index



---

cd = 04/05/05