<! MP3 12/18/10 > <! update 00/00/00 > <! outside 00/00/00 > <! pix 00/00/00 > <! icons 12/18/10 > <! "Little" George Havens "Circuit Ridin' Preacher" (Rainbow, xxxxxx) - Mono Rainbow R-1014-LP Uncle Bob Hardy "Sharing the Good News" (Country Boy Records) (LP) - private label >
---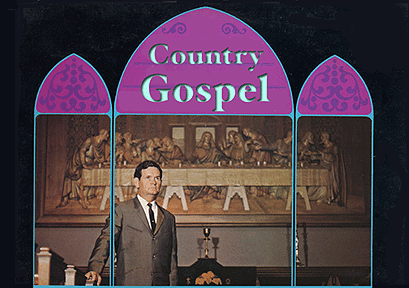 The gospel spirit fills the history of country music... For many country and bluegrass fans, the constant Jesus-isms can be a real turn-off, yet, like many kinds of religious music, it can bring out amazing, powerful performances and an emotional conviction that is rarely matched in secular pop culture. I'm hardly a preacher man, but there is some of this stuff I love, and having had the opportunity to hear a lot of country gospel over the years, I decided to take the chance to share some of my thoughts and impressions of the genre with y'all... Ready? Here we go!
---
COUNTRY GOSPEL: A | B | C | D | E | F | G | H | I | J | K | L | M | N | O | P | Q | R | S | T | U, V &W | X, Y & Z | Comps
---
Gospel MP3s | Holiday Music | Other Country Styles
---
Merle Haggard "The Land Of Many Strangers" (Capitol, 1972)



Wow... Merle really gets about as far down into the real Baptist church bedrock as you can get on this stark gospel set, recorded at the height of his fame in the early 1970s. He sings at two churches, in a prison and at a rescue mission in Nashville itself, accompanied on some tracks by the remnants of the Carter Family (Anita, Helen and Maybelle), and by the church congregations as well... In addition, there are several bit of sermons and sermon-like introductions by various pastors... This disc has a level of religious authenticity that you don't often hear on country records, particularly ones by big, famous stars. Might be a bit much for the casual listener, but gospel fans will really be impressed by the apparent depth of Merle's convictions.
Merle Haggard & Albert E. Brumley, Jr. "Two Old Friends" (Madacy, 2001)

Merle Haggard "Cabin In The Hills" (Relentless/Hag Records, 1999)


A swell country gospel album, with some nice pickin' that helps frame Hag's elder-statesman vocals. He sounds old and frayed around the edges, but heartfelt and sincere, and if you're open to the emotion he puts into these songs, this album can have a real payoff. About half the songs are standards like "Farther Along" and "Life's A Railway To Heaven," while most of the others are well-crafted originals written by Merle... Iris Dement, who'd become a sort of protege of Merle's, contributes "Shores Of Jordan," which is certainly an album highlight. Recommended!
Stuart Hamblen - see artist discography
George Hamilton IV "Singin' On The Mountain" (Camden, 1973) (LP)


With Arthur Smith...
George Hamilton IV "Bluegrass Gospel" (Lamb & Lion, 1974) (LP)

George Hamilton IV "One Day At A Time" (Word, 1979)

George Hamilton IV "Treasures Untold" (Sundown, 1999)

George Hamilton IV "Valley Of Silence: Fanny Crosby Favorites" (Jasmine, 2000)

George Hamilton IV "Beyond The River" (Sundown, 2001)


George Hamilton IV "On A Blue Ridge Sunday" (Lamon, 2003)


O. J. Hanssen "Blessed" (IMI, 2007)

Emmylou Harris "Angel Band" (Warner, 1987)



Beautiful! Building on the sweet bluegrass gospel sound she brought to 1980's Roses In The Snow, Emmylou raises the bar even higher with this lovely set of harmony vocal tunes. The production is a little on the lush side, but the music is heavenly. This is definitely one of the essential Emmylou albums of the '80s.
Freddie Hart "Sermon On The Mountain" (Music Mill, 2001)





<! 1. Sermon On The Mountain Listen 2. Wings Of Faith Listen 3. Without Jesus Listen 4. Where He Leads Me Listen 5. The Scars On Jesus Christ Listen 6. Let's Witness For The Lord Listen 7. Let Me Be There Listen 8. Pretty World Listen 9. What A Difference 10. The Lord Loves You >

Freddie Hart "I Will Never Die" (Music Mill, 2001)





<! 1. I Will Never Die Listen 2. The Scars On Jesus Christ Listen 3. Heaven's Only Knee High Listen 4. Let's Witness For The Lord Listen 5. Help Me Be Worthy Listen 6. What More Can I Ask Listen 7. Without Jesus Listen 8. Where He Leads Me Listen 9. Don't Ever Let Go Listen 10. Dedicating All Of Me >

The Hee-Haw Gospel Quartet "Best Of The Hee-Haw Gospel Quartet" (Ranwood, 1995)


The Hee-Haw Gospel Quartet "Best Of The Hee-Haw Gospel Quartet, v.2" (Ranwood, 1995)


The HHGQ -- Roy Clark, Grandpa Jones, Buck Owens and Kenny Price -- graced the airwaves of the late 1960s and early '70s with restrained but roots-conscious harmony gospel singing. Of the four, Grandpa Jones had the most impressive gospel lineage, having such in the Brown's Ferry Four back in the goodle days, with the Delmore Brothers and Wayne Raney... These discs include guitar overdubs that may upset or disappoint folks who remember the surprisingly raw on-air sound of the Quartet's original TV performances. Still, the choice of repertoire is in and of itself impressive; even back in the '60s, this style was quite antiquated and half-forgotten... It should be mentioned that there is speculation that Buck and the others don;t actually sing on these recordings... not sure that I could comment authoritatively on that point, but I thought I'd pass it on anyway... But for old-school Southern Gospel fans, this could be a goldmine.
Ken Holloway "He Who Made The Rain" (Brentwood, 1995)


Ken Holloway "The Ordinary" (Brentwood, 1997)


Sort of a square peggish album, a rugged, Southern rock-tinged country gospel offering, sort of like if Travis Tritt had gotten all born again on us, but kept the rough edges in his guitars. Without overplaying the Jesus thing, Holloway's songs hearken back to simpler times, pining for the days when common sense and common decency were commonplace (or, as in the title track, "the ordinary"). He sneaks a few secular tunes in as well, and though this is an independently produced release, Holloway has a pretty big, professional sound. An interesting option for folks of the faith who don't necessarily enjoy having to listen to sappy-sounding, churchy gospel tunes.
David Houston "Golden Hymns" (Epic, 1967) (LP)

David Houston "Next Sunday I'm Gonna Be Saved" (Excelsior, 1980) (LP)

Jan Howard "For God And Country" (Decca, 1970) (LP)

Jan Howard & Bill Anderson "Singing His Praise" (Decca, 1972) (LP)





<! The Hulsey Sisters "The Light House" (xxxxxxxxxxxxx, 1972) (LP) Vistol label??? Here's a superb album of Gospel Music done Country Style, by the Hulsey Sisters of Coos Bay, Oregon. This album was recorded in 1972. Not much information about this group but this album is one of my favourites. TRACKLISTING Power in the Pulpit/Will The Lord Be With Me/New Jerusalem/Jesus I Believe What You Said/Next Step/Because I Know/The Great Milky Way/When Jesus Calls All His Children In/The Light House/Mama's Teaching Angels How To Sing. >

Ferlin Husky "Christmas All Year Long" (Capitol, 1967)

Ferlin Husky "Where No One Stands Alone" (Capitol, 1968) (LP)

---

More Country Gospel -- Letter "I"


---



Hick Music Index



---

cd = 11/21/03