<! cd = 04/18/13 > <! MP3 04/18/13 - partial > <! outside 04/18/13 - WP, PF > <! pix 04/18/13 > <! 208-pix: 00/00/00 > <! styles - top, real hicks, gospel > <! UPDATES: 04/18/13 - posted >
---
Stuart Hamblen (1908-1989) was one of the early stars of the singing cowboy scene -- he did some movie acting, but he was more popular as a radio performer and recording artist. Hamblen wrote several big hits, most notably "This Old House" (which crossed over to become a pop hit), the country weeper "(Remember Me) I'm the One Who Loves You," and the gospel standard "It Is No Secret (What God Can Do)," which reflected his own experience as a born-again Christian. Like many Depression-era country stars, Hamblen's rough-and-rowdy ways led to a sense that his life was out of control, and he got religion, and in 1949 he joined Billy Graham's "crusades" and became closely associated with Graham's ministry. Here's a quick look at his work...
---
Discography - Best-Ofs
---

Stuart Hamblen "I Gotta Feeling" (Allegro, 2001)


Smoky voiced country crooner and Hollywood cowpoke Stuart Hamblen was a likeable lesser light -- he's best known for his 1954 hit version of "This Old House," and for the religious anthem, "It Is No Secret," which he wrote while part of Billy Graham's evangelical organization. This budget-line 2-CD set includes neither of those classics, delving instead into his lesser-known early work on the Decca and Columbia labels. The Decca recordings, which date back to the 1930s are striking for their saucy, raunchy content -- like Louisiana Governor Jimmie Davis, Hamblen was a born-again Christian with a rowdy past, in specific, an early devotion to the off-color, yodelling blues style popularized by Jimmie Rodgers. This set is packed with fine examples of the genre, as well as some later, more staid, western-themed folk material and a few solid late-'40s honkytonk tunes, such as "I Won't Go Huntin' With You Jake," which was his first big hit, back in 1949. The packaging and liner notes are a bit disappointing, and occassionaly the sound is a bit rough, but overall most of the music is pretty fun. It'd be nice if there were another Hamblen release that would include more of his honkytonk-style material, but this disc is still quite welcome.


<! 130 x 130 >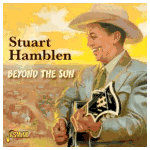 Stuart Hamblen "Beyond The Sun" (Jasmine, 2012)



This 2-CD set includes a bunch of Hamblen's best-known religious recordings, including the material from the "Beyond The Sun" album listed below.
Stuart Hamblen "Inspired By Jimmie Rodgers" (Cowgirlboy, 1986) (LP)


An early collection of his earlier secular stuff, blue yodels and raunchy country music from the Depression era... The two BACM discs below cover a lot of the same territory...
Stuart Hamblen "Volume 1: Old Glory" (BACM, 2008)

Stuart Hamblen "Volume 2: Prettiest Girl In Town" (BACM, 2009)

---
Discography - Albums
---
Stuart Hamblen "It Is No Secret" (RCA, 1956) (LP)

Stuart Hamblen "The Grand Old Hymns" (RCA, 1957)

Stuart Hamblen "Hymns" (Columbia-Harmony, 1957)

Stuart Hamblen "A Visit With Stuart Hamblen" (Sacred, 1958) (LP)

Stuart Hamblen "Remember Me" (Coral, 1958) (LP)

Stuart Hamblen "Beyond The Sun" (RCA-Camden, 1960)

Stuart Hamblen "The Spell Of The Yukon" (Columbia, 1961)


Stuart Hamblen "Of God I Sing" (Columbia, 1962) (LP)

Stuart Hamblen "I Believe" (Columbia-Harmony, 1966) (LP)


Stuart Hamblen "This Old House Has To Go (There's A Freeway Comin' Through)" (Kapp, 1966) (LP)


God, this is embarrassing. Hamblen was unmistakably over-the-hill, and the (uncredited) producers clearly had little respect for the old coot, pairing him up with a shrill string arrangements and a Mitch Miller-ish vocal chorus that overpowers him at every turn. I suppose there's some kitsch value here, particularly on the Vietnam War-era patriotic songs, but not much. This is basically a pretty lame record.
Stuart Hamblen "In The Garden" (RCA-Camden, 1966) (LP)

Stuart Hamblen "The Cowboy Church" (Word, 1970) (LP)

Stuart Hamblen "A Man And His Music" (Lamb And Lion, 1974) (LP)

Stuart Hamblen "The Worlds Of Stuart Hamblen, v.1" (Voss) (LP)

Stuart Hamblen "The Worlds Of Stuart Hamblen, v.2" (Voss)

Stuart Hamblen "The Worlds Of Stuart Hamblen, v.3" (Voss) (LP)

Stuart Hamblen "The Worlds Of Stuart Hamblen, v.4" (Voss)

Stuart Hamblen "The Worlds Of Stuart Hamblen, v.5" (Voss)

---
Links
---
---