<! MP3 06/28/09 - only those already listed as CD ASINs > <! outside 00/00/00 > <! pix 00/00/00 > <! icons 12/18/10 > <! UPDATES: 00/00/00 >
---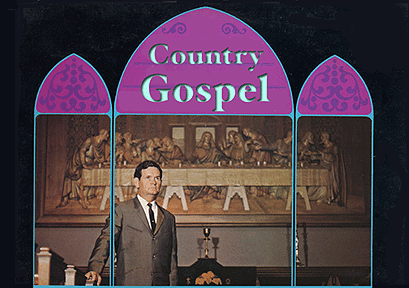 The gospel spirit fills the history of country music... For many country and bluegrass fans, the constant Jesus-isms can be a real turn-off, yet, like many kinds of religious music, it can bring out amazing, powerful performances and an emotional conviction that is rarely matched in secular pop culture. I'm hardly a preacher man, but there is some of this stuff I love, and having had the opportunity to hear a lot of country gospel over the years, I decided to take the chance to share some of my thoughts and impressions of the genre with y'all... Ready? Here we go!
---
COUNTRY GOSPEL: A | B | C | D | E | F | G | H | I | J | K | L | M | N | O | P | Q | R | S | T | U, V &W | X, Y & Z | Comps
---
Gospel MP3s | Holiday Music | Other Country Styles
---
Various Artists "36 GREATEST GOSPEL MEMORIES: A LOVING TRIBUTE TO ALBERT E. BRUMLEY" (Madacy, 2002)

Various Artists "THE ABSOLUTE BEST OF BLUEGRASS GOSPEL" (CMH, 2001)


Various Artists "BEST OF BLUEGRASS: PREACHIN', PRAYIN', SINGIN' " (Mercury, 1996)


Various Artists "BLUEGRASS FOR THE SOUL: 20 ALL-TIME GOSPEL FAVORITES" (CMH, 2003)


Various Artists "CLASSIC SOUTHERN GOSPEL FROM SMITHSONIAN FOLKWAYS" (Smithsonian Folkways, 2005)



Various Artists "CLOSE HARMONY -- A HISTORY OF SOUTHERN GOSPEL MUSIC, v.1: 1920-1955" (Dualtone, 2004)



The key to appreciating this album is the "history of" part in the title... Southern Gospel is a very particular subgenre of American music, with many fans who would take offense at it being considered a "country" style... In the years since its mid-20th Century heyday, Southern Gospel has become more of a mom'n'pop, DIY musical style, with hundreds of artists recording for self-owned or small independent labels, supported by a network of religiously-motivated fans. Modern Southern Gospel has a much mellower sound than the old stuff, incorporating the soft pop style of groups like the Carpenters, with electronic keyboards and modern production laid on top of the vocal harmony tradition the style was originally known for. This volume concentrates on the old stuff, with tracks by foundational artists such as the Blackwood Brothers, the Chuck Wagon Gang, the LeFevers and the Stamps Quartet, as well as some rarer, archival recordings by less well-known artists. (The legendary African-American gospel group the Golden Gate Quartet are included as well, showing their stylistic influence on their white counterparts, and hey, who am I to complain? They always sound good.) Still, this older version of the Southern style may seem a bit foreign to modern SG fans, especially since the genre's country roots are fairly plain... Southern Gospel is still a genre that honors tradition, however, and an archival collection like this should be much welcome among the faithful... it's also a fine introduction for anyone making the move from, say, bluegrass gospel into the more overtly devotional SG style. (PS - the liner notes draw heavily on the authoritative book on the style, "Close Harmony," by Appalachian State University history professor James R. Goff... I imagine anyone who's really into the style will want to pick that book up as well...)
Various Artists "COUNTRY GOSPEL AT ITS BEST" (Power Pak, 2009)


Various Artists "COUNTRY GOSPEL FAVORITES" (Madacy, 2006)



Various Artists "FEEL LIKE MY TIME AIN'T LONG" (Rebel, 2006)



A capella gospel singing is a bluegrass specialty, and in some ways one of the most difficult styles to master in the genre. This fifteen-song set, judiciously culled from the Rebel Records vaults, features some of the finest examples you're ever likely to hear... There are a couple of tracks by Ralph Stanley, as well as Paul Williams and other truegrass luminaries such as The Virginia Squires, Larry Sparks and The Country Gentlemen, as well as newer supergroups such as Blue Highway and IIIrd Tyme Out, who throw on a nice harmony or two. For me, the sweetest moment on here come from the least well-known singers, particularly the Marshall Family and the Forbes Family, who specialize in gospel material, and whose soulfulness and devotion leap out at you from start to finish on each of their songs. If you like the style, this is an excellent album either to use as a springboard to explore other music by any of these artists, or just to listen to by itself... It'll hold up well to repeat plays. Recommended!

Various Artists "GLORYLAND: 30 BLUEGRASS GOSPEL CLASSICS" (Time-Life Records, 2006)



Well, let's hear it for Time-Life! Cherrypicking the best gospel tracks from Rebel Records' independent bluegrass catalog, this slam-bang, no-nonsense 2-CD set is one of the finest, purest collections of its kind. It's great stuff, with heartfelt performances by folks such as J. D. Crowe, Jim Eanes, Del McCoury, Ron Reno, Larry Sparks, The Stanley Brothers, some early stuff by Rhonda Vincent and the ever-soulful Paul Williams. There are also some less well-known artists, such as the Marshall Family, whose songs of praise are every bit as spine-tingly and propulsive as the big stars mentioned above. Really, you can't go wrong with this set... If you want to hear some fine testifyin' and even finer pickin', then check this puppy out. Recommended!
Various Artists "GOODBYE BABYLON" (Dust To Digital, 2003)


A stunning 6-CD box set that mines the deep reservoir of both "white" and "black" religious material recorded from 1902-1960, with five discs devoted to music and one to old-school sermons (which were also popular on 78rpm recordings). This archival set was compiled and designed by the folks who brought us such lauded reissues as the Charlie Patton box set and the remastered Harry Smith collection; the scholarship and thoughtfulness that went into it is impressive; the music is even better. The discs are organized by themes -- "Sinners," "Salvation," etc. -- and follow a narrative arc, leading ultimately to redemption and Heaven. If the

Various Artists "THE HALF AIN'T NEVER BEEN TOLD v.1" (Shanachie/Yazoo, 1999)


Old time religious expressions as simple as reverence, rapture and humility have become so foreign to our society -- replaced by stock market investments, est seminars and intolerant rightwing fundamentalism -- that these ancient hick recordings have all the vibrant, jangling other-ness about them as the best "world music" records. Rural America itself has given way to cable TV and the home shopping network, so a world filled with fire, brimstone and the blood of the lamb really does sound like something from far, far away. As with other Yazoo compilations, this is powerfully programmed, with strong, striking selections, and is chock full of ultra-rare material. And, sadly, it's also a little sketchier on discographical material than maybe some of us would like. But still, if you like the passion and feeling of old-time gospel music (even if you don't go for the whole Jesus thing...) this is an astounding collection. Features both white hillbillies and African American artists -- and the black stuff ranges outside of the usual blues and shouting gospel styles into several delightfully atypical stringband tracks. Highly recommended!
Various Artists "THE HALF AIN'T NEVER BEEN TOLD v. 2" (Shanachie/Yazoo, 1999)


Various Artists "HILLBILLY GOSPEL: 1948-1958" (Flyright, 2001)


An amazing collection of for-real, no-foolin', praise-be, rough'n'ready hick gospel tunes, with dozens of obscure artists playing in a wide variety of styles. There's some Jim & Jesse-ish high harmony bluegrass, bluesy country boogie ala the Delmore Brothers, a healthy dose of old-school Southern Gospel and plenty of indefinable, scrappy rural relig-ifying, a lot of it with wonderfully weird singing and cool guitar pickin' and plunkin'. Even if you're not into the whole Jesus thing, but just like old-fashioned country music or oddball rarities, this is an album you have got to check out. Highly recommended!
Various Artists "HOW GREAT THOU ART: GOSPEL FAVORITES FROM THE GRAND OLE OPRY" (RCA, 2008)



Live performances from Nashvillers Trace Adkins, Dierks Bentley, Sara Evans, ALan Jackson, Patty Loveless, Loretta Lynn and Ricky Skaggs. Some sweet stuff.

Various Artists "LET THE LIGHT SHINE DOWN: A GOSPEL TRIBUTE TO BILL MONROE" (Rebel, 2011)



Fewer things could be sweeter than cherry-picking the Rebel/County catalogs to make a tribute to the great bluegrass patriarch Bill Monroe. In celebration of Monroe's birthday centennial, Rebel has released two albums, one secular and one gospel, with a stunning lineup of artists: Red Allen, Del McCoury, the Country Gentlemen, the Seldom Scene, Don Stover & The Lilly Brothers, Ralph Stanley (solo and with the Stanley Brothers), Reno & Smiley, Tony Rice, Peter Rowan and many others. Great stuff. In musical terms, I prefer the gospel set, but both discs are quite strong. If you want a good snapshot of how three generations of musicians have interpreted the music of bluegrass music's founder, these two collections are highly recommended!
Various Artists "MEMORIES OF THAT OLD COUNTRY CHURCH" (Rebel Records, 2013)

Various Artists "MOUNTAIN GOSPEL: THE SACRED ROOTS OF COUNTRY MUSIC" (JSP, 2005)


A 4-CD set of vintage rural white gospel music from the first half of the 20th Century... Includes hefty doses of Allison's Sacred Harp singers, J. E. Mainer, Alfred G. Karnes, Ernest Phipps, Ernest Stoneman, and various obscure contemporaries from the Great Depression era...
Various Artists "OPRY STARS SING GOSPEL" (K-Tel, 2007)



Various Artists "RELIGION IS A FORTUNE: SACRED HARP SINGING" (County, 2004)



More rare old 78s, profiling the arcane art of shape-note, or sacred harp, gospel singing. These are all artists from the 1920s and '30s that very, very few people have ever heard of, vocal groups such as the Fa-So-La Singers, Dye's Sacred Harp Singers, Daniels-Deason Sacred Harp Singers, Lee Wells Sacred Harp Singers and others. The music is alien and bizarre, rough-hewn harmonies that tear across standard tonality in odd, zig-zag patterns, a sound so unusual it is one of America's great "outsider" art styles. The Allison's Sacred Harp Singers ensemble is the subject of an entire separate disc (see above), though they are represented here by several tunes as well... The sacred harp style is still kept alive by devoted churchgoers throughout the South, but here is a chance to hear some of its earliest recorded examples, some spooky old music that definitely has the Holy Spirit surging through it. Recommended!
Various Artists "SONGS 4 WORSHIP: COUNTRY" (Time-Life, 2007)



(Produced by Michael A. Curtis & Teddy Gentry) <! Rascal Flatts track produced by Dan Huff >

Various Artists "TAKE ME TO THE WATER" (Dust To Digital, 2009)






<! Immersion Baptism in Vintage Music and Photography 1890-1950 >

Various Artists "VOICE OF THE SPIRIT: THE GOSPEL OF THE SOUTH" (Dualtone, 2006)



(Produced by John Carter Cash)
A mighty fine set of mainly-country gospel, with an impressive lineup of old-guard alt-country types -- folks who were "alt" before the term existed -- twangsters such as Del & Ronnie McCoury, Earl & Randy Scruggs, John Cowan and Jon Randall, as well as soulful commercial artists like Jesse Alexander, Vince Gill and Rodney Crowell. The album opens with a penetrating version of "By The Side Of The Road," by the venerable bluegrass legend Mac Wiseman: his famous high tenor has completely dissipated with age, but the thick, darkly expressive growl that has replaced it is quite effective as well. That song sets the tone, and is quickly followed by an equally rugged version of "Unclouded Day," recorded by producer John Carter Cash's dad, the late, sainted Johnny Cash, and a fine ballad by Connie Smith, who has returned to recordmaking in recent years, much to the delight of fans like me. There are a few out-of-place, overripe African-American gospel tunes on here as well, featuring Mavis Staples, The Mighty Clouds Of Joy and the modern-day remnants of the Fisk Jubilee Singers... I get why Cash wanted to include them here, to give a nod towards the close (and often unacknowedged) bonds between "white" and "black" Southern music... It's just that I don't care much for the modern gospel production style, and would much rather hear more stuff on the calibre of the rest of this fine album. Definitely worth checking out... even if you're not particularly into religious music.
Various Artists "WHEN I GET THERE" (Pinecastle, 2000)



An all-gospel bluegrass set, featuring several artists on the Pinecastle label, including Continental Divide, New Coon Creek Girls, Larry Stephenson, The Village Singers and others...
Various Artists "WORK, PRAY, SING AND SHOUT" (Forum/Avon Records, 196-?) (LP)





<! - #7GS-2509 Country Gospel compilation featuring The Morris Family, Jimmy Howell, The Edmond Sisters, Black Rock Quartet, L G Sweat & Albert Avery. - different editions(?): Released on the Wrangler label in 1962 - #WS 31009 https://www.discogs.com/Various-Work-Pray-Sing-And-Shout/master/1017418 - Morris Family He Never Complained Jimmy Howell Over In Gloryland L.G. Sweat It's Not Too Late Edmond Sisters The Ark Is Leaving Albert Avery Work, Play, Sing & Shout L.G. Sweat Peace And Liberty Black Rock Quartet Heavenly Chimes M. Pressley & B. Jones When We Get To Heaven Morris Family Wake Up Jonah B. Jones & M. Pressley* Highway To Glory Edmond Sisters And Mike Sluder Kings Palace Jimmy Howell You Can't Call Me Lonesome Black Rock Quartet Heavenly Chimes ---------------------------------------------- Black Rock Quartet Gospel Jubilee 527 Demorest, Georgia "Heavenly Chimes" "Work Play Sing And Shout" The writer of the A-side, Ralph Raper, had a record shop in Demorest, Georgia, and was also very likely the owner of this label. Another label that he owned was Country Jubilee. The name of the publisher (Ralph's Radio) appears on various tiny Georgia labels like Lanier (Toccoa), Hillcrest (Cornelia), Self (?) and South Carolina Rush label. Mike Sluder ----------------- - this CAN'T be the same guy... can it? Mike Sluder Director of Connectional Ministries Conference Secretary of Global Missions mikesluder@holston.org Direct Line: (865) 293-4133 L. G. Sweat -------------------- - there was an L. G. Sweat who was a founding father of some town in Missouri, but that was in the 1800s and can't be the same guy February 7, 1964 The Robesonian from Lumberton, North Carolina: "...SONG PROGRAM An old fashion singing convention will be held at the East Lumberton Free Will Holiness church Sunday afternoon at 2:30 p. m. L. G. Sweat and the Southerneers Gospel Quartet, the Bladen Gospel Singers, and t h e Bladen Buddies will be on hand for the music." >

---
More Country Gospel: Letter A
---
---



Other Country Artists
Hick Music Index



---

<! cd = 11/21/03 >