<! MP3 00/00/00 > <! update 00/00/00 > <! outside 00/00/00 > <! pix 00/00/00 > <! icons 12/18/10 > <! Private pressing: KENTUCKY FAITH "FOOL'S GOLD" (Mark Records) MRS-2178 >
---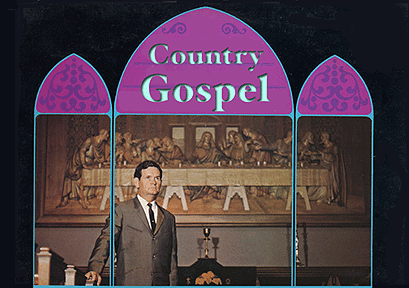 The gospel spirit fills the history of country music... For many country and bluegrass fans, the constant Jesus-isms can be a real turn-off, yet, like many kinds of religious music, it can bring out amazing, powerful performances and an emotional conviction that is rarely matched in secular pop culture. I'm hardly a preacher man, but there is some of this stuff I love, and having had the opportunity to hear a lot of country gospel over the years, I decided to take the chance to share some of my thoughts and impressions of the genre with y'all... Ready? Here we go!
---
COUNTRY GOSPEL: A | B | C | D | E | F | G | H | I | J | K | L | M | N | O | P | Q | R | S | T | U, V &W | X, Y & Z | Comps
---
Gospel MP3s | Holiday Music | Other Country Styles
---
The Kendalls "The Best Of Country Gospel" (Madacy, 2004)

The Anita Kerr Singers "Sunday Serenade" (RCA Victor, 1965)

The Anita Kerr Singers "Spend This Holiday With Me" (Dot, 1970)

The Anita Kerr Singers "Hallelujah Guitars" (Word, 1975)

Anita Kerr & Kurt Kaiser "Hymns" (Word, 1975)

The Anita Kerr Singers "Walk A Little Slower" (Word, 1975)

The Anita Kerr Singers "Precious Memories" (Dot, 1977)

The Anita Kerr Singers "Thank You Lord" (Word, 1979)

The Anita Kerr Singers "Christmas Story" (Windmill, 1977)

Dick Kimmel "My Lord Keeps A Record" (Copper Creek, 2005)



An all-gospel bluegrass offering...
James King "Gardens In The Sky: The Bluegrass Gospel Of James King" (Rounder, 2008)



One of the finest, most assured vocalists in modern bluegrass, James King has worked with several fine ensembles, notably the all-star band, Longview, and with gospel-oriented bandleader Paul Williams. This generously programmed album gathers together some of the finest gospel performances in King's career, including collaborations with Williams, and several previously unreleased tracks, all of which have the heartfelt sincerity that fans of the gospel genre look for. The album opens with a pair of beautiful tunes taken from a Stanley Brothers tribute album originally out on the Doobie Shea label, with backing by Dan Tyminsky, Aubrie Haynie and other heavyweight pickers. Particularly sweet are some of the harmony vocal tunes, such as the quartet vocals on "It's Hot Down Here," one of a half-dozen songs that are new to this album. A real treat for religiously-oriented bluegrass fans; all those stray songs from various albums, gathered together in one nice, neat package. Recommended... hallelujah!

Alison Krauss & The Cox Family "I Know Who Holds Tomorrow" (Rounder, 1994)



An all-gospel album with Alison Krauss and The Cox family sounds like roots music manna from heaven... Still, I wish this had been a more traditional-sounding record... As it is, this is a bit over-orchestrated and Krauss-y. Guess they just couldn't help themselves. There are several very sweet numbers on here -- sublime, even -- but a lot of stuff that's pretty gooey and overripe as well. Hard to feel the Holy Spirit through all that molasass and corn syrup. Still, for those in the spirit, this could be mighty nice! (Also see my Alison Krauss discography.)
---

More Country Gospel -- Letter "L"


---



Hick Music Index



---

<! cd = 04/05/05 >