<! cd=09/15/05 > <! MP3 03/30/09, 11/15/10 - complete! > <! update 03/30/09 > <! outside 00/00/00 > <! pix 00/00/00 > <! 208-pix: 00/00/00 > <! icons 11/15/10 >
---
More perhaps than any other artist, fiddler-vocalist Alison Krauss has come to represent the face of modern bluegrass music. Starting from a traditional background, Krauss refashioned herself into something of a pop star, mixing "adult contemporary"-style soft pop with high-level musicianship, and came to define a new crossover approach that made acoustic country and bluegrass more accessible to a mainstream audience. Even before the movie O, Brother Where Art Thou gave Krauss her band Union Station heightened visibility, they had edged their way into the Pop charts, and had several Top Ten country hits -- a remarkable achievement for anyone coming out of the bluegrass world. Truegrass purists, newgrass modernists and folks who are just plain fans can debate the merits of this pop/grass fusions 'til the end of creation, but Union Station's accomplishments are hard to ignore... Here's a quick look at their work...
---
Discography
---
Alison Krauss "Too Late To Cry" (Rounder, 1987)



Alison Krauss & Union Station "Two Highways" (Rounder, 1989)



A fairly straightforward pickin' and singin' album, with plenty of well-written songs and sprightly performances. Still, there's a too-perfect, museum piece quality to much of this set, particularly on the instrumental tracks, which seem overly pretty and self-consciously concise, unwilling to cut loose and lumber about a bit. As Union Station albums go, this is one of the more traditional-sounding, although there's still plenty of other truegrassers out there who might be more rewarding to listen to. This featured an old lineup of the band: Mike Harman on banjo, Jeff White on guitar, Brent Tuitt, mandolin and John Pennell on bass... And, of course, the ever-present Jerry Douglas on dobro. Douglas stayed around, but the rest of these twangsters eventually got booted.

Alison Krauss & Union Station "I've Got That Old Feeling" (Rounder, 1990)



Another straightforward, traditionally oriented set, with sprightly, bouncy pickin' and cheerfully chirpy vocals that don't croon about or linger too much on this lyric or that. Generally more uptempo than her later work, and kinda fun. Sure, there's a goopy side as well, but it's still fairly tempered by a pleasant truegrass vibe. I like this one!
Alison Krauss & Union Station "Every Time You Say Goodbye" (Rounder, 1992)



Alison Krauss & The Cox Family "I Know Who Holds Tomorrow" (Rounder, 1994)



An all-gospel album with Alison Krauss and The Cox family sounds like roots music manna from heaven... Still, I wish this had been a more traditional-sounding record... As it is, this is a bit over-orchestrated and Krauss-y. Guess they just couldn't help themselves. There are several very sweet numbers on here -- sublime, even -- but a lot of stuff that's pretty gooey and overripe as well. Hard to feel the Holy Spirit through all that molasass and corn syrup. (For more music like this, check out my country gospel section. )

Alison Krauss & Union Station "So Long So Wrong" (Rounder, 1997)



Krauss and the boys split the vocals on this stuffy, super-snoozy album. They just take themselves so darn seriously... and it's just so stultifyingly, mind-numbingly boring. I honestly can't get into anything on this record; it's so pretentious and tightly controlled; who really needs this kind of lifeless, overly sculpted, yuppified newgrass-pop? Yawn. Then again, if you're a fan, this is probably an album you'll consider a classic... So take my crabbiness with a grain of salt. I just wish there were more twang in these tunes.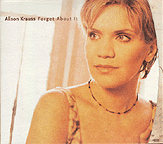 Alison Krauss & Union Station "Forget About It" (Rounder, 1999)



Her bluegrass roots are hardly showing on this slow set of ornate, forlorn romantic-confessional ballads... There's not a lot of variety in the tempo, and it's not very 'grassy, but these are fine vocal performances, for those in a mopey mood. The big highlight, I'd say, is "Could You Lie," which has the album's strongest chorus and best-defined melody. Nice slow cover of Waylon Jennings' "Dreaming My Dreams Of You," too.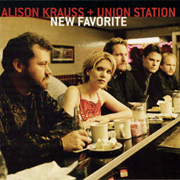 Alison Krauss & Union Station "New Favorite" (Rounder, 2001)



Slick, soft, slow ones, with a few, more 'grassy, uptempo numbers like "Choctaw Hayride" and "The Boy Who Wouldn't Hoe Corn" to balance things out... They had a fairly surprising mid-level hit on commercial country with the song "The Lucky One," making Union Station one of the few grass-ish acts to actually ride the O Brother bluegrass wave into the charts... Which made sense, since several bandmembers contributed to the soundtrack album... All in all, this album ain't bad, though it may be a little on the slick side for more traditionally inclined fans. (What else is new?) A good chance to try Krauss & Company's gussied-up sound at its best.

Alison Krauss & Union Station "Live" (Rounder, 2002)



This live album has its moments of predictable glitziness and excess, but on the whole it's as much of a return to Alison Krauss's truegrass roots as we're ever likely to hear. It's nice that the live format has allowed her to recapture a simpler, more stripped-down sound: I just wish she'd do the same on her studio albums, as well. I could also do without much of the self-congratulatory air and the fawning presentation of guest performers and various bandmembers... but I guess that just goes with the territory when you polish this stuff up and take it on the road the way Krauss and her crew have done. This generously-programmed 2-CD set is recommended for her crossover fans, as well as more traditionally-oriented bluegrass fans who may have wearied at hearing the growth of Union Station's increasingly ornate pop-grass approach.
Alison Krauss & Union Station "Lonely Runs Both Ways" (Rounder, 2004)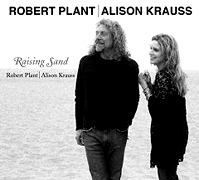 Alison Krauss & Robert Plant "Raising Sand" (Rounder, 2007)



(Produced by T-Bone Burnett)
This much-ballyhooed summit meeting of pop-bluegrass doyenne Alison Krauss and acid-rock old-timer Robert Plant topped a lot of Top 10 lists in '07... It certainly sounded like an unlikely pairing -- exciting and bold to one train of thought, gimmicky to another -- but there is no doubt upon hearing them sing that these two were on the same creative plane together, sharing a strong musical rapport. Although there is a lovely mellowness to the project, it doesn't have much to offer folk-grass traditionalists: like Emmylou Harris' collaboration with Mark Knopfler, this mostly tilts towards the world of pop and rock, and the acoustic twang that Krauss could have brought to the table was largely left behind. While they do cover some interesting old folk tunes, such as "Trampled Rose" and "Your Long Journey," the emphasis is more on molasses remakes of R&B oldies like "Fortune Teller" and "Done Moved On," stuff that Plant might have sung when he was a kid, hanging out in the English rock-blues scene that nurtured Led Zep and other bands like the Rolling Stones and Pretty Things. On balance, it's more an opportunity for Krauss to explore her pop leanings, and for Plant to reestablish his roots-music bona fides; draped in T-Bone Burnett's velvety arrangements, this is a totally comfortable and familiar outing. (Indeed, songs like "Sister Rosetta Goes Before Us" sound like outtakes from a Sam Phillips album, with Krauss matching Burnett's beloved almost note for note...) I completely understand why this is such a popular record: it manages to be simultaneously unconventional and utterly safe. It's not the sort of thing I personally would seek out or that makes my hairs stand on end, but if a friend had it on at a party, I wouldn't mind -- it's easy on the ears, and an easy home run for two A-list artists who found unexpected and alluring common ground.

Alison Krauss & Union Station "Paper Airplane" (Rounder, 2011)



(Produced by AKUS & Mike Shipley)
After sojourning into rock-pop territory on her last couple of records, Alison Krauss returns to the fold with a solid, standard-issue AKUS album, with grass-tinged folk songs galore, and a particular tilt towards songs of doomed romance and mournful loss. Her voice is still gorgeous and crystalline, and while some of us might wish there were more down-home twang, it must be said that the gal really can sing a song home, no matter what style she's in. There's a notable Brit/Celt undercurrent, and one of the album's highlights is a doleful version of Richard Thompson's "Dimming Of The Day," along with "Lie Awake" and several other aching, down-tempo ballads. This being a Union Station album, she shares the stage with her buds and I have to say, this time around the contrast is fairly jarring. I believe it's Dan Tyminski singing lead on the working-man anthem, "Dust Bowl Children" and "On The Outside Looking In," an ultra-bitter bluegrass tune sung from the perspective of an angry jilted lover. Krauss is so deep in her contemplative zone, the two style really don't mix well (although, as always, the band shows its breadth...) and listeners may find themselves zeroing in on her songs this time around. Still, these folks are a class act -- fans of their earlier albums will be quite pleased this time around, too.


<! April 12 >

---
Best-Ofs & Other Stuff
---

Alison Krauss & Union Station "Now That I've Found You: A Collection" (Rounder, 1995)



A best-of that sums up her career to date... Easy-on-the ears, mellow, romantic bluegrass love songs. At her best, Krauss is simple and innocuous, pretty-sounding but traditionally oriented, sort of like the Cox Family on their best albums. But a creeping gooeyness infects this disc; many of these tracks are simply over the top, productionwise. I can see why her fans enjoy her music -- it's sugary comfort food for the non-rock crowd -- but I personally look for something wth a little more bite and bounce in my rootsy ramblings. This album includes and interesting, slowed-down reworking of "I Don't Believe You've Met My Baby..." I by far prefer the Louvin Brothers original, but it sure took guts to so radically alter such a well-known tune!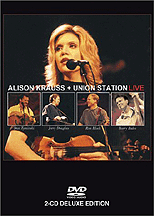 Alison Krauss & Union Station "Live" (DVD) (Rounder, 2002)


The film version of the Live album gives a nice glimpse at the band's most charismatic qualities, and highlights the various members -- virtuosi all -- playing at their peak. I wouldn't say that I can be counted as a diehard Union Station fan, but I did find this disc to be pretty compelling. Check it out, if you want to see what all the fuss is about with these folks... AK&US at their finest!
Alison Krauss & Union Station "A Hundred Miles Or More: A Collection" (Rounder, 2007)


---
Links
---
The AKUS website has links, photos, band member bios and info galore, as well as tour updates and the like...

---