<! MP3 12/18/10 - didn't look up Susie Luchsinger > <! update 00/00/00 > <! outside 00/00/00 > <! pix 00/00/00 > <! icons 12/18/10 > <! Hugh X Lewis "Just A Prayer Away" (Kapp Records) (LP) THE LOOPER TRIO: - super cool and twangy https://www.discogs.com/artist/3902993-The-Looper-Trio >
---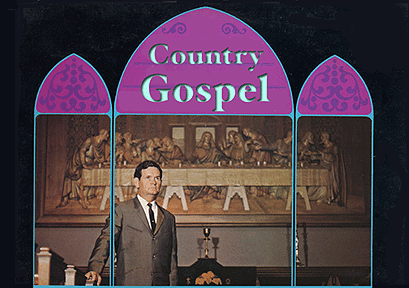 The gospel spirit fills the history of country music... For many country and bluegrass fans, the constant Jesus-isms can be a real turn-off, yet, like many kinds of religious music, it can bring out amazing, powerful performances and an emotional conviction that is rarely matched in secular pop culture. I'm hardly a preacher man, but there is some of this stuff I love, and having had the opportunity to hear a lot of country gospel over the years, I decided to take the chance to share some of my thoughts and impressions of the genre with y'all... Ready? Here we go!
---
COUNTRY GOSPEL: A | B | C | D | E | F | G | H | I | J | K | L | M | N | O | P | Q | R | S | T | U, V &W | X, Y & Z | Comps
---
Gospel MP3s | Holiday Music | Other Country Styles
---
Christy Lane - see artist profile

Tracy Lawrence "The Rock" (Rocky Comfort, 2009)



(Produced by Tracy Lawrence & Julian King)
Hat act hero Tracy Lawrence has gone indie, starting his own label and doing what few Top Forty singers do anymore: he's put out an all-gospel country album. And it's pretty darn good. It's a work of its times, too -- Lawrence keeps the production style and the sensitive-roughneck attitude that his fans are used to, and applied it to gospel-themed lyrics, thinking about Jesus while standing over the barbeque grill. Several of these guitar-heavy nuggets sound just like his regular old radio hits, and indeed if you heard 'em on the air, it might take you a while to figure out the religious themes. Others are more direct, some shamelessly sentimental, and all seem quite sincere. Although tossing a gospel tune or two onto a mainstream album has become pretty commonplace, the country gospel album haas become kind of a lost art form on modern-day Nashville, replaced by Christmas albums and shout-outs to God in the liner notes. Lawrence is both bold and triumphant in this effort -- it's an album that will hold up pretty well in years to come.
Doyle Lawson & Quicksilver -- see artist discography
Melissa Lawson "Constant" (2010)


Christian pop and Christian country from a finalist on the 2005 season of the Nashville Star TV talent contest. Decent material, if you like the style; veers a bit further into rock-oriented "contemporary Christian" territory than her EP made with Texas indie icon Ray Benson (above).
Melissa Lawson "United We Stand" (EP) (Bismeaux, 2010)


(Produced by Ray Benson)

Brenda Lee "Precious Memories: Favorite Gospel Songs" (BL Productions, 1997)

Brenda Lee "Gospel Duets With Treasured Friends" (Reunion, 2007)






<! 1. This Old House (featuring Dolly Parton) 1:44 Album Only 2. Have A Little Talk With Jesus (featuring George Jones) 2:11 Album Only 3. In The Garden (featuring Alison Krauss) 3:16 Album Only 4. I Saw The Light (featuring Vince Gill) 2:13 Album Only 5. Jesus Loves Me (featuring Emmylou Harris) 2:32 Album Only 6. Precious Memories (featuring Pam Tillis) 4:12 Album Only 7. Swing Low, Sweet Chariot (featuring Kix Brooks) 3:12 Album Only 8. This Little Light Of Mine (featuring Charlie Daniels) 2:42 Album Only 9. Uncloudy Day (featuring Martina McBride) 2:36 Album Only 10. Where Could I Go But To The Lord (featuring Ronnie Dunn) 3:39 Album Only 11. Oh! Happy Day (featuring Huey Lewis) >


Wilma Lee - see: Wilma Lee Cooper




Brennen Leigh "The Gospel According To Austin" (2003)

Hugh X. Lewis "Just A Prayer Away" (Kapp, 1968) (LP)

Jerry Lee Lewis/Johnny Cash "Sunday Down South" (Sun Records, 1970) (LP)





<! Will The Circle Be Unbroken; Old Time Religion; Carry Me Back To Old Virginia; When The Saints Go Marching In; Silver Threads And Golden Needles [Johnny Cash:] If The Good Lord's Willing; I Was There When It Happened; Remember Me; Belshazar; Goodnight Irene - 10-70 (sampler, reissued on Collectables COL-CD-6432) >

Jerry Lee Lewis "In Loving Memories, The Jerry Lee Lewis Gospel Album" (Mercury, 1971) (LP)


The Lilly Brothers & Don Stover "What Will I Leave Behind" (County/Rebel, 1973)



A sublime gospel album recorded fairly late in the Lilly Brothers' career, a couple of years after they had all-but disbanded in 1970. This is one of those wonderful cases where the older the wine, the sweeter the music -- the vocals are notably low-key and geezerly, but the picking is simply divine. By now the Lillys had perfected the cross-cutting, intertwined lead mandolin-and-guitar style pioneered by Jim & Jesse, and from start to finish this album is packed with gorgeous, ringing melodies and solid, soulful instrumental work. A lovely, heartfelt album that harkens back to the Carter Family as well, with its simplicity and plainspoken reverence. Nice stuff!
Hank Locklin "The Gloryland Way" (RCA Victor, 1966) (LP)


(Produced by Chet Atkins)

Hank Locklin "By The Grace Of God -- The Gospel Album" (Yell Records, 2006)


The Louvin Brothers "Nearer My God To Thee" (Capitol, 1957)


The Louvin Brothers "The Family Who Prays" (Capitol, 1958)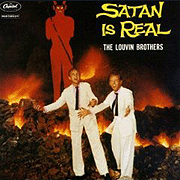 The Louvin Brothers "Satan Is Real" (Capitol, 1959)



Get it while it's hot. Most folks will probably approach this gospel album strictly as camp, but that's a big mistake. Sure, the maudlin recitations on the title track are a hoot, but can you honestly say that "There Is A Higher Power" doesn't make your hair stand on end? Moralistic, bedrock Christian ballads have always been one of the greatest appeals of the Louvins' sound... even if you don't agree with them religiously, it's hard to deny the power of their soulfulness. Originally released as an LP in 1959.
The Louvin Brothers "The Weapon of Prayer" (Capitol, 1962)


The Louvin Brothers "Keep Your Eyes On Jesus" (Capitol, 1963)



Their first true stereo album! And, yes, it's all gospel.
The Louvin Brothers "Thank God For My Christian Home" (Capitol, 1965)


Solid old gospel recordings, and an album which was reissued a couple of times... whatever version you get it in, this'll be some of the finest country gospel music you'll ever hear.
The Louvin Brothers "Great Gospel Singing" (Capitol, 1973) (LP)

Charlie Louvin "And That's The Gospel" (Playback Records, 1991)


Charlie singing with a number of guest performers, including Tammy Wynette, Jim & Jesse, Little Jimmy Dickens, and Charles Whitstein.
Susie Luchsinger "God's Still In Control" (Psalm Ministries, 1989)
This is actually Reba McEntire's sister, whose almost entire specialty is singing religious material... She did do a couple of secular records, but for the most part she was a leading light of the modern religious country (or "positive country") scene... She toured with Reba and samg on some of her early albums before setting off on a solo career towards the end of the 'Eighties...
Susie Luchsinger "Christmas Every Day" (Psalm Ministries, 1991)

Susie Luchsinger "No Limit" (Psalm Ministries, 1992)

Susie Luchsinger "Real Love" (Integrity, 1993)

Susie Luchsinger "Come As You Are" (Integrity, 1995)

Susie Luchsinger "Inspirational Favorites" (K-Tel, 1996)

Susie Luchsinger "Raised On Faith" (New Haven, 1999)

Susie Luchsinger "My Gospel Hymnal" (New Haven, 2001)

Susie Luchsinger "You've Got A Friend" (New Haven, 2002)

Loretta Lynn "Hymns" (Decca, 1965) <! [DL-74695] > *


Loretta Lynn "Who Says God Is Dead?" (Decca, 1968) <! [DL-74928] > *

Loretta Lynn "Peace In The Valley" (MCA, 1990)

Loretta Lynn "Old Rugged Cross" (MCA, 1992)

Loretta Lynn "All Time Gospel Favorites" (Madacy, 1998)

---

More Country Gospel -- Letter "M"


---



Other Country Artists
Hick Music Index



---

cd = 11/21/03