<! MP3 12/19/10 > <! update 00/00/00 > <! outside 00/00/00 > <! pix 00/00/00 > <! icons 12/19/10 > <! Nashville Mission: Keith, Terry, Bill "Some Good Of Me" (Granny's Sound Studio) (LP) - #GNS-TH-003 - private/locals - country? - this was their first album - Terry Hesters, Bill Hollis (lead guitar) and Keith Walker, from Georgia, Robert King on bass. They were all from the same town and had been performing together about five years, playing at a place called Nashville Mission. - group also includes his nephew, Monnie Hesters, singing harmony with Terry Hesters - from Nashville, Georgia; label was in nearby(?) Pitts, Georgia - label motto: "Recording God's Praises" - a couple of songs by Randy Hinson, one by the Easter Brothers, a couple by Dottie Rambo... Neilsen, Sumner & Baty "Distilled Gospel" (BMC, xxxxxx) B004GPEAA6 B004GCSQPE (Produced by Bob McCullum & Duane Allen) Tim Baty, Don Sumner, Sherrill Neilsen - steel guitar by John Rich - nost songs original - includes a cover of CSNY's "Teach Your Children" Sam & Kay Neal "The Best Of..." (Blake Records, xxxxxx) - MEMPHIS COUNTRY - husband/wife duo, wrote a lot of the songs - possibly some secular material too >
---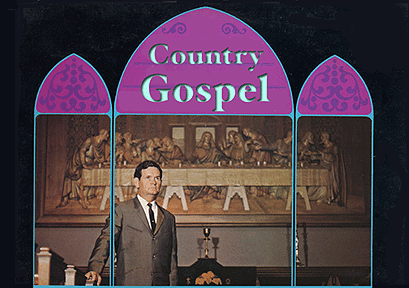 The gospel spirit fills the history of country music... For many country and bluegrass fans, the constant Jesus-isms can be a real turn-off, yet, like many kinds of religious music, it can bring out amazing, powerful performances and an emotional conviction that is rarely matched in secular pop culture. I'm hardly a preacher man, but there is some of this stuff I love, and having had the opportunity to hear a lot of country gospel over the years, I decided to take the chance to share some of my thoughts and impressions of the genre with y'all... Ready? Here we go!
---
COUNTRY GOSPEL: A | B | C | D | E | F | G | H | I | J | K | L | M | N | O | P | Q | R | S | T | U, V &W | X, Y & Z | Comps
---
Gospel MP3s | Holiday Music | Other Country Styles
---

Willie Nelson "The Troublemaker" (Columbia, 1976)



An extraordinary country gospel album, recorded by Nelson in 1973 during his brief stint on Atlantic Records, but shelved for several years until the time was right for the world to hear his hippiedelic version of the holy word. Fellow Texan hippiebilly Doug Sahm, who was also on Atlantic at the time, provides backup and major musical assist. The title track is a real humdinger, a brief little Vietnam War-era ditty that decries a longhaired troublemaker who stirs the kids up and tell them not to go to war... Hey, turns out it's that Jesus fella! But separate from Willie's rare venture into topically oriented protest music, there's a remarkable brace of rough-hewn, sincerely rendered versions of a dozen-plus old-fashioned, washed-in-the-blood, Bible-thumpin' great old gospel songs -- songs like "Uncloudy Day," "Precious Memories" and "Where The soul Never Dies" -- all delivered by Willie and his band with a rawness and affection that puts life back into the country canon. Hearkening back to the soulfulness of Albert E. Brumley and his generation of country gospel pioneers, Willie approaches the music with reverence and feeling, but also with a lustiness and looseness that acknowledges the soaring, searching aspect of down-home religion. It really is a remarkable record, well wrth tracking down. The 2004 CD reissue includes several live tracks with Nelson's drunken hippie fan base rompin' and stompin' their way along with Willie and the boys, as Willie makes 'em soak up some of the holy spirit. It would have been easy for him to pass it off as a campy joke, but that wasn't where his head was at on this one. He's sincere, and the music is swell.
Willie Nelson "How Great Thou Art" (Finer Arts, 1996)

The New Coon Creek Girls "Everything You Do" (Pinecastle)



The Coon Creek gals, featuring vocalist Dale Ann Bradley, recorded a bunch of other gospel songs on various albums, but this is a nice all-gospel set, if you want to skip the secular stuff.
Larry Norman "Only Visiting This Planet" (Solid Rock, 1972)






<! MANY other Larry Norman albums - kind of a "Jesus freak" rocker >

Nothin' Fancy "Lord Bless This House" (Pinecastle, 2009)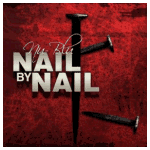 Nu-Blu "Nail By Nail" (Pinecastle, 2012)



(Produced by Nu-Blu)
An all-gospel offering from this talented band of bluegrassers... Seven songs of modern vintage by composers such as Becky Buller, Tim Stafford and Donna Ulisse. There are some uptempo harmony-driven numbers, but more that are closer to the "contemporary Christian" field -- slower, serious ballads like Tim Wheeler's "You See Jesus" and Marc Rossi's "The Abyss," and the album's closer, "The Hammer," written by lead singer Carolyn Routh. I go more for the perky, rootsy stuff -- Stafford's "Where'd You Get That Water" and Buller's "Martha And Mary" are highlights here -- but I imagine there are many CCM and Southern Gospel fans who might like this album a lot.
---

More Country Gospel -- Letter "O"


---



Hick Music Index



---

cd = 11/21/03