<! MP3 10/15/10 > <! outside 00/00/00 > <! pix 00/00/00 > <! icons 05/03/11 > <! UPDATES: 05/04/21 - DA > <! Ira Allen "Merry Christmas" (xxxxxx, xxxxx) B00NKWHF2Q - CD - with the song "Cabbage Patch Doll" >
---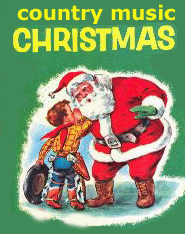 Ho, ho, ho!! Funny, isn't it, how the world is divided between people who just love Christmas music, and those who loathe it with an almost equal fervor. Me? I guess I fall somewhere in the middle... There are countless songs that are simply great to sing along with, and yet Christmas music (and the rampant commercialism of the season) inexorably lends itself to the worst and cheesiest impulses among oh, so many artists...
Anyway, recently I've had a chance to hear a lot of hillbilly holiday music, most of it from various country music artists, so I thought, what the heck -- I might as well comment on some of this stuff as well. So, to all of you elves and grinches out there: have a holly jolly holiday, and remember to get me something nice this year!
This page covers the letter "A".
---
A | B | C | D | E | F | G | H | I | J | K | L | M | N | O | P | Q | R | S | T | U | V | W | X, Y & Z | Comps | Other Country Styles
---

Alabama "Christmas, v.1" (RCA Records, 1996)
The songs on this album are pretty sappy (duh) and the production style is pretty soft, but it still has a few things going for it... First off, the songs are new ones, not the same old "White Christmas" oldies we always here, and some of these new tunes have distinctly "country" themes, like "Tennessee Christmas" and "Christmas In Dixie," so this disc can claim to be more rootsy than some other Nashville Noels, even if the musical end is hopelessly cheesy and pop-oriented. Also, even though I don't really care much for Alabama's formula, there's something to be said for its purposeful rough edge, which is to say, how the clunky lead vocals stand out in relief from the super-smooth musical backdrop. (And if you think this is a slam on the band, it's not: I think it's always been one of their most calculated and successful moves...) At any rate, even though this album is too sappy for my tastes, I think it has a lot to offer for mainstream country fans in search of new, original holiday material. It coulda been a livelier, more upbeat performance, but it's kinda par for the course for Alabama's later work.

Alabama "Christmas, v.2" (RCA Records, 1996)
The slick pop production on most of these songs is truly heinous, but as on their first holiday album, they sing with conviction and there are some really nice songs. "Christmas In Your Arms" and "Hangin' Round The Mistletoe" are alright, but for the most part, you have to be a big fan of syrupy pop to appreciate this one.
Alabama "Christmas Collection" (Madacy Records, 2006)

Dave Alexander "Swingin' Into Christmas - A Western Swing Christmas Album" (1999)
All standards -- "Jingle Bells," "Let It Snow," "Frosty The Snowman," etc. -- done up, Bob Wills-style. Awwww-yessss... ho-ho-ho!!
Rex Allen, Jr. "It's Finally Christmas" (2009)

Bill Anderson "Christmas" (Decca Records, 1969) (LP)

Bill Anderson "No Place Like Home For Christmas" (Varese Sarabande, 2002)
A surprisingly strong set from this Nashville old-timer, with good arrangements and cheerful, heartfelt vocals from old Whispering Bill. It's mostly standards -- "Silver Bells," "Blue Christmas," etc. -- but also a few choice originals. Anderson adapts one of his old hits to become "Po' Folks Christmas," and "My Christmas List Grows Shorter," with its classic recitation, is a lonely holiday classic. Highly recommended!
Liz Anderson "Christmas Songs For Kids Of All Ages" (SBT Records, 1989)

Lynn Anderson "The Christmas Album" (Columbia Records, 1971) (LP)
(Produced by Glenn Sutton)

Lynn Anderson "Home For The Holidays" (Smith Music Group, 2002)

Eddy Arnold "Christmas With Eddy Arnold" (RCA Victor, 1962)
It's the crooniest Christmas ever... Look out there, Bing!!

Asleep At The Wheel "Merry Texas Christmas, Y'all!" (High Street Records, 1997)
Ray Benson and his Austin entourage send holiday greetings to us all... Texas style!! Tish Hinojosa guests on the Tex-Mex opener, "Feliz Navidad," and Ray follows up with the boozy "Christmas In Jail." As with many AATW albums, this is a mix of straight up western swing and bluesier R&B swing, but the addition of several original tunes to the Christmas repertoire is most welcome, and the absence of drippy, weepy power ballads is a double blessing. Indeed, this is one of the better Asleep albums of recent vintage. Other guests include the venerable Panhandle yodeler Don Walser and Willie Nelson, dueting on an incandescent "Silent Night." Recommended!
Asleep At The Wheel "Santa Loves To Boogie" (Bismeaux Records, 2007)


Asylum Street Spankers "Christmas Spanking" (Bloodshot Records, 2001)
This Austin-based acoustic novelty-song crew tackles the holidays, with a kooky full-length set of songs such as "You're A Mean One, Mr. Grinch," " 'Zat You, Santa Claus?" and even a version of Vince Guaraldi's "Linus And Lucy."
Chet Atkins "Christmas With Chet Atkins" (RCA Victor, 1961)
Nashville's superpicker of superpickers gets homey with the holiday spirit... This'll hit the spot if you're up for a bit of swank, twangy yuletide cheer.
Gene Autry "Merry Christmas" (Columbia Records, 1953)

Gene Autry "The Story Of The Nativity" (Columbia Records, 1954)

Gene Autry "Christmas With Gene Autry" (Challenge Records, 1958)


Gene Autry "Rudolph The Red-Nosed Reindeer (And Other Christmas Classics)" (Sony Legacy, 2003)
How many people today even remember that it was Gene Autry who popularized the novelty song, "Rudolph The Red-Nosed Reindeer," lo, those many years ago, in the winter of '47? Yup -- that's right: Gene Autry, the singing cowboy, the sidesaddle showman extraordinaire... And a guy who knew how to tap into the freckle-faced zeitgeist of postwar kiddies like nobody else... This is a swell collection that gathers together a bunch of Autry's best and bounciest holiday offerings made for the Columbia label over a ten-year period in 1947-56. It's magnificently cornball material, and even if house arranger Mitch Miller popped things up a bit, I don't think Gene really minded that much. The toot-toodlin' arrangements might not seem all that "country," but for a nostalgia jolt, this can't be beat!
Gene Autry "The Complete Columbia Christmas Recordings" (Varese Sarabande, 2004)
This collection reprises the same material as the Sony Legacy album above, with a full eight more tracks included. It's billed as having all the Christmas "songs" Autry recorded for Columbia... However, apparenlty not included is his Christmas recitation of the Nativity. For that, you'll have to check out the digital version listed below...
Gene Autry "His Christmas Album" (Essential Media, 2010)

---
Hillbilly Holidays - Letter "B"
---


Hick Music Index



---

<! cd=11/21/03> <! expanded to full alphabetical 12/30/06>