<! MP3 10/17/10 > <! update 00/00/00 > <! outside 00/00/00 > <! pix 00/00/00 > <! icons 10/17/10 >
---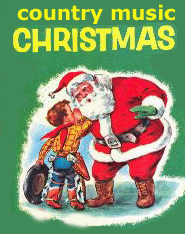 Ho, ho, ho!! Funny how the world is divided between people who just love Christmas music, and those who loathe it with an almost equal fervor. Me? I guess I fall somewhere in the middle... There are those countless songs that are simply great to sing along with, and yet Christmas music (and the rampant commercialism of the season) inexorably lends itself to the worst and cheesiest impulses among oh, so many artists...
This page covers the letters "X," "Y" and Z"
---
A | B | C | D | E | F | G | H | I | J | K | L | M | N | O | P | Q | R | S | T | U | V | W | X, Y & Z | Comps | Other Country Styles
---

Trisha Yearwood "The Sweetest Gift" (MCA, 1994)



(Produced by Garth Fundis)
This holiday album alternates, predictably, between soooper-saccharine, soooper-drippy, soooper-cheesy ballads and more rootsy, uptempo stuff. Even some of the non-sticky stuff falls flat: the funky, bluesy "Santa Claus Is Back In Town" is an utter embarrassment, though the '50s rock-tinged "Reindeer Boogie" is kinda fun. The title track, an oldie from the '40s, is nice and understated, and has a real country feel. The Xmas standards are evenly divided as well: "Let It Snow, Let It Snow, Let It Snow!" works fine; her slushy version of "The Christmas Song," though, just drags on and on, and may be a surefire cure for insomnia. For fans of the cheesier brand of Christmas album, this is probably fine; anyone looking for something a little livelier will probably not be won over.
Dwight Yoakam "Come On Christmas" (Reprise, 1997)



I'm a big Dwight Yoakam fan, but even I gotta admit that this holiday offering is a bit much... I mean, it mostly seems like he's making fun of the Christmas music genre, using arrangements that are as outrageous and outlandish as he can make them, and singing the lyrics with the maximum ironic twist... Some tunes work okay, like his big-bandy "Christmas Song," the bluesy "Santa Claus Is Back In Town," and in particular his Tex-Mex take on "Silver Bells." But other songs are pretty iffy, like his spaced-out Al Green-ish approach to "I'll Be Home For Christmas" or the sluggish, downcast note of the title track (which opens this album, bringing it to a grinding halt before it even begins...) Clearly, Dwight gets points for originality, but sometimes it's at the expense of clarity or even just plain fun... This is worth checking out -- it's more inventive than most of these albums, but you might not want to trim your tree to it every year -- but a lot of it feels like an in-joke between Dwight and his band, rather than an album made for the rest of us to enjoy. Bah, humbug? Well, maybe.
Faron Young "Country Christmas" (Step One, 1988)

---
Hillbilly Holidays - Compilation Albums
---



Hick Music Index



---

<! cd=11/21/03> <! expanded to full alphabetical 12/30/06>