<! cd = 05/22/10 > <! MP3 05/22/10 > <! update 00/00/00 > <! outside 00/00/00 > <! pix 00/00/00 > <! 208-pix: 00/00/00 > <! icons 04/09/11 >
---
Trisha Yearwood
---
Discography
---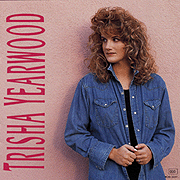 Trisha Yearwood "Trisha Yearwood" (MCA, 1991)



(Produced by Garth Fundis)
An impressive, reasonably rootsy record, evenly split between slower ballads and perky uptempo "young country" honkytonkers. Although I like the peppy tunes best, I have to admit, I can see the appeal of the slower stuff... It's kinda Linda Ronstadt-ish and Rosanne Cash-y, but has a little more depth than the bouncy numbers. At any rate, this is a nice debut... Listening back, you can see what the fuss was about; she does the Mary Chapin Carpenter thing without sounding quite so goopy -- nice trick to pull off!

Trisha Yearwood "Hearts In Armor" (MCA, 1992)



(Produced by Garth Fundis)
This star-studded album reveals a quantum leap productionwise, and in terms of her artistic focus. The songs are strongly framed and effective; even the goopy stuff works for me. Vince Gill, Garth Brooks, Raul Malo, Don Henley and Emmylou Harris all pitch in either on harmony vocals or in full-on duets... Sounds nice! Again, a major Rosanne Cash debt is obvious, but hey -- is that such a bad thing? Worth checking out.

Trisha Yearwood "The Song Remembers When" (MCA, 1993)



(Produced by Garth Fundis)
The title track is super-goopy but well-produced -- and it was the album's big hit, of course. There's better stuff on here, though, generally soulful ballads that have a rich, Rosanne Cash-like smokiness to them. This is a syrupy album, to be sure, but it is well crafted, and Yearwood really seems to be pouring her heart into the songs, so it connects emotionally. A couple of songs simply aren't up to snuff -- like "Mr. Radio," for example -- but for the most part, this album delivers. It's not really my kinda country (I already have all the Rosanne albums; that sorta covers it for me...) but it's very good for the style. Worth checking out if you like the sappy modern stuff: she really seems to mean it, and there's a lot to be said for sincerity. Hidden gem: a nice little ballad called "One In A Row," with its unusual, bumpy melody. Recommended.

Trisha Yearwood "The Sweetest Gift" (MCA, 1994)



(Produced by Garth Fundis)
This holiday album alternates, predictably, between soooper-saccharine, soooper-drippy, soooper-cheesy ballads and more rootsy, uptempo stuff. Even some of the non-sticky stuff falls flat: the funky, bluesy "Santa Claus Is Back In Town" is an utter embarrassment, though the '50s rock-tinged "Reindeer Boogie" is kinda fun. The title track, an oldie from the '40s, is nice and understated, and has a real country feel. The Xmas standards are evenly divided as well: "Let It Snow, Let It Snow, Let It Snow!" works fine; her slushy version of "The Christmas Song," though, just drags on and on, and may be a surefire cure for insomnia. For fans of the cheesier brand of Christmas album, this is probably fine; anyone looking for something a little livelier will probably not be won over. (By the way, if you're into holiday music, you might also want to check out my Hillbilly Holiday pages as well...)

Trisha Yearwood "Thinkin' About You" (MCA, 1995)



(Produced by Garth Fundis & Harry Stinson)
More okay than not, this album finds her slipping into moments of excess, but still mostly keeping it real. She's consciously stretching herself and trying on the mantle of a "serious" singer, with distinctly torchy overtones. This is more slick than I like, and the upbeat numbers are sort of ho-hum, but it's still not as excessive as her later work would become.

Trisha Yearwood "Everybody Knows" (MCA, 1996)


(Produced by Garth Fundis)
The opening songs are pretty straightforward and country-ish, and she seems more comfortable than on her last album... Then she slides into a more sedate, pop-ballad-y mode, though she still peppers the back end of the album with songs like the acoustic-based, "Hello I'm Gone," which is particularly nice. All in all, this is a nice album, with the pendulum swinging back towards her roots... Worth checking out!

Trisha Yearwood "Where Your Road Leads" (MCA, 1998)


(Produced by Tony Brown, Allen Reynolds & Trisha Yearwood)
Poppy stuff, with soul diva undertones, ala Rosanne Cash or Mary Chapin Carpenter. I guess for the territory, this ain't bad, but it has precious little twang, and is way too syrupy to be of much interest to me. A little, teeny bit of pedal steel just isn't enough to keep my interest, and none of these songs are particularly catchy or memorable (though Allison Moorer's "Bring Me All Your Lovin' " comes close). I'll pass.

Trisha Yearwood "Real Live Woman" (MCA, 2000)



(Produced by Garth Fundis & Trisha Yearwood)
This album may have been too "pop" even for today's top country fans (it did pretty poorly on our stations)... Still, it's very well-produced, and if you like those milky pop ballads, this is a strong set, with a steady hand at the studio helm. Worth checking out, if the slick stuff's your style. Heck, even I liked "Sad Eyes" and "Come Back When It Ain't Rainin'." Her remake of Bonnie Raitt's "Wild For You Baby" is kind of pointless, but the album's okay, for what it's trying to accomplish...

Trisha Yearwood "Inside Out" (MCA, 2001)



(Produced by Mark Wright & Trisha Yearwood)
Ye gods. How overblown, bland and over the top can she get?? Very, it seems. This album is densely, floridly written and way overproduced, with endless slow piano plunks, and one rare moment of simplicity coming with a cover of Rosanne Cash's "Seven Year Ache" that's so close to the original that one is tempted to say "why bother?" (Rosanne sings harmony, though, so I guess it gets the Cash stamp of approval... But still...) At any rate, this album is way too glossy and sappy for me... And enough with the electronic music filips, already!! Nashville: get over it! Trisha's treading water on this one.
Trisha Yearwood "Jasper County" (MCA, 2005)


Trisha Yearwood "Heaven, Heartache And The Power Of Love " (Big Machine, 2007)


---
Best-Of & Related Records
---

Trisha Yearwood "Songbook: A Collection Of Hits" (MCA, 1997)



(Various producers)
A modest, 12-song best-of which includes two sappy new singles: "How Do I Live," which I think might have been her first collaboration with producer Tony Brown, and "In Another's Eyes," a new duet with Garth Brooks, both of which hit #2 on the charts. This tilts towards the softer songs, some of which are gems and others that are insufferably stuffy... There are more uptempo numbers that I would have included, but even so, tunes like "Perfect Love" are kinda nice. I'd go for her individual albums over this best-of, but it's still a pretty representative look at her career to date, the stylistic highs with the lows.

Trisha Yearwood "Greatest Hits" (MCA Nashville, 2007)



(Various producers)
A rock-solid best-of set that moves steadily through Yearwood's twang-ish 1991 debut through to her more soul-soaked efforts of the decade's end. As is the norm with greatest-hits collections nowadays, there are a couple of new tunes on here as well, Stephanie Davis's "Just A Cup Of Coffee" and "Nothin' To Lose," both produced by longtime collaborator Garth Fundis. "New," that is, taking in consideration that Yearwood and MCA parted ways recently, and this is actually stuff from the vaults. As a casual listener, I appreciate that this collection dwells on her older stuff, when she was more "country," and samples sparingly from the over-the-top pop-soul of later years. A worthy update of her previous MCA best-of, Songbook.
Trisha Yearwood "Love Songs" (MCA, 2008)


---
Links
---
---