<! MP3 10/16/10 > <! update 00/00/00 > <! outside 00/00/00 > <! pix 00/00/00 > <! icons 10/16/10 >
---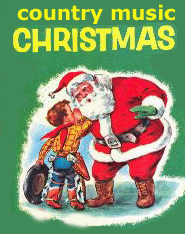 Ho, ho, ho!! Funny how the world is divided between people who just love Christmas music, and those who loathe it with an almost equal fervor. Me? I guess I fall somewhere in the middle... There are those countless songs that are simply great to sing along with, and yet Christmas music (and the rampant commercialism of the season) inexorably lends itself to the worst and cheesiest impulses among oh, so many artists...
This page covers the letter "S"
---
A | B | C | D | E | F | G | H | I | J | K | L | M | N | O | P | Q | R | S | T | U | V | W | X, Y & Z | Comps | Other Country Styles
---
Sawyer Brown "Hallelujah He Is Born" (Curb, 1997)


John Schneider "White Christmas" (Scotti Brothers, 1981) <! (LP) B000WS3TA8 - CD way oop 10/10 >


Pete Seeger "Traditional Christmas Carols" (Folkways, 1967)



A spare, quiet, low-key set of holiday music from America's preeminent folk singer, sung with great sincerity and affection for the material. As befits a famous folklorist, the songs are all well off the beaten track, obscure ballads such as "Carol Of The Beasts," "Mary Had A Baby," "Glory To The Newborn King" and "Lo, How A Rose E'er Blooming," as well as a smattering of the hits, notably "What Child Is This?" (aka "Greensleeves") and "The First Noel," all sung in Seeger's plaintive, searching voice, with a simple, plunking banjo accompaniment. If you're looking for a shot of something "new" for the holidays, this fine album is a first-rate choice. Recommended!
Jeannie Seely "Number One Christmas" (Power Pak, 1994)

Crystal Shawanda "I'll Be Home For Christmas" (2009)


SheDaisy "Brand New Year" (Lyric Street, 2000)



A holiday album, with pretty much the same high-gloss production approach as their secular records... Not quite the Dixie Chicks, but they did try.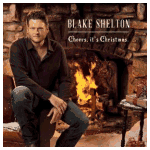 Blake Shelton "Cheers It's Christmas" (Warner Brothers, 2012)



A big, hammy, popped-up holiday set, with a slew of duets, featuring guests such as Kelly Clarkson, Miranda Lambert, Reba McEntire, the gals from Pistol Annies and Shelton's TV co-host, pop vocalist Michael Buble. And he even sings a song with his mother, Dorothy Shackleford... what a nice boy! Mildly over-the-top, but in the way fans of Christmas music revel in. Pretty solid; mostly standards, but also some newer tunes that will freshen up the holiday music repertoire.

Ricky Van Shelton "Blue Christmas" (Audium, 2000)



A modest ten-song holiday offering. Plying his Marty Robbins-inspired crooning to the holiday spirit, RVS sings his little heart out on a set of standards and yuletide oldies... This starts out with a pleasant, standard-issue feel: bouncy, perky country-pop renditions of upbeat oldies like "Winter Wonderland" and "Let It Snow," delivered with a jaunty, offhand, Vegas-tinged bounce. On the last few tracks he gets super-slushy, though, and the album sort of grinds to a halt towards the end. No big surprises here -- a bit on the soft side, but competent and not too cloying. Fans'd be happy picking this one up.
Shenadoah "Christmas" (Capitol, 1996)


Red Simpson "Trucker's Christmas" (Capitol, 1973)


An amiable, likeable holiday offering by gravel-voiced West Coast honkytonker Red Simpson, who several years earlier had some big hits in the "trucker" genre... Hence the theme of this album, and its multiple songs about daddies coming home, with their 18-wheelers buring rubber to get little Timmy that very special present... Several songs have spoken introductions, including the album's winner, "Truckin' Trees For Christmas," about a guy who brings the boughs from town to town, and the spoken piece, "The Old Christmas Truck," about a broken-down hobo in a broken down truck, who gets that load of gifts to the poor kids who wouldn't have a happy holiday otherwise. It's all very old-school and corny, and it's a real gas. It's slapdash and by the numbers, but it's also funny and fun. Recommended!
Ricky Skaggs "A Skaggs Family Christmas, Volume 1" (Skaggs Family, 2005)



Bluegrass patriarch Ricky Skaggs and his family, including wife Sharon White and her father Buck, along with Ricky and Sharon's daughter and son, Molly and Luke, who are each given several featured numbers. Unfortunately, there's not a lot of twang here -- this is an album that'll probably appeal more to the "contemporary Christian" crowd, with a softer pop vibe that often recalls LeAnn Rimes' yuletide offerings... Buck White steals the show, though, with his gravelly recitation of "Christmas Guest," a corny old spoken number that is just so darned earnest and pleasantly moralistic that you just gotta love it. Bluegrass traditionalists probably won't get much out of this disc, but those drawn to the softer side of things might like it.
Ricky Skaggs "A Skaggs Family Christmas, v.2" (Skaggs Family, 2011)



(Produced by Billy Paul Jones & Charlotte Scott)
One of the preeminent contemporary bluegrass stars, born-again bandleader Ricky Skaggs has also has impressive bona fides as a Christian musician, and mixes several religious music styles on this joyful live holiday album. There are straightforward holiday standards, such as the album's bouncy, bluegrassy opener, "Christmas Time's A-Coming," alongside tracks that dig deeper into Biblical teachings and church-ier Southern Gospel arrangements. Skaggs' extended family is on board, including his wife's family band, The Whites, with sisters Sharon and Cheryl and papa Buck White, as well as the new generation, Ricky and Sharon's kids Luke and Molly, as well as Cheryl's daughter Rachel Leftwich (who is apparently married to Andy Leftwich, the fiddler in Ricky's band Kentucky Thunder. You catch all that? I know family ties can get confusing... I can go over it again if you'd like...) Anyway, this is a rock-solid record, with a solid foundation in the not-too-dour bedrock fundamentalism of the Skaggs Family clan, but also some lighter holiday fare for folks who like to sing along. Also included is a second disc, a bonus DVD with the entire concert, about three times as much music as the audio disc, and a nice chance to see not just Skaggs in action, but the often-neglected Whites as well. Happy holidays!
Connie Smith "Joy To The World" (Columbia, 1975) (LP)


This Christmas album includes a mix of traditional carols such as "The First Noel" and "O Come All Ye Faithful," along with non-holiday specific spiritual numbers such as "Go Tell It On The Mountain."
Mindy Smith "My Holiday" (Vanguard, 2007)



(Produced by Steve Buckingham & Mindy Smith)
Wow... what a nice album. I normally don't have high expectations of Christmas records, but pop-folkster Mindy Smith really outdoes herself on this one. It's heartfelt, engaging, original and quite lovely to listen to... Smith sings a few standards, and she sings them with unusually rich sincerity -- her lingering, lounge-y rendition of Frank Loesser's "What Are You Doing New Year's Eve" is a gem, while the sugary cooing on "Away In A Manger" (a duet with Alison Krauss) will make fans of holiday pop happy as clams. It's her original material that stands out here, though: the opening song, "My Holiday," is a gentle meditation on the season (and the value of artificial trees); "Santa Will Find You" is an inspirational classic in five-and-dime drag, and "I Know The Reason" is simply a beautiful song about perseverance and quiet hope, closing with the stanza, "It's been a long, long year/it's coming to an end/Looking by my side/you still have my hand", a lyric that jumps out of the lulling, melodic mix. There are only a couple of clunkers on here, a drum-heavy version of "I'll Be Home For Christmas," and the folk-rock "Come Around" which is okay in a Byrds-y kinda way, but jarring when set next to the rest of these dreamy acoustic songs... Other than that, though, this is an disc I could roast chestnuts to for several seasons to come -- and for a Grinch like me, that's pretty high praise. Check it out.
Mindy Smith "Snowed In" (Giant Leap, 2013)



My Holiday is possibly my all-time favorite Christmas album, and this 5-song EP is a nice appendix -- maybe not as entirely magical as the first record, but certainly very sweet. This time around, it's her versions of old holiday classics that stand out and shine the brightest, particularly "Silent Night" and "Auld Ange Syne," which close the record out. Great stuff. And if you don't own My Holiday yet... you should.
Hank Snow "Christmas With Hank Snow" (RCA, 1967)

Hank Snow "Snow On Christmas" (Bear Family, 2007)


A reissue of Snow's 1967 holiday album, Christmas With Hank Snow, with several additional Christmas-related tunes added on, drawn from throughout Snow's career...
Red Sovine "Christmas With Red Sovine" (Starday, 1978)

Larry Sparks "Christmas In The Hills" (Rebel, 1997)



A nice, understated acoustic holiday set from this '70s bluegrass old-timer. Nice!

Squirrel Nut Zippers "Christmas Caravan" (Mammoth, 1998)



While not as driving or kooky (or monotonous) as their better-known, more manic acoustic swing albums, this holiday set has some clever turns. The opening number, a sweet, hushed romantic tune called "Winter Weather," showcases singer Katherine Whalen at her non-wailing best, and while the album as a whole may be too mellow for the average SNZ fan, it still has a few uptempo tumber that you can stomp your feet to... Notably, "Sleigh Ride," given the full-on jugband treatment and "Carolina Christmas," which extols the virtues of winter down South. So they mellowed out for a holiday record? Gasp. Sounds pretty good to me...!
Ralph Stanley "Christmas Time With Ralph Stanley" (Freeland, 1993)

The Statler Brothers "Christmas Card" (Mercury, 1978)

The Statler Brothers "Christmas Present" (Mercury, 1985)


The Statler Brothers "Christmas Collection" (Mercury Nashville, 2004)



With their penchant for nostalgia-based material, the Statlers were the perfect candidates to make a Christmas album... In fact, they've made quite a few! This disc reissues one of those records in its entirety, 1978's Statler Brothers Christmas Card, which has a nice mix of old classics and new material. The new stuff is best: the boys pick out plainspoken, sentimental songs like "I Believe In Santa's Clause" and "Christmas To Me" that wonder what's happened to the old-fashioned, love-your-neighbor flavor of the holiday, and long for the good old days... And you really believe 'em when they sing about it... Good record; not too corny and certainly worth checking out.
The Stoneman Family "A Stoneman Christmas" (MGM, 1968) (LP)





<! A Stoneman Christmas; Little Jesus Loves Me; Christmas Time's A-Comin'; (I Wont Be) Present This Year; Blue Christmas; Let's Put The Christ Back In Christmas; A Welcome Stranger; Santa Played The Autoharp; Jingle Bells; Tell It Again; Christmas Without Dad >

George Strait "Merry Christmas Strait To You" (MCA, 1986)



Well, ya gotta love this one, too. Strait is just such so refreshingly unpretentious, and his arrangements so simple and tasteful... What's not to like? Mostly standards, and a few nice new tunes, like "When It's Christmas Time In Texas" and even a mildly off-color hard country number like Hank Cochran's "For Christ's Sake, It's Christmas" to spice things up. What can I say? George Strait rocks my world, and this album is highly recommended!
George Strait "Merry Christmas Wherever You Are" (MCA, 1999)



The arrangements are much more florid than on Strait's first holiday album, what with the pop and jazz piano stylings, the oceanic strings, and formulaic Nashville pop chord progressions... But he still has a nice, friendly presence. I'd stick with the first disc, but I'm sure for fans, this one is fine as well.

George Strait "The Best Of George Strait: The Christmas Collection" (MCA-Nashville, 2003)



This twelve-song collection draws heavily on his second holiday album (in fact, it has all ten songs off that record) while including only two tracks off the more upbeat Strait To You set from 1986. If you want George's hard country honkytonk vibe, I guess you'll just have to get the other album... On the other hand, if you want to hear him in a swankier, more pop-vocals mode, this reissue may have what you're looking for.

George Strait "Classic Christmas" (MCA Nashville, 2008)



(Produced by Tony Brown)
Always a class act, neotrad icon George Strait delivers a happy, amiable set of holiday standards, all of them classic tunes such as "Deck The Halls," "We Wish You A Merry Christmas," "Joy To The World," and "Hark, The Herald Angels Sing." The arrangements, along with the warm pop-honkytonk production by Tony Brown make this a very cheerful album, just right for alla y'all to come in from the cold and have a little sip of something to warm you up, be it cocoa, eggnog, or a couple of Shiner Bocks... You'll be humming along in no time at all!
Ray Stevens "Through A Different Window" (MCA, 1998)

The Stonemans "A Stoneman Christmas" (MGM, 1968) (LP)

Sugarland "Gold And Green" (Mercury, 2009)



(Produced by Kristian Bush, Jennifer Nettles & Byron Gallimore)
A smooth but not unpleasant holiday offering from this early 2000's-era supergroup. When they play it straight on standards such as "Winter Wonderland," it's okay... Jennifer Nettles' gospel-soul showboating on songs such as "Coming Home" and "Green And Gold" gets to be a bit noxious. In general, this disc shares the same problems as their Top 40 albums -- they seem to have a near-absolute inability to keep things simple, and are continually adding little "look at me!" touches that reflect, I suppose, the ethos of the American Idol scene, overproduced pop for folks who believe that more is always better. Personally, I prefer a more subtle touch. Nonetheless, there are some okay tunes on here, though there are other Christmas records I'd rather have around.
The Sweethearts In Carhartts "Sleigh Bells" (2010)


A trailside holiday offering from three western music cowgals -- Yvonne Hollenbeck, Liz Masterson, and Jean Prescott -- although I'm not sure if they perform as a trio, or individually.

Taylor Swift "The Taylor Swift Holiday Collection" (Big Machine, 2009)

---
Hillbilly Holidays - Letter "T"
---



Hick Music Index



---

<! cd=11/21/03> <! expanded to full alphabetical 12/30/06>