<! MP3 10/16/10 > <! update 00/00/00 > <! outside 00/00/00 > <! pix 00/00/00 > <! icons 10/16/10 >
---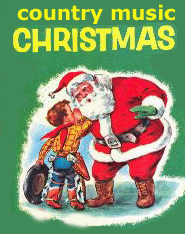 Ho, ho, ho!! Funny how the world is divided between people who just love Christmas music, and those who loathe it with an almost equal fervor. Me? I guess I fall somewhere in the middle... There are those countless songs that are simply great to sing along with, and yet Christmas music (and the rampant commercialism of the season) inexorably lends itself to the worst and cheesiest impulses among oh, so many artists...
This page covers the letter "T"
---
A | B | C | D | E | F | G | H | I | J | K | L | M | N | O | P | Q | R | S | T | U | V | W | X, Y & Z | Comps | Other Country Styles
---

Hank Thompson "It's Christmas Time" (Capitol, 1964)



A fine, fun holiday record by one of my favorite old-time country singers. Thompson's jovial touch is added to standards such as "White Christmas," "Silver Bells," "Rudolph," and "Santa Claus Is Coming To Town," as well as loopy Thompson originals like "I'd Like To Have An Elephant For Christmas" and "It's Christmas Every Day In Alaska." Thompson and longtime producer Ken Nelson bend the songs to their will, moulding each one to match Thompson's distinctive, instantly recognizable, bouncy hillbilly swing style. Best of all, is the gusto with which Thompson tackles each tune -- his delivery is vibrant and heartfelt; it may be just another goofy, cornball Christmas record, but it's lively and enjoyable, a cut or two above similar efforts by other artists. Plus, guitar whiz Joe Maphis provides a sparkling counterpoint to the band's infectious beat. Hey, even a curmudgeonly country Scrooge like myself can get into this one!
3 Fox Drive/Various Artists "Christmas Grass, v.3" (Koch, 2007)



One of the hottest groups on the contemporary bluegrass scene hosts some high-powered guests on this strong, soulful holiday album. Charlie Daniels, Sonya Isaacs and Larry Sparks are among the eminent guests -- John Cowan of the New Grass Revival dips into his soul roots for a syrupy rendition of "Please Come Home For Christmas", while Daniels gets gritty and in-yer-face with the patriotic "Watching Over The Soldiers At Christmas." The best bits, really come with the tracks that feature 3 Fox Drive alone - the Fox siblings are more than capable of carrying a Christmas album by themselves. Then again, it doesn't hurt to have friends like Aubrey Haynie, Rob Ickes and Bryan Sutton along for the ride... This is a sleek, sentimental seasonal offering... Bluegrass fans who also can go for a little holiday cheer will find this a pretty durable disc. Worth checking out!
Pam Tillis "Just In Time For Christmas" (Stellar Cat, 2007)



(Produced by Pam Tillis & Matt Spicher)
This yuletide offering is a bit more pop-oriented than I'd prefer, although I'm sure there are plenty of longtime Pam Tillis fans who'll love to spend the holidays with her... And with her family: Ms. Tillis sings a warm duet with her daddy, Mel, on "The Rockin' Christmas Medley." Speaking of kids and their parents, anyone know if producer Matt Spicher is any relation to the great fiddler and sessionman, Buddy Spicher? Oh, wait... lemme Google that... Yup! He's his son! He doesn't play on here, but apparently Matt plays a mean bit of gee-tar himself... Leave it to Tillis to find some new top talent to draw on.)
Johnny Tillotson "The Christmas Touch" (MGM, 1966)

Aaron Tippin "A December To Remember" (Lyric Street, 2001)


The Tractors "Have Yourself A Tractors Christmas" (Arista, 1996)


The Tractors "The Big Night" (Audium, 2002)


The Trail Band "An Old Fashioned Christmas" (Trail End Productions, 1994)


The Trail Band "Christmas With The Trail Band - Live In Concert" (Trail End Productions, 1996)

The Trail Band "Making Spirits Bright" (Trail End Productions, 2001)

The Trail Band "Peace On Earth" (Trail End Productions, 2005)

The Trail Band "Snow On The Roof" (Trail End Productions, 2008)


Randy Travis "An Old Time Christmas" (Warner, 1989)



Aw, you just gotta love Randy Travis, with that deep booming voice of his, and his keep-it-simple, down-home musical sensibility. This is one of the best commercial country Christmas albums you're ever likely to hear, with nice, warm takes on old standards and a few new tunes hearkening back to the good old days.
Randy Travis "Songs Of The Season" (Warner/Word, 2007)


Tony Trischka "Glory Shone Around: A Christmas Collection" (Rounder, 1995)



Travis Tritt "A Travis Tritt Christmas: A Loving Time Of The Year" (Warner, 1992)



It's a bubbadelic Christmas! A mixed bag, actually... Tritt romps through a bunch of new tunes, and spices up some oldies with a dose of Southern- and 'Fifties-style rock. Some of the more distinctly hard-country songs are quite nice -- particularly his version of "Santa Looked A Lot Like Daddy." The musclebound blues of "Christmas Isn't Christmas Without You" seems really out of place, and while his Southern rock rearrangment of "Silver Bells" is boldly original, it also sounds a little too raucous. Nice croony version of "Have Yourself A Merry Little Christmas," though! Six of one, half dozen of the other.
Ernest Tubb "Blue Christmas" (Decca, 1964) (LP)

Conway Twitty "Merry Twismas" (Warner Brothers, 1983)

---
Hillbilly Holidays - Letter "U"
---



Hick Music Index



---

<! cd=11/21/03> <! expanded to full alphabetical 12/30/06>